When making purchasing decisions, 74 percent of people use social media to help them make their decision. Social media for shooting ranges is a great opportunity to help your business nurture and obtain new leads. It creates the opportunity for you to earn more conversions for your business down the line.
On this page, we'll provide you with six social media tips for your shooting, gun, or archery range. If you need help creating a social media marketing campaign for your business, contact us online or call us today at 888-601-5359 to speak with a strategist.
Not happy with your social media engagement?
We've got just the blog post for you.
Read the Blog Post & Watch the Video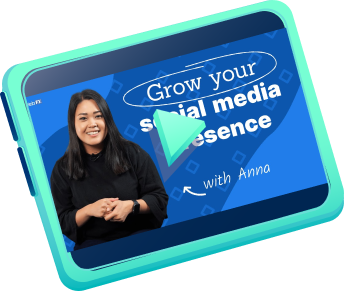 What can my shooting range do on social media?
As a shooting range owner, it's challenging to know what you can and can't do on social media. These social platforms are very restrictive on how firearms retailers can market their business to people on social media.
Popular platforms, like Facebook, have strong restrictions on what shooting range owners can do. You can't run paid ads on their platform because they don't allow ads that "promote the sale or use of weapons." This means you cannot advertise your shooting range because it promotes the use of weapons.
Instead, you will need to focus on creating organic content. This is content you post on your shooting range's social media pages. It's a valuable way for you to engage your community and get them to visit your high-end shooting range.

Hear What It's Like to Work With WebFX!

"WebFX is a great partner in our companies success. They take the time to understand our business and put campaigns in place to meet those business needs. They also bring fresh new ideas to the table on a regular basis. Excellent company to work with."
Outdoor Recreation
4 best practices for shooting ranges on social media
If you're ready to start utilizing social media for your high-end shooting range, check out these four tips for getting started.
1. Choose your platform to market your shooting range
Before you can go in-depth with your social media campaign, you must decide on the platforms that are right for your range.
Your platform choices will depend upon your audience and the platforms they use the most.
This means that you must establish your target audience first before you start looking at social media platforms. You can decide the ideal customer for your top-rated shooting range and figure out where those people frequent on social media.
Let's say you're looking at how to advertise your gun shop on Facebook. You want to know if your target audience is active on the platform. You'd be interested to find that 81 percent of people ages 18-29 use Facebook compared to 41 percent of people 65 and over.
If you're looking to target people aged 21-29, Facebook is a great place to start. By knowing this demographic information, you know where to go to reach valuable leads for your shooting range.
By establishing the right platforms for your shooting range's social media campaign, you'll put your business on the fast track to attracting more visitors.
2. Post frequently to get people interested in your gun range
Once you have your platform(s) selected, you'll start posting content. To be effective with social media for gun ranges, you must post frequently.
Your audience follows friends, family, businesses, celebrities, and pages on social media. They see an abundance of content every day and often miss content from certain people or companies. Due to the abundance of content, you must post frequently to ensure your audience can engage with your shooting range.
Posting multiple times a day will ensure that you stay at the forefront of your audience's mind. They will continue to build brand familiarity with your shooting range, which will nudge them closer to conversion.
So, how frequently should you post?
There is no magic number for every social media site that will help you know how frequently to post. Your posting frequency is dependent upon two factors: the platform and your audience.
Each platform has an acceptable number of posts you can share in a day. Facebook, for example, has a posting frequency of one to two posts per day. It's due to the fact that multiple posts in a day can overrun a follower's newsfeed and prevent them from seeing other content.
On a platform like Twitter, however, the frequency is much higher. The nature of Twitter's feed makes it easy for your shooting range to post 10 times a day without annoying your followers.
Your audience also influences how frequently you post. The acceptable number of posts is simply a guideline to help you get started. You may find as you go along that your audience wants more or fewer posts.
You want to keep your audience happy, so it's important that you monitor their engagement with your posts and see how they like the frequency. It's the best way for you to figure out how often you should post on social media.
If you want to be successful with social media for shooting ranges, you must establish a good posting frequency for your business. It will help you drive better results and earn more valuable leads for your business.
3. Use social media tools to stay organized
Since social media requires constant posting and monitoring, it can be overwhelming to keep track of everything. It gets even more complicated if you're using multiple social media networks to connect with your audience. To help you get a handle on your gun industry advertising, invest in tools that will help you manage your campaigns.
Social media marketing tools help you stay organized and on top of your campaigns. Tools like Hootsuite and Buffer make it easy for you to manage your social campaign. You can use these tools to create content, post it, monitor it, and monitor mentions of your brand.
These tools allow you to create content in advance, too. You can schedule your social media content weeks in advance, which prevents your shooting range from having to spend time each day posting content on social media. Instead, you can post three weeks' worth of content in a few hours.
It also allows you to have a more cohesive campaign. When you create all your social content at once for your campaign, you can see the entire scope of your campaign. It helps you create a more cohesive campaign for your shooting range.
To see success with online marketing of firearms, invest in tools that will help you succeed. Social media marketing tools are a great way for you to create a cohesive and effective campaign that you can easily manage and monitor.
4. Engage with your audience
Social media is one of the few strategies, aside from email marketing, that allows you to connect directly with your audience. This is a great opportunity for your business to engage with your audience and build a connection with them.
When you post content on your shooting range's social pages, make it interesting and engaging for your audience. Encourage them to interact with your content. A successful gun industry advertising campaign focuses on compelling content that gets people to engage.
You can boost engagement on your content by taking a visual route. People are drawn to photos and interesting graphics that are visually appealing. Videos are also incredibly effective at getting your audience to engage and interact with your content.
Aside from the visual route, you can also create posts that warrant people to engage. Ask a question or create polls. This entices your audience to engage because it gets them involved with your content.
You can get great insights about your audience by asking questions and seeing their responses. Something as simple as asking "What's your favorite gun to shoot at the shooting range?" can give you insight into your audience. This gives you ideas for both your marketing campaigns and your business's practices.
When people comment on your post, take time to respond to their comments. If you have hundreds of comments, it will be a difficult task, but even responding to a few select comments shows you value your audience interacting with your content. It's a great way to build your brand in a positive light and encourage your audience to keep interacting with your business.
74% of people use social media when making a purchasing decision.
Make their decision easy with a stellar social media presence. See how your brand can level up by requesting a no-obligation proposal today.
One of our experts will be in touch within 24 hours!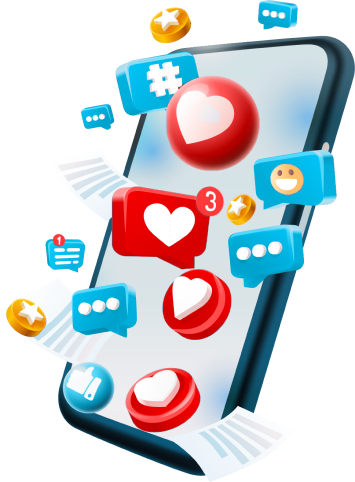 WebFX will help you earn more leads with your social media campaign
Social media marketing offers a great opportunity for you to earn more leads and grow your business. You will build a better connection with your audience and encourage them to choose your business when they're ready to convert.
Our team at WebFX can help you build a strong social media campaign that helps you drive more people to your shooting range. We've driven over $3 billion in sales and over 7.8 million leads for our clients in the past five years alone. You can count on us to drive valuable results that help your business grow.
If you're ready to start creating a social media strategy for your shooting range, contact us online or call us today at 888-601-5359 to speak with a strategist.
We look forward to helping your gun range reach more visitors with social media marketing! Did you know that we also offer web design for shooting ranges as well as SEO services to help your website be seen? Contact us for more information!