Despite the fact that many consumers now have the ability to watch movies anywhere on any device, there's nothing quite like catching a new release at a movie theater. Whether your theater is showing the latest summer blockbuster or a retrospective of a renowned director, it has the potential to be a favorite spot for movie lovers in your town.
The first step to making that happen is making people aware that your theater exists—and in today's Internet-driven world, that requires search engine optimization, or SEO. Many people flock to Fandango and other movie sites, while others use search engines like Google. These search engines won't include your theater in their results unless you make a point of making it searchable.
On this page, you'll find out why movie theaters need SEO, and what you can do to start optimizing your site today. Keep reading to learn more, and contact us online or at 888-601-5359!
Why is SEO for movie theaters so important?
Now that consumers use the Internet to find virtually everything they need, SEO is one of the most effective ways to attract new customers and generate higher revenues.
A wide variety of consumers use search engines to make choices about how to spend their time and money. Instead of waiting for events to appear on TV or in newspaper ads, they go online to find out what's available. Whether they're planning a fun weekend from their laptops or using their phones to find restaurants in their area, the whole process can be done online.
Move lovers are no exception. They search for information about upcoming and new releases on search engines like Google, and use the information they find to decide what to see. Then, they have to choose where to see it—and unless your site shows up in the results of their search, they'll likely choose one of your competitors.
As an added bonus, SEO costs less than other marketing tactics. Placing ads in your local paper or sending out flyers with coupons can cause your advertising cost to skyrocket, and SEO brings that cost down dramatically. For a fraction of the price of an ad or mailer, you can reach moviegoers at the moment they're interested in a night at the movies.
Now that you know why your theater should start using SEO, keep reading to find out how to put a strategy in place.

Hear What It's Like to Work With WebFX!

"WebFX for us has been much more like a partnership than a client-customer relationship. They really feel like they part of our team. We feel very fortunate to have found them."
Travel And Recreation Company
Which SEO strategies are best for movie theaters?
When people want to see a specific film with friends or family, their planning process is typically straightforward. They'll search for listings at local theaters, pick the most convenient time and may, if possible, purchase their tickets straight from the site. Your theater needs to show up in these listings if you want to be considered.
The best strategy for SEO for movie theaters is to appear wherever moviegoers are searching for show times. Here's how:
1. Local listings
Search engines like Google are the first place most consumers go, and registering for a local listing is the best way to get noticed. Take a look at these listings, and you'll see that films aren't the only prominent feature—so are the theaters showing them. Register your theater with Google My Business, and you'll have a chance at showing on the map to the right of the results.
Since your information will be treated like a directory listing, present it as such. Include contact details like your phone number, address, website, and email. Integrate your show times if possible, along with other features you offer, such as accessibility and reserved seating.
2. Optimize for local search
When moviegoers search for theaters, they'll want to find nearby options, and will often use location-based keywords. This means that in addition to being optimized for movie-related terms, your site should also include geographic terms. The only way local customers are going to be able to find your site is if it's optimized for local searches in your neighborhood, town or region.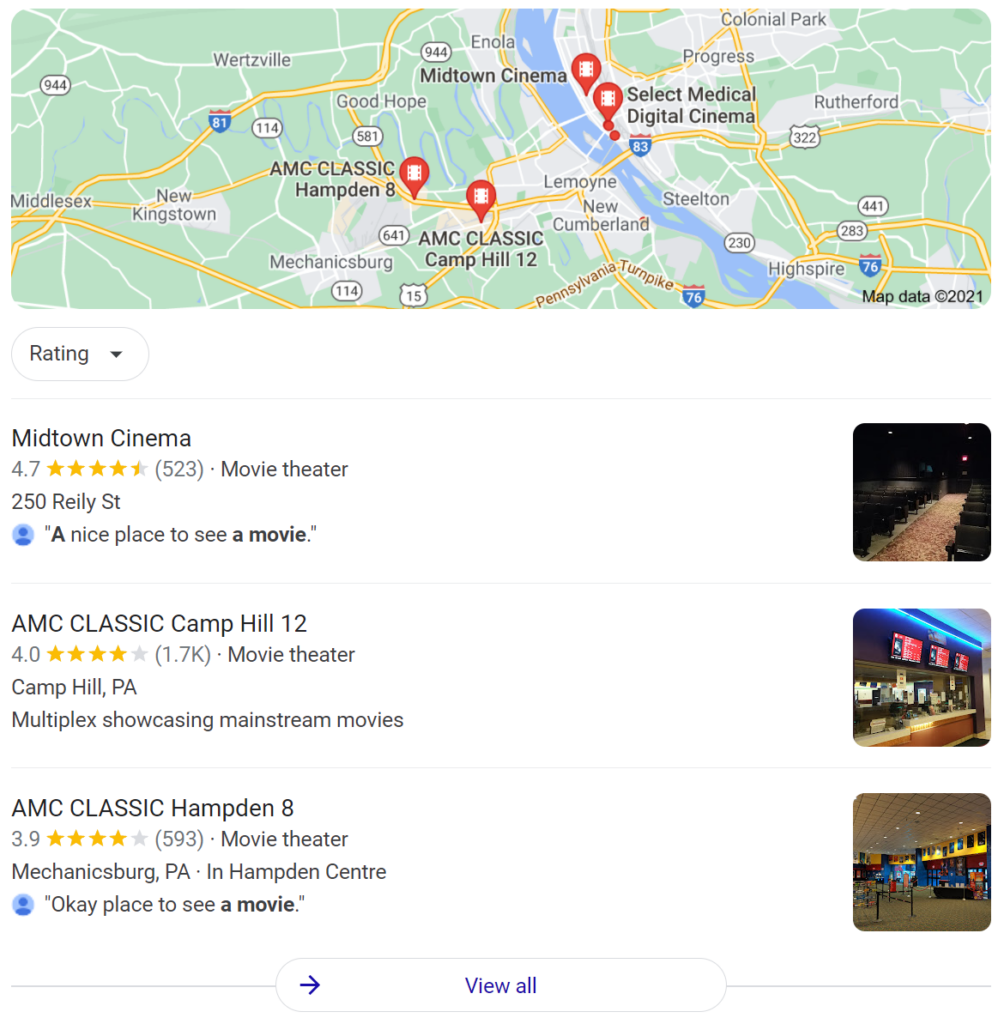 Include your address and other contact info on your website, and consider using your city or town name in your page titles. You may also include location in your header tags and meta descriptions to make it as easy as possible for potential customers to determine where you're located.
3. Mobile-friendly design
Internet users are no longer confined to desktop computers, and many perform searches on their smartphones and other mobile devices. Movies are no exception—in fact, many people do all of their research and planning without ever sitting down at a computer. Make sure your site is optimized for mobile devices, or it won't reach those smaller screens.
The best way to ensure that customers can access your site regardless of browser or screen size is responsive design. By ensuring that your site always displays and functions well, you'll never have to worry about losing a customer simply because they couldn't use your site on their device.
Our digital marketing campaigns impact the metrics that improve your bottom line.
See More Results

WebFX has driven the following results for clients:

$3 billion
In client revenue

7.8 million
Leads for our clients

5.2 million
Client phone calls
Want to learn more about SEO for your movie theater?
You don't have to just sit back and hope that movie lovers looking to see the newest release will choose your theater—in fact, you shouldn't. When you use SEO, you actively improve the chances that they'll see you first, and make the decision to come to your theater.
For more information on SEO for movie theaters, feel free to contact us! Our talented team of Internet marketers is more than happy to discuss how an SEO strategy can help you start attracting more customers and generating more revenue.