Radio is a unique industry when it comes to digital marketing. But, like most other industries, it's almost a necessity for radio stations to have an online marketing strategy in place in order to thrive. However, radio stations have some different options when it comes to digital marketing because of how demographically specific they can be.
We've put together a list of must-dos for radio stations interested in digital marketing, so that you can bolster your audience and strengthen your brand. Keep reading if you want to learn more, and contact us online or give us a call at 888-601-5359.
Our digital marketing campaigns impact the metrics that improve your bottom line.
See More Results

WebFX has driven the following results for clients:

$3 billion
In client revenue

7.8 million
Leads for our clients

5.2 million
Client phone calls
1. Online advertising
Because most radio stations operate within a well-defined geographic area, advertising online is a natural solution to your Internet marketing problem. With today's targeting options, it's possible to serve ads directly to your "ideal" listener.
The simplest way to do this is through zip codes. You can use geotargeted advertising to serve ads specifically to the zip-codes where your listener base is. This way, you know your ads are being served to a relevant demographic, and you're not wasting money by showing ads to users who aren't even capable of tuning in to your station.
Most advertising platforms offer a host of increasingly specific targeting options as well. If you know that your primary audience is single males between the ages of 30-35, for example, you'll be able to target that exact demographic with your ads.
Online advertising does much to solve an issue that has long plagued more traditional forms of advertising: you know exactly who you're serving your ads to, along with when and how you're doing so.

Hear What It's Like to Work With WebFX!

"WebFX for us has been much more like a partnership than a client-customer relationship. They really feel like they part of our team. We feel very fortunate to have found them."
Travel And Recreation Company
2. Social media
Most radio stations have always had a good, interactive relationship with their listeners. This typically happens through fielding callers live on the show, running contests and giveaways, and more.
Social media is simply another outlet for those efforts. It's never been easier to connect with your listeners than through social media, and radio stations lend themselves to social media platforms particularly well.
Advertise competitions you may be running, offer up trivia about certain albums, create lists of "Top x songs for x"…the list goes on. This type of content is quick to digest, fun to read, and likely to be shared among your followers for maximum exposure.
Another great opportunity for radio stations via social media is the chance for listeners to connect directly with hosts, DJs, and other staff members. If each employee has his/her own Twitter or Facebook, they can speak directly with listeners through these platforms. Maintaining an entertaining and interesting persona through social media is an excellent way of strengthening brand loyalty to the radio station as a whole, and attracting new listeners too.
3. App development
Many radio stations make great use of mobile apps. This one depends more heavily on your target demographic, but if your audience has lots of app users, then investing in a mobile app could make a big difference.
You can use an app to do all kinds of things – offer exclusive perks to your listeners, link them to playlists of songs currently aired on your stations, offer a customized weather reporting utility, and more.
Creating an app for your audience to use is a big undertaking, but it also allows for a lot of creativity. What you can accomplish with a mobile app is limited only by your budget and by what you can dream up for your loyal listeners.
A good way of approaching app development is to put out a survey to your audience. You can ask if they'd be interested in an app in the first place, and then follow up by asking them what features they'd like to see in an app.
4. Search engine optimization
Search engine optimization (SEO) is the practice of adjusting certain elements on your website in order to appear higher up in search engine rankings.
Over time, a solid SEO strategy (along with the other options we've mentioned) will ensure that your radio station is the most visible, recognizable station in the area.
While most radio stations don't necessarily use their website as a medium to sell anything, websites are still absolutely necessary for continued success and popularity. You can use your website to host contests, to publish set lists, and to release informational. Maybe your hosts could contribute to a weekly column, or you could even publish the transcripts of exclusive on-air interviews.
Again, you're only limited by your creativity. Analyze the behavior of your primary demographic and mimic the functionality that they enjoy from other websites.
5. Email marketing
There's a lot of synergy between email marketing and the other marketing channels we've mentioned. For example, users who interact with your station on social media, or utilize your mobile app, will more than likely subscribe to your email list as well.
An email list can then be used for just about anything – advertising, organizing in-person events, running contests, and more.
The great thing about email marketing is how personal you can make it. Through the use of certain software, each email could be configured to address individual recipients by name. This type of personalized email marketing is one of the best ways to strengthen brand loyalty. It often results in word-of-mouth referrals, along with a bump in overall public perception.
Get your radio station online today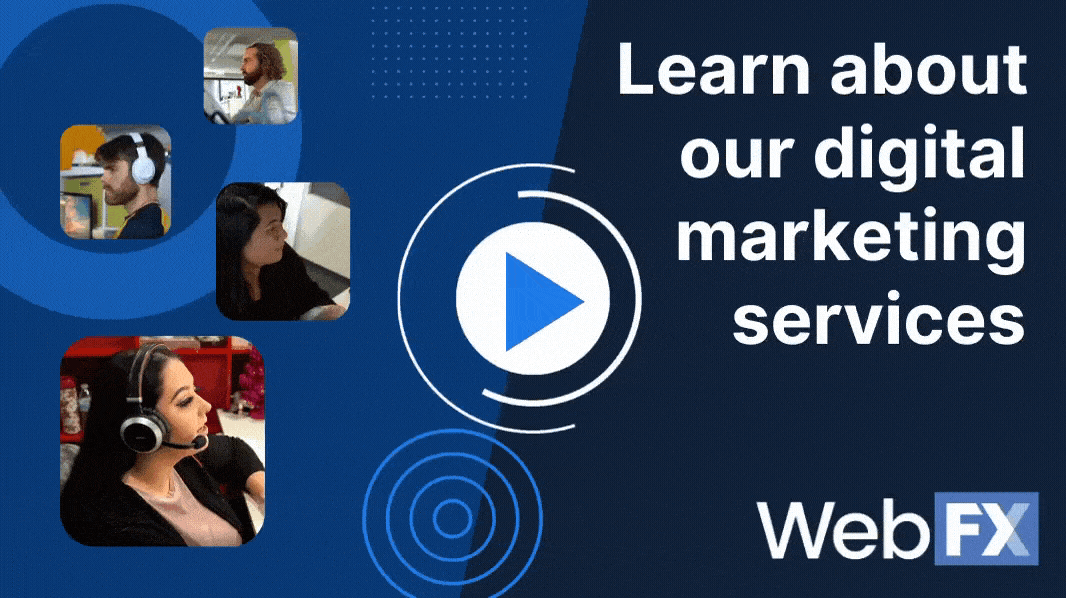 While the long-term goal is to have more than one of these marketing channels in place and functioning simultaneously, don't spread yourself too thin at first. Pick one that appeals to you and get started!
Or, if you're looking for more assistance with any of these strategies, look into partnering with a digital marketing agency – we'd love to help. At WebFX, we have an expert team of Internet marketers that know exactly what it takes to set up an airtight digital marketing strategy for your radio station.
Feel free to take a look at our many client testimonials, or contact us today!
Earn a 20% greater ROI with WebFX