But this also means your target audience gets more emails than ever before. If you want them to choose you over your competitors, you need a smart approach to your email strategy.
Fortunately, there are plenty of ways you can improve your campaigns so they provide value to potential customers.
If you've looked into improving your email campaigns, you've probably heard of email marketing automation. It's the best way to make sure that you're consistently sending your subscribers the right content and making the most of your opportunity to reach them in their inboxes.
Do you want to use email marketing to successfully reach more subscribers and increase site traffic? You can call 888-601-5359 or contact us online for help today!
You can also keep reading to learn why email marketing automation matters and how you can get started with three different campaigns.
Why email marketing automation matters
Email is still one of the most effective channels for generating leads and sales. In fact, marketers have reported an ROI of over $44 for every $1 they spend on email.
But achieving this ROI isn't as simple as sending a monthly newsletter or announcing your latest sales.
To make the most of your email campaigns, you need to send your subscribers content that's relevant to their interests on a regular basis. Automating your campaigns can help you do just that.
Automated campaigns let you send emails to your audience based on factors like when they subscribed to your list, whether they've opened previous emails, and what they've done on your site.
As a result, automated emails have a 70.5% higher open rate than regular emails.
If you've worked with email campaigns in the past, you know that improving open rates is challenging. Automating your campaigns could be worth it simply for the increase in people who open and read your email content.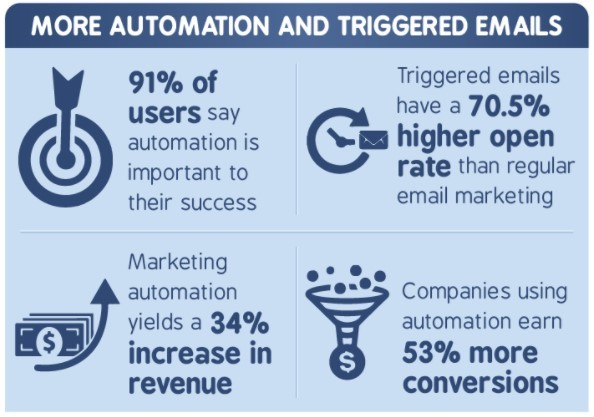 The advantages aren't just limited to email metrics, though – companies who use automation also earn 53% more conversions and see an average 34% increase in revenue.
No matter your business model, conversions and revenue are the two most important goals of any marketing campaign. Considering email automation increases both, it's easy to see why so many businesses use email automation.
How to choose an email marketing automation platform
If you're ready to start automated email campaigns, your first step is determining which platform you want to use.
If your existing email provider offers this functionality (and you're satisfied with the rest of its features), sticking with them is the easiest choice.
If not, you'll need to research your options and choose the platform that's best suited to your company's needs and goals.
At WebFX, we use our proprietary email marketing platform, MyEmailFX, for all of our clients' campaigns.

We developed this platform with all of the capability we need to create automated emails for our clients, and it's free with all of our email marketing plans.
As you research your options, though, you'll want to consider which types of email campaigns you want to create and which platform allows you to do so.
At the very least, the platform you choose should offer the ability to create drip campaigns and triggered emails, as well as built-in analytics to help you monitor your results.
Drip campaigns
The easiest way to get started with email marketing automation is by creating drip email campaigns for your subscribers.
These campaigns include multiple pre-written emails that automatically go to a subscriber based on a signup date.
So if a site visitor gives you their email address on a page about a service you offer, you could add them to a drip campaign specific to that service.
That campaign could automatically send them emails one day, one week, three weeks, and five weeks from the day they sign up. Each email could contain information that moves them through the buying process.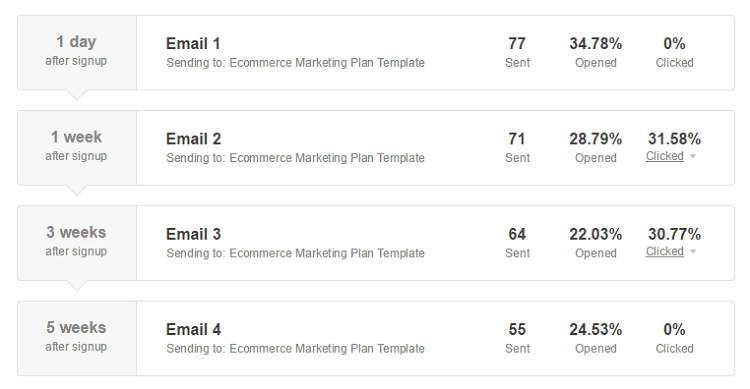 The first emails in drip campaigns contain top-of-funnel content, like general information about your company or links to other resources on your site.
Then, the later emails contain more detailed information about specific products and services and compelling calls to action that encourage conversions.
The main goal of drip campaigns is to stay in contact with your new leads and provide them with information that moves them towards becoming customers.
Triggered emails
Unlike drip campaigns where the content is pre-determined before a user even signs up for your list, triggered emails are sent in response to specific actions someone takes on your site.
One of the best examples this is shopping cart abandonment emails. As the name implies, these emails can be sent when a user visits an ecommerce site, adds something to their shopping cart, and leaves the site without completing the purchase.
If you've ever done this on an ecommerce site, you may have received an email like this one: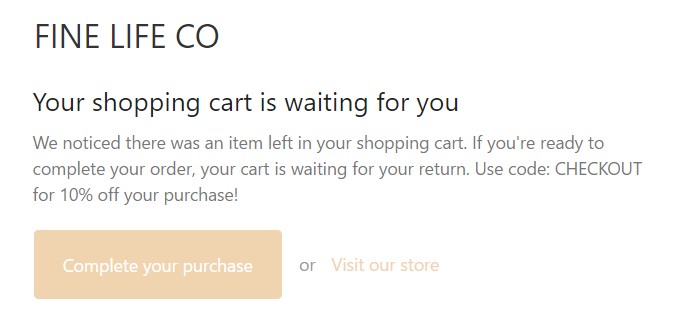 These emails remind users of a specific product they want and make it easy for them to purchase that product.
Plus, in the example above, Fine Life Co offers a 10% discount if the user makes the purchase, giving them even more incentive to revisit their shopping cart.
Triggered emails like these are effective for businesses in all industries. In fact, they can increase conversions by 50%.
Of course, the shopping cart abandonment strategy won't work for businesses outside of ecommerce, but you can use them same basic principle for many on-site actions.
For B2B companies, email triggers could include visiting a specific service page, downloading a free guide, watching a video, or using an interactive tool like a quite calculator.
All of these actions signify that a visitor is engaged with your site, which gives you the opportunity to follow up with additional information that encourages them to convert.
Lead nurture campaigns
The most advanced form of email marketing automation today is lead nurture campaigns.
While drip campaigns have the advantage of maintaining regular contact with a subscriber, lead nurture campaigns offer a combination of both.
No two leads take the same path to becoming a customer or client, and lead nurture campaigns take this into account.
They allow you to send emails on a strategic distribution schedule based on a combination of time and user behavior.
So if a subscriber consistently opens all of your emails but only clicks links related to a specific service, you could make your future communication with them more relevant by only sending emails related to that service.
On the other hand, if one of your subscribers rarely opens your emails and never clicks the links in them, you could send an email asking them to update their subscription preferences.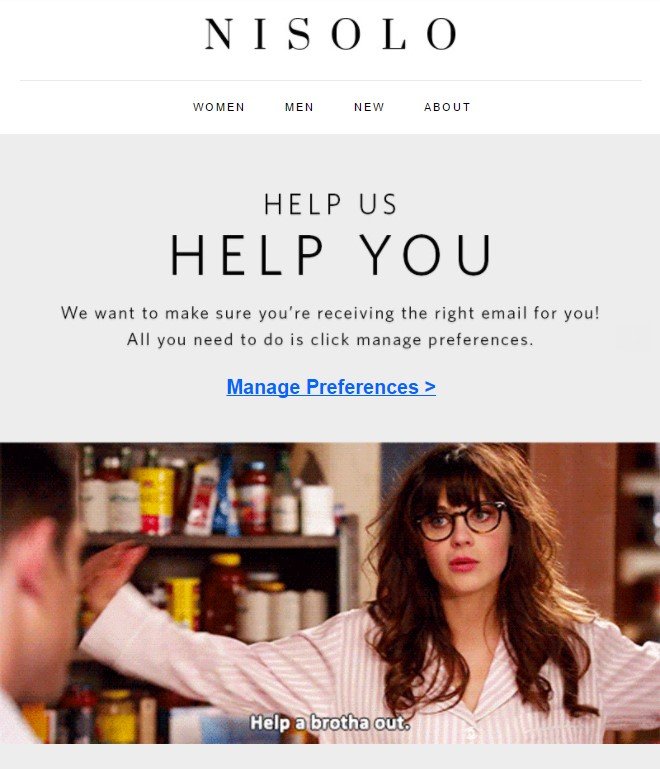 This allows you to consistently provide relevant information to each of your subscribers and tailor your content to their needs.
When you provide the best possible email experience for each of them, you can be sure that your company is getting the best possible results from your campaign.
WebFX knows email marketing automation
Email is a valuable marketing channel for any business. Today, it practically requires email marketing automation.
At WebFX, we're a leader in email automation, and we've created effective campaigns for clients in a variety of industries.
We have years of experience developing, managing, and improving email strategies, and we know what it takes to succeed.
Want to learn more about automated email campaigns?
If you're ready to start using automation as part of your company's email marketing strategy, or you're interested in learning more about how it can help you improve your results, we'd love to hear from you.
Contact us today to speak with a strategist and get a free quote!