So you have a customer relationship management (CRM) software but still have difficulty communicating, following up, and nurturing leads. Have you considered integrating your CRM with your email system?
CRM email integration connects your CRM software with your email provider to streamline communication and improve customer relationships. This way, you can track and manage all customer email interactions in one place.
Integrating your CRM software with your email system allows you to streamline communication, automate follow-up tasks, and improve lead-nurturing processes. This integration can ultimately boost sales and increase customer satisfaction.
So, how do you get started? This article will take you through the basics of CRM email integration and how to choose a CRM email integration software with functionalities and capabilities suitable for all your business needs.
Here's a rundown of what we'll cover:
Don't miss our Marketing Manager Insider emails!
Join 200,000 smart marketers and get the month's hottest marketing news and insights delivered straight to your inbox!
Enter your email below:
Inline Subscription Form – CTA 72
"*" indicates required fields
(Don't worry, we'll never share your information!)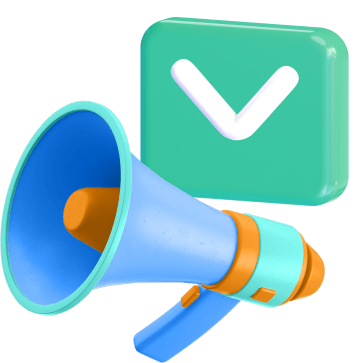 What is CRM email integration?
CRM email integration is connecting your CRM software with your email marketing platform to automatically sync customer data, track email engagement, and streamline communication with your customers. This integration helps businesses personalize email campaigns and improve customer experience.
Why is integrating your CRM with your email system important?
CRM email integration is essential for streamlining communication and improving customer relationships. It allows for better tracking of customer interactions, personalized messaging, and targeted marketing campaigns.
It also automates repetitive email marketing tasks such as sending follow-up emails, tracking email opens and clicks, and segmenting email lists based on customer behavior. Integrating your CRM with your email system saves time and resources while increasing your email marketing's effectiveness.
For example, you can use CRM email integration capabilities to automatically send targeted emails to customers who left items in their shopping carts — try to get them to finish their purchases, and provide specific suggestions for them based on their browsing history.
Moreover, integrating CRM with email helps you gain insights into customer preferences and behavior, which can inform future marketing strategies and improve customer satisfaction. You can create more specific, resonant messages for your audience by leveraging data from email interactions.
Meet MarketingCloudFX:
One platform tracking countless metrics and driving stellar results.
Learn More About Our Proprietary Software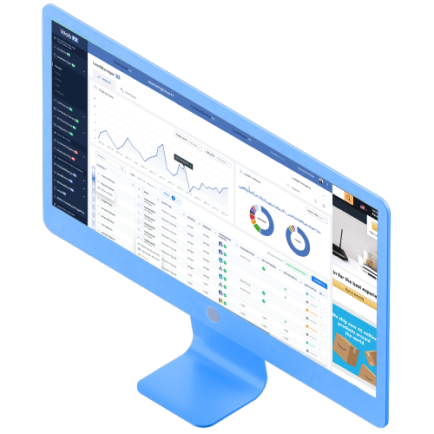 5 features to look for when choosing a suitable CRM email integration software
Here are features to consider before selecting a CRM email integration software:
1. The ability to sync contacts and data seamlessly
One of the most important features when choosing a CRM email integration software is the ability to sync contacts and data seamlessly. This feature ensures that all relevant information is up-to-date and available in your CRM and email systems, saving you the time and effort of manually updating multiple platforms.
For example, Nutshell Marketing offers advanced contact syncing capabilities that allow you to automatically update and organize your contacts across multiple platforms, including email, website contact forms, and your CRM system.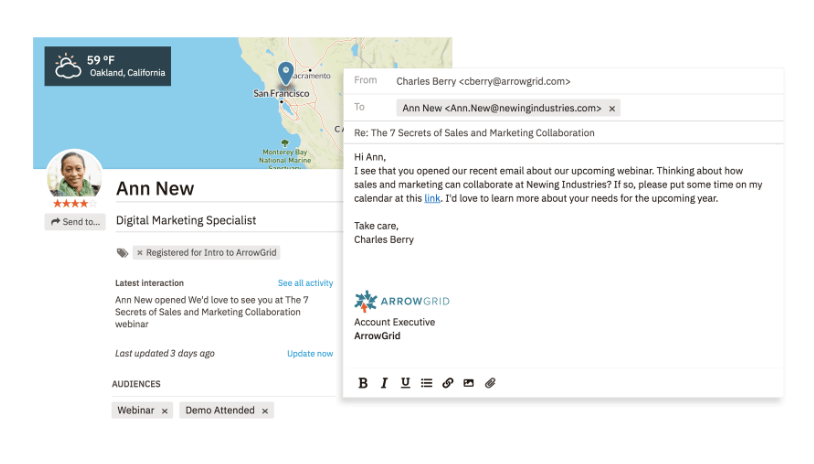 Additionally, Nutshell Marketing provides real-time data syncing, ensuring you have the most current information by integrating with popular email providers, including Gmail, Yahoo Mail, and Outlook. This integration can streamline your workflow and improve communication with customers, leading to better customer relationships and increased sales.
In addition, when in the market for CRM email integration software, verify if the software offers real-time syncing and automatic updates. Also, check if it supports multiple email providers and allows for the customization of fields and data mapping.
2. The option to automate email campaigns
The next item to look for is the option to automate email campaigns. Automating email campaigns can save time and increase efficiency by allowing you to schedule and send targeted emails to specific customer segments based on their behavior or interests. It also ensures that all customers receive consistent, timely communication from your company.
This feature usually comes with the ability to track email engagement, such as email open rates and click-through rates (CTR), within your CRM. Email engagement helps you understand your customers' behavior and tailor your communication strategies accordingly. For example, you can set it to send follow-up emails to those who expressed interest in a particular product or service.
Nutshell Marketing offers all the email campaign automation and tracking capabilities you need. For instance, its user-friendly interface allows you to create and send personalized emails, track email engagement metrics, and automate follow-up emails based on customer actions.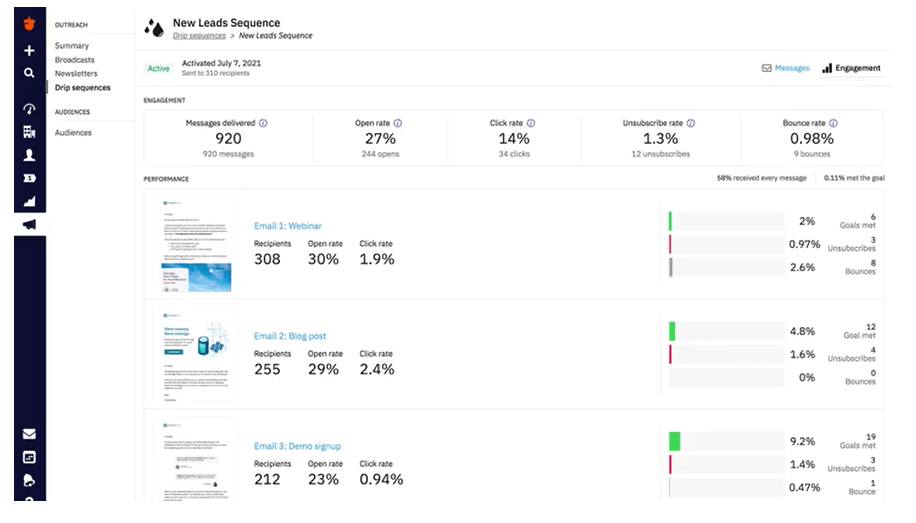 Nutshell also integrates with popular CRM platforms like Nutshell CRM, HubSpot and Mailchimp for seamless data synchronization.
3. Customizable templates for emails
A suitable CRM email integration software should feature customizable email templates that allow you to create professional emails that align with your brand image and messaging. This capability saves time and effort by eliminating the need to create new emails from scratch every time.
It's also essential to ensure that your CRM email integration software allows for email personalization with dynamic fields such as the recipient's name and other relevant information. This function can help improve engagement and response rates for your email campaigns.
To help you get started, Nutshell Marketing offers an intuitive design tool that enables you to customize newsletter and one-off broadcast templates according to your preferences and branding guidelines. With these templates, you can streamline email marketing campaigns and achieve a consistent look and feel across all communications.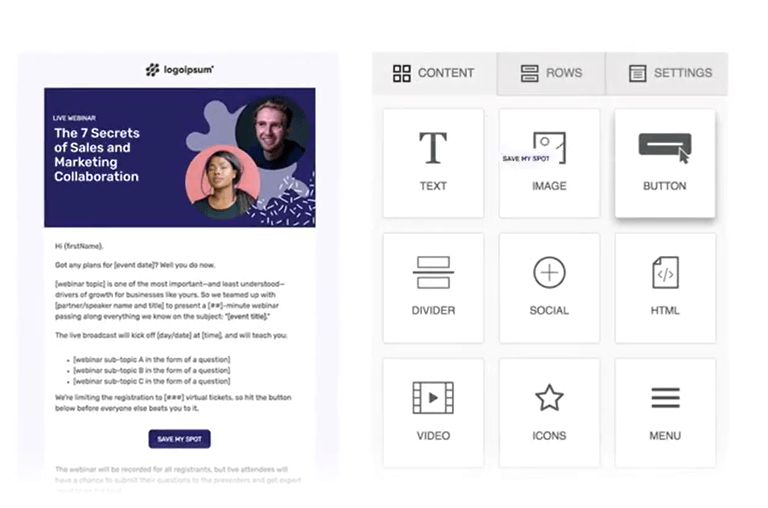 In addition, Nutshell Marketing's intuitive design tool also allows you to preview how your emails will appear on different devices and platforms, ensuring that you effectively communicate your message to all recipients. This feature helps you optimize your email campaigns for maximum impact and engagement.
4. Analytics and reporting tools
Analytics and reporting tools are the bread and butter of any good CRM email integration software. These tools provide insights into email campaign performance, allowing you to optimize your strategies and improve customer engagement. They can also help track sales efforts' success and identify improvement areas.
Nutshell Marketing offers a customizable dashboard that make analyzing and interpreting data easy. Its advanced tracking tools allow you to track email opens, clicks, and conversions. This software also provides detailed reports that enable you to identify your most engaged subscribers and create targeted campaigns to improve customer engagement.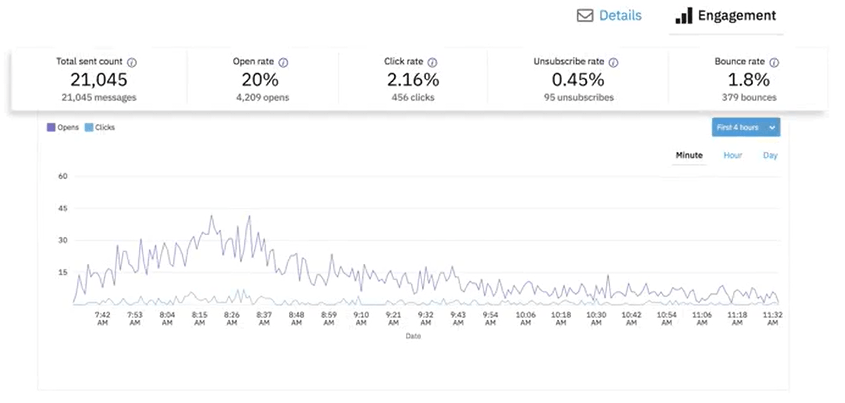 With Nutshell Marketing, you can also track your sales team's success by monitoring email responses and identifying potential leads. These insights can help you make data-driven decisions to improve your marketing and sales strategies.
5. Easy-to-use interface for managing emails
A user-friendly interface can save time and increase productivity by allowing you to quickly access and manage emails without navigating through complex menus. Well-designed email integration software should offer customization options to tailor the experience to your needs.
An easy-to-use interface can reduce the learning curve for new users and minimize errors or confusion when managing emails. This functionality can lead to a more efficient and streamlined email management process.
Nutshell Marketing offers a simple and intuitive interface that allows you to easily manage your emails and customize the integration to fit your workflow. With Nutshell Marketing, you can streamline your email communication and focus on what matters — building relationships with your customers.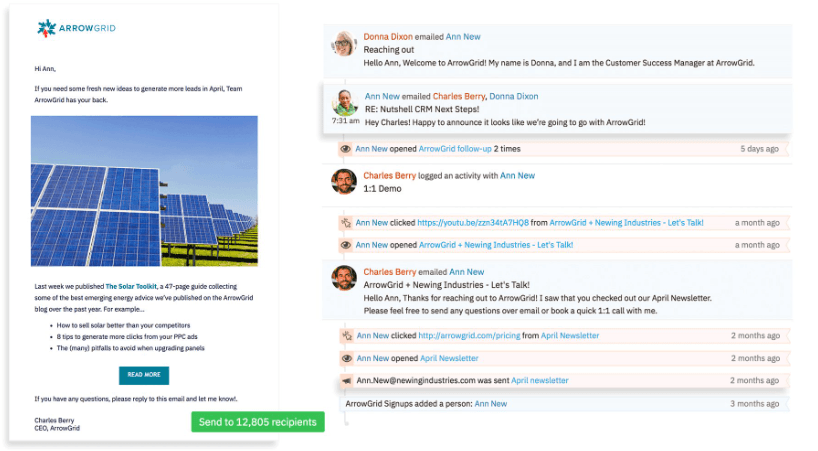 Also, look out for features such as drag-and-drop functionality, keyboard shortcuts, and the ability to organize emails into folders or labels, which can further enhance the ease of use and efficiency of email management.
Time to Level Up Your Sales
Our long list of services helps you grow every aspect of your business with marketing strategies that are proven to increase bottom-line metrics like revenue and conversions.
In the past 5 years, we've managed more than 12.9 MILLION transactions across our client base.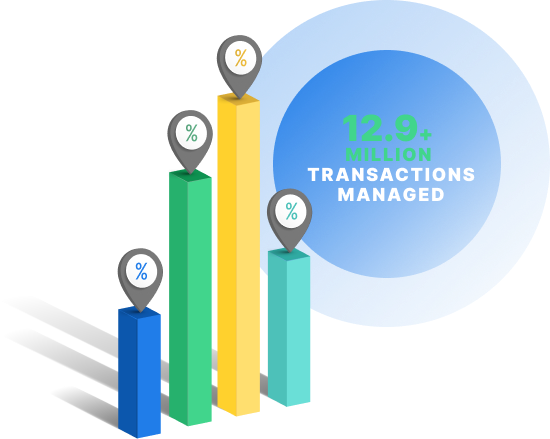 Are you looking to integrate your CRM with your email system?
WebFX offers an innovative CRM email integration platform — Nutshell Marketing — that seamlessly connects to your CRM data so that you can send personalized and targeted emails to your customers, track their engagement, and identify leads with ease.
With Nutshell Marketing, you can streamline communication and increase sales productivity. Plus, our expert team is always available to provide support and help you make the most of your CRM email integration, ensuring that you achieve your business goals and stay ahead of the competition.
Take advantage of the opportunity to take your email marketing to the next level and improve customer relationships. Contact us online or call 888-601-5359 to learn more about Nutshell Marketing.
How is your website's SEO?
Use our free tool to get your score calculated in under 60 seconds.
WebFX Careers
Join our mission to provide industry-leading digital marketing services to businesses around the globe - all while building your personal knowledge and growing as an individual.