Facebook Advertising Services
Facebook advertising services provide a vital opportunity to reach your key audiences, develop brand awareness, and increase engagement at all budget levels.
Expand your reach with custom Facebook ads!
Want to reach more customers with targeted Facebook ads? WebFX can help!
Why Use Facebook Advertising Services?
As the largest social media platform in the world, Facebook's user base consists of more than 68% of American adults. Facebook advertising makes targeting your audiences accessible.
WebFX provides strategic solutions to deliver effective messaging to users who will be the most receptive to it — potential customers in your audience! We'll work directly with you throughout the creating, targeting, and monitoring processes to ensure we're meeting your needs every step of the way.
We utilize Facebook's advertising services due to the platform's incredible reach and its extensive targeting capabilities. We'll work with you to define your audiences both large and small to find the best strategy to reach those people based on your specific business goals.

Facebook Advertising Objectives
WebFX understands that each business has unique goals for a Facebook advertising campaign. From brand awareness to conversions, Facebook advertising provides objectives at every level of the sales or conversion funnel.
Awareness
Are you looking to reach new customers or expand awareness of your brand or business? An objective at the awareness level will be a great fit for your campaign.
A law firm, for example, may use Facebook advertising to reach people with an active interest in that law firm's services. Someone in a recent fender-bender, for instance, may see that lawyer's Facebook ads because of their recent interest in finding a lawyer to represent them.
There are two options for Facebook advertising objectives at the awareness level: Brand Awareness and Reach.
Both objectives relate to increasing awareness of your business. Here's how they differ:
The brand awareness objective's goal is to reach people who are likely to be interested in your brand, your product, or your services.
The reach objectives goal is to reach the maximum number of people in a target audience.
Consideration
Drive people down the conversion funnel by choosing a consideration objective for your Facebook ad.
Whether you want people to visit your site or watch a video, all objectives in this category involve a user taking an action. This takes them a step beyond awareness and encourages them to interact, watch, click, or engage!
These objectives include: Traffic, Engagement, App installs, Video views, Lead generation, and Messages.
Traffic: This objective is straightforward — to drive more traffic to your website.
Engagement: The engagement objective can be one of three options
Post engagement: Get more post engagement on your Facebook content
Page likes: Increase your Facebook Page likes
Event responses: Increase the number of people responding to a Facebook event
App installs: This objective is useful if your business has an app that you'd like more people to download.
Video views: The video views objective will increase the views of your video content.
Lead generation: The lead generation objective can drive more sales leads through email and information collection.
Messages: With the messages objective, you can start more conversations with people in your audience.
Conversion
Can Facebook contribute to the bottom line for your business? Yes! Facebook offers three objectives to drive conversions on your site or in your store.
These objectives are best utilized when targeting warm audiences — an audience that includes users who are already familiar with your business. Objectives in the Awareness and Consideration stages can be used to fuel larger audiences used with Conversion campaigns.
Conversions: Drive valuable actions on your website like purchases, quotes, forms, and downloads.
Catalog sales: Drive sales of products included in your Facebook Product Catalog. This objective applies for e-commerce stores only.
Store visits: Drive in-store location visits. This objective is available to businesses with Facebook Locations, which means that you own a Facebook Business Manager account and Facebook has approved your application to use the feature.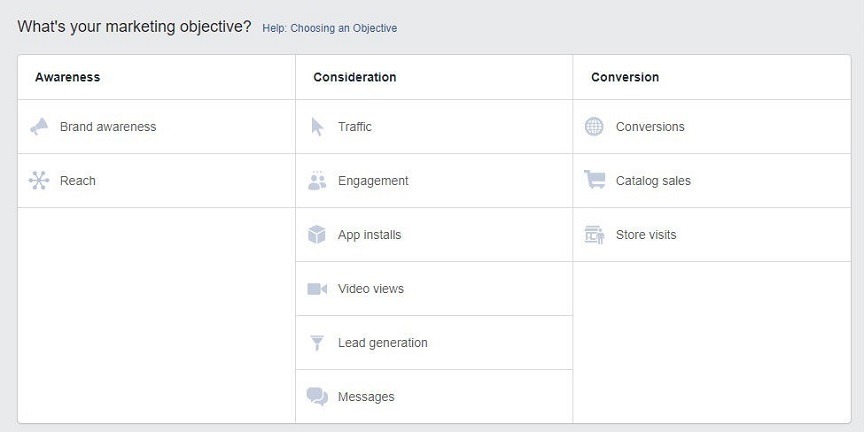 Facebook Advertising Targeting
Facebook advertising provides the opportunity to target large, broad audiences and narrow, specific audiences. The type of audience chosen to target all depends on the goals of a Facebook advertising campaign.
Facebook provides three main types of audiences:
Saved Audiences— Typically a broad audience
Custom Audiences —Typically a very specific audience
Lookalike Audiences — Typically a broad audience
Saved Audiences include demographics, age, gender, location, interests, and behaviors. Facebook advertisers can use these identifiers and characteristics to create audiences based on information known about their target audiences.
Custom Audiences allow Facebook advertisers to leverage data and interactions on websites and Facebook pages. These audiences are based on your website traffic, existing customer lists, or users who engage with you on Facebook or watch your videos.
Facebook advertisers can use custom audiences in remarketing campaigns to keep your current customers coming back or stay top-of-mind among users in the consideration phase of the conversion or sales journey. Facebook advertisers can layer on any of the identifiers available in Saved Audiences.
Lookalike audiences are audiences that include users who are similar to users in one of your Saved or Custom audiences. They may share the same interests, demographics, and behaviors as the audience you select to match with.
Facebook advertisers can layer on any of the identifiers available in Saved Audiences to Custom and Lookalike audiences.
Some of our client Successes
Facebook Ad Formats
WebFX will work with you to find the best type of ad format for your Facebook advertising campaign based on your resources and goals.
Advertising elements that apply to any type of ad campaign include: copy, tone, call-to-actions, and media. These elements set the foundation for different formats, so it's important to have strong elements here to maximize ad formats in your campaign.
Ad formats include:
Single Image Ads:
Include a link to your site with a single image, headline, copy, link description and call-to-action
Most commonly used in traffic or conversion campaign
Photos:
Include a photo and copy
Can be used in post engagement or awareness campaigns
Videos:
Include a video in your ad
Can be used in a post engagement campaign without a destination link or in traffic and conversation campaigns that will add a headline, description, and call-to-action below the video
Carousel:
Combine multiple photos in a scrolling carousel with a call-to-action, each with its own headline and link description
Most commonly used in traffic and conversion campaigns
Canvas:
Canvas can be used in any ad that include a destination
Canvas is similar to creating a landing page that lives within Facebook
Combine videos, photos, text, buttons, and more to create a mini-landing page for your ad to share more information than you can fit in the ad that shows in the News Feed
Catalog:
With a Facebook Catalog, promote multiple products in a Carousel or Collection format
How to measure Facebook advertising results?
WebFX uses multiple measures to evaluate Facebook advertising results. We analyze data based on Facebook Ads Manager (network performance) and on data from Google Analytics and our WebFX proprietary software MarketingCloudFX (site performance).
Network performance refers to ad results on the Facebook platform. Key performance indicators include impressions, reach, engagements, cost per click, click through rate, and clicks.
Site performance refers to the data from your Facebook ads in terms of traffic on your website. Key performance indicators include sessions, bounce rate, average time on page, pageviews, goal completions, and purchases.
WebFX Facebook advertising experts will help you define your most important KPIs and analyze your campaign results to optimize and improve performance.

Facebook Ads Manager
Key performance indicators vary slightly and carry different weight depending on your Facebook advertising goals, but there are some standard metrics that apply to almost any campaign:
Impressions
Reach
Results (clicks, views, post engagements, conversions, etc.)
Cost per result
Results rate (click-through-rate, conversion rate)
With Facebook Ads Manager, WebFX will install, or optimize, the Facebook Pixel. The Facebook Pixel provides even more insight and measurement into Facebook advertising results by tracking site visitors and their behavior.
The Facebook Pixel is a small piece of code added to the header of each page on your site. The code tracks all website visitors – not just visitors from Facebook, the pages they view, and the actions they take. The Facebook Pixel enables advertisers to remarket to website visitors, track and measure leads and purchases, and optimize campaigns for these valuable actions.
Google Analytics
When a Facebook advertising strategy involves goals that include driving and increasing traffic to your website, Google Analytics is critical for measuring performance.
WebFX's Facebook advertising team analyzes what traffic does when they leave Facebook to view your website. Some important questions include:
How long are visitors staying on the site?
What pages are they viewing and how many?
How much of traffic is new to the site?
What percentage of traffic is bouncing when visiting the site?
Analyzing information from Google Analytics combined with on-network performance are both factors when optimizing Facebook advertising campaigns.
MarketingCloudFX
In addition to Facebook Ads Manager and Google Analytics, WebFX created its proprietary software called MarketingCloudFX.
MarketingCloudFX provides additional tracking for leads, calls, and forms, sharing more insight into Facebook advertising results.
By comparing our data in Facebook Ads Manager to our tracking in MarketingCloudFX, we bring results full circle to showcase the ROI of Facebook advertising campaigns.
MarketingCloudFX also serves as a tool for us to gain insights on your specific competitors. With the tool – CompetitorSpyFX – we can identify how much traffic your competitors are driving from social media.
Who should use a Facebook advertising agency?
Working with a Facebook advertising agency is a great option for business looking to:
Grow their brand awareness by leveraging Facebook
Partner with Facebook adverting experts experience in creating custom strategies and optimizing campaigns
Save time on Facebook marketing efforts
Find clarity on where to start with advertising on Facebook, scale campaigns, and measure results
What to look for in a Facebook advertising agency?
It's important to find the best fit partner to work with your business on Facebook advertising services.
Be on the lookout for a Facebook advertising agency that stays on top of the most recent Facebook advertising trends and invests in ongoing training for their team member to master new tactics.
Search for transparent pricing and deliverables. A Facebook advertising agency might place pricing on their site or share pricing after contacting them for a quote.
Transparent pricing is one of the most important elements to look for when choosing a Facebook advertising agency. Find out how an advertising agency shares Facebook advertising results with and if you'll have access to real-time campaign performance.
Throughout your research process, asses the communication skills from every Facebook advertising expert you speak with. Do they respond promptly and communicate clearly?
WebFX knows Facebook advertising services
Interested in starting a Facebook advertising campaign with WebFX?
Our WebFX Facebook advertising experts will create your strategy, continually analyze and optimize campaigns, and transparently report on results.
WebFX works with a Facebook adverting representative to gain support and insight into the latest features directly from Facebook!
If you'd like to learn more or get started with a Facebook advertising campaign, contact our team of strategists today!
Need help with your social media? Call 888-601-5359 or contact us online today to learn more about how WebFX can give you the power to reach more people.