Award-Winning Web Design for Erie, PA
When you operate a business online, your website's design is the only voice you have. Even brick-and-mortar businesses can't deny the power of having an online presence. Reaching your target audience is critical to your company's success. A poor strategy could silence your voice forever with the majority of those customers.
Internet users want to be impressed, and most of them aren't going to stick around for more than 10 seconds if your website is unattractive, slow to load, or difficult to navigate. Even the richest, most captivating copy in the world isn't going to do you much good if your audience doesn't stick around to read it.
As a leading Erie web design firm, we're determined to improve the overall appearance of our clients' websites to give them that "wow" factor. Our dedicated team of experts is at the ready to deliver the results you want for your site. With our presence and history in Erie website design, you can rest assured that we have the tools, knowledge, and strategies to give your business a superior presence in search engine queries.
Give us a call at 888-601-5359 to speak with a strategist, or keep reading to learn how we can help your Erie business grow.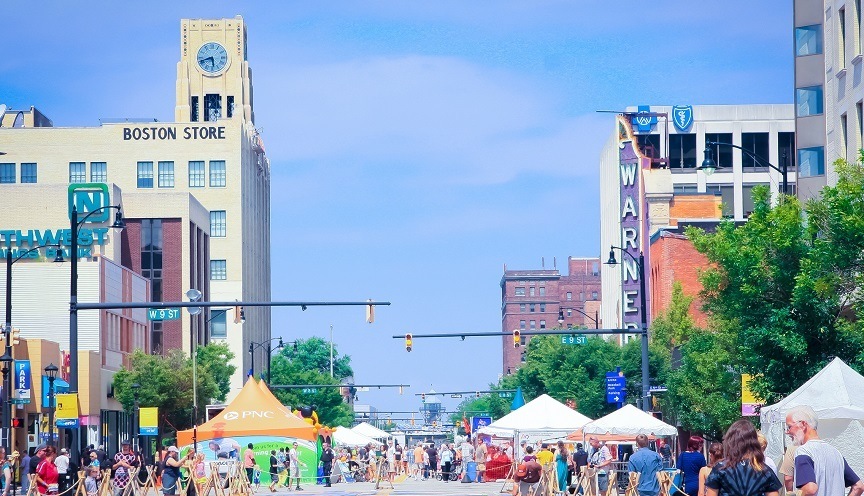 Is Your Website Doing its Job?
Your website should accomplish three main goals: It should captivate users when they land on your site, it should establish your authority in your industry, and it should motivate your visitors to take action and purchase or otherwise become a sales lead.
If your website isn't accomplishing these goals, then it isn't doing its job. And that's where we come in. WebFX's Erie web design specialists can help you achieve the main goals because we:
Understand your market and how to relate to it.
Have experience and industry knowledge to effectively market your company.
Have a verifiable track record for designing websites that drive conversions.
Offer an extensive portfolio of successful Erie web design campaigns.
Are not narrow-minded in our approach but rather appreciate and incorporate every opportunity available to improve the design of your site.
Understand the importance of forward-compatibility for continued function through Internet updates.
Offer solutions for database storage and regular updates.
Website design can be incredibly overwhelming, particularly if you have no prior experience building websites. When you choose WebFX as your Erie web design company, however, we can help walk you through the process, establishing your market, goals, and desires.
We don't want to tell you about the work we do, we want to SHOW you.
View Our Portfolio

We've built over
Websites
in a variety of industries.
WebFX is an Award-Winning Pennsylvania Web Design Firm
Our team of website design, development, and SEO specialists know how to motivate your target audience. More importantly, we know how to position your company exactly where it needs to be: in front of those visitors most likely to buy.
Located in Central Pennsylvania, WebFX is a local website design company that has worked with Erie businesses to create, redesign, and market their companies online. We've helped set up ecommerce websites, create online presences for brick and mortar stores, and redesigned aging websites for firms and B2B companies in Erie, PA, and around the world.
Our talented team is made up of more than 60 designers, developers, and strategists who work together to create a custom marketing plan for each of our clients. Whether you're looking simply for Erie website design or would prefer a full-service Internet marketing package, we can help. We have the awards to prove our worth, too: our design team has won multiple prestigious Horizon web design awards, and we've been declared the #1 SEO agency in the US.
Earn a 20% greater ROI with WebFX
Ready to Grow? Get your FREE Quote Today!
"We measure our success by how much we WOW our clients."

Bill Craig
WebFX President
WebFX is More Than a Website Design Company
Looking for a little more than web design? Our SEO services for Erie PA businesses will help get your website found by those who need it most. SEO, or search engine optimization, ensures that your website shows up for relevant searches and is on the receiving end of more traffic.
When you choose WebFX as your SEO partner, our experts will perform a full analysis of your website to determine where weaknesses lie and where improvements can be made. Not only will they do a thorough keyword analysis (so you can capitalize on the best searches), but they'll also analyze your site structure, design, and backlink profile.
Once our team has done their analysis, they'll use the data to begin a strategy to optimize your site. Optimization may include writing new website copy, restructuring your pages, and even diving into the site code to create the right tags and back-end programming that is most friendly to search engines.
Beyond that, our Erie SEO experts will analyze your backlink profile to determine how search engines view your website in relation to the rest of the web. Then they'll implement link building strategies to build your site's authority and boost your rankings.
Get Started with Your Custom Internet Marketing Plan
Ready to take your website to the next level? As a leading web design company located near Erie, our website design and SEO services can take your online presence from "meh" to "world-class." Contact one of our experts for a no-obligation quote, or to learn more about how we've helped Erie companies just like yours make a real profit online.
Call 888-601-5359 or contact us online today to see how WebFX can take your Erie business to the next level with our website design and Internet marketing plans.
Earn a 20% greater ROI with WebFX