Services Offered by New Jersey Web Design Professionals
Regardless of what business or niche you are a part of in New Jersey – whether you own a sole proprietorship retail store or a multi-national corporation catering to millions – you need a website to help your business thrive. The Internet is a huge part of peoples' lives around the world, that customers expect you to have an online presence. They want to know that there is an easy way to access information about your products or services, and if they can't, they could easily form a bad opinion of your business (especially when all of your competition has websites).
However, a plain website is not enough. What you need is a web design that does not only reflect the kind of business you have, but also exudes the tone of your business. Everything is competitive these days, and websites are no exception. Perception and image can now create a big impact to any business. If you do not make that initial great first impression, then you just might not have that second chance.
Are you looking to create a brand-new website or revamp one that you already have? WebFX can do either. If you'd like to contact us before reading on, you can reach us at 888-601-5359.
How can you find a reliable company to partner with to create a beautiful brand website? Here are a few ideas.
If you'd like to talk about your custom web design needs, contact us online or call us at:
888-601-5359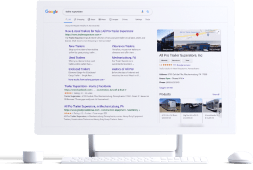 Tips to find a reliable NJ web design company
When searching for a web design professionals to work with, here are some tips to help find an agency that fits your needs and your budget.
Look at design templates provided by the web designer. Templates work beautifully when it comes to overall impact. At WebFX, we have a wide number of options for you to choose from. There will surely be one that will suit your preferences and that will reflect the nature of your business. You can also customize your web design based on what you see fit. You can have distinctive graphics or headers for your pages, add flash introductions, photos, and other features.
You should be sure that your web designer includes ecommerce tools as necessary to accomplish your online goals. This can include SSL certificates, shopping carts, and additional protection when handling credit card payments.
Find a web design agency that offers the following services as seen in the list below.
What kind of services should a web design company provide?
Check out our list of services that the best web design companies should provide for your NJ business.
Business solutions
As the name suggests, the focus of a web design agency is to provide a great web design for their customers. Their job is to provide an actionable, aesthetically pleasing website for their client, and ensure that it creates conversions. But this isn't their only job.
Web design companies should not merely focus on the design of a website. They should also offer solutions to improve your overall marketing efforts, enhance internal operations, and increase profitability. This includes the usual processes related to web design which includes domain name registration, an option for shared or virtual hosting, ecommerce, database solutions, dedicated servers, multiple platforms, and a lot more.
A plan and a process
Establishing a proper web presence should involve proper planning. Your New Jersey web design company should help you plan your site depending on your needs and expectations, and carry out the plan systematically. If you get in touch with the right New Jersey web design company, reaching your target audience will come easily.
Internet marketing
Having a website with a great web design is simply not enough nowadays, considering millions of sites competing for attention. Internet marketing strategies such as search engine optimization are now imperative to website owners, since about 90% of online users use search engines to find what they are looking for.
Establishing your presence in search engines is a sure-fire way to make sure that your New Jersey business is known and to attract traffic to your site. The more traffic you draw in, the better chances for sales, and the better ROI. SEO is all about good web design and excellent content. Your New Jersey web design professional can make this happen for you.
Performance tracking
It is equally important to optimize your site, so you can experience best results. With a good tracking service to be provided by your web design company, you will be able to keep track of just how many people visit your site every day, where they come from, from which page they were led to, and how the sales pages are performing, as well as other important analytics. We at WebFX can help you optimize your site, track its performance and update it every so often to produce the most pleasant results.
Our digital marketing campaigns impact the metrics that improve your bottom line.
See More Results

WebFX has driven the following results for clients:

$3 billion
In client revenue

7.8 million
Leads for our clients

5.2 million
Client phone calls
Get noticed online with Internet marketing from WebFX
In order to have a successful business, a top-notch website is imperative. You'll need a great website designer, and a web design that will create the greatest exposure and maximum impact.
We at WebFX can do this for you! We can build you an aesthetically pleasing, efficient, and fully functional web design which will help your business compete in the New Jersey marketplace and grow well to its fullest sales potential.
Do not take your web design for granted. Contact us now and thank yourself later for doing so at the right time. We at WebFX will be glad to be of service!