When you build your business's website, everyone tells you how critical it is to have a beautiful and functional web design. They say things like, "94% of first impressions come from your website's design, so you must make sure it's perfect!"
While your website's design is critical to providing a positive user experience, it isn't the only thing that matters — your website copywriting is just as important. A beautiful design is great, but if you don't have well-constructed and thoughtful information on your website, it won't matter.
By looking at copywriting examples, you can gain inspiration for how to create engaging and informative copy for your website.
Keep reading to see our hand-picked list of good copywriting examples you can use for inspiration!
P.S. Feel like you're struggling to find a reliable resource of marketing tips and tricks for your business? If so, then it's time to subscribe to Revenue Weekly! You'll join 190,000 savvy marketers in getting the latest tips for marketing your business from industry experts!
For digital marketing advice on the regular, subscribe to the email that more than 190,000 other marketers trust: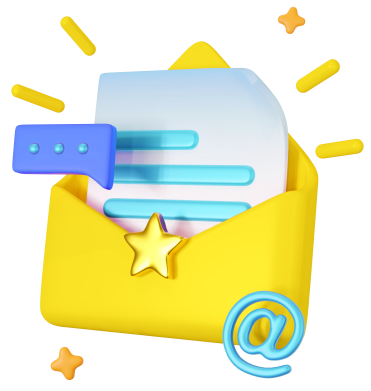 5 copywriting examples that make you want to buy
Ready to write stellar copy for your website? Check out some of the best copywriting examples from companies like:
Let's dive in!
1. Bombas — Copywriting that speaks to comfort and care
First on our list of good copywriting examples is Bombas. Bombas is a brand that focuses on creating comfortable basics with a cause — every item they sell, whether socks, underwear, or shirts, results in them donating an item to homeless people in need.
Bombas's copywriting does a great job of speaking to their audience. When talking about their mission, they incorporate their audience into the text. They talk about how donating an item on the customers' behalf was a good idea and how it "turns out a lot of other people did, too."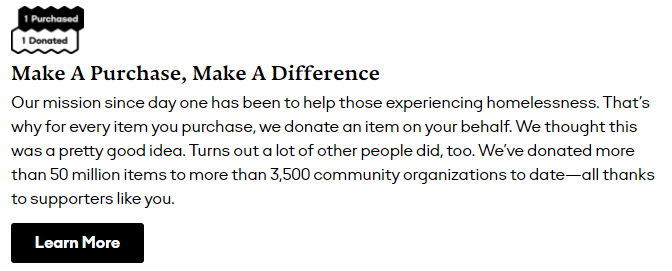 With this copywriting, Bombas appeals to their audience's sense of philanthropy and how their purchase makes an impact.
Additionally, Bombas has one of the best copywriting examples because they speak to their audience's pain points. When reading about their product, they talk about the "small" issues that bother consumers, like no-show socks that slip and pilling on clothing, and how they address those issues.

Bombas does a great job of addressing their audience and speaking directly about what matters most to them.
What you can take away from this copywriting example
When you craft copywriting on your website, keep your audience in mind. You need to write copy that appeals to the people who are most likely to purchase from you. Focus on your audience's pain points and how you solve them to create copywriting that engages and appeals to your audience.
2. Barkbox — Copywriting that's doggone fun
Next on our list of the best copywriting examples is Barkbox. Barkbox is an excellent example of how to have fun with your copywriting to make it exciting and engaging for your audience.
For example, their description of how BarkBox works uses phrases like "mark your calendars and be excited" and "your month-long dog party begins." They also sprinkle casual language like "pup" throughout their copywriting.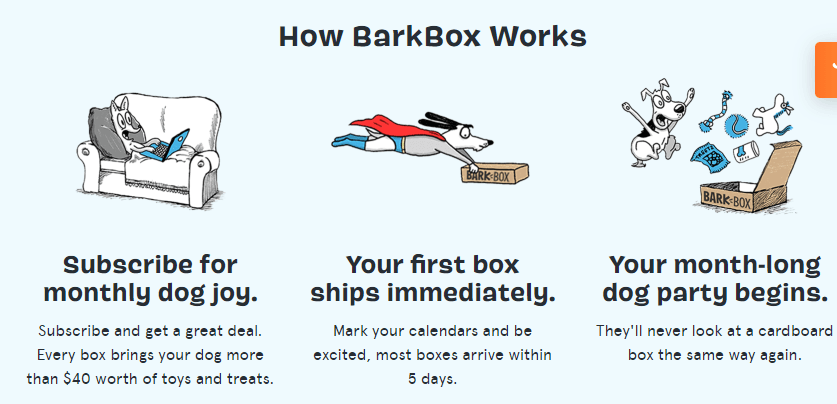 BarkBox, when speaking of their customer service, uses the phrases "No muss, no fuss, no disappointed pups."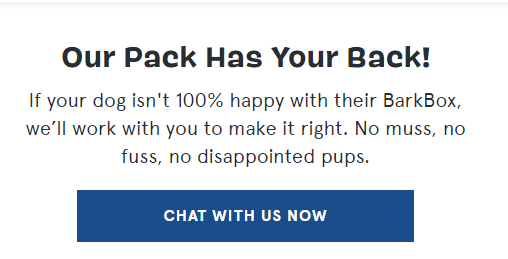 All this language reflects the fun and casual brand that is Barkbox.
What you can take away from this copywriting example
Your copy should match your brand's style. BarkBox's style is fun and casual, which is reflected in their copywriting. When you create copywriting for your company, think about your style and brand tone to ensure it aligns with your overall brand image.
Your brand tone can fall anywhere on the spectrum, from fun and funny to direct and serious. Just make sure you choose the right tone to send the correct message to your audience. You don't want to be a serious brand using funny language just to appeal to your audience — it will confuse them.
Stick to the tone that best fits your brand, and you'll create compelling copy for your business!
3. Partake
One of the best copywriting examples comes from Partake. This brand focuses on creating enjoyable allergy-free food. Their copywriting takes a direct approach and tells site visitors what they need to know about their business and product.

They provide a clear description of their products, like how they're gluten-free, non-GMO, and more. This information is shared throughout different copy on their website.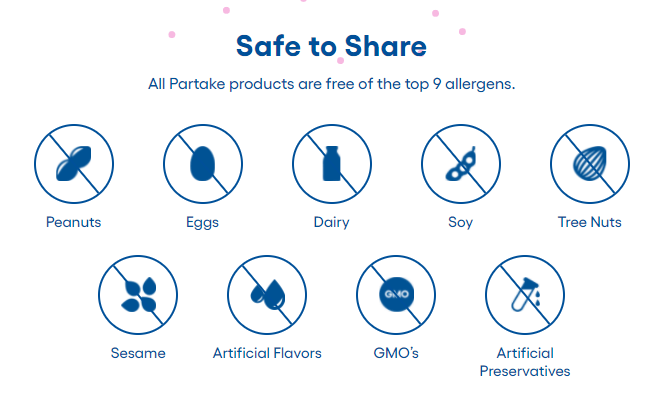 Partake's copywriting is clear and concise, providing website visitors with the information they need about the company's products.
What you can take away from this copywriting example
Partake is an excellent copywriting example because their content is clear and concise. Users don't struggle to figure out what they mean — their information is clear and tells visitors what they need to know.
When you craft your website's copywriting, make sure you present information clearly, so users quickly get the most important information they need.
4. Planet Fitness
Planet Fitness is an excellent copywriting example because of its brevity. They provide information and answer questions quickly — without beating around the bush.

Planet Fitness shares information like why people should choose them and how they're a good fit for all budgets. This information is what people want to know, and Planet Fitness provides a quick answer to that question.
Then, if someone wants more information about that topic, they can see even more information concisely broken down to provide a more informed answer.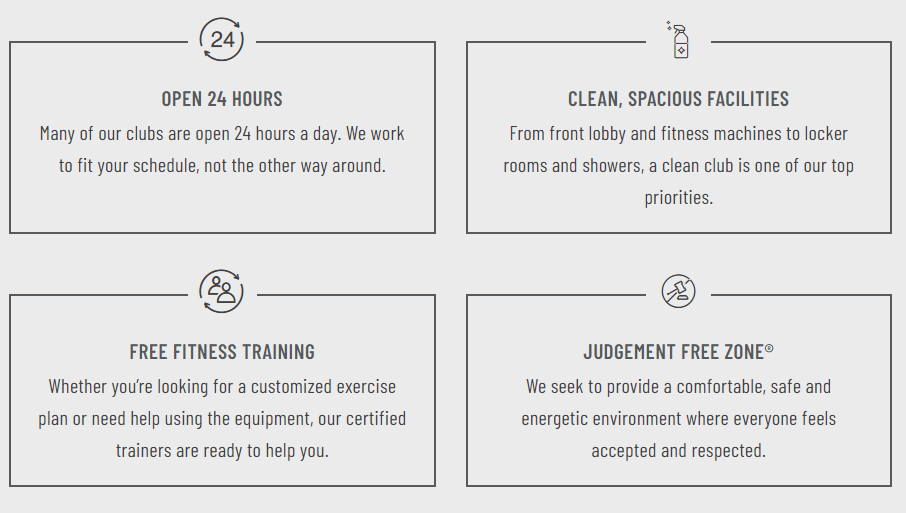 What you can take away from this copywriting example
As you'll find with many of these examples of copywriting, brevity is key. People don't want you to drone on forever about who you are or your products. They want to get the information that's most important to them and digest it quickly and easily.
When you craft your website's copywriting, think about how you can quickly provide your website visitors with the information they need. Don't beat around the bush and be direct with your information.
5. Pourri
Another one of the best copywriting examples on this list is Pourri. The brand, known for Poo-Pourri, is a prime example of how to integrate your brand's unique tone and style throughout your copywriting.
On their homepage, you'll find copywriting that uses phrases like "porcelain throne."

If you go to their product page, you'll find phrasing like "we don't use any bad crap in our products" and "funk fighting ingredients."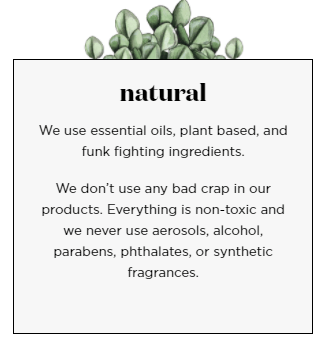 Then when you visit their about page, you see more of the crass-style language they use that fits their brand.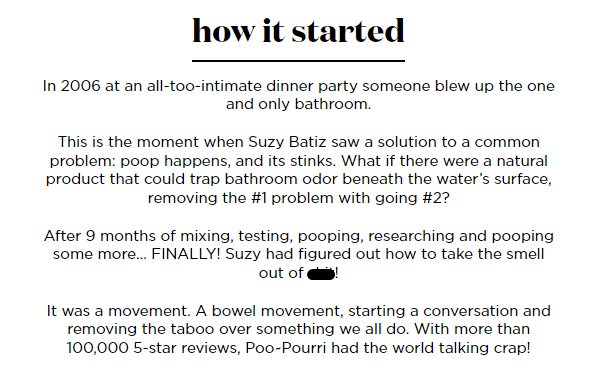 So, what's the point?
The point is that Pourri is consistent with their language across their website. Whether there's text on their homepage or product page, the language and style are consistent.
What you can take away from this copywriting example
When creating copy for different parts of your website, you must keep it consistent. People won't know what to make of your brand if you constantly switch between tones and styles. Consistency with your copywriting helps people understand your brand better.
Feeling inspired by these copywriting examples?
Now that you've looked at all these examples of copywriting, you may feel ready to start creating copy for your website. But if you're still unsure how to craft copywriting that fits your business, WebFX can help.
We have an expert team of copywriters that can help you create compelling and informative copy to share with your audience. With over 25 years of experience in digital marketing, you can feel confident we'll craft copy your website visitors will love.
Want to learn more about our copywriting services? Contact us online or call us today at 888-601-5359 to speak with a strategist!