Fifty-four out of 100 shoppers admit they would stop shopping at a retail store that doesn't provide them with relevant content. This means that there's no way around it — you must produce engaging content or risk losing a significant chunk of your customer base.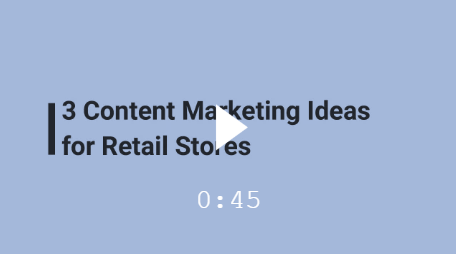 Luckily, content marketing today gives you many options if you're in the retail business. Retail stores can reap the benefits that come with successful content curation if they:
Create engaging, shareable content
Post consistently at the right time
Promote via social media
Sounds simple enough, right? It's easy in theory, but there's actually a lot to consider when it comes to successful content marketing for retail stores.
If you want to learn more, keep reading or give us a call at 888-601-5359!
What is content marketing, exactly?
Content marketing involves creating a unique product like a blog post, photo, or video and promoting it via marketing channels like social media. It includes all the following and more:
Blogs
Infographics
Videos
Guides
Product reviews
How-to posts
Ebooks
Case studies
Interviews
In-house research
Whitepapers
The important factors to keep in mind are that you tailor your content to your audience and make it unique. Your readers are constantly bombarded with content, and it's your job to give them something new and interesting — you want them to stick with you, not look to your competitors!

Hear What It's Like to Work With WebFX!

"Our WebFX team was on top of everything. Best part is our lead contact felt like she was part of our company. She learned everything about our business so quickly and was able to be very efficient with our brand. Reacting to what we needed or wanted to change, making us feel so comfortable the whole way!"
Retail
Why is content marketing important for retail stores?
Simply said, people identify with retail brands. People love brands that speak to them, and they'll happily talk up a company that makes them happy. With the right merchandise, they can even become walking advertisements for your business!
To earn that kind of brand loyalty, though, you have to exceed a customer's expectations. The same principle applies to content marketing — if you want customers to engage with what you create, you have to go above and beyond.
Too much sales-driven content will cause people to abandon your brand, but customer-focused content can be rewarded. If you want to learn more, consider the following helpful ideas for content marketing for retail stores.
1. Focus on mobile
The huge popularity of smartphones and other mobile devices is especially significant when it comes to content marketing for retail stores. With more and more people shopping online, it can be hard to direct the attention back to the physical location of a retail store.
The rise in mobile presents new opportunities to target people who are physically inside your retail store. Using mobile technology, it's possible to locally target shoppers and send them relevant content when they're close to it. By using technology like beacons, you can tailor custom, hyperlocal content that will appeal to customers at a certain location of your store.
2. Get a handle on social
Social media marketing is an important part of any content marketing strategy. The majority of adults are using social media, and most retail brands are found online, so incorporating social media into your business is a no-brainer!
Here are a few tips for interacting with your audience on social media:
Contribute to the conversation. Watch how people talk about your brand online. You can do this by searching for hashtags and monitoring your engagements online. By jumping into discussion with these potential customers, you can also encourage them with their positive experiences with your product or talk with them about their negative experiences. Either way, you're showing the customer (and everybody watching) that you care.
Inspire your audience. The online atmosphere provides a unique opportunity for inspiration. Provide your audience with videos and photos that show customers creatively using or modeling your products, and ask them to participate. When they jump in, you and your customers can share a fun experience focused around your brand.
3. Be transparent
Consumers today care about more than a good deal. They care about sustainable lifestyles and learning more about what makes brands tick. If you want to reach your audience at a deeper level, open up to them. Tell them your story, your policies, and positive community or sustainable initiatives of your business. If you're transparent, they will see you as more than just another retail store trying to coax them into a purchase — they'll see you as an ideological partner.
There are plenty of ways to present your brand's story online. Consider any of the following:
Storytelling videos
Calls to action that promote a cause
Discussing your business practices online
Drive more sales with content marketing for retail stores
If you don't have the time to work on the content for your retail store, WebFX can help. We're a full-scope Internet marketing agency that specializes in content marketing, social media strategy, SEO, and other services that can help you grow your brand online. Our copywriters are pros at creating forms of online content, and our reputation managers can help maintain a positive image of your brand on search engines, social media, and more.
Contact us today to start planning your retail store's growth online!