History of Black Friday and Cyber Monday Spending
Thanksgiving weekend is the most wonderful time of the year for shoppers looking to save on holiday gifts and household goods.
It's also a crucial time for the economy, and the National Retail Federation (NRF) estimates that 30% of annual retail sales occur between Black Friday and Christmas.
In this post, we'll take a look at the history of Black Friday and Cyber Monday spending and how shopping trends have changed over the years.
Grab your leftover pumpkin pie (don't forget the whipped cream), and let's get started!

Average Thanksgiving weekend spending
This year, 154 million people hit the stores and shopped online on Thanksgiving weekend — about 3 million more people than last year.
On average, here's how much each shopper spent over Thanksgiving weekend.
2014: $381
2015: $300
2016: $290
Discounts encouraged more people to shop over Thanksgiving weekend, and these promotions may also be why average spending has declined from previous years. NRF President and CEO Matthew Shay said, "In fact, over one third of shoppers said 100% of their purchases were on sale."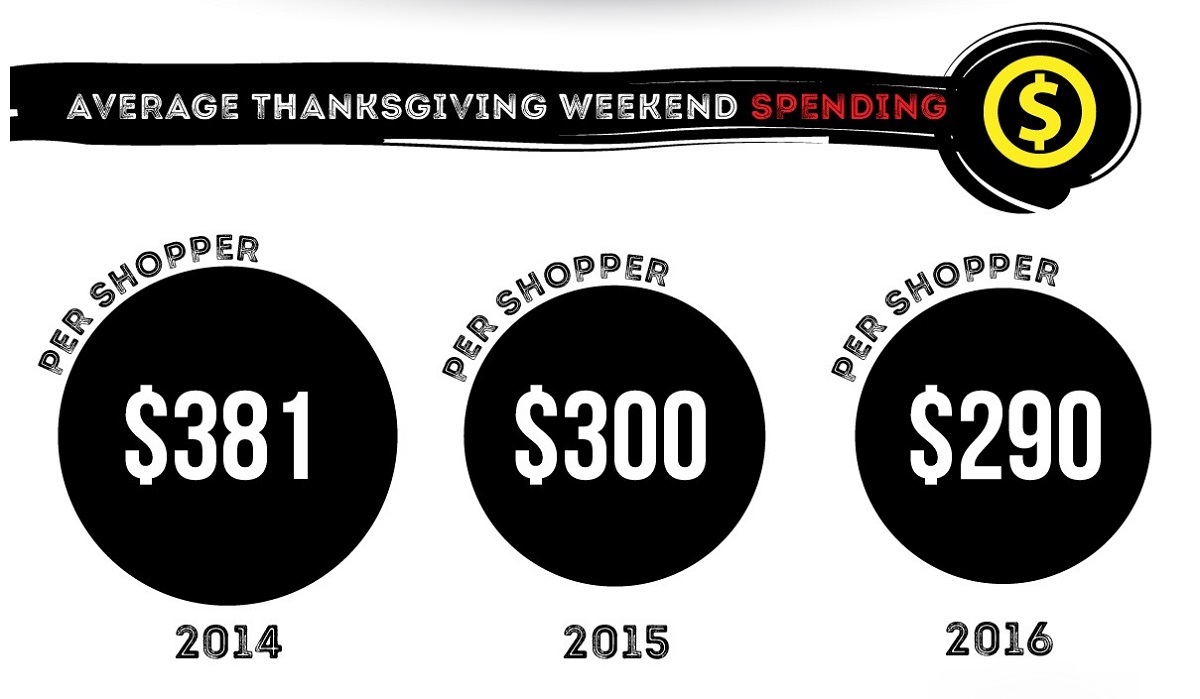 Black Friday Online Shopping
While some people camp outside stores awaiting Black Friday deals, others prefer to shop online.
Here's how Black Friday online spending has grown over the past three years.
2014: $1.51 billion
2015: $2.93 billion
2016: $3.3 billion
Online shopping is a growing trend on Black Friday with more people opting to avoid the crowds and shop from the comfort of their homes.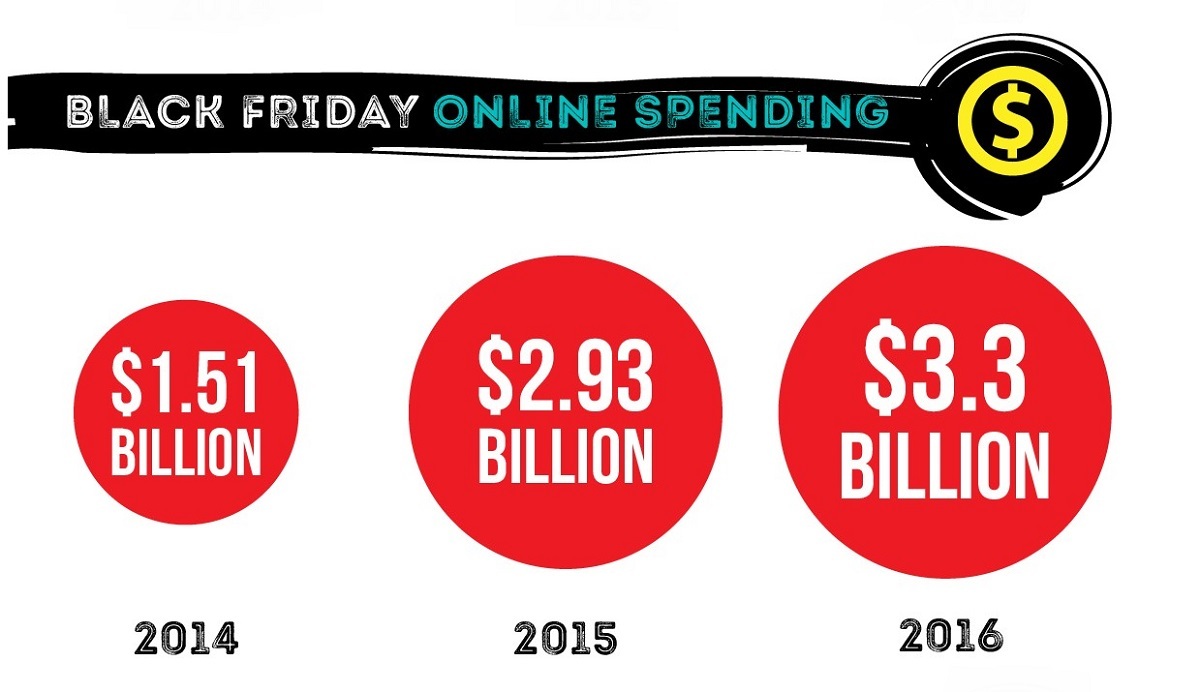 Cyber Monday Spending
Originally coined by the National Retail Federation in 2005, Cyber Monday has helped online retailers match the brick-and-mortar shopping craze of Black Friday.
According to the NRF, 77% of online retailers said sales increased substantially on Cyber Monday, which prompted the Retail Trade Association to make it an official shopping day.
Since its creation, Cyber Monday continues to be one of the biggest shopping days of the year with sales reaching more than $3 billion this year.
Let's take a look at the growth over Cyber Monday since 2014.
2014: $2.65 billion
2015: $2.98 billion
2016: $3.45 billion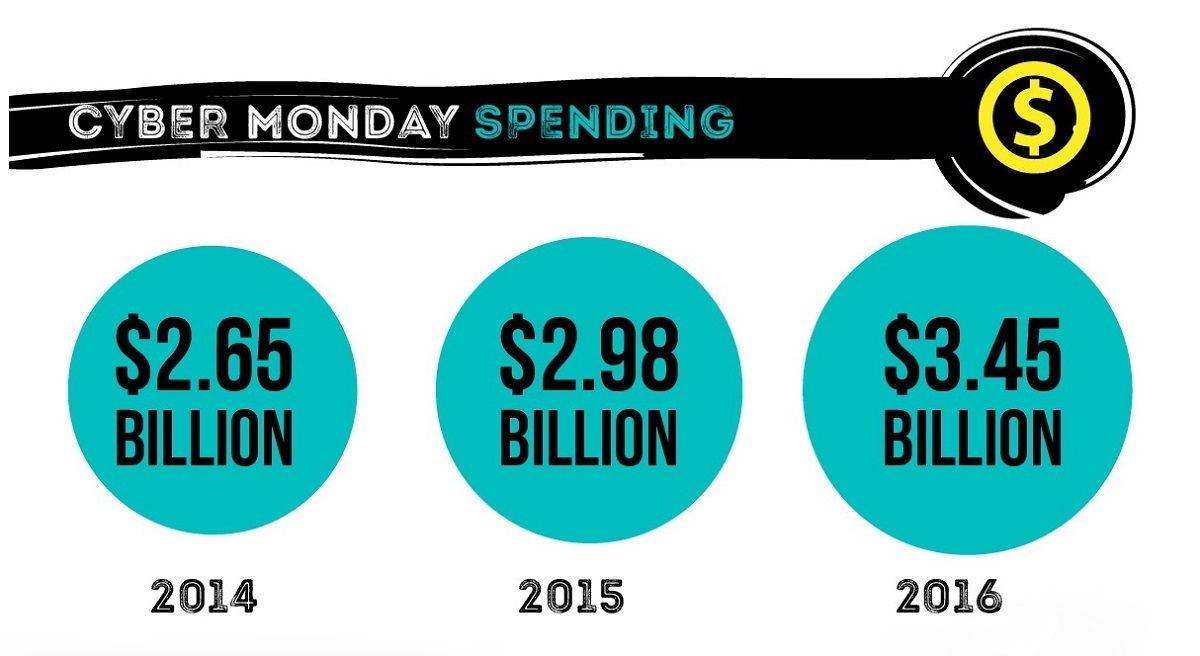 Seasonal retail positions
The uptick in holiday retail traffic also sparked an increase in seasonal employment.
This year, the NRF estimates that retailers added as many as 690,000 new holiday positions. That number is in line with the 675,300 new positions added last year, though it's slightly less than the 697,500 positions added in 2014.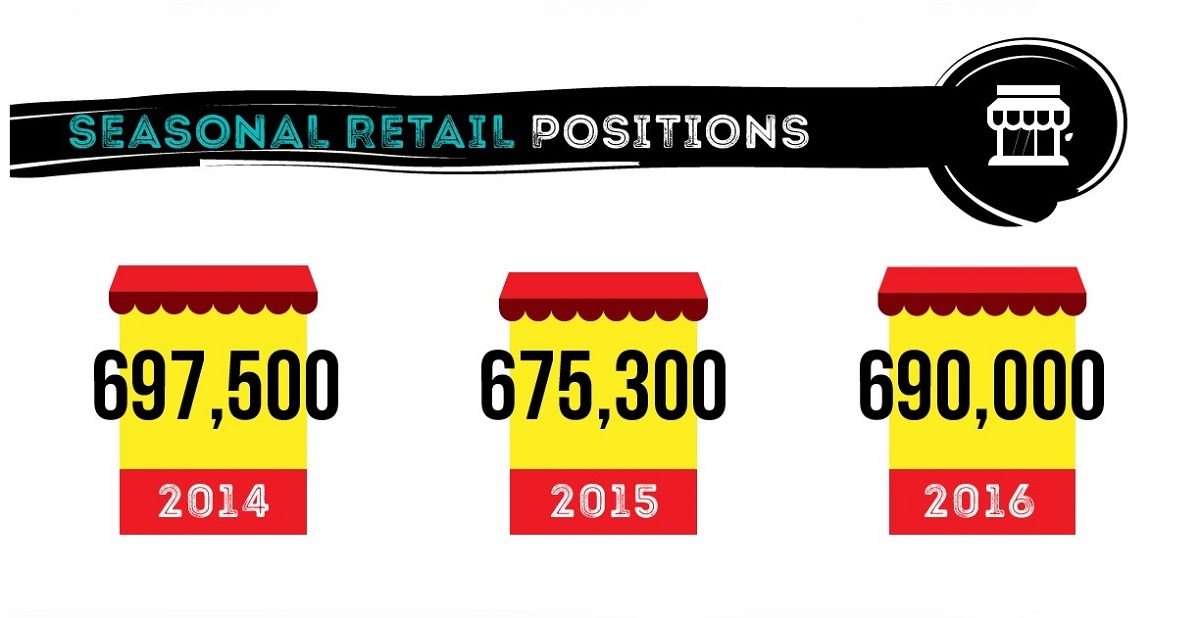 Why consumers holiday shop online
Sometimes, you just don't feel like going to the store — especially if you're still in a turkey coma.
Besides the fact that you can stay in your stretchy pants and shop from the comfort of your couch, here are a few of the top reasons people choose to holiday shop online:
24-hour shopping convenience: 35%
Easier to compare prices: 33%
Free shipping offers: 32%
Avoid the crowds: 31%
Convenience: 29%
Easier to find items online: 18%
Better variety online: 17%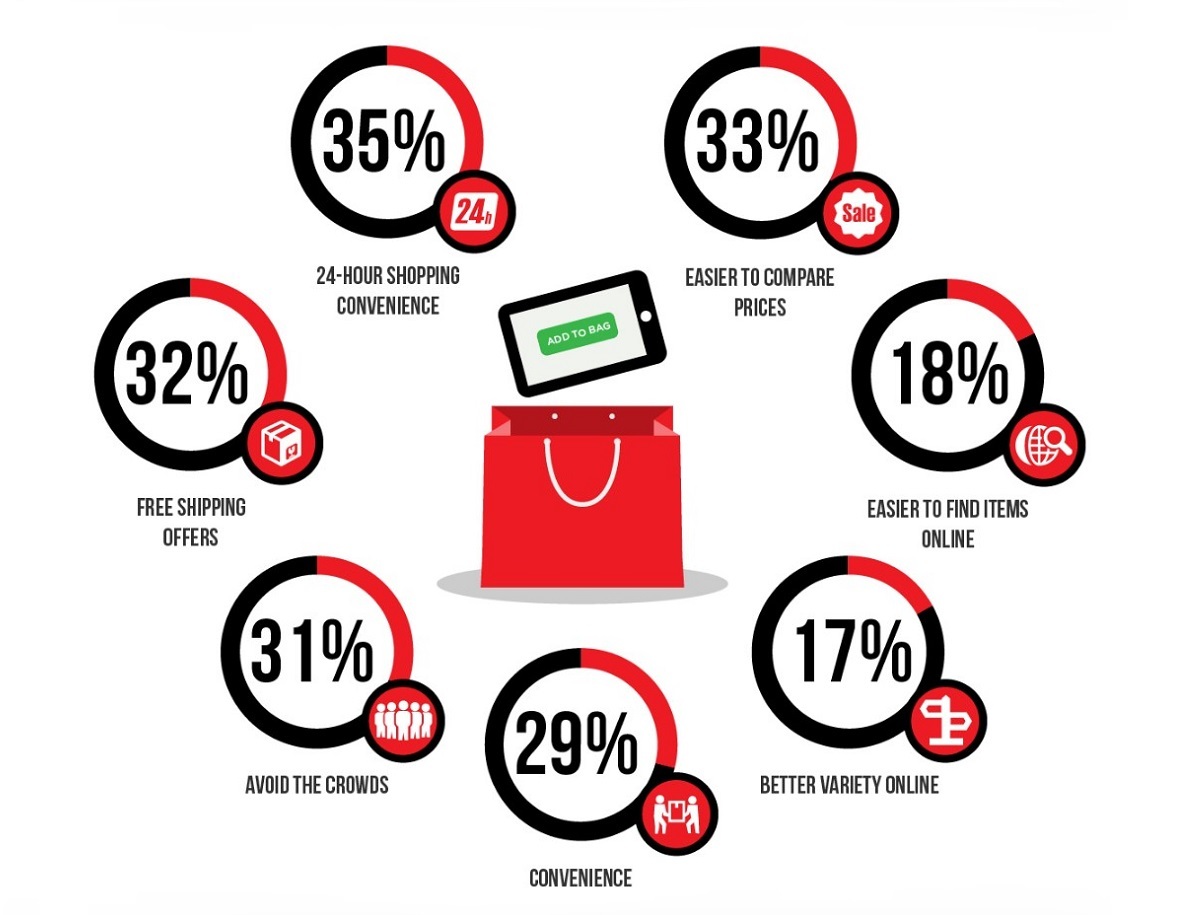 Stores with the biggest Black Friday discounts
Savvy shoppers are all about finding the best Black Friday deals — and sharing them on Twitter for the world to celebrate.
While some stores may artificially inflate prices to make Black Friday "doorbuster" sales seem even more impressive, WalletHub crunched the numbers to determine which stores offer the biggest average discounts.
If you're looking to save your dolla dolla bills ya'll, check out these stores.
J.C. Penney: 68% Off
Kohl's: 66.7% Off
Stage: 63.9% Off
Groupon: 63.7% Off
Belk: 59.5% Off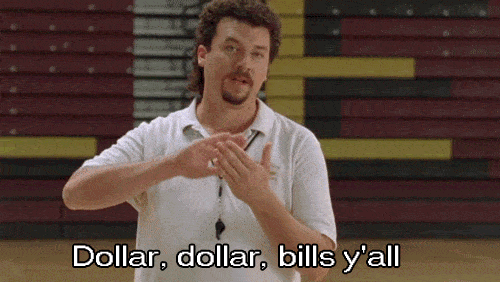 Source: http://giphy.com/
Cities with the highest interest in Black Friday
According to Think with Google, Google searches for "Black Friday" are highest in these cities across the U.S.
Westland, MI
Augusta, GA
Louisville, KY
Nashville, TN
Omaha, NE
The top questions people ask on Google search?
What time do stores open on Black Friday?
What time does Black Friday start?
When does Black Friday end?
What to buy on Black Friday?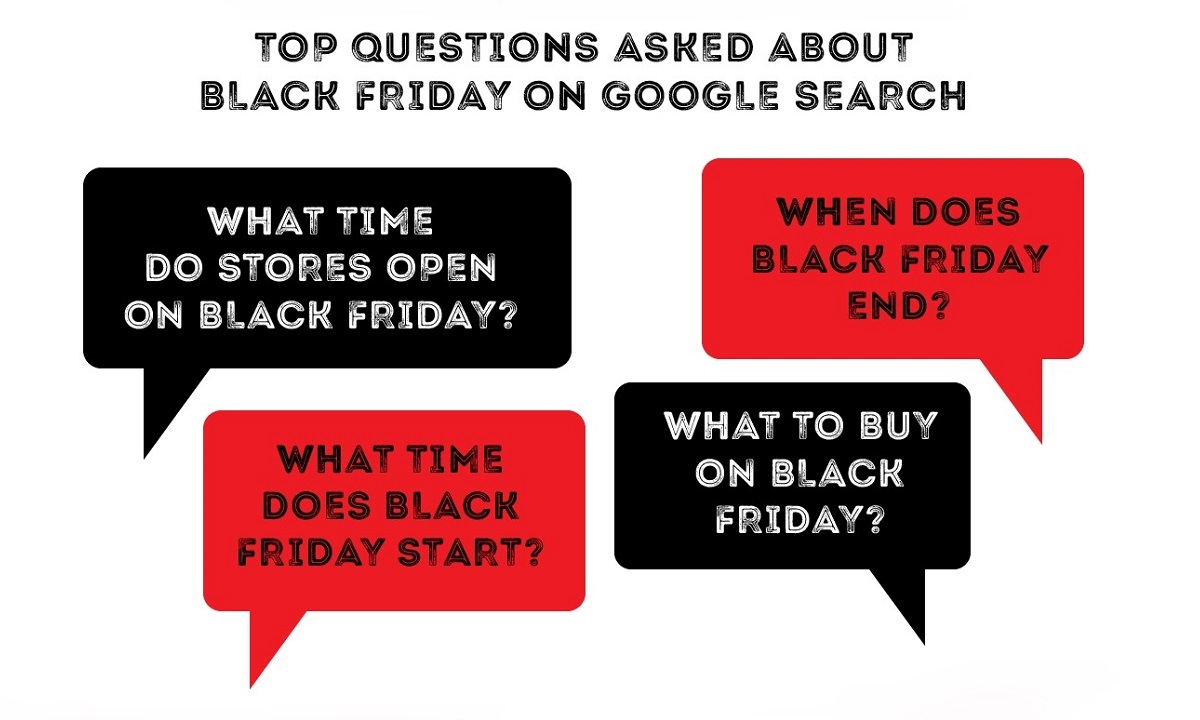 Black Friday Internet trends
It's no secret that people use the Internet to research the best Black Friday and Cyber Monday deals.
In fact, Think with Google estimates that 78 percent of people use the Internet for holiday research, and 80 percent of people watch product reviews on YouTube to help with holiday shopping.
Mobile shopping is also on the rise, and 53% of online holiday shoppers used smartphones or tablets last year. And this year, mobile sales on Cyber Monday totaled a whopping $1.07 billion, a 34% year-over-year increase.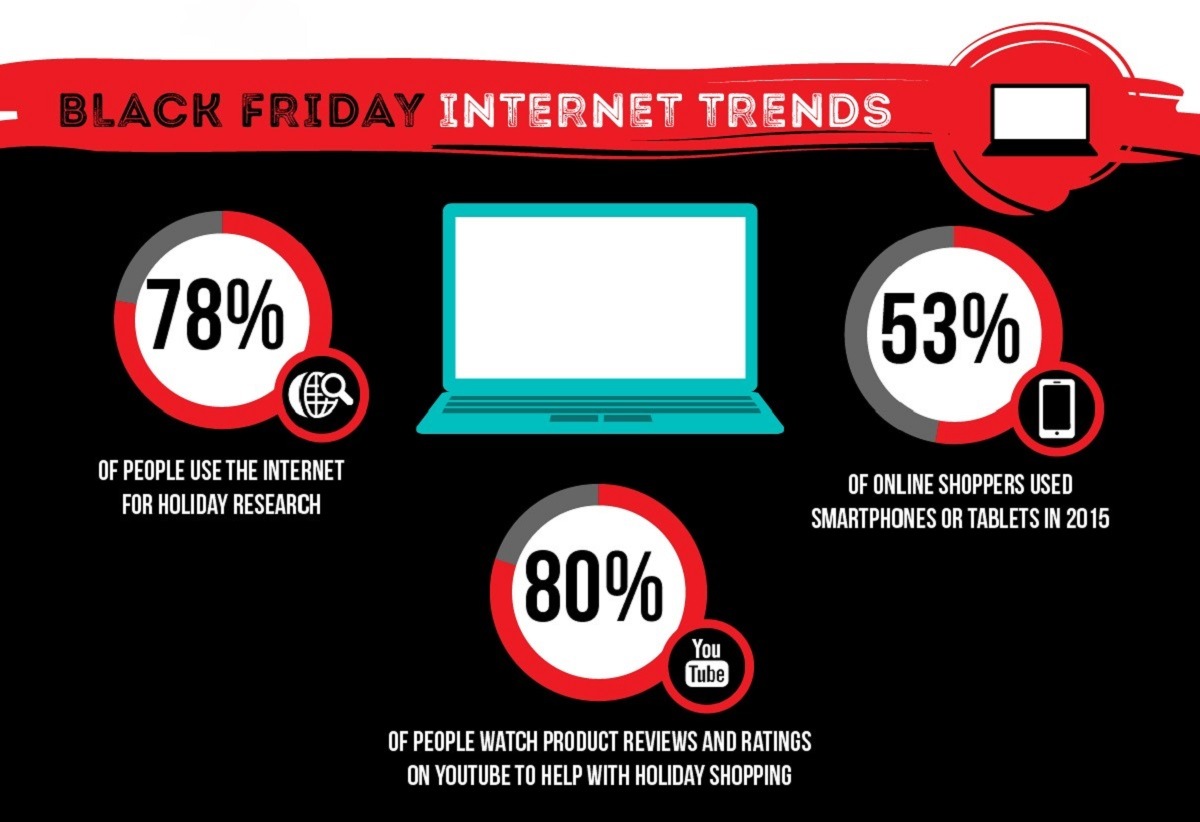 Global Black Friday weekend sales
Turkey and cranberry sauce might be American, but Black Friday has gone global.
In recent years, the Black Friday phenomenon has spread across the globe — even though the majority of the world doesn't celebrate Thanksgiving.
Here's how Black Friday (2015) played out around the world.
U.K.: $3 billion
Germany: $424 million
France: $240 million
Some countries have even developed their own version of Black Friday.
For example, Mexico's El Buen Fin (the good weekend) runs from Friday to Monday and features discounts on a variety of products and services and gives consumers a chance to be reimbursed for their purchases.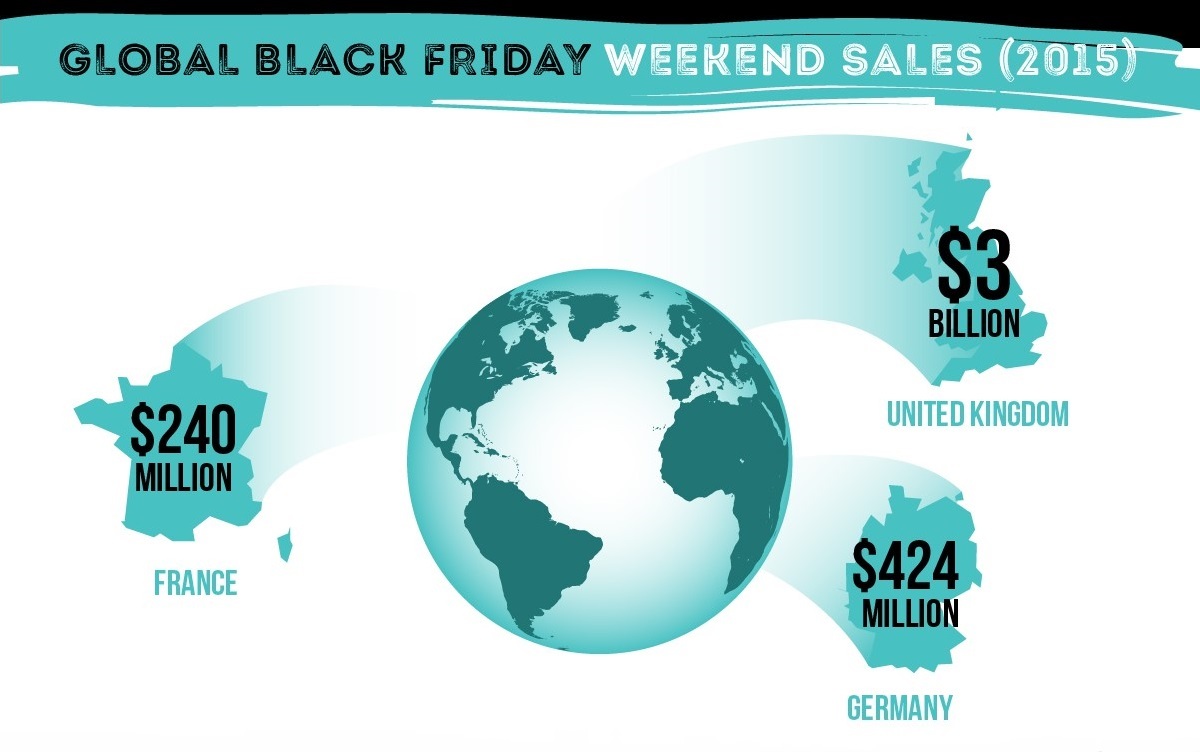 Dark side of Black Friday
Sadly, Black Friday bargains don't always bring out the best in holiday shoppers.
Since 2006, the holiday has resulted in 10 deaths and 105 injuries.
Just this year, a man was shot and killed attempting to help a woman who was being beaten in a Walmart parking lot.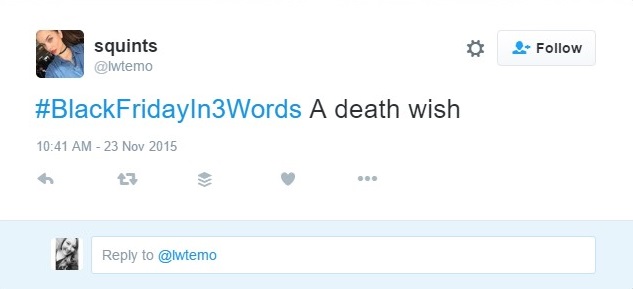 In addition, 12% of Black Friday shoppers admit to shopping under the influence of alcohol.
And stores aren't the only thing getting trashed on Black Friday. Americans throw away more than 25% more trash during the Thanksgiving-New Year's period. This extra waste amounts to 25 million tons of garbage — about 1 million extra tons each week.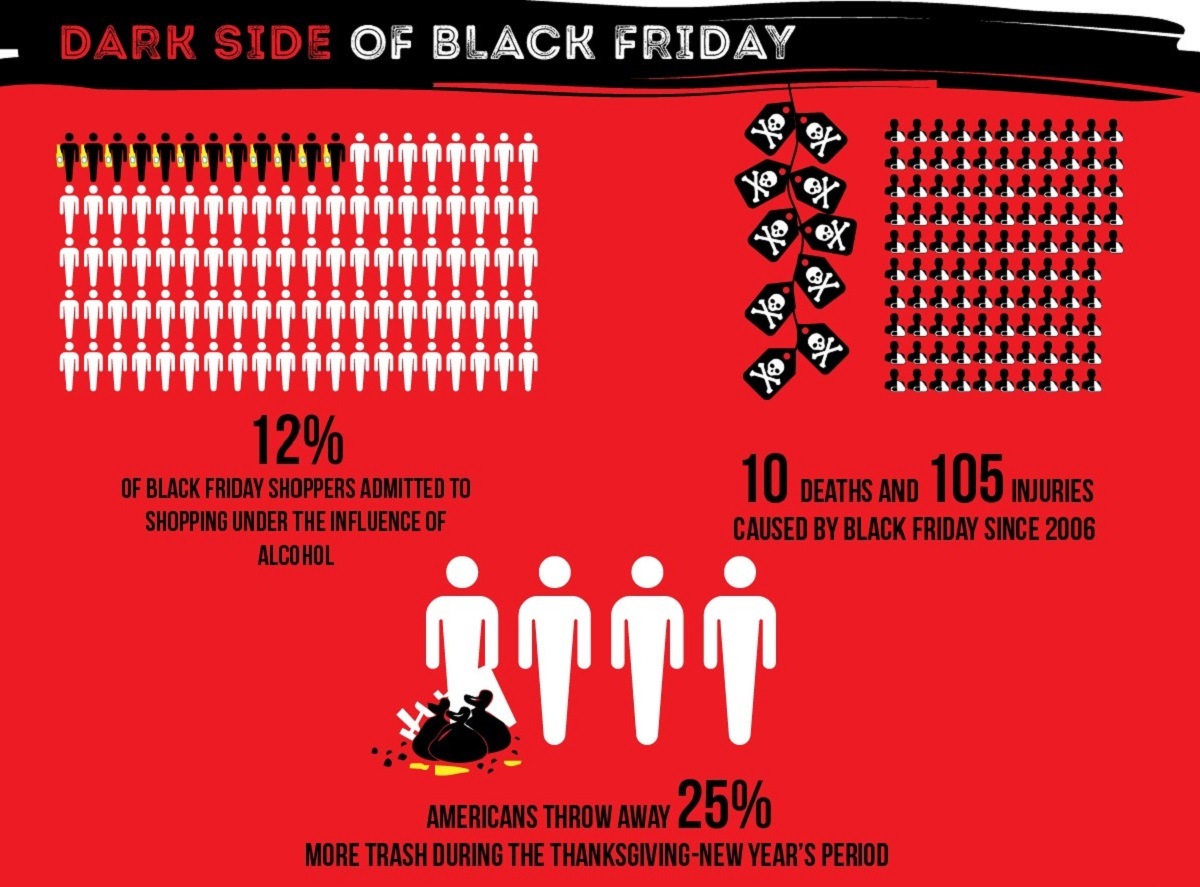 Boost Black Friday and Cyber Monday sales with WebFX!
Clearly, Thanksgiving weekend is one of the busiest times of the year for traditional and online retailers.
Want to sell more online this holiday season?
Check out our online marketplace guide — and contact WebFX to start boosting ecommerce sales today!