It's almost that time of year! All the hustle and bustle of the holiday season will soon be upon us, and marketers everywhere are already starting to think about holiday marketing campaigns. One of the biggest components of this for most businesses is email – but how do you create emails that stand out in your subscribers' inboxes among the many other holiday emails they're receiving?
It's certainly a challenge – which is why I've put together a list of 12 holiday email marketing tips you can use to make the most of the biggest spending season of the year:
1. Create templates
If you're planning to send a lot of emails to your subscribers during this time of the year, you should create a template for each type of email you'll be sending. This might include one template for your emails announcing special offers, and another for thank you emails. This will help you establish cohesive campaigns throughout your holiday marketing, as well as save you time during the creation process.
2. Make it personal
make sure to personalize the emails you send out during the holiday season. Rather than blending in with the other generic emails in your subscribers' inboxes, tailor your emails directly to them and their buying habits. If you've built out customer segmentation, this is a great time to use your segments as a base for how you will go about personalizing emails.
Send out thank-yous, reminders, and order updates when it's appropriate for the subscriber and be sure to include their name and a friendly and festive personalized note!
3. Give sneak peeks of upcoming sales
Use your email campaigns to give subscribers a sneak peek into the specials you'll be running for the holiday season. Curiosity will get to your subscribers and they will open your email to see what you have planned. This is also a great way to get more subscribers for your emails!
Encourage your visitors to sign up for your email list but telling them they'll receive sneak peeks for special offers in the future by subscribing.
4. Include videos
https://www.youtube.com/watch?v=-5ZKW2oFMyA
Another way to encourage your subscribers to visit your site is by sending them a unique holiday video. This video can highlight the new products you'll be offering during the season or even just show how you and your business are preparing for the holiday season. Plus, when you host videos on your site, you give subscribers a reason to visit – which can easily translate into browsing your other content.
5. Include special offers for your subscribers
Your subscribers want to feel like they're getting something exclusive, and offers like free shipping for a limited time can go a long way in encouraging them to make a purchase. Make it clear when an offer is only for subscribers, and include links directly to any products you feature to make it as easy as possible for them to buy.
Listing featured products in the email is also a great way to get subscribers to start shopping right from their inboxes.
6. Highlight promotional bonuses
Let your subscribers know what bonus offers you're running during this holiday season, like discounts over a certain spend, or flash sales on specific products.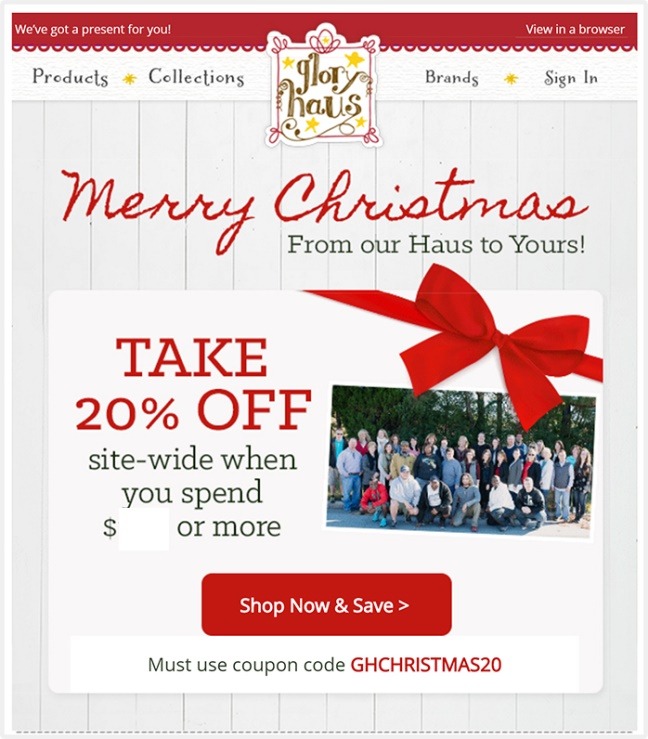 Attaching coupons and coupon codes in your emails is also a great way to encourage your subscribers to browse your specific products.
7. Create buying guides
Try emailing out a holiday shopping guide to your email subscribers. This is an easy way to highlight what you have to offer during the holiday season and help simplify the gift-buying process for your customers.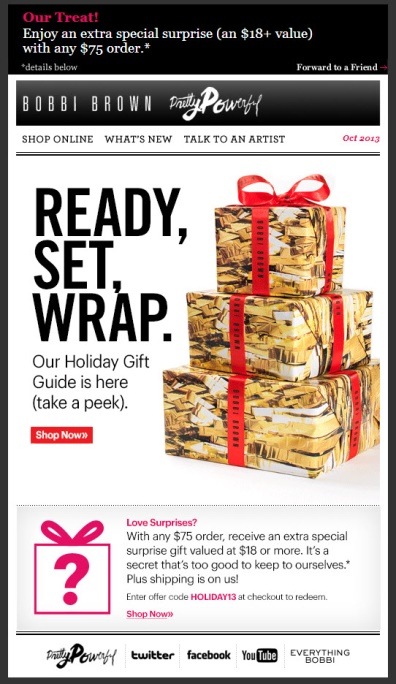 Include any relevant trends for the holiday season, and consider creating separate guides for different segments of your list.
8. Send reminders
No one is a stranger to that feeling of forgetting to buy a present until the last minute. Send out emails with ideas for last-minute gifts, and include links to specific product pages on your site. You can also send reminders to subscribers who visited your site and added products to their carts, but didn't complete their purchases.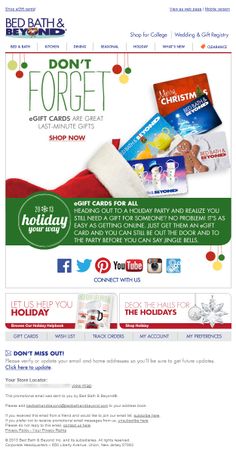 This is an effective way to remind people of items they've already shown interest in, and an easy way to generate additional sales and conversions.
9. Give an inside look at your business
Sending out personal stories from your business is a great way to connect with your email subscribers during the holiday season. Let your subscribers see how your company is celebrating the holidays, and share photos of any special events you've hosted. This type of content likely won't generate immediate sales, but building these connections is an important part of gaining loyal customers and will carry on past the holiday season.
10. Host contests
Holiday contests can be an effective way to engage your email subscribers and get them more involved with your brand. Ask your subscribers to submit written or photo entries for contests related to your brand, and include hashtags for them to use on social media.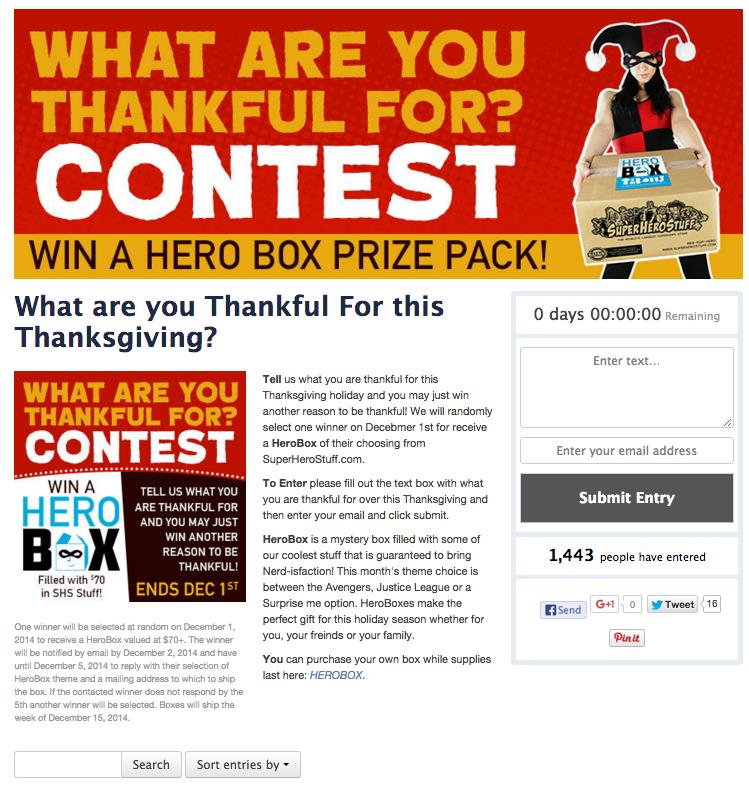 Beyond encouraging your subscribers to get involved, this is a great way to source user-generated content, as well as reach an audience beyond your email subscribers if they choose to post-entries on social platforms.
11. Create gift packages
Many holiday shoppers prefer to create gift bags or packages, so it can be helpful to include recommendations for products that pair well together in your emails. You can also advertise pre-made gift packages to make the process even easier for your customers. People are busy during this holiday season, so anything you do to make their lives easier can go a long way in generating sales and conversions.
12. Make a calendar of important dates
When you think of the holiday season, Thanksgiving, Halloween, Christmas, and Hanukkah all come to mind. However, there are many more dates to pay attention to in the marketing world. You'll want to be sure you have emails scheduled for essential sales days, like Black Friday, Cyber Monday, and Giving Tuesday.
Check out Black Friday email examples to get ready for these big days, and plan ahead. With the right preparation, you can send out emails giving your subscribers advance notice of any promotions you're running, and you'll earn a spot in their shopping plans for the day.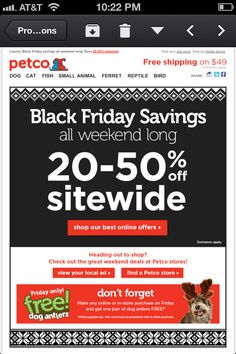 WebFX Careers
Join our mission to provide industry-leading digital marketing services to businesses around the globe - all while building your personal knowledge and growing as an individual.