As Black Friday looms near, your business needs to start building a Black Friday marketing strategy.
Over $5.1 billion sales were made for Black Friday and Cyber Monday in 2020, and that number continues to grow as online shopping becomes increasingly popular. Marketing your Black Friday deals online will help you reach more people with your sales and increase purchases for your business.
On this page, we'll provide you with eight Black Friday digital marketing tips for 2023. Let's start selling!
Black Friday Marketing Ideas
P.S. Want to learn more ways to market your business online? Join 200,000+ marketers by subscribing to our email list!
8 Black Friday digital marketing tips
1. Market your Black Friday promotions early
Sharing your promotions early is first on our list of Black Friday marketing ideas. We recommend sharing your Black Friday deals at the end of October or the beginning of November.
Sharing your promotions early can help build customer anticipation and will ensure that your competition doesn't beat you to the punch in terms of announcing your year-end sale.
Not only that, but announcing your sale early ensures that your most interested audience will save their holiday budget for your sale. You can promote your sales through email marketing, social media, or creating a content piece that previews your sales.
By promoting your promotions early, you can start creating buzz leading up to Black Friday.
2. Send tailored emails to your subscribers
Next on our list of Black Friday digital marketing tips for 2023 is to send tailored emails to subscribers. Sending Black Friday emails to those on your subscriber list is an excellent way to share your promotions with people most interested in your products.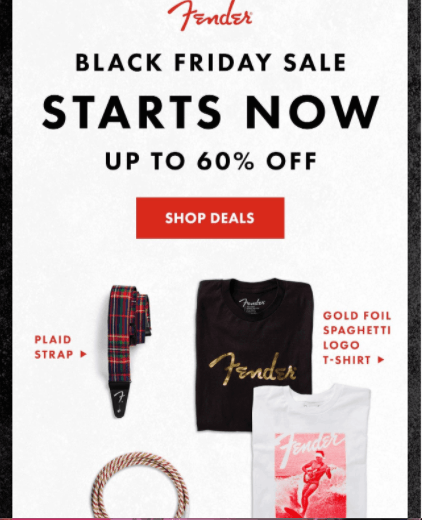 Personalized emails focus on sending info about product sales that fit your subscriber's interests. You can use their previous engagements on your website, preferences, and purchase data to help guide email content.
So, for example, let's say you sell kitchenware and appliances. You look at Subscriber A's purchase data and engagement on your site to find they're most interested in your coffeemakers and coffee-related products, like mugs and coffee bean grinders. As it turns out, you're having a sale on your coffeemakers, mugs, and canisters for Black Friday!
So, you can create a tailored email that focuses on promoting these products to Subscriber A and others like them. So, when Subscriber A sees this email, they're more likely to engage with it because it's personalized to their interests.
It increases the likelihood that they'll shop with you on Black Friday, too, because they're seeing deals on products of interest to them.
If you want to get the most from your Black Friday marketing strategy, focus on developing an email marketing campaign that tailors your deals and promotions to your subscribers' wants and interests.
3. Use social media to promote your deals
Another way to see more success from your Black Friday digital marketing campaign is to promote your deals on social media.
Social media enables you to connect directly with your audience, making it easy for you to deliver information straight to your followers. Social media platforms are an excellent place for you to promote your deals because you're already connected to people interested in your business.
By sharing a catalog or circular of your upcoming sale, you can directly deliver that information to people who want it. Additionally, social media posts can be liked, commented on, and shared.
This engagement can help you reach additional people who are interested in your deals. You can start promoting your Black Friday deals early like Target did last year.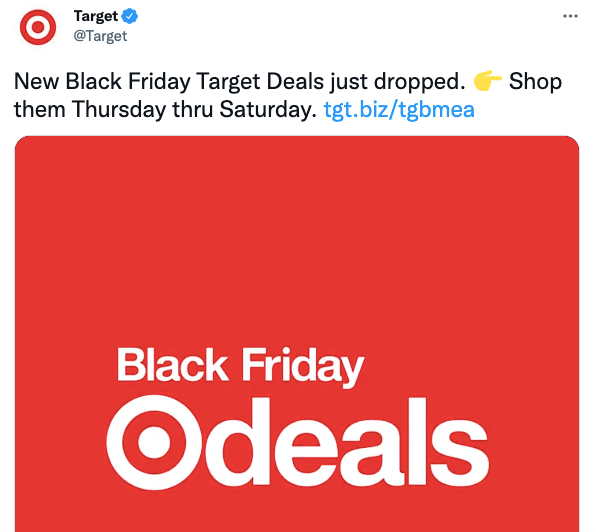 You'll want to promote your deals throughout the month and on the day they start. It will help keep your sale top-of-mind to shoppers.
4. Create product spotlights
Next on our list of Black Friday digital marketing tips is to create product spotlights. Product spotlights highlight all the great features of your products that are on sale for Black Friday. Product highlights help you show your audience why they want to buy your product.
When you highlight the features, they can get insight into what your product is like and if it has the features they desire. If your product fits the bill, they're more likely to buy it on Black Friday.
In this tweet from Kirkland's, they highlight a fun product someone might want to buy on Black Friday.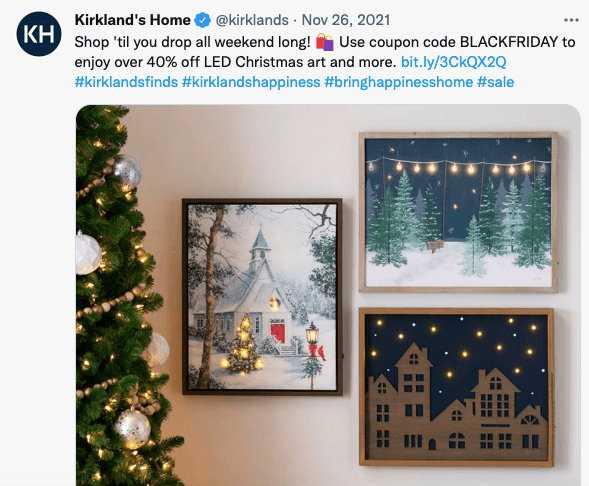 You can do multiple product highlights leading up to your Black Friday sale. Whether you share them on social media or send them directly to interested email subscribers, you can generate more buzz around your sales and get people excited to shop with you on Black Friday.
And if you're selling these products online, ensure your site is set up to handle the influx of traffic. Not sure where to start? Check out our Black Friday ecommerce guide for helpful tips!
5. Consider offering perks through loyalty programs
As you develop your Black Friday marketing strategy, don't forget to think about your loyal customers.
If you have a loyalty program in place, consider offering additional perks for shopping with you on Black Friday. Offering loyalty perks will encourage your loyal customers to shop with you on Black Friday.
Additionally, it can encourage new customers to join your loyalty program to get your special Black Friday perks. For example, Target offers its RedCard holders and Target Circle members early access to their Black Friday deals.
People who are part of their loyalty program can shop some Black Friday deals early, allowing them to bypass the crowds. In this example from Baublebar, they offer their VIPs exclusive access for 12 hours before everyone else.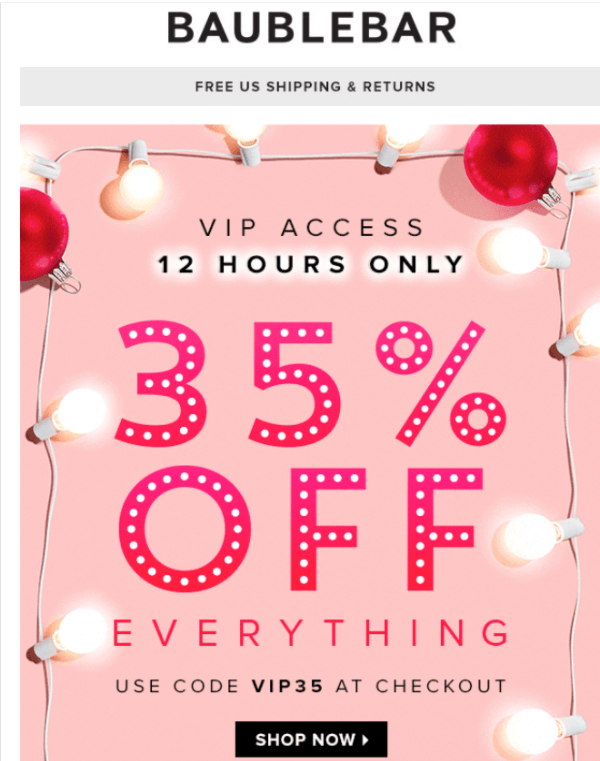 If you have a loyalty program in place, consider offering something special for your brand lovers —whether it's early access, a special discount, or a free product.
6. Create a sense of urgency with your marketing
Next on our list of Black Friday marketing ideas involves creating a sense of urgency. When you have Black Friday sales, you want to communicate to shoppers that they need to buy now, or they'll miss out.
Whether you limit your Black Friday sales to the day or extend them for the weekend, you want to ensure you're setting a deadline for your deal to encourage shoppers to buy. You can do this by announcing the deadline like Huckberry.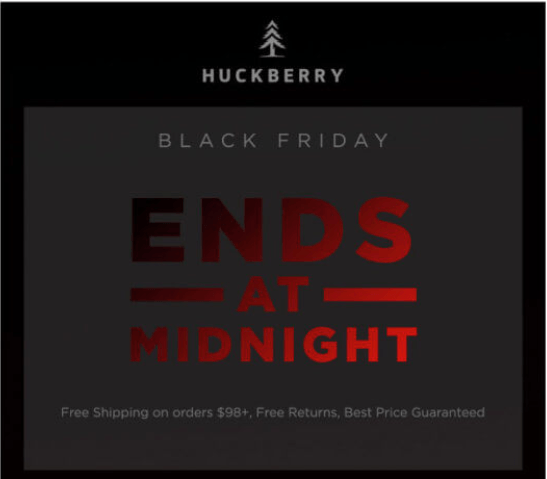 A countdown timer is also an extremely effective way to get people to buy before time runs out.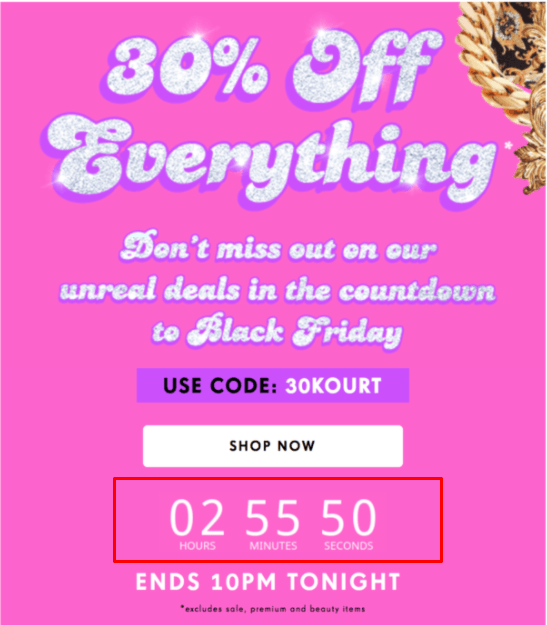 By creating this sense of urgency, you compel more shoppers to buy your products, so they don't miss out on great deals from your company.
7. Create a gift guide
The holidays are the season of giving. You must remember that when people shop on Black Friday, they're often shopping for others.
So, you're going to attract people to your store who may have never shopped with you previously, but they have a family member or friend that loves your products.
That's why creating a gift guide makes it on to our list of Black Friday digital marketing tips. Gift guides are an extremely useful way for you to help new shoppers navigate your products. In this example, from Cratejoy, they offer numerous gift guides to help shoppers find the perfect present.
They offer categories like "gifts for introverts" and "gifts for foodies."

You can take this tailored approach with your gift guide, or you can focus on creating basic categories like gift guides for "her" and "him."
Overall, gift guides are a great addition to your Black Friday marketing campaign. Not only do they help new shoppers find the perfect present for their loved one, but they serve as an additional promotion for your business that can help you earn more sales.
8. Advertise your Black Friday sales
Last on our list of Black Friday marketing ideas is to advertise your Black Friday sales. You can use pay-per-click (PPC) ads or social media ads to reach people who are most likely to want your products and services.
PPC ads appear in the Google search results above the organic listings. You'll see them at the top tagged with the word "ad."
These ads help you drive qualified Google searchers to your page with compelling ad content.

Social media ads are ads targeted at relevant leads that appear in users' social media feeds. These ads look like regular social media posts but do a great job engaging users and getting them to learn more about your sales.
These paid advertisements help you put your business in front of people who haven't discovered you yet. You can promote your Black Friday sales and entice people to check out your business.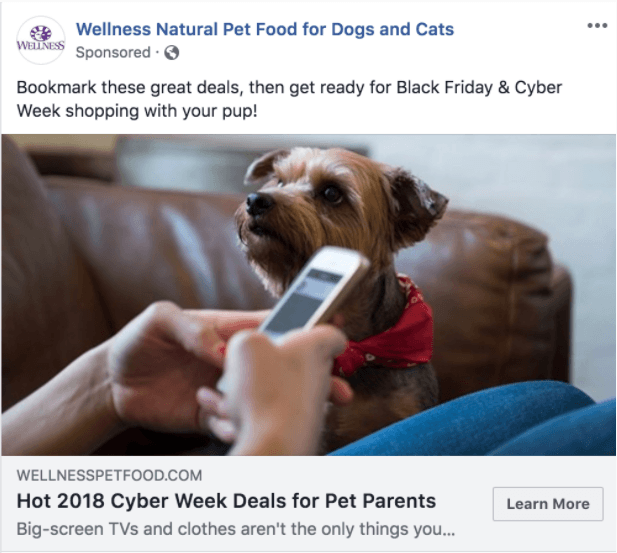 You can promote your products in the weeks leading up to your sale so you can build excitement around your sales.
Build your Black Friday marketing strategy today
Now that you have your Black Friday digital marketing tips for 2023, it's time to start preparing your business for your Black Friday sales!
If you're feeling overwhelmed with trying to market your business for Black Friday, WebFX is here to help! We're a full-service digital marketing company that offers everything from PPC to social media to email marketing.
With our team of over 500+ experts, we can help you craft a campaign that will drive results for your business.
In fact, we've driven over $3 billion in sales for our clients in the past five years alone. Ready to get help with your Black Friday marketing strategy?
Contact us online or call us today at 888-601-5359 to speak with a strategist about our digital marketing services!
WebFX Careers
Join our mission to provide industry-leading digital marketing services to businesses around the globe - all while building your personal knowledge and growing as an individual.