Stories captivate your audience, leave them sitting on the edge of their seats, and make them want to learn more. Incorporating storytelling in your marketing can help you reach and convert more customers.
In this post, we'll look at why storytelling is so important for marketing, as well as five storytelling marketing examples to inspire your strategy.
Grab your favorite coffee or snack, and settle in for some stories (plus a bonus video we've included below on brand storytelling).
What is storytelling marketing?
Storytelling marketing allows you to present your brand narrative in story form — allowing you to resonate with customers.
Putting your brand narrative into story form is a great way to boost engagement with your brand, encourage people to learn more, and ultimately buy your products or services. Storytelling is also a great opportunity to convey your mission and goals in a more human way that captivates your audience.
When you think like a storyteller, you can better envision problems your customers face and focus your attention on how your product or service solves those problems.
Why is storytelling marketing important?
Every day, people are bombarded by countless marketing messages, and after a while, they start to tune them out.
This means that marketers need to find a way to humanize their message and present their brand in a way that encourages people to engage. Storytelling marketing can help.
Brand narratives can increase product value more than 20X.
In an experiment developed by Rob Walker and Joshua Glenn, Significant Objects, an online project that set out to measure the effects of short descriptions, demonstrated how stories can increase the value of objects.
The Significant Objects project auctioned off thrift-store items on eBay, and the item descriptions featured short stories written by more than 200 writers. On average, the thrifted items cost $1.25 each, but adding stories to the item descriptions allowed them to sell for almost $8,000 in total.
You can check out the objects and stories, as well as their final selling prices on the Significant Objects site.
While you most likely don't sell thrifted items on eBay, incorporating storytelling into your marketing can help you engage customers and make them more inclined to purchase.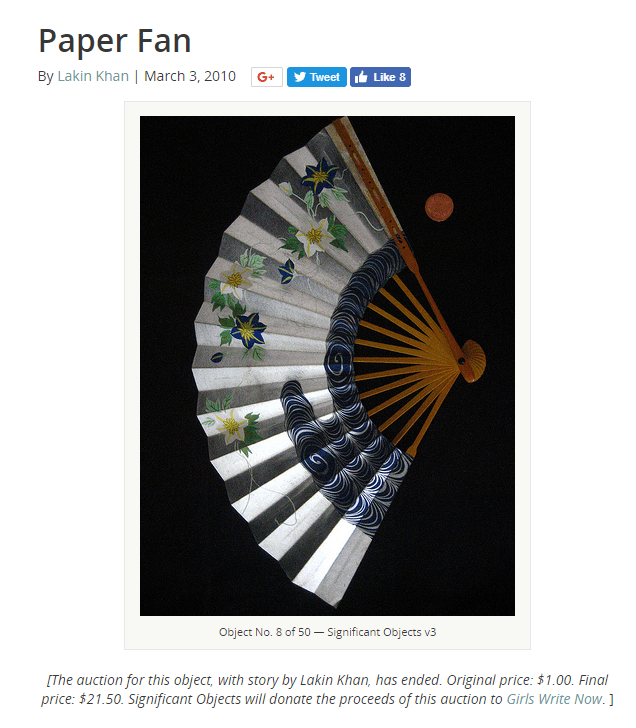 Elements of a great brand story
Now you understand the importance of using storytelling in your marketing plan.
But what elements make up a great brand story?
Personalization
People like to envision themselves in stories. So instead of creating abstract tales, try to personalize your stories.
For example, you can make the storyteller similar to your readers with the same problems and concerns. Then, you can present your product or service as an ideal solution, while answering questions people may have.
Personalizing your stories is a great way to evoke more empathy and engage people in the narratives.
Emotion
Storytelling can help you evoke an emotional reaction from your audience — whether that be happiness, humor, or even fear.
Using your stories to create an emotional response is a great way to engage potential customers and encourage them to take action.
Supporting data
It's also helpful to support your stories with data to make them more believable.
Incorporating research and original data in your stories appeals to a rational thinking audience, and it can help convince them to purchase.
Instead of just making a statement, data helps you back up your stories and make them more convincing.
5 examples of storytelling marketing
Looking for some unique storytelling examples you can use to inspire your strategy?
Take a look at these examples.
1. Warby Parker
As Michael Brenner, CEO of Marketing Insider Group put it, Warby Parker's story is one "every hipster with less than 20/20 vision" would appreciate.
Warby Parker's "Our Story" page tells the story of one founder who lost his glasses on a backpacking trip. After spending a semester of grad school without them due to the expense, he decided to create an eyewear brand that is affordable, aesthetically-pleasing, and socially conscious.
By designing glasses in-house and engaging customers directly, Warby Parker can provide prescription eyewear at a fraction of the cost.
Warby Parker's story provides a clear problem — glasses are too expensive. And the company provides a solution — glasses that look great, function well, and are produced by a company that invests in giving back to the community.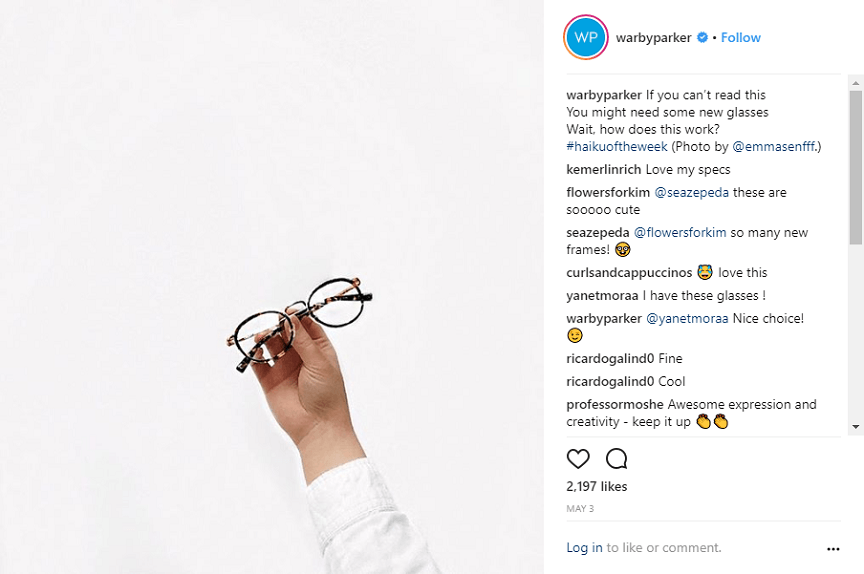 View Social Media Marketing Examples
2. National Geographic
National Geographic does a great job incorporating storytelling into their social media strategy. The company is well-known for posting awe-inspiring images that make social media users stop scrolling and want to learn more.
After using the colorful, exciting images to capture users' attention, National Geographic further draws them in by posting stories with the photos. Combining powerful visuals with captivating stories contributes to Nat Geo's 'wow' factor, and it keeps people coming back for more.
Instead of making the photos branded assets, National Geographic credits the photographers.
Combined with storytelling, this makes their approach more relatable and human instead of just focusing on promoting the business.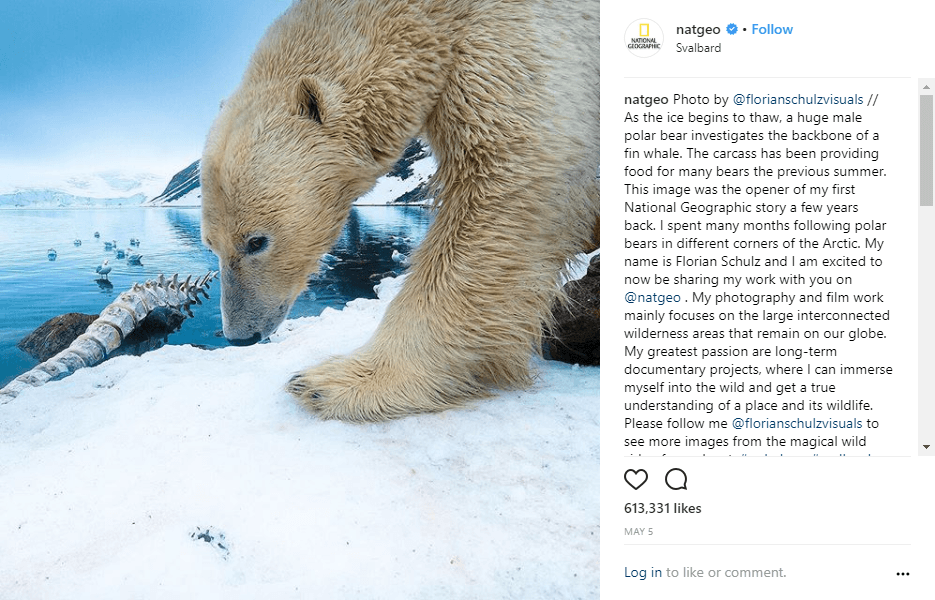 3. Darling Magazine
Darling Magazine set out to create a story that challenges cultural ideas of beauty by developing a magazine that encourages us to see beauty in every type of woman.
Darling began their story by clearly defining a problem. Many magazines portray "unattainable beauty, along with the idea that ordinary women are always in need of adjustment."
The magazine never uses Photoshop to alter women's faces or bodies, and it features products within the price range of the average income.
Darling recently unveiled their "Go, Be You" video series. The videos put viewers in the story as Darling and Alaska Airlines explore eight unique destinations and "discover hidden gems that define the personality of each city." The "Go, Be You" series propels viewers into the action, encouraging them to find themselves in every destination.
Photo creds to my baby sister, currently reading her Darling Magazine from Sweden.
Mildly jealous of that view.
4. High Brew Coffee
On their website, High Brew Coffee tells the story of founder, Dave Smith. Smith got the idea to sell cold brew coffee during a six-month rafting trip through the Caribbean. During the adventure, Smith and his wife managed to stay alert by drinking bold, cold brew coffee, packed with caffeine.
The High Brew Website notes, "At High Brew, we believe that great coffee can help you navigate anything the day throws your way."
I don't know about you, but reading High Brew's origin story instantly transports me to a tropical paradise, cold brew in hand.
High Brew does a great job of using its origin story to connect with customers and help them envision taking on new challenges and adventures, while the liquid gold known as cold brew coffee.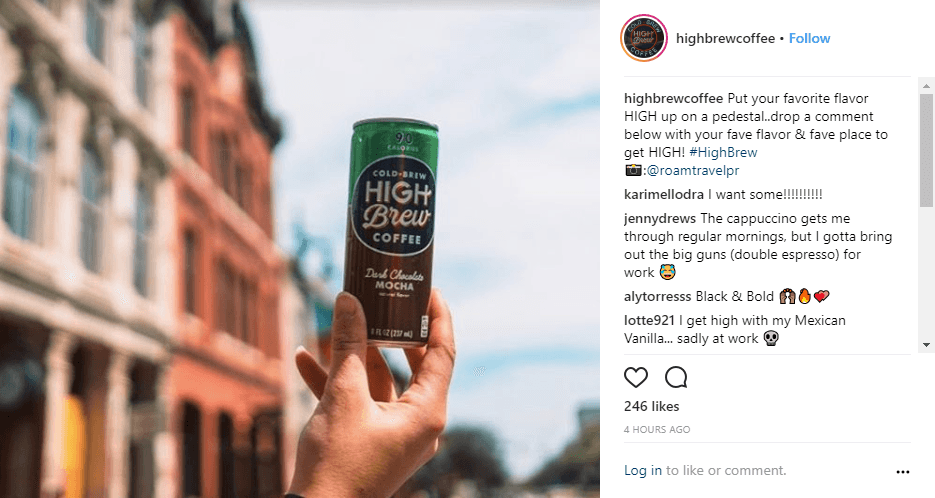 5. Beardbrand
After competing in his first beard and mustache championship, Eric Bandholz originally started a blog and YouTube channel to provide beard maintenance tips.
In time, Bandholz uncovered an entire subculture of bearded men, eager for him to develop Beardbrand, a line of beard oils and grooming kits.
On its website, Beardbrand features the story of how they became "the company that fosters style for the urban beardsmen," and Bandholz leveraged his story to build the BeardBrand community and create a tribe of loyal customers.
Have any other examples?
As you can see from these examples, adding storytelling to your marketing helps to humanize your brand and better connect with customers.
How is your website's SEO?
Use our free tool to get your score calculated in under 60 seconds.
Get posts by email
Join 200,000 marketing managers and subscribe to Revenue Weekly!
"*" indicates required fields
WebFX Careers
Join our mission to provide industry-leading digital marketing services to businesses around the globe - all while building your personal knowledge and growing as an individual.