Naming your rehab center is a critical part of its development. Your name is the first impression you make on your potential clients and their families. It's also the best way to show your professionalism and trustworthiness in one quick, informative phrase.
But what's the best way to name a rehab center? After all, addiction treatment is highly competitive, and you need a name that'll stick out against your competitors.
How do we know this? Because WebFX is a leading marketing agency for rehab centers. We know what it takes for rehab centers to succeed, and we want to help you help as many clients as possible!
It's hard to accomplish all of that with just a name. But you can do it with these five naming techniques. If you'd like to speak with a specialist, you can reach us at 888-601-5359.
Our digital marketing campaigns impact the metrics that improve your bottom line.
See More Results

WebFX has driven the following results for clients:

$3 billion
In client revenue

7.8 million
Leads for our clients

5.2 million
Client phone calls
The most common kind of name you'll find for a rehab center is poetic or metaphorical.
These names aren't always descriptive of the rehab center itself, but they reflect positive feelings associated with rehabilitation.
They include names like:
Gateway Rehabilitation
Clear Meadows Recovery
Transformative Recovery
Most of the time, the names reflect some kind of imagery or symbolism that makes someone realize they're taking the first step toward a brighter future.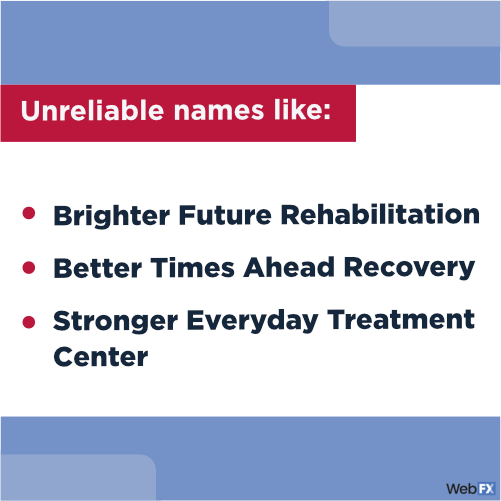 Still, it's important to strike a balance between creativity and professionalism. Names that are too "out there" could drive potential patients away by sounding unreliable, like:
Brighter Future Rehabilitation
Better Times Ahead Recovery
Stronger Every Day Treatment Center
They don't quite have the same ring or dignity to them as the first three examples.
But you don't have to go with a metaphorical or poetic name for your rehab center. You have plenty of alternative naming strategies that can give you equally good results.
2. Memorial names
Naming an addiction treatment center after an influential person can really work to your advantage.
The best case of this naming strategy is the Betty Ford Center in Rancho Mirage, California. The center has become so famous that it's as well-known as ex-First Lady Betty Ford herself.
Unfortunately, naming a rehab center after someone almost always requires permission from that person or their estate, which makes it hard for most centers to get a famous name. But you can reach out to people — particularly those with recognizable names — to get their permission or even their participation at your center.
If you don't want to reach out, you can also use the names of yourself, your lead doctor, or anyone else on staff that might have sway in the public eye.
If you have a religious affiliation, you can also use the names of important religious figures. Dozens of rehab centers throughout the United States are named after saints, including Saint Joseph, Saint Jude, Saint Lawrence, and more.
The goal is to take the same fame assigned to a person and use it to help bring recognition to your addiction treatment center, helping people who need it.

Hear What It's Like to Work With WebFX!

"WebFX has worked diligently to learn our business and has been successful and continuously upgrading search engine optimization results. Their passion for getting results shows."
Addiction Treatment Center
3. Referential names
Similar to famous people, you can also name your rehab center after famous references, procedures, locations, or even popular art.
Referential names include tons of options, and they're intended to tell someone about your center without explicitly spelling it out. They usually require some creativity, which makes them a mix of metaphorical names and memorial names.
With that in mind, a referential name would be something like 12 Steps Recovery Center.
The name refers to the common 12-step program used by Alcoholics Anonymous to encourage sobriety, which indicates that it probably specializes in alcohol recovery or substance abuse in general. It could also imply religious affiliation, since AA's 12-step program commonly includes recognition of a higher power.
So with one name, you already tell people your specialty and affiliations, which is a great way to start. Potential patients seeking help for alcohol abuse who also value their faith — your likely demographic with that name — would be interested right away.
4. Location-based names
Another common way to name rehab centers focuses on the center's location. This is generally the easiest way to name a center, and it also gives visitors some idea of your location. For people who need rehabilitation but lack the money to travel, that's a big selling point.
The exact location you want to use is up to you. You can go with your state, region, county, town, neighborhood — whatever location you think works best for your demographic.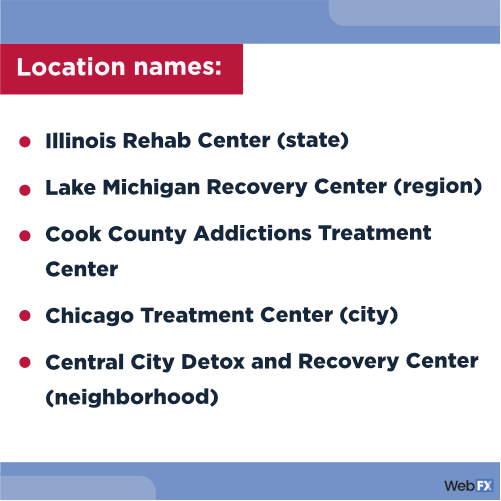 For example, if you were starting an addiction treatment center on the south side of Chicago, you could choose names like:
Illinois Rehab Center (state)
Lake Michigan Recovery Center (region)
Cook County Addictions Treatment Center (county)
Chicago Treatment Center (city)
Central City Detox and Recovery Center (neighborhood)
The more specific you are, the more potential you have to generate local interest.
Local patients are the ones who won't have to worry as much about additional fees outside your charges, since they live so close. And when you make it easy for someone to use your services, you're already placing yourself ahead of more distant competition.
5. Literal names
Literal names have the potential to describe your services accurately, but they lack the branding power that comes with more creative naming.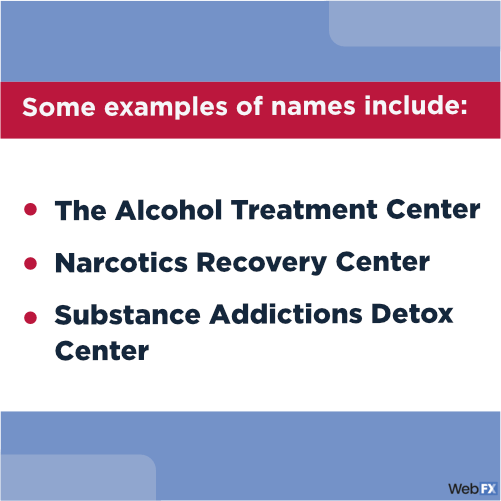 In terms of creativity versus practicality, literal names are the opposite of metaphorical names. They're designed to tell potential patients as much as possible with a few words, but not much else.
Some examples of literal names include:
The Alcohol Treatment Center
Narcotics Recovery Center
Substance Addictions Detox Center
From a pragmatic standpoint, you can't beat names like these.
But the problem is that they're vague and generic. So they may tell potential patients what you do, but they probably won't remember you for very long, at least compared to other unique names.
Still, the choice is ultimately up to you. If you feel that a direct, no-nonsense name is the best fit for your rehab center, by all means go for it. And if you want something with more branding power, go to the other end of the spectrum and consider a metaphorical name.
As long as it describes your business, serves a purpose, and attracts new patients, it can serve as the foundation of your branding and marketing strategies.
WebFX works with rehab centers every day
WebFX is a full-service Internet marketing agency, and we have years of experience with rehab centers. Our team of talented Internet marketers has worked with centers just like yours to help them grow online and help the people who need it most — and we're ready to do the same for you.
Do you want your rehab center to get clients? Contact us today to create a smart, unique Internet marketing plan for your addiction treatment center.
Earn a 20% greater ROI with WebFX