As attracting online attention becomes increasingly competitive, new digital marketing strategies are constantly developing. And while it would be futile to attempt to use every new trend, businesses can benefit from staying up-to-date on new strategies and considering how they can play a role in their marketing efforts.
One of the fastest-growing marketing mediums this year is video, and for good reason – it's effective for reaching and engaging audiences. And while many B2C companies have already started incorporating video into their digital strategies, those in B2B industries have been slower to adopt.
Fortunately, as a B2B company, this means you still have the opportunity to start using videos before your competitors.
That's why in this post, I'll go over a few key reasons you should consider making video part of your marketing strategy, and a few tips for using YouTube to reach potential clients.
Why videos matter for B2B marketers
Many marketers make the mistake of believing that while videos work well for marketing directly to consumers, they're not as effective for reaching key decision-makers at businesses.
This is simply not the case. Stats show that videos were the top content type produced by industrial marketers. According to a report by the Aberdeen Group, companies that utilize video in their marketing strategies grow their revenue 49% faster year-over-year.
This average includes both B2C and B2B companies.
Plus, 70% of marketers in B2B industries believe that video converts qualified leads more effectively than all other forms of content marketing. That's better than social media posts, graphics, guides, and even blog posts. That's right – video even beats out the blogging for B2B marketers, which has long been considered the standard for online content.
Forbes also discovered that among senior executives at companies, 59% would prefer to watch a video over reading text on the same subject.
So if over half of senior executives at companies are telling us this is how they prefer to absorb information, shouldn't we be listening?
Creating effective videos for B2B companies
Beyond the statistics, video marketing can be an excellent way to build your brand and awareness about your products. So how can you make a compelling video about, for example, a manufacturing business that a prospective client would actually want to watch? Some of the most effective types of videos for B2B businesses are:
Product demonstrations
Interviews with industry experts
Customer testimonials
Live broadcasts of conferences or other events
By creating specific video content about your products or industry, you can establish your brand as an authority on the subject. Similar to creating informational content on your site to show potential customers that you know what you're talking about, video serves as another medium for illustrating your knowledge on a subject. Showing potential customers how your products work and allowing them to see the people behind your business helps them better understand your products and services.
This helps you establish your brand as trustworthy, and make your target audience more comfortable partnering with you for their needs. For example, Adobe Creative Cloud does a great job of engaging their audience by sharing videos of designers using their products to create illustrations and designs in real time.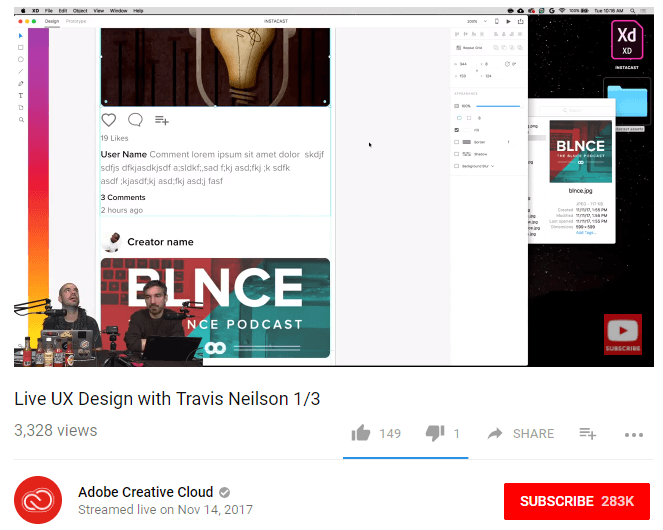 Viewers can see how their products benefit customers like them, and give them a better idea of how they could benefit from using Adobe Creative Cloud.
Why Use YouTube?
Okay, so you're ready to start using B2B video marketing – but why should you use YouTube to do it?
1. It helps boost search engine visibility
YouTube is an excellent way to increase your visibility in search engines like Google. YouTube videos can appear directly in search results for keywords related to their titles, and in some cases, above regular results.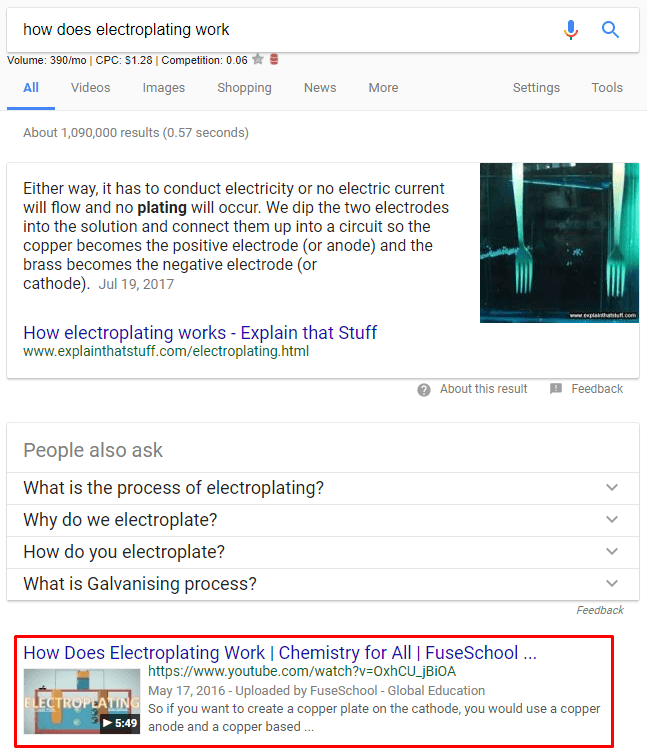 When you add videos to YouTube with optimized title tags and descriptions, you have the chance to reach users searching for information related to your business.
Plus, you gain the ability to reach an audience that may be interested in the text-heavy content on your site.
2. It can help potential clients find you
Did you know that YouTube is the second largest search engine in the world after Google? In fact, YouTube receives more desktop traffic than Google – and by using tags, keywords, and optimized titles, you have the chance to reach their massive user base as they search the site for information, answers, and entertainment. Today, YouTube has become the most universal platform for watching video.
It's where people go when they want to watch video content online, so most are already familiar with how to search and interact on the platform.
3. It offers helpful in-platform analytics
YouTube lets video creators track how users are interacting with their content through a user-friendly analytics platform. As a marketer, you can easily monitor metrics like traffic, demographic information, and user interactions. All of this gives you valuable insight into what your users find engaging and what is most likely to convert.
4. It's easy to use and customize
YouTube makes it easy to create a channel and lets users customize their channels to reflect their brand identity. You can upload a profile picture and cover photo, add a company description, and organize your videos into playlists. Intel is a great example of an optimized B2B YouTube account.
They feature multiple categories for different aspects of their business as well as different video playlists to further categorize their content.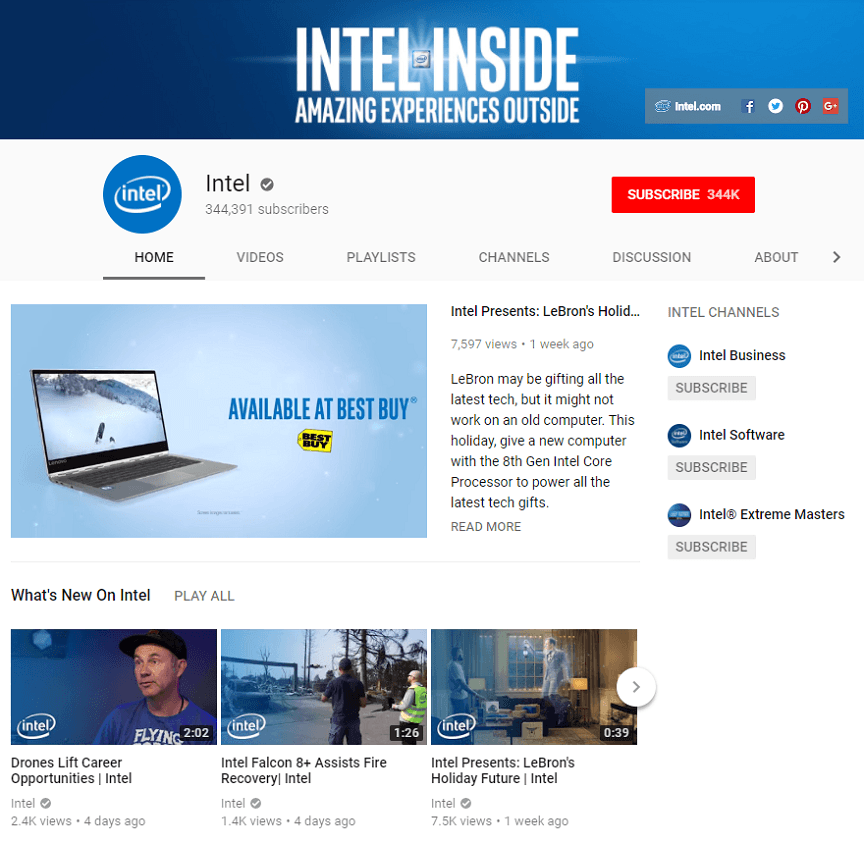 Their videos each have detailed descriptions and include links to their website and other social media channels. As a result, they've gained more than 340,000 subscribers on the platform.
Learn more about B2B video marketing
If you'd like to learn more about how your B2B company can incorporate YouTube and other video platforms into your marketing strategy, check out our blog post on Using Video in Your Marketing Strategy!
WebFX Careers
Join our mission to provide industry-leading digital marketing services to businesses around the globe - all while building your personal knowledge and growing as an individual.