8 minute read

Trevin serves as the VP of Marketing at WebFX. He has worked on over 450 marketing campaigns and has been building websites for over 25 years. His work has been featured by Search Engine Land, USA Today, Fast Company and Inc.
As the Internet continues to grow and evolve, there are constantly new ways to use it for marketing. And although it's always a good idea to look into new trends and strategies that could help your business, there's one tried-and-true method that is here to stay: Email.
Despite all of the newer platforms and tactics available to marketers, email still has the highest ROI among digital marketing channels. However, chances are slim that your company is the only one in your subscribers' inboxes every morning.
And chances are even slimmer that they read and click through every single message. So how you can make your emails stand out?
It's a difficult task, but entirely possible with a little innovation. Here are 6 creative email campaigns that can serve as inspiration for your company's email marketing strategy:
Altra
As someone who subscribes to several running company newsletters, I'm used to being bombarded with promotions and sales for shoes and apparel.
And while emails that focus on new products have their place, they aren't nearly as compelling as this one from Altra:
Instead of focusing on specific products, this email is all about endurance athlete James Lawrence. A man who is about to run 50 Ironman triathlons in 50 states in 50 days is much more interesting than a pair of shoes, and should resound especially well with subscribers considering that the company caters primarily to distance runners.
It's interesting to note that there are no references to specific products, and the company name only appears once, when describing Lawrence as an "Altra Athlete." In fact, the links in the email aren't even to Altra's own site – one goes to a YouTube video about Lawrence and another goes to his donation page.
Unlike most promotional emails, this one isn't to be designed to drive sales or conversions. And while that goes against conventional marketing logic, it makes sense if you consider that brand loyalty is common among athletes.
So if highlighting Lawrence's accomplishments shows customers that Altra is dedicated to their athletes and customers, this email could very well help the company become their audience's choice the next time they need a new pair of shoes.
Evite
Now that almost no one is patient enough to sit down and hand-write invitations to their upcoming events, there are countless sites that allow users to send online invitations to their family and friends. Unlike most of them, Evite doesn't wait for customers to plan parties and search for invitations – they jump-start the process by getting involved in the planning stage: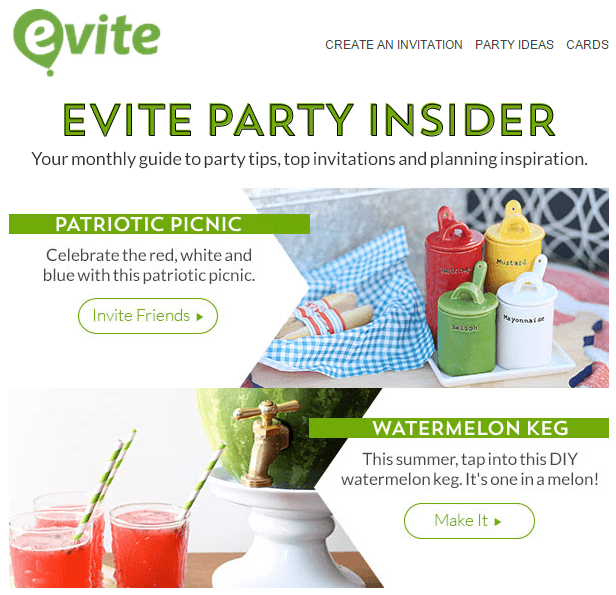 Instead of simply showing new templates or encouraging subscribers to create invitations, they start with seasonal party ideas. The email links to instructions and recipes, all of which relate to a common theme.
I received this email towards the beginning of summer, so the patriotic theme and watermelon keg made perfect sense.
After a few ideas, Evite also included some "Featured Invitations":

Of course, they fit perfectly with the tips and ideas included in the email. And by mentioning them at the very end, they ensure that readers keep the company in mind while planning their next party.
Masterclass
Many companies are tempted to cram as much detail as possible into their emails. And while it's understandable that they want customers to have all the information they need, online education company Masterclass takes the opposite approach with this campaign: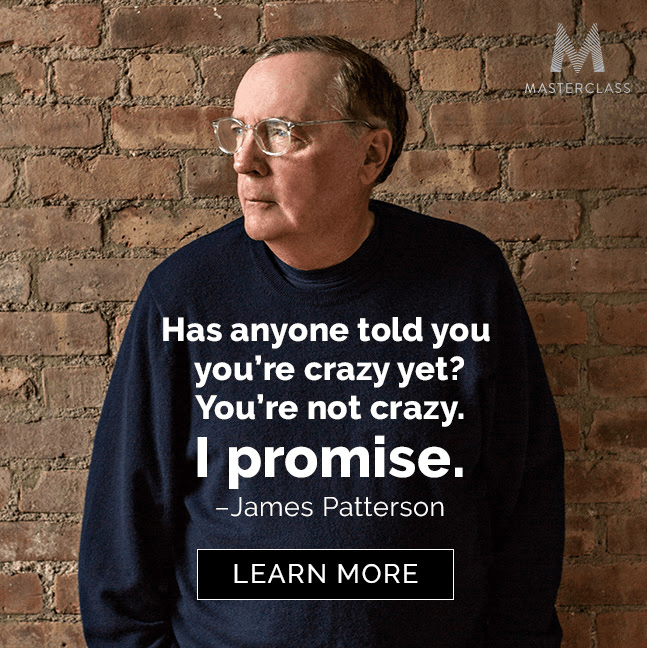 This linked image was the only content in the email – no text, no explanation, and a subject line that simply stated, "Start Writing."
It may not seem like enough to generate clicks, but my suspicion is that their promotions are highly targeted.
The company offers courses on subjects as varied as tennis, acting, and photography, but the email that I received only mentioned writing – one of my primary interests.
The James Patterson quote and photo were enough to make me want to learn more, and I'd imagine that the company sends similar emails with their other teachers, like Serena Williams, Dustin Hoffman, and Annie Leibovitz. And although this strategy might not be as effective without famous spokespeople, it serves as proof that sometimes, less is more.
ModCloth
One of the best ways to make any marketing tactic more effective is by catering specifically to your target audience. ModCloth seems to have this down to a science, and even their subject lines are written in the casual, fun language that has come to be associated with the brand:

But while their attention-grabbing subject lines might be enough to make subscribers want to open the emails, the content is ultimately what drives clicks: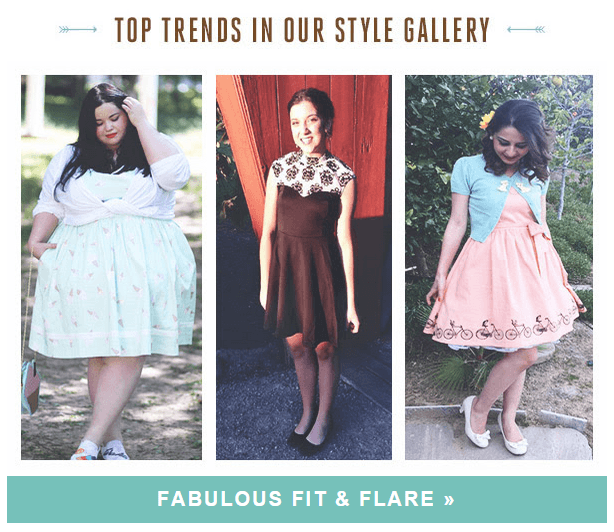 The majority of promotional apparel emails include photos of clothing, which is almost always being worn by professional models.
In this case, ModCloth chose to forgo the pros (and the Photoshop) and use images from their customers.
Not only is this a great use of user-generated content, but it's also in line with the company's inclusive image. It's a win-win in terms of both cost and brand identity, which is impressive for one relatively short email.
Trello
Linking to new content is a common practice in newsletters from blogs and news sites. However, companies in any industry can use it to their advantage as long as they have a strong content marketing strategy, as demonstrated by Trello: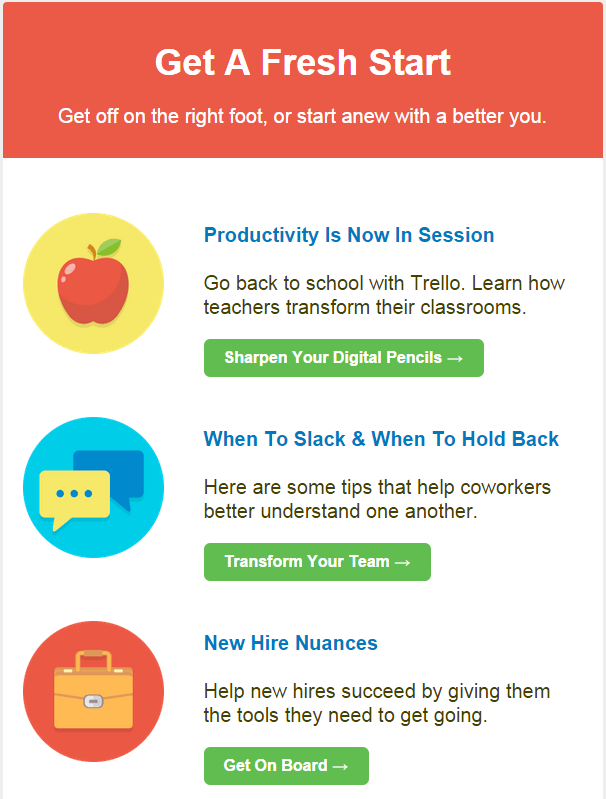 If you're company has a business to business model, you won't want to miss this email from Trello, one of the best B2B email marketing examples.
If you're unfamiliar with Trello, it's an online organizational tool that allows users to collaborate on tasks and projects. It's popular among businesses with large amounts of content to manage, but in this email, the company demonstrates that it has several other uses.
The three articles listed in this email address different scenarios, and they make it clear how Trello could be the solution to all of them. Plus, it doesn't hurt that once subscribers are on the site, there are plenty of other resources to help them address other common workplace issues.
Uber
No stranger to being discussed on marketing blogs, Uber is known for its innovative strategies.
This email is no exception: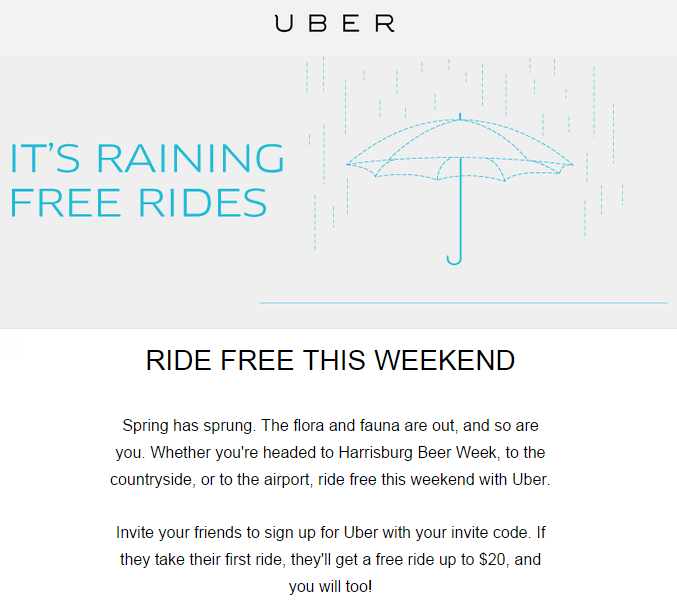 Many companies use location-based targeting in their promotional material, but this email takes it a step further than most. Instead of simply referencing the fact that the company now serves the Harrisburg area, they specifically mention Harrisburg Beer Week. The email was sent just days before the weeklong lineup of beer-related events kicked off, which was an ideal scenario considering that attendees likely needed rides home.
The referral bonus they include makes it all the more likely that first-time customers would decide to use the app.
And if a handful of them did so during the first few days of the event, Uber could have a steady flow of customers for the entire week.
The takeaway
Email marketing's major advantage is that it allows you to directly reach customers that have already shown interest in hearing from you, whether through a subscription form, email-gated content, or past purchase. This means that you don't have to worry about familiarizing them with your brand.
However, it also means that your newsletters show up side-by-side with content from other companies your subscribers like – and that's some tough competition. And while not all of your emails need to be revolutionary, a creative campaign can help set you apart.
So whether you're a service-oriented business like Uber, a product-oriented business like Altra and ModCloth, or an online company like Trello, Masterclass, and Evite, it's possible to get your customers' attention with email.
With a little ingenuity, you can experience firsthand why the channel has such a great reputation among marketers.
Have you seen any creative email campaigns recently? Or does your company take a different approach to writing newsletters? Let me know in the comments below!
Trevin serves as the VP of Marketing at WebFX. He has worked on over 450 marketing campaigns and has been building websites for over 25 years. His work has been featured by Search Engine Land, USA Today, Fast Company and Inc.

WebFX is a full-service marketing agency with 1000+ client reviews and a 4.9-star rating on Clutch! Find out how our expert team and revenue-accelerating tech can drive results for you! Learn more
Try our free Marketing Calculator
Craft a tailored online marketing strategy! Utilize our free Internet marketing calculator for a custom plan based on your location, reach, timeframe, and budget.
Plan Your Marketing Budget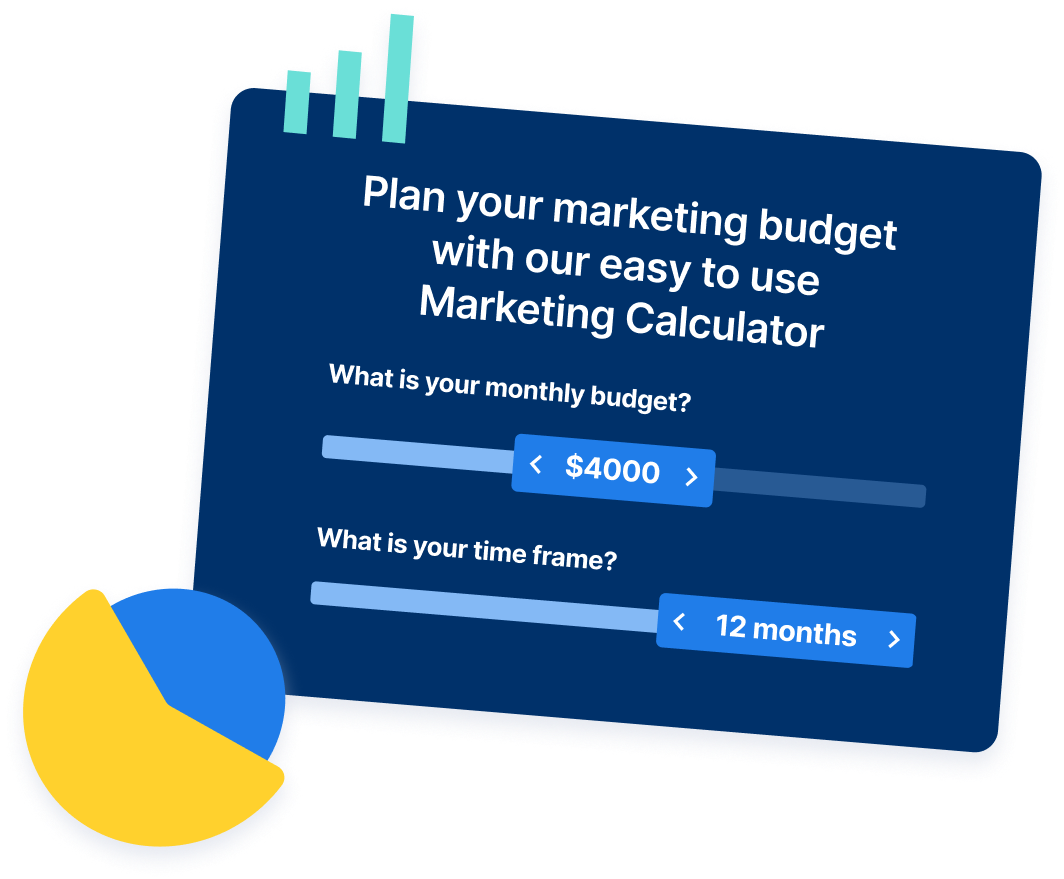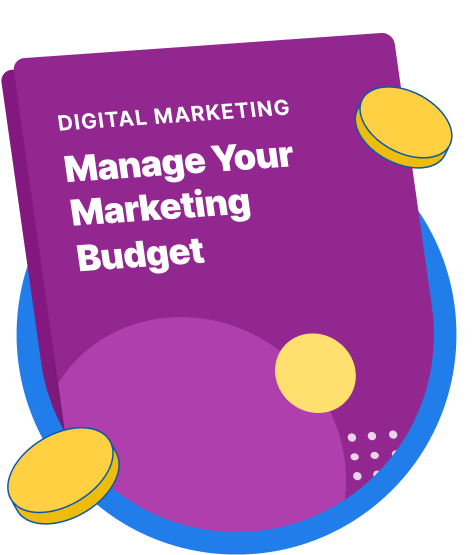 Maximize Your Marketing ROI
Claim your free eBook packed with proven strategies to boost your marketing efforts.
Get the Guide
Try our free Marketing Calculator
Craft a tailored online marketing strategy! Utilize our free Internet marketing calculator for a custom plan based on your location, reach, timeframe, and budget.
Plan Your Marketing Budget