If you're like most restaurateurs, you're working on a strict budget with razor-thin profit margins to get by in one of the most competitive industries in the world.
So did you know that for every $1 you spend on email marketing, you can earn $44 back?
If your restaurant wants to reach more customers and earn more revenue, email marketing can help.
On this page, we'll take a look at five big benefits of email marketing and how WebFX can take your restaurant to new heights. If you'd rather speak to a specialist, you can reach us at 888-601-5359.
Our digital marketing campaigns impact the metrics that improve your bottom line.
See More Results

WebFX has driven the following results for clients:

$3 billion
In client revenue

7.8 million
Leads for our clients

5.2 million
Client phone calls
4 benefits of email marketing
Email marketing is the practice of sending messages to individuals who've told you that they want to hear more about your business. All email marketing campaigns start with a signup form. At the very least, you need someone's email address, and then you can send them a company newsletter, updates to your menu, coupons for popular dishes, and more!
Some people say this sounds like spam. But email marketing is different from spam because the email recipients have told you that they want to hear from you.
Right away, that means you're sending messages to possible customers, and every email you send could be the encouragement someone needs to make a purchase.

When you do that for 100, 1000, or 10,000 recipients, email marketing has the potential to increase your profits exponentially!
So how does one marketing strategy do all of that with a few emails every once in a while? These are four of the top benefits of email marketing.
1. Affordable
Compared to traditional marketing, email marketing costs next to nothing.
With email, there are no print or postage fees, and you won't have to worry about paying for exposure in a magazine or television commercial. With that low cost of entry, email marketing has the potential to be one of the most dynamic, cost-effective marketing strategies you could possibly use for your restaurant. It can even be more effective than a TV ad!
2. Easy to create
Email marketing is easy to implement, and it doesn't require large teams or lots of technical knowledge. You can simplify the process by using an email marketing provider like MyEmailFX, which allows you to spice up your campaigns with easy-to-use templates, WISYWIG interaction, data tracking, and more. You can even personalize your design to connect with specific recipients.
If you really want to simplify email marketing, you can automate the whole process to streamline your campaigns and reach more people with less effort.
3. Easy testing
It's incredibly easy to test parts of your emails and optimize them for the best ROI.
For example, most email software lets you conduct A/B tests on subject line, sender names, body content, and more. You can even test for the best time to send emails throughout the week to get the most opens.
With such easy testing, it's no wonder other food service companies can earn such a fantastic return with email marketing. It lets you reach everyone in your service area at the same time with the same message and the same results. All you have to do is look at the data given to you by your email marketing provider!
4. Easy to share
When you send an email, every recipient can forward it to someone with the click of a button, giving you a huge potential reach for new customers.
To take it a step further, you can add social sharing buttons to your emails to encourage people to talk about you on Facebook, Twitter, Instagram, and more.
Even if only one or two people follow through with it, you're still building your restaurant's brand by exposing your name to new people.
Plus, because people trust their friends for purchasing recommendations, you have a great potential to earn new customers from people who may not have heard of you otherwise.

Hear What It's Like to Work With WebFX!

"I work with a couple other companies across our portfolio and I certainly have the best working relationship and success with WebFX. I appreciate the collaboration, patience and always prompt response with our last minute requests. The WebFX team always presents "guinea pig" ideas that we can test on the properties, some of which come from completely different types of establishments. I truly appreciate the ability to pivot and think outside of the box, especially during these most challenging year!"
Restaurant
5 Email marketing tips for restaurants
So you know that email marketing can do wonders for your restaurant. There's still a big question we have to answer, though. Where do you start?
First, you need to set up email submission form fields on your website. This'll let potential customers sign up for your emails.
Then, you need to offer something to your recipients for signing up, which also encourages them to come back to your business. With those two steps done, you're ready to go.

Let's take a look at the five best ways your restaurant can profit from email marketing.
1. Keep branding consistent

Branding elements like your restaurant's name, logo, and address are crucial to each email you send. This is a great way to increase your restaurant's brand awareness, and it tells recipients exactly who sent the message.
2. Segment and personalize
Segmenting your email recipients means placing them into different lists depending on the page they used on your site to opt into your email marketing.
So if someone submitted an email address for new menu items, you know to contact them whenever you invent a new recipe. If someone wants to know when you're selling dishes at a discount, you can add them to their own list, too!
Overall, segmentation allows you to send more personalized content based on subscribers' needs and interests. Whenever possible, it's also smart to insert personal elements into your emails. This can be as simple as including a customer's name in the subject line, and it can have a big impact on open rates.
Personalization is so powerful that it can help you earn more opens and conversions at the same time!
3. Offer coupons and incentives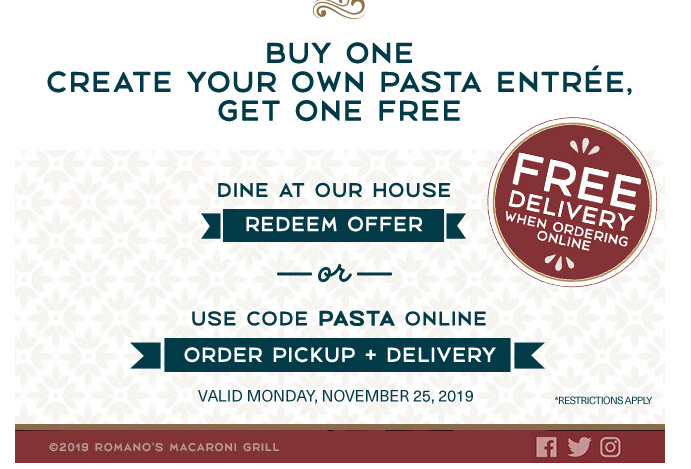 Coupons and special incentives are great to share over email marketing. They're both great ways to engage customers and keep them coming back to your restaurant.
When you send email coupons, it's a good idea to use personalized coupons to help you track who redeems them. You can do this by including a customer number, personal barcode, or even an email address to keep track of individual redemptions.
Once you have that data, you'll know who's taking advantage of your email marketing offers. That's a great indicator that a customer will probably buy from you again in the future, so you can rely on them as a consistent source of income on a monthly basis.
4. Integrate with social media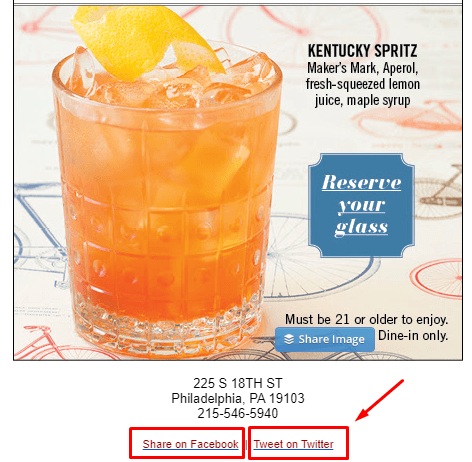 Adding links to your social media profiles is a great way to extend relationships with customers via email.
This provides additional outlets for email subscribers to learn more about your restaurant, check out reviews, and contact you to make a reservation.
If you're looking to grow your email list, you can also encourage your social media fans to sign up for updates. You could even offer coupons or incentives to social media followers who subscribe!
5. Pay attention to frequency
When it comes to email marketing, it's crucial to pay careful attention to the number of emails you send.
If you send too many, you risk being flagged as spam for constantly filling your recipients' inboxes. If you send too few, you risk falling out of contact and losing brand recognition with your subscribers.
You want to send enough emails to keep people interested, but you don't want to overwhelm them with messages that clutter their inboxes.
This can vary depending on your restaurant's demographic, but generally one or two messages each month will do the trick. That's enough to make sure people remember you, but it also leaves a little wiggle room for special promotions, holiday discounts, and other spur-the-moment updates.
WebFX is a top email marketing company
WebFX is a leading email marketing company, and we deliver real results for clients.
Since partnering with WebFX, Amish Outlet Store has seen a 633% year over year (YoY) increase in website traffic from email marketing.
We're dedicated to our clients' success, and we'll do everything in our power to help you reach and exceed your email marketing goals.
Want to learn more about how email marketing can benefit your restaurant?
Contact WebFX today to start your custom email marketing campaign today!
Earn a 20% greater ROI with WebFX