Data is the key to success for any company, particularly a business-to-business (B2B) company like yours. There are all kinds of data you can utilize across your business, but one of the most important types is customer data, which can help you learn more about your audience and improve your marketing.
The question is, what do you do if you're struggling to obtain enough — or accurate enough — customer data? The answer is, you use B2B data enrichment. Data enrichment is a great way to improve the quality of your data. But what exactly is it, and how can it help you?
Keep reading to find out the answer to that question. Then subscribe to Revenue Weekly, our email newsletter, for more digital marketing tips from the experts!
Don't miss our Marketing Manager Insider emails!
Join 200,000 smart marketers and get the month's hottest marketing news and insights delivered straight to your inbox!
Enter your email below:
Inline Subscription Form – CTA 72
"*" indicates required fields
(Don't worry, we'll never share your information!)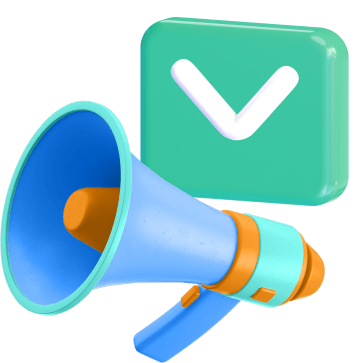 What is B2B data enrichment?
B2B data enrichment is the process of using third-party customer data to flesh out your first-party data. By combining the two sets of data, you can make your overall profiles more accurate.
What kinds of data can you obtain with B2B lead enrichment?
There are a handful of third-party data types you can gather for your B2B data enrichment. Some of those types include:
Demographic data:

Demographic data gives you info on your audience's physical and sociological traits like age, gender, and occupation.

Geographic data:

Geographic data gives you info on your audience's location, showing you where they live, as well as whether they're concentrated in one area or spread out.

Behavioral data:

Behavioral data tells you how your audience behaves online, letting you find out how they interact with your industry and what their buyer intent is.
All of these data types are great for fleshing out the baseline info you get from your first-party data. You can obtain this information in a few different ways — Google searches and social media are two options, but one of the best methods is to use tools that will automatically pull that data for you.
Why use B2B data enrichment?
The reason to use B2B data enrichment is that it improves the overall accuracy of your data. If all you have to go on is a thin string of first-party data, it's tough for you to learn everything you need about your audience, and a single inaccurate data point could throw off whole campaigns.
But with a greater supply of client data available to you, you'll be able to get a much better picture of who your target audience is, meaning you'll be able to market to them far more effectively. That means you'll ultimately drive more sales and earn more revenue.
Data enrichment for B2B companies is often even more effective than it is for business-to-consumer (B2C) companies, because business clients often have far more third-party data available on them than individual consumers do.
B2B data enrichment vs. B2B data cleaning
Given that we're discussing the process of making your customer data more accurate, you may be wondering if data enrichment is the same as data cleaning. The answer is, no, it's not. That said, the two terms are slightly related.
B2B data cleaning is where you remove inaccurate or redundant information from your data. Data enrichment, on the other hand, is where you add data points. Both of them help improve the overall accuracy of your data, but they do it in different ways.
Together, these two terms both fall under the umbrella of B2B data hygiene, which is a broad term for the overall process of keeping your data accurate. B2B data hygiene is incredibly important for ensuring that you're basing your marketing efforts on sound, accurate data.
3 best B2B lead enrichment tools
Now that we've gone over the basics of data enrichment for B2B companies, let's talk about some tools you can use to help you gather third-party data and improve your B2B lead enrichment. Here are three of the best data enrichment tools for B2B companies like yours.
1. Datanyze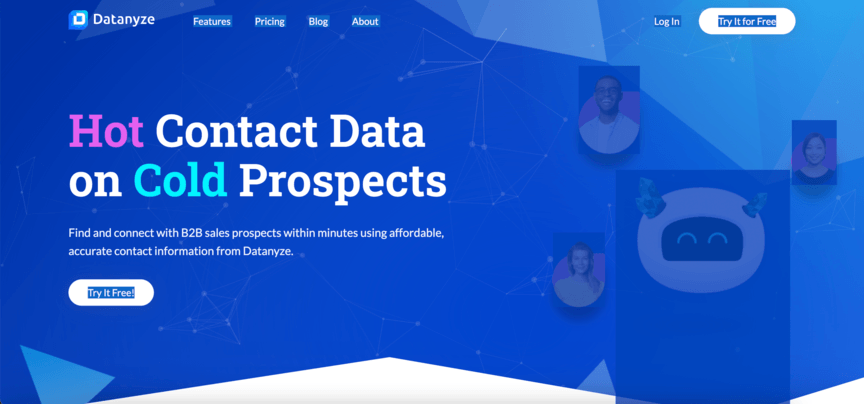 Price: $55+ per month
Datanyze is a data enrichment tool made specifically for B2B companies. It provides a Google Chrome extension that allows you to collect third-party data about potential clients right in your browser. It can pull data from social media platforms and business websites.
In In addition to its data enrichment features, Datanyze can also help you contact your leads via email or phone. Datanyze pricing starts at $55 per month, but it offers a 90-day free trial. That gives you plenty of time to test it out before you commit to paying for it.
2. Zoominfo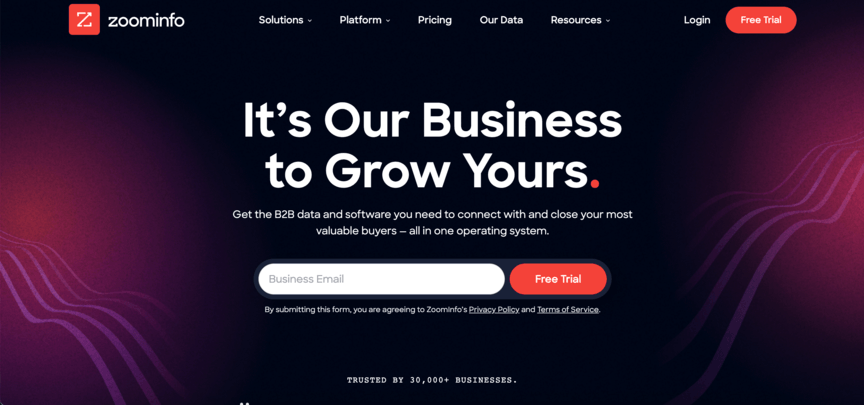 Price: Pricing available on request
Zoominfo, like Datanyze, specializes in helping you gather third-party data on B2B leads. Also like Datanyze, it offers additional features as well, including sales engagement and prospecting. If you want a tool that can help you accomplish multiple tasks, that makes Zoominfo a good option.
Some of the third-party data you can gather through Zoominfo includes contact information like phone numbers and email addresses, as well as location and buyer intent.
Bonus Read: Clearbit Vs. Zoominfo
3. Data Axle Genie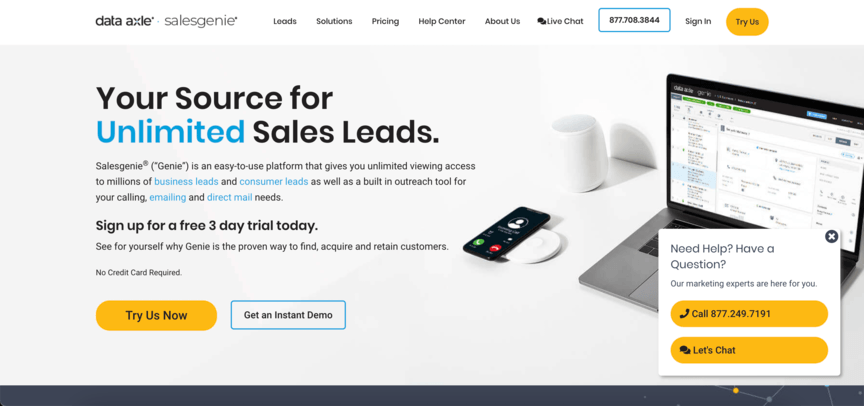 Price: $149 per month
Data Axle Genie, previously known as Salesgenie, is another useful B2B lead enrichment tool. It's designed to handle both B2B and B2C leads, so a wide variety of companies use it for their data enrichment needs.
To access Data Axle Genie's enrichment features, you'll need to go for the $149 plan — although there are cheaper options available, they don't include data enrichment. However, with the right plan, you can pull in a variety of helpful lead data.
Measuring the metrics that affect your bottom line.
Are you interested in custom reporting that is specific to your unique business needs? Powered by MarketingCloudFX, WebFX creates custom reports based on the metrics that matter most to your company.
Leads
Transactions
Calls
Revenue
Learn More

WebFX can help you optimize your B2B data hygiene
If you want some help improving the accuracy of your data and gaining valuable insights from it, you can benefit from partnering with a professional marketing agency. And if that's something you're interested in, WebFX is the perfect partner for you.
With over 25 years of marketing experience, we know how to optimize marketing analytics, and that includes data enrichment for B2B companies. On top of our marketing analytics services, we offer a customer relationship management (CRM) tool — Nutshell — where you can store and analyze your customer data.
To get started with us, just call 888-601-5359 or contact us online today!
How is your website's SEO?
Use our free tool to get your score calculated in under 60 seconds.
Get posts by email
Join 200,000 marketing managers and subscribe to Revenue Weekly!
"*" indicates required fields
WebFX Careers
Join our mission to provide industry-leading digital marketing services to businesses around the globe - all while building your personal knowledge and growing as an individual.