Data enrichment is one of the best ways to improve the quality of your data and, therefore, your marketing.
If you're not familiar with data enrichment, it's where you enhance your first-party customer data with additional first-party and third-party data. Having that extra data helps you know your audience better and allows you to market to them more effectively.
The question is, how can you perform data enrichment? The answer is, you can check out some data enrichment tools. There are plenty of data enrichment software options out there, and we'll look at some of those options in this blog post.
Keep reading to learn more, and then check out this video on data-driven marketing:
You can also subscribe to Revenue Weekly — our email newsletter — to get more helpful marketing content delivered right to your inbox.
Don't miss our Marketing Manager Insider emails!
Join 200,000 smart marketers and get the month's hottest marketing news and insights delivered straight to your inbox!
Enter your email below:
Inline Subscription Form – CTA 72
"*" indicates required fields
(Don't worry, we'll never share your information!)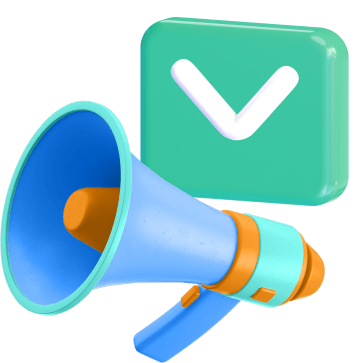 11 data enrichment software options for your business
You might already have done some research on the best tools for data enrichment. If so, you probably know there are a ton of data enrichment platforms out there. Thankfully, we're here to narrow down the list for you.
Below, we'll cover 11 of the best data enrichment tools available, including:
MarketingCloudFX

Nutshell

Clearbit

BeenVerified

Datanyze

Zoominfo

RingLead

Snov.io

Data Axle Genie

Pipl

InsideView
Read on to find out more about each tool.
1. MarketingCloudFX
Price: Pricing available online
MarketingCloudFX, or MCFX, is WebFX's proprietary marketing software. With MCFX, you can more effectively run every aspect of your marketing campaigns, from lead generation to marketing analytics.
Among other things, MCFX allows you to enrich your marketing data. You can use MCFX insights to flesh out the first-party data you get from other source. Since MCFX is already a tool you can use to track your marketing, it can provide killer info.
2. Nutshell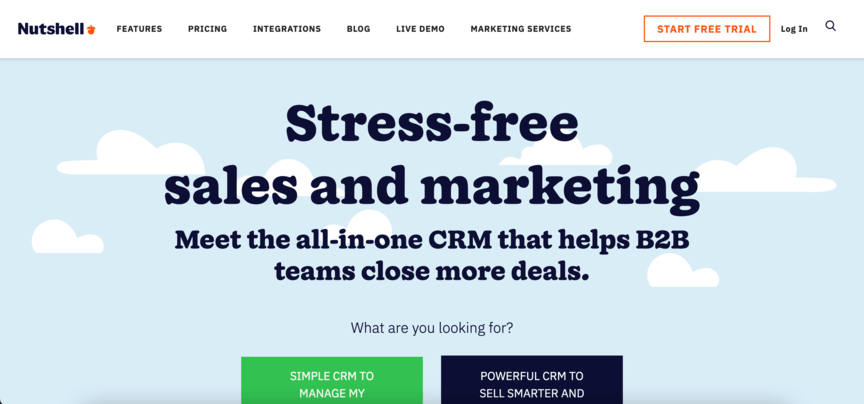 Price: Pricing available online
Nutshell is a customer relationship management (CRM) platform. That means it's designed to help you gather, organize, and analyze customer data. It can pull that data from a variety of first-party sources and organize it in a way that lets you see new connections between the different data points.
Nutshell's ability to merge data in this way makes it the perfect data enrichment tool for your business. After all, data enrichment is useless if you can't actually figure out how to make meaningful connections between the new data and the old.
3. Clearbit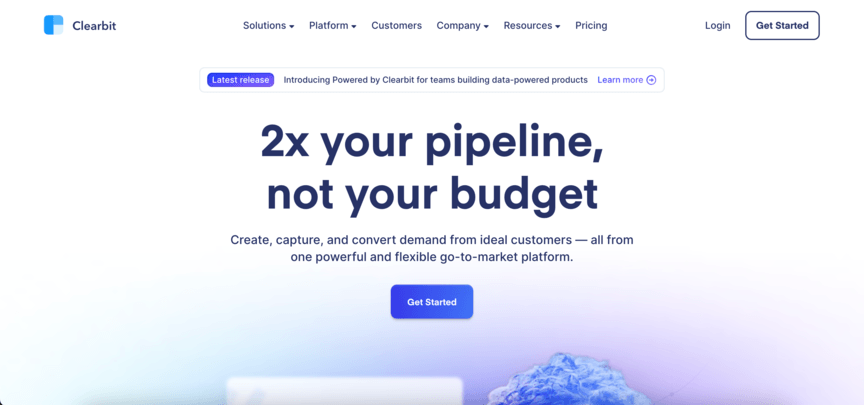 Price: Pricing available on request
Clearbit is a marketing data engine. That means it does more than just data enrichment, including marketing and sales personalization. However, data enrichment is one of its strongest features.
Using Clearbit, you can simply input a piece of lead information — an email address, for example — and get back third-party data results about that lead. This works for both individual consumers and businesses.
Clearbit also conveniently integrates with a variety of customer relationship management (CRM) platforms, allowing you to quickly transfer that third-party data into your database.
4. BeenVerified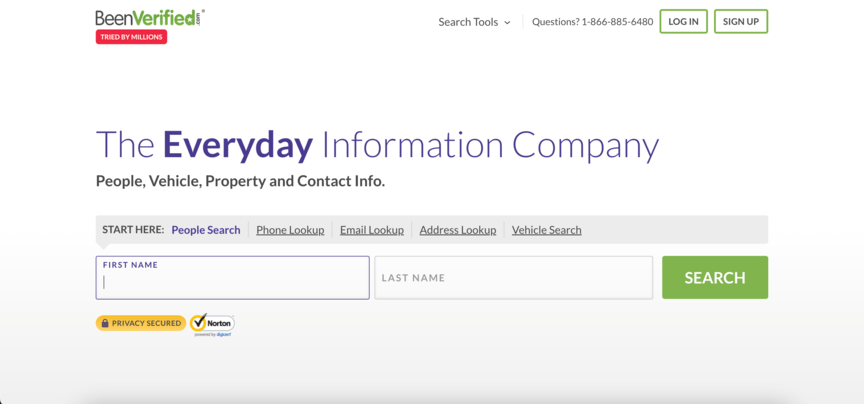 Price: Pricing available on request
To find third-party data about a lead on BeenVerified, you only need two pieces of information:
The lead's name

The lead's location
By plugging in those two data points, you can quickly access tons of additional data about the lead in question. That data includes contact info like email address and phone number. Sometimes it also goes even deeper, letting you access property records and more.
That makes BeenVerified a great piece of data enrichment software for your business.
5. Datanyze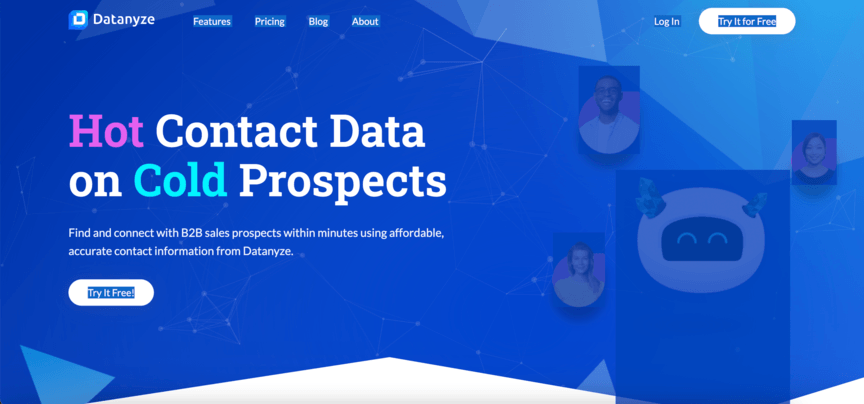 Price: $55+ per month
Datanyze specializes in collecting third-party data about business-to-business (B2B) contacts. It offers a Chrome extension that lets you do this right in your browser, pulling data off social media and business sites.
On top of helping you gather data on your leads, Datanyze helps you set up phone calls and emails with them. Best of all, Datanyze offers a 90-day free trial, meaning you can see for yourself how it works before you commit to the $55 per month subscription fee.
6. Zoominfo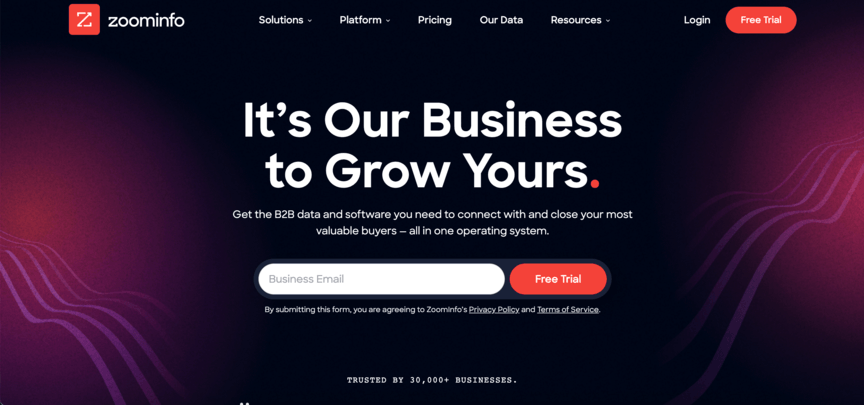 Price: Pricing available on request
Zoominfo is another great data enrichment platform, but it's also much more than that. In addition to data enrichment, Zoominfo offers features related to sales engagement and prospecting. That makes it a great choice if you're looking for an all-in-one type of tool.
As for the data enrichment part of the platform, it's similar to Datanyze in that it focuses on B2B leads. It offers the standard types of third-party data — phone numbers, location, search intent, and so on.
Zoominfo also offers a free trial if you're interested in seeing what it's all about.
Bonus Read: Clearbit Vs. Zoominfo
7. RingLead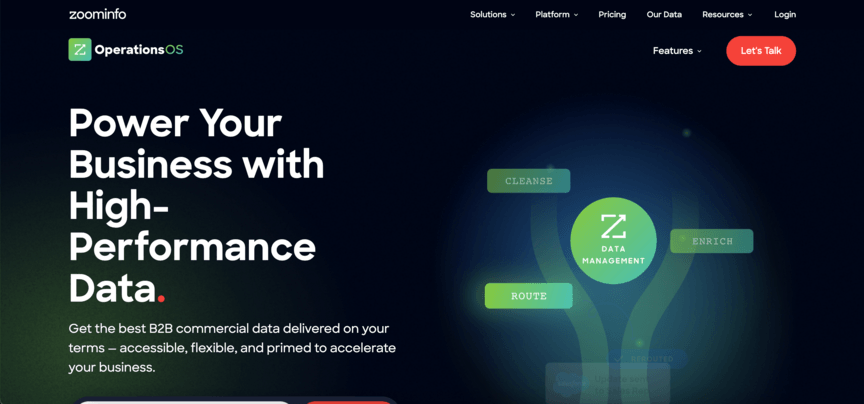 Price: Free, or $12,000 per user per year for a premium version
RingLead — which was recently bought by Zoominfo — is an especially good data enrichment platform due to how fast it is. Within mere minutes of a lead submitting a form, RingLead can give you additional third-party data about them. In fact, it uses smart forms, meaning it can automatically score your leads while they're filling out your forms.
If you opt for the paid subscription, RingLead is one of the priciest options out there, costing around $1000 per user per month. Thankfully, it also offers a free plan, which contains all the essential data enrichment features.
8. Snov.io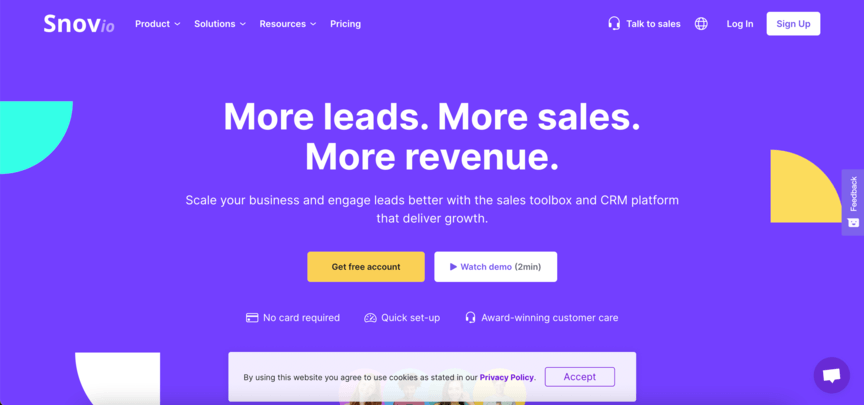 Price: $33+ per month
Snov.io is primarily a CRM. However, Snov also offers an API that can handle basic data enrichment features, and it's relatively inexpensive — at least if you opt for the cheapest plan. The most expensive is $482 per month if you really want to upgrade your plan.
Snov focuses primarily on email data. That means if you're looking for a broad range of info about your leads, you may be better off with a different tool. But if your priority is finding out email addresses — and then contacting those addresses — Snov is a great resource.
9. Data Axle Genie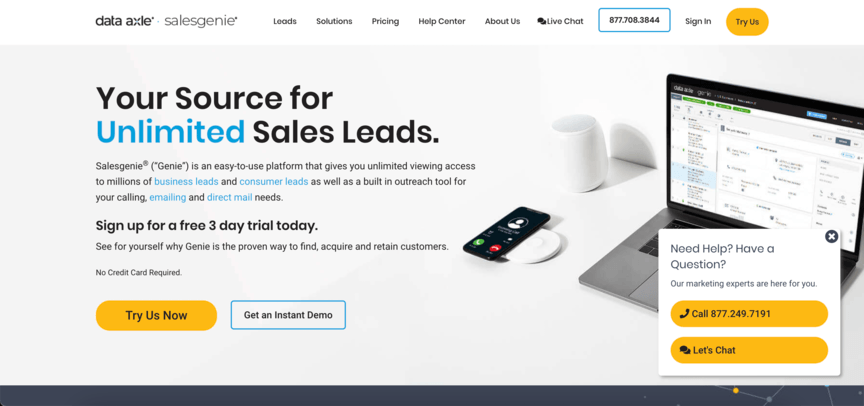 Price: $149 per month
Data Axle Genie — originally called Salesgenie — is a data platform that offers a few different features. While its cheapest plan is pretty affordable, it doesn't include data enrichment features. So, to get those features, you'll need the $149 plan.
Data Axle offers all the standard third-party data, from contact info to industry and career data. It works equally well for B2B and business-to-consumer (B2C) businesses, giving it a lot of flexibility as a tool.
10. Pipl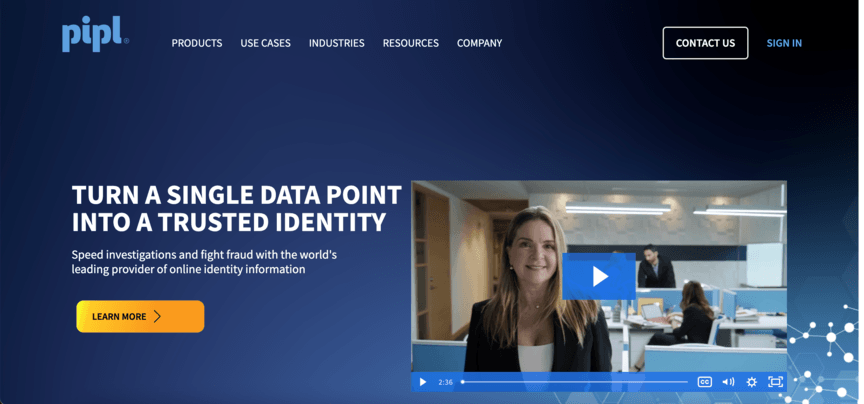 Price: $148 per month
Pipl is yet another excellent data enrichment software option. It pulls an extensive amount of customer data that it compiles into lead identity profiles for your business. That data includes:
Contact info

Demographics

Photos

And more!
Furthermore, Pipl offers an API that lets it integrate smoothly with other tools like your CRM, making it very easy to transfer all the data it gathers into your central database.
11. InsideView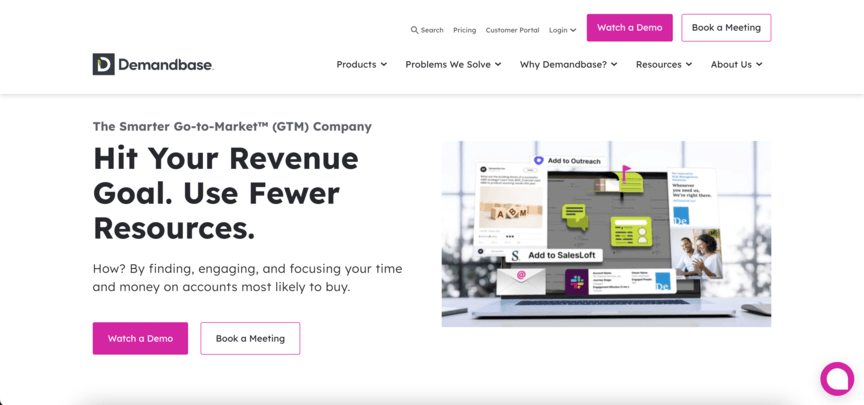 Price: Pricing available on request
InsideView, the last option on our list of tools for data enrichment, is also one of the best out there. Owned by Demandbase, it offers features beyond just data enrichment, but its enrichment services are some of the main ones it provides.
InsideView can integrate with your CRM to pull third-party data on all the leads you have listed there. It can provide all the usual types of data, which it can then add right back into your CRM alongside the existing first-party data you've collected.
Measuring the metrics that affect your bottom line.
Are you interested in custom reporting that is specific to your unique business needs? Powered by MarketingCloudFX, WebFX creates custom reports based on the metrics that matter most to your company.
Leads
Transactions
Calls
Revenue
Learn More

WebFX can help you optimize your data analytics
If you want help gathering and optimizing data about your customers, you may want to consider MarketingCloudFX, our marketing software. You can use MarketingCloudFX to generate custom reports on a variety of metrics.
And if you want a CRM to integrate with your choice of data enrichment software, be sure to check out Nutshell. Nutshell is a top-tier tool for generating reports and categorizing lead data, making it the perfect option for you.
You can also get direct help from the WebFX team with upgrading your marketing campaigns based on the insights you get from your data. To get started with our digital marketing services, just call 888-601-5359 or contact us online today!
How is your website's SEO?
Use our free tool to get your score calculated in under 60 seconds.
Get posts by email
Join 200,000 marketing managers and subscribe to Revenue Weekly!
"*" indicates required fields
WebFX Careers
Join our mission to provide industry-leading digital marketing services to businesses around the globe - all while building your personal knowledge and growing as an individual.