What is B2B Marketing? Your Go-To B2B Marketing Guide
As technology continues to evolve and expand, you don't want your business to fall behind the competition. If you haven't started marketing your business to business (B2B) company online, you're missing a viable opportunity to reach new clients and grow your company.
B2B marketing can bring your business into the 21st century, but what is B2B marketing?
Lucky for you, we've got all the answers to your questions! On this page, we'll answer questions like:
Plus, we'll provide you with six tips for excelling with your B2B marketing strategy!
If you want to learn more about how B2B marketing can help your business thrive, contact us online or call us today at 888-256-9448 to speak with a strategist!
What is B2B marketing?
B2B marketing refers to the marketing of a product or service to another business or organization. A B2B company can sell anything from office supplies to manufacturing equipment. B2B marketing integrates multiple strategies to help you market these products and services to online audiences.
B2B marketing vs. B2C marketing: What's the difference?
Aside from "What is B2B marketing," the next most common question is "what's the difference between B2B marketing vs. B2C marketing?" While these marketing types have some similarities, the most significant difference between the two is the audience.
Let's look at how these two differ:
Overall, the most significant difference between B2B and B2C is that B2B businesses have multiple decision-makers that will take longer to decide what's a good fit for their company. In contrast, B2C has individual consumers that are more likely to impulse buy for themselves.
What are the best channels for B2B marketing?
You got answers to "what is B2B marketing" and "what's the difference between B2B and B2C marketing," so now it's time to address the next question.
What are the best channels for B2B marketing?
You can use any combination of online marketing channels, including:
Search engine optimization (SEO): SEO is the process of boosting your website's ranking in the search results with a combination of strategies. When you invest in SEO, you help your B2B business rank higher in search results and drive more traffic to your page. Considering 71% of B2B clients start product research on a search engine, it's a valuable strategy for helping you attract more clients to your website.
Pay-per-click (PPC) advertising: PPC ads appear at the top of the search results above organic listings. These ads help you attract B2B companies that are closer to conversion. It's an excellent strategy for B2B businesses that want to capture more qualified leads.
Email marketing: Email marketing involves sending tailored content to your audience to nurture them towards conversion. With email marketing, you're able to build a one-on-one connection with leads and send them valuable information that gets them to convert.
Content marketing: Even though a company knows they need your products or services, they may not be entirely familiar with how things work (especially with products like software). By creating content, you can help fill knowledge gaps and provide these businesses with helpful information. They'll see you as an authority and spend more time getting to know your business.
Web design: Your website is the first impression companies get from your company. You need to invest in building a modern and custom design that helps your business stand out from the competition. You'll attract more leads and keep them on your site longer when you have a beautiful design.
These are just a few of the B2B marketing services you can invest in to help your business reach more clients and grow online.
Bonus Read: 100+ B2B Marketing Statistics
What are the benefits of B2B marketing strategies?
Now that you know what strategies you can use to grow your business online, you're probably wondering how your business will benefit from these strategies. B2B marketing strategies offer numerous benefits to your company.
1. You reach more qualified leads
One of the biggest reasons to invest in B2B marketing services is that you reach more qualified leads.
Do you ever feel like you're putting money into marketing efforts that don't seem to drive new clients? If so, B2B marketing is the solution to that problem.
B2B marketing enables you to target audiences more precisely, so you're reaching companies that search for your products or services.
So, for example, with SEO, you can target keywords your audience is likely to search to find your products and services. If you supply office furniture, you may target keywords like "corporate office furniture" or "office furniture supplier."

Steelcase is a prime example of targeting the right keywords. This targets keywords like "furniture for offices" and "office furniture solutions," which enables them to appear in front of leads looking for office furniture.
By targeting specific keywords, you reach more qualified leads searching those keywords.
B2B marketing strategies enable you to reach more qualified audiences that want your products or services.
2. You increase brand exposure
When you invest in B2B marketing services, you invest in increasing brand exposure. Using different marketing channels to advertise your B2B business allows interested leads to find you easier.
If you have a presence on different marketing channels, you increase the likelihood that leads will find your business. These leads can see your business in search results or on social media.
Increased brand exposure makes leads more likely to spend time learning about your business, which can lead them to choose your business over another because they know more about your brand.
3. You increase traffic to your site
One of the most significant benefits of B2B marketing is that you increase traffic to your website. Increased traffic to your site means that more people discover your brand and get to know your business.
With B2B marketing, you help optimize your website to drive more traffic to your page. Strategies, like SEO, focus on optimizing your site for relevant keywords and improving user experience to keep leads on your site longer.
These tactics will help increase traffic on your site by appearing in front of more relevant leads and providing them with valuable information that keeps them engaged.
4. You nurture relationships with clients
B2B marketing strategies enable you to cultivate relationships with clients. With B2B strategies, you'll have numerous touchpoints where leads can engage with your business and learn more about your products or services.
Methods like email marketing allow you to send direct communication to decision-makers, keeping your brand at the forefront of their minds.
These direct connections enable you to nurture relationships with clients and nudge them towards choosing your business. It makes it easy for you to connect and send helpful information to your audience.
5. You drive leads to your business instead of you reaching out to them
One of the most significant benefits of B2B marketing online is that leads reach out to you instead of you reaching out to them.
Many companies face the issue where, when they cold-call clients or reach out to them through other means, the clients ignore their calls or aren't looking for their products or services.
With B2B marketing strategies, the clients reach out to you. They actively search and seek out a company that offers the products and services you offer. That means that if someone contacts your business or signs up to receive emails, you know they have an interest in what you offer.
B2B online marketing takes the guesswork out of obtaining clients.
Partner With a Team of Ecommerce Masters!
WebFX campaigns have earned more than 12,936,451 ecommerce transactions in the last 5 years.
Read the Case Studies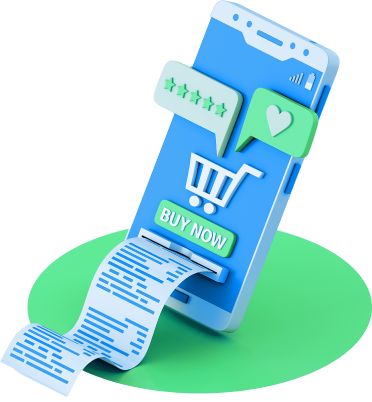 5 tips for excelling with B2B marketing
B2B marketing strategies are a great addition to your business's marketing plan if you want to earn more clients and grow. If you're excited to dive in, check out these five tips for excelling with B2B marketing!
1. Know who you're targeting
If you want to have success with your B2B marketing strategies, you need to know who you're targeting. Your strategies won't work if you're not targeting the right users.
To establish your target audience, you can create buyer personas. When you're dealing with different decision-makers, buyer personas can be extremely helpful for helping you understand how to appeal to various members of a decision-making team.
Let's say you're an office furniture supplier who's trying to appeal to a corporate company to buy furniture from you. To help you understand the company and the buyers better, you create marketing personas for the different types of decision-makers you're facing.
You create personas based on:
Demographics (age, gender)
Position in company
Interests
And more
With this information, you may find, for example, that decision maker A cares about ergonomic furniture, so employees feel comfortable while working. Decision maker B cares about staying in budget and get the most for their money.
When you know your specific buyer personas and know what matters most to them, you can tailor your marketing to fit better for different companies. You may have a situation where a company has a team of people most like decision maker A that we outlined or all more similar to decision maker B.
Knowing this information allows you to deliver a tailored marketing experience, so these decision-makers get the information they care about most.
2. Be humanistic
When you're marketing to other businesses, it's easy to deliver a stiff message that feels too corporate. While you want to keep your marketing efforts professional, it's essential to be humanistic with your marketing, too.
At the end of the day, you're still marketing to people. They're people that represent a company, but they're ultimately still the ones deciding. While they may not make decisions based on their personal feelings, they are still influenced by whether you make a good impression on them.
Stray away from stiff corporate messaging. Share the benefits of your product and company and use that information to show them why your company is the best fit for their needs.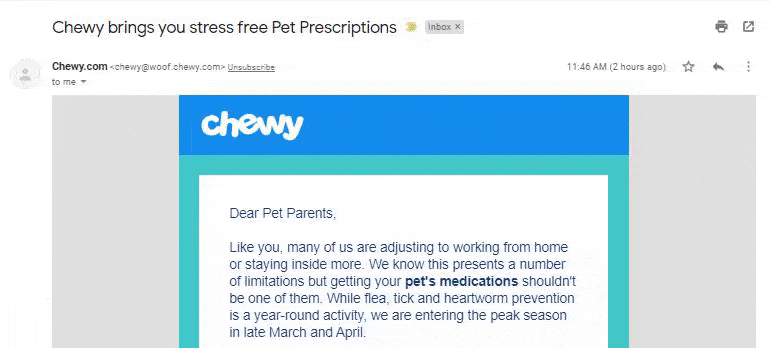 If you aren't sure how to take a more humanistic approach, just take some notes from Chewy! During the COVID-19 outbreak, Chewy sent an email to subscribers marketing their Chewy Pharmacy.
They took a humanistic approach to marketing their pharmacy by recognizing the stress pet parents were under from being in quarantine and providing an easy solution that takes some worry off their plates.
Chewy marketed how pet parents simply had to provide pet prescription information and they would take care of the rest. Not only did it make it easy for pet parents during a stressful time, but it also allowed them to stay safe at home.
This humanistic approach is what makes Chewy successful with their marketing efforts. They meet their clients' needs and provide them with solutions that help.
3. Personalize your messages
When you use B2B marketing strategies, you want to personalize your messages as much as you can. Personalization is a critical component because decision-makers want to know how you're going to help them specifically.
If you send generic messages to prospects, they're not going to take an interest in your company. These decision-makers don't have time to read marketing content that doesn't appeal to their interests.
So, if you're an office furniture supplier, you may have companies looking just for chairs or just for desks. You want to ensure that you're marketing those products to them so you can catch their attention and interest them in what you have to offer.
4. Monitor your competition
If you're going to increase your client base with your B2B marketing strategies, you need to keep tabs on your competition. It's important to know what your competition is doing to reach clients so that you can stay competitive with them.
First, look at who else is trying to appeal to your clients.
Next, look at different marketing channels to see if they have a presence. You can see if they're posting on social media or trying to rank for similar keywords to you.
By checking these different channels, you can see what your competition is doing with their strategies. It will help you evolve your strategy to perform better than your competitors.
5. Measure your results
When you use B2B marketing strategies, you need to monitor them to ensure that you're driving the best results for your business. You want to ensure that you're getting the most for your budget and driving results that help your business grow.
For each strategy you run, you'll want to monitor metrics to see how that strategy performs. The metrics will depend upon your campaign. You can use tools like Google Analytics to measure your metrics.

For example, if you run a PPC campaign, you're going to monitor metrics like clickthrough rate (CTR) and conversions. On the other hand, with SEO, you might follow CTR and dwell time. The metrics will depend upon which strategies you use and what you're trying to achieve with those strategies.
By measuring your results, you'll ensure you're getting the most out of your campaigns.
Invest in B2B marketing services today
If you haven't invested in B2B marketing services, it's time to start. B2B marketing strategies help you reach more qualified clients and get them to partner with your company.
Aren't sure where to start? No worries, WebFX has your back!
We're a full-service digital marketing company that offers every service you need to create an impactful B2B marketing strategy. With over a decade of experience, you can count on us to drive results for your business.
Ready to see what WebFX can do for you? Contact us online or call us today at 888-256-9448 to speak with a strategist about our B2B marketing services!