When running a business, customer data generated by your digital marketing efforts is your greatest ally. With a business key performance indicator (KPI) dashboard, you can make the most of your customer data and identify key trends and patterns that will inform your business decisions and marketing campaigns.
KPI dashboards gather all your KPIs, raw data, and other metrics into one centralized platform and visualize them so your teams can easily make data comparisons, analyses, and forecasts for future sales.
Keep reading to learn more about what a business KPI dashboard is and how it can help you fuel your business growth. Plus, stick around for some KPI dashboard examples you can recreate in WebFX's MarketingCloudFX.
Looking to amplify your online presence and generate more data for your campaigns? Team up with WebFX to get expert digital marketing services and access to industry-leading marketing technology like MCFX. Give us a call today at 888-601-5359 or contact us online to learn more.
Meet WebFX:
Your world-class, tech-enabled marketing agency with over 1.6 million hours of combined expertise.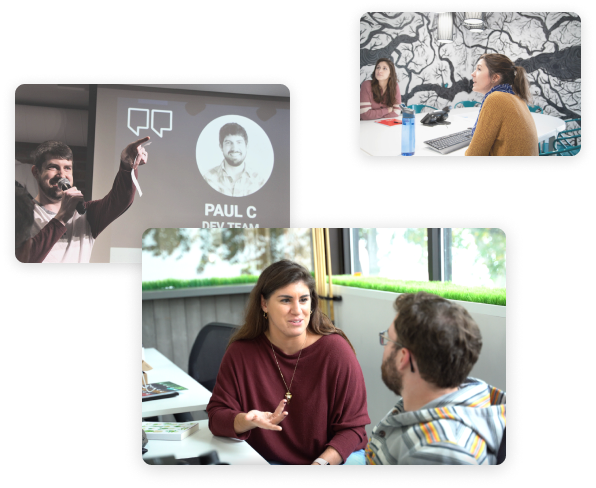 What is a KPI dashboard?
So, what is a KPI dashboard, exactly? To answer that question, we first have to look at KPIs themselves.
KPIs are metrics businesses use to monitor their progress as they work to achieve their business goals. Through KPIs, businesses can monitor the performance of different campaigns and gain insight into the minutiae of what is helping them achieve their goals or hindering them from doing so.
With a KPI dashboard, your business can centralize all of your most important KPIs so they're all in one place and easy to access. KPI dashboards allow businesses to make smarter, data-driven business decisions and more accurate sales forecasts. Let's dive into those benefits a bit further.
3 KPI dashboard benefits
From analytics to operations, a business KPI dashboard brings a wide assortment of benefits to the table. Below are three of those key benefits.
1. Measure your results
With a business KPI dashboard, your team can easily organize, visualize, and translate large amounts of data to measure performance and identify trends. Rather than spend valuable time and effort sifting through unfiltered data, your KPI dashboard organizes it so you can quickly filter data sets for any given department or project.
Live dashboards are updated in real-time, so you're always looking at the most recent data when making sales forecasts or marketing predictions. With various filters and interactive visualization tools, you can dive as deep into your data as you'd like and make the most out of your data.
2. Increase operational efficiency
The benefits of a KPI dashboard extend to more than just in-depth analytics. Business KPI dashboards encourage more effective teamwork and collaboration among your company's different teams.
When it comes to departmental goals, you can adapt your business KPI dashboards to highlight key data and insights relevant to specific roles or teams, like sales, marketing, and customer service.
Through company-wide and department-specific data overviews, business KPI dashboards facilitate better communication and collaboration within your company. With access to the same dashboards, teams are always in the know about the status of company goals and objectives and can work with other departments to improve them.
3. Identify new marketing and sales opportunities
"So, I can analyze data. What's the big deal?"
As we said earlier, your customer data is one of the most valuable tools you can have at your disposal (besides your company KPI dashboard, or course). With a better grasp of how your campaigns and sales efforts are performing, your KPI dashboard's analytics and visualization tools can help your team identify new marketing and sales opportunities for your business.
Data trends and forecasts can reveal areas of opportunity to market to new segments of your audience and zero in on customer pain points that you've yet to address with your products and services.
Taking advantage of these new opportunities expands your marketing and sales efforts and can open up new streams of revenue for your business.
Meet MarketingCloudFX: Your KPI dashboard solution
WebFX's MarketingCloudFX makes tracking sales and marketing data and return on investment (ROI) simple. As a comprehensive source of truth for tracking results, MCFX brings all your data together in one place to create a business KPI dashboard that gives you all the tools you need to accelerate your growth and revenue.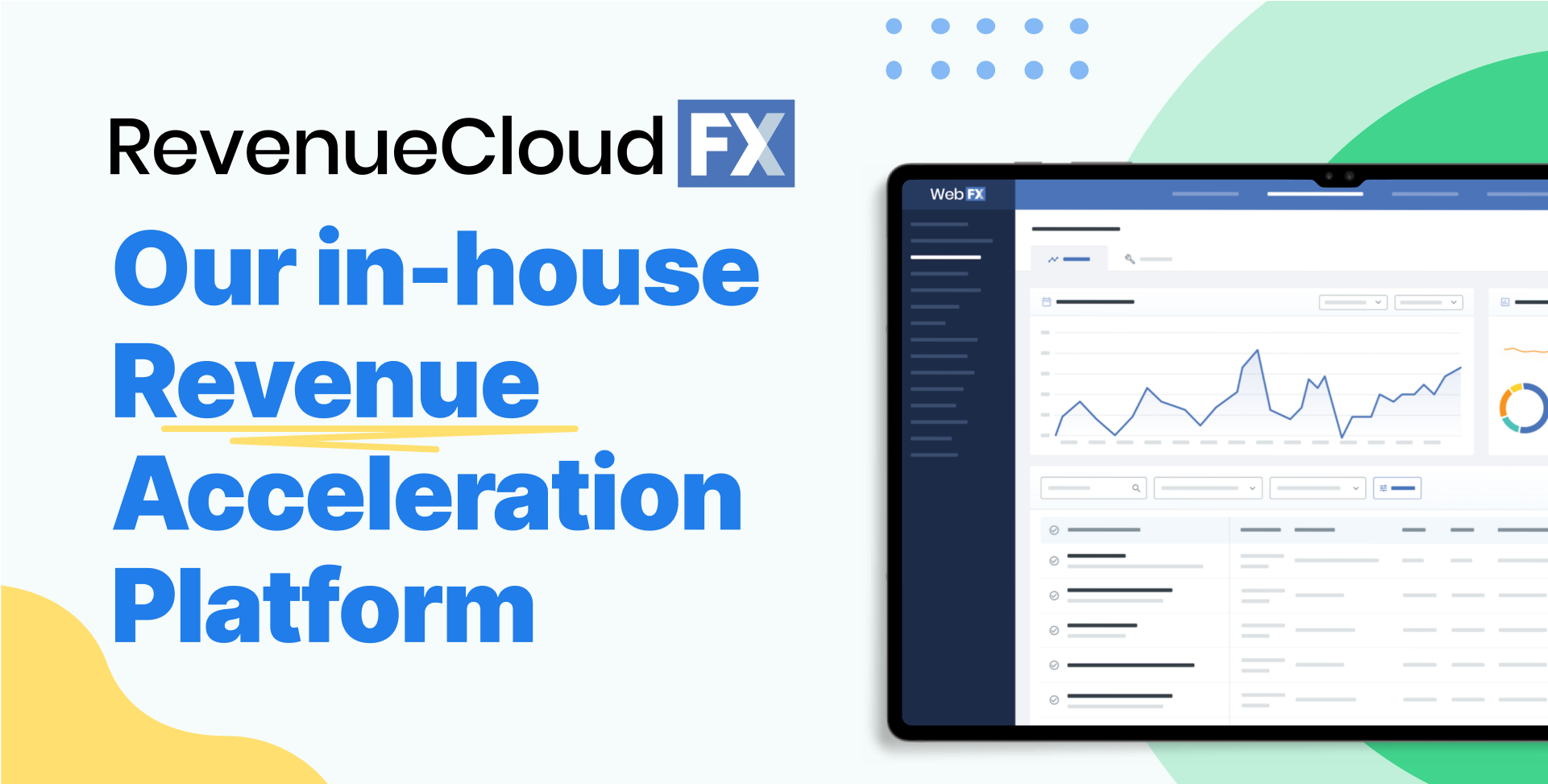 With MCFX's tracking and analytics tools, your business can build a company KPI dashboard that tracks the data you want and displays the insights you need. MCFX includes data tracking and visualization tools like:
Keep reading to learn more about how you can create a company KPI dashboard in MCFX. Convinced already? Contact us online to learn more about how you can start using MCFX to track your performance today.
Meet MarketingCloudFX:
One platform tracking countless metrics and driving stellar results.
Learn More About Our Proprietary Software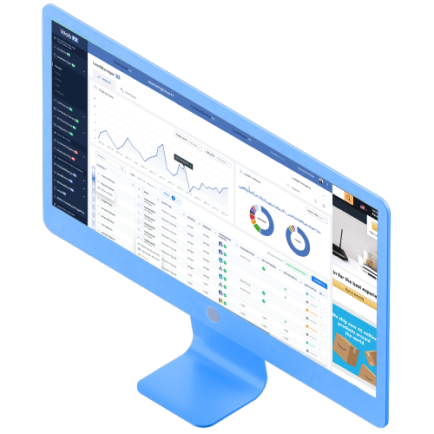 How to build a business KPI dashboard
Building a KPI dashboard is all about creating a display that works for your team. Your industry and goals will determine what data you display and how you display it. Below are a few best practices and tips to keep in mind as you begin to build your own business KPI dashboard in MCFX.
Outline your business, sales, and marketing goals. The KPIs you choose will depend on what you want to accomplish with your business efforts.

Select your KPIs carefully. The KPIs you choose to display on your dashboard and track should all help you further your business goals and offer insight into your progress toward those goals.

Display the data your user(s)

need

to see — don't overcrowd your dashboard with metrics that are irrelevant to your goals. When in doubt, keep it simple.

Create a natural stream of data that's easy to follow and effectively communicates the insights your dashboard is presenting.

Use colors and headlines that effectively highlight your company's most critical metrics.

Choose visualization tools that properly display each KPI. Not every data set will benefit from being turned into a graph — play around with the tools you have and choose the ones that work best for your data.
Company KPI dashboard examples
We wouldn't leave you guessing — take a look at some KPI dashboard examples to help you create your own dashboard in MCFX.
Marketing
Your marketing KPI dashboard should include metrics that offer insight into the performance of all your marketing efforts. From social media to email marketing, your marketing dashboard should display metrics like leads generated, customer lifetime value (CLV), marketing ROI, churn rate, and more.
Sales
A sales KPI dashboard should display information that allows your sales team to see how their efforts are affecting your company's sales numbers and revenue. Metrics to show on your sales KPI dashboard include data like cumulative sales revenue, target sales for the year or quarter, and comparisons to the previous year's sales.
Ecommerce
Online selling generates a significant stream of data. With an ecommerce KPI dashboard, you can channel all that data into insights that help you reach your ecommerce goals. When planning your dashboard, consider including ecommerce KPIs like transactions, website analytics, cart abandonment rates, and more.
Customer Service
Customer service is key to keeping your customers happy (and keeping them at all). With a customer service KPI dashboard tracking data like customer retention and satisfaction rates, as well as customer service types, your team can consistently deliver quality customer service to every user who contacts you.
How can you market your business online? We've got 20+ ideas. Download your FREE guide today!
Show Me the Guide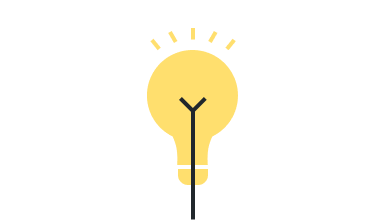 Don't wait — partner with WebFX today to start tracking your KPIs with MCFX!
At WebFX, we're all about giving you the tools you need to build marketing strategies that are adaptable and bring long-term success. With MarketingCloudFX and its KPI dashboard capabilities, you can do just that.
Start extracting valuable insights from your customer data by teaming up with WebFX for digital marketing services and MCFX. Drop us a line at 888-601-5359 to get in touch with one of our marketing specialists or contact us online today!
How is your website's SEO?
Use our free tool to get your score calculated in under 60 seconds.
Get posts by email
Join 200,000 marketing managers and subscribe to Revenue Weekly!
"*" indicates required fields
WebFX Careers
Join our mission to provide industry-leading digital marketing services to businesses around the globe - all while building your personal knowledge and growing as an individual.