June 2, 2023
8 minute read

Matthew is a marketing expert focusing on the SEO & martech spaces. He has written over 500 marketing guides and video scripts for the WebFX YouTube channel. When he's not striving to put out some fresh blog posts and articles, he's usually fueling his Tolkien obsession or working on miscellaneous creative projects.
If you know anything about customer relationship management (CRM) platforms, you probably know that they're one of the most essential types of sales tools. With a CRM, companies can drive more sales for their business and ultimately earn more revenue.
But why is that? How does a CRM increase sales, exactly? That's just the question we'll answer in this blog post. Keep reading to learn more, and then subscribe to Revenue Weekly — our email newsletter — to get more helpful marketing info delivered right to your inbox!
Don't miss our Marketing Manager Insider emails!
Join 200,000 smart marketers and get the month's hottest marketing news and insights delivered straight to your inbox!
Enter your email below:
Inline Subscription Form – CTA 72
"*" indicates required fields
(Don't worry, we'll never share your information!)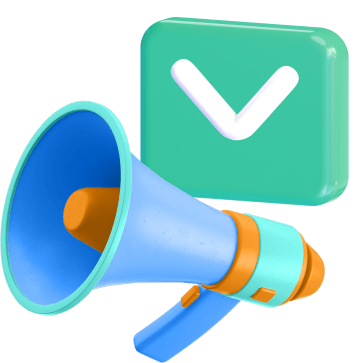 How does a CRM increase sales?
There are many different ways a CRM boosts sales. In this blog post, we'll cover 10 of the biggest CRM sales benefits that lead to more revenue, including:
Keep reading to learn more about each one below!
1. CRMs provide a centralized and secure database
The first sales benefit of a CRM is that it gives your business a centralized and secure location to store all your customer data. Customer data is sensitive, and you don't want some third party breaking into your system and stealing any of it. Thankfully, CRMs offer a layer of security that helps you rest easy at night.
Furthermore, CRMs are incredibly convenient because they store all that data in one location. It's wildly inconvenient to jump around between different platforms trying to wrangle all the data you need, and a CRM frees you from having to do that. Instead, you can invest the time and effort it saves you into driving more sales.
2. CRMs help you identify the latest sales trends and patterns
Another way your CRM boosts sales is by helping you pinpoint the latest patterns and trends in your sales data. It does that by generating reports, charts, and graphs that lay out your data in a visual and easily digestible way.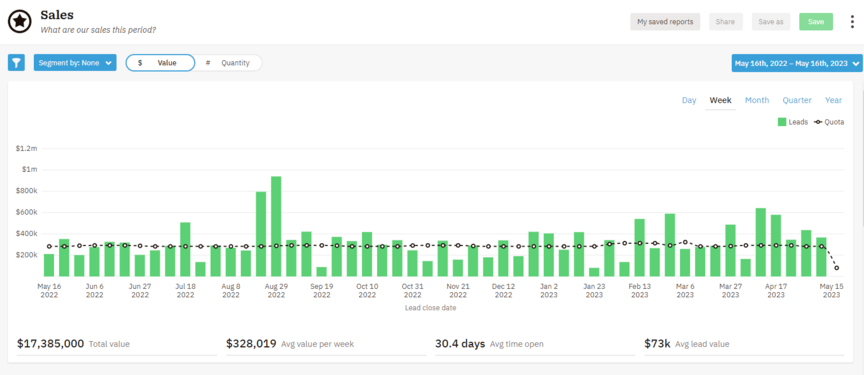 When you see changes in your sales results over time, you know to reoptimize your campaigns accordingly. For example, you might find that your customers are responding more positively to one email format than another, so you make a point of focusing more on the successful email format in the future.
By identifying these patterns early and optimizing for them, you can make your sales efforts far more effective and close more deals in the long run.
3. CRMs show you what your customers want
One of the most essential parts of sales is knowing how to speak to your customers' needs, interests, and pain points. The trick, of course, is figuring out what those are. Thankfully, a CRM is the perfect tool for helping you do just that.
In your CRM, you can generate reports from your customer data to show what your customers most commonly show interest in, as well as what their most common sources of frustration or confusion are. Using that info, you can then optimize your sales efforts to target those exact interests and pain points.
That will make your sales efforts far more effective, driving more sales and revenue for your company.
4. CRMs improve your customer segmentation
Not all of your customers are identical. Your customers come from different places, have different demographics, and hold different interests. Given that, you don't want to try and use the exact same sales tactics with all of them — that simply won't be very effective.
Instead, the best approach is to segment your leads. You do that by looking at the most common characteristics across your customers and dividing them up into groups based on those characteristics. Do they have different perceived benefits from your product or service? You can implement benefit segmentation.
That's where a CRM comes in. Not only can a CRM help you easily pinpoint audience characteristics, but many CRMs also help you segment your customers automatically.
5. CRMs allow you to communicate directly with your leads
CRMs don't just help you figure out how to communicate with your leads — they can help you facilitate that communication to begin with. You can contact leads right from your CRM with features like email marketing.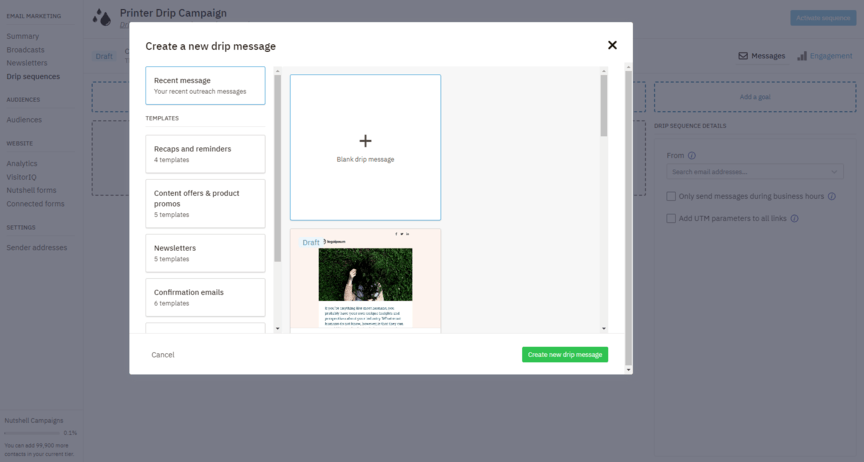 Using your customer data as a guide, you can build the perfect customer communications right there in the CRM and then send out your marketing to your leads and customers. That makes things easier for you since you can send out the emails and analyze the results all right there in your CRM instead of jumping between different tools more than needed.
6. CRMs automate repeatable processes
Another major way a CRM boosts sales is through automation. In fact, automation is one of the biggest advantages of a CRM.
There are a lot of tasks that come with managing a sales pipeline. Sending out emails, migrating data, compiling reports… these mundane, day-to-day tasks can quickly eat up quite a lot of your time. But with a CRM, you don't need to worry about that. CRMs can perform many of those tasks automatically.
For example, if there's a specific email you have to send out regularly, you can simply have the CRM do it for you. You can tell it to send out a given email at a given time or in response to a given action by a lead or customer.
By automating those processes, you can massively free up your team's schedule. Instead of spending half the day trying to trudge through all those repetitive tasks, you can simply automate them and then spend that time optimizing your sales efforts in other ways.
7. CRMs improve your sales forecasting accuracy
Sales forecasting is an important aspect of running a business. You need to be able to plan for the coming quarters, and to do that, you need to have a way of predicting what your sales will look like. The only way to do that is to look at past trends in your sales data.
You can do that without a CRM, of course — but it's going to be very tough trying to work it all out manually. It's far easier to do it in a CRM. Firstly, as we've already noted, CRMs let you view past patterns and trends that help you predict future ones. Additionally, though, many CRMs can even generate sales forecasts automatically.
Overall, having more accurate sales forecasts lets you plan more efficiently and build more effective sales campaigns each quarter.
8. CRMs lower sales costs
One major CRM impact on sales is that CRMs lower sales costs. How? By majorly improving efficiency.
By categorizing your customer data in a centralized location, CRMs streamline your whole sales analytics process. Furthermore, with tools like automation, they remove human error from many sales tasks.
Because of this increased efficiency, you can work faster and more accurately, leading to better results and — ultimately — more revenue. You also end up spending less time, and therefore less money, fixing errors in your sales data. Because of these things, CRMs are great tools for helping you spend less and earn more.
9. CRMs connect your different customer-facing teams
Your sales team isn't the only one that can benefit from using your CRM. CRMs are also great for marketing and customer service teams since all of those teams deal regularly with customers and generate customer data.
But one problem many companies have with those three teams — marketing, sales, and customer service — is data silos. That's where each team generates customer data, but they don't share it with the other teams — they keep it to themselves. Consequently, there end up being inconsistencies and redundancies across the different teams.
Not with a CRM, though. A CRM unites data from all three teams in one location, ensuring not only that each team's customer data is visible to the others but also that all three teams run their campaigns based on the same data, helping keep them more in sync.
10. CRMs improve customer service and retention
Finally, your sales efforts don't end when you convert a new customer — at least, not if you're a company that has long-term clients or repeat customers. It's usually far easier and less expensive to retain existing customers than it is to attract new ones, and CRMs can help you with that as well.
CRMs can help you harness customer data to find out what kinds of customer retention strategies will keep your existing clients around longer. They'll also let you reach out to those customers directly through the platform, just like with leads.
The result is that you'll be able to hold onto clients longer and get more value from each sale.
Meet MarketingCloudFX:
One platform tracking countless metrics and driving stellar results.
Learn More About Our Proprietary Software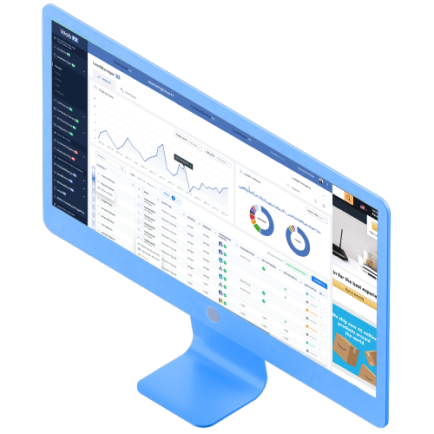 Drive up the quantity and quality of your sales with Nutshell and MarketingCloudFX
Looking for the ideal CRM to improve your sales efforts? We have the perfect recommendation — Nutshell. Nutshell is a top-of-the-line, affordable, and efficient CRM designed for small- to medium-sized businesses like yours. It's equipped with sales automation, in-depth reporting, and more.
Plus, if you partner with WebFX for help with your digital marketing, you'll have the opportunity to use MarketingCloudFX — our marketing platform — which comes with free seats in Nutshell! Together, WebFX and Nutshell can propel the quantity and quality of your sales.
Ready to get started with us? Just call 888-601-5359 or contact us online today!
Matthew is a marketing expert focusing on the SEO & martech spaces. He has written over 500 marketing guides and video scripts for the WebFX YouTube channel. When he's not striving to put out some fresh blog posts and articles, he's usually fueling his Tolkien obsession or working on miscellaneous creative projects.

WebFX provides digital marketing solutions with expert marketers, designers, and developers to increase visibility, conversions, and revenue.

Learn more
Try our free Marketing Calculator
Craft a tailored online marketing strategy! Utilize our free Internet marketing calculator for a custom plan based on your location, reach, timeframe, and budget.
Plan Your Marketing Budget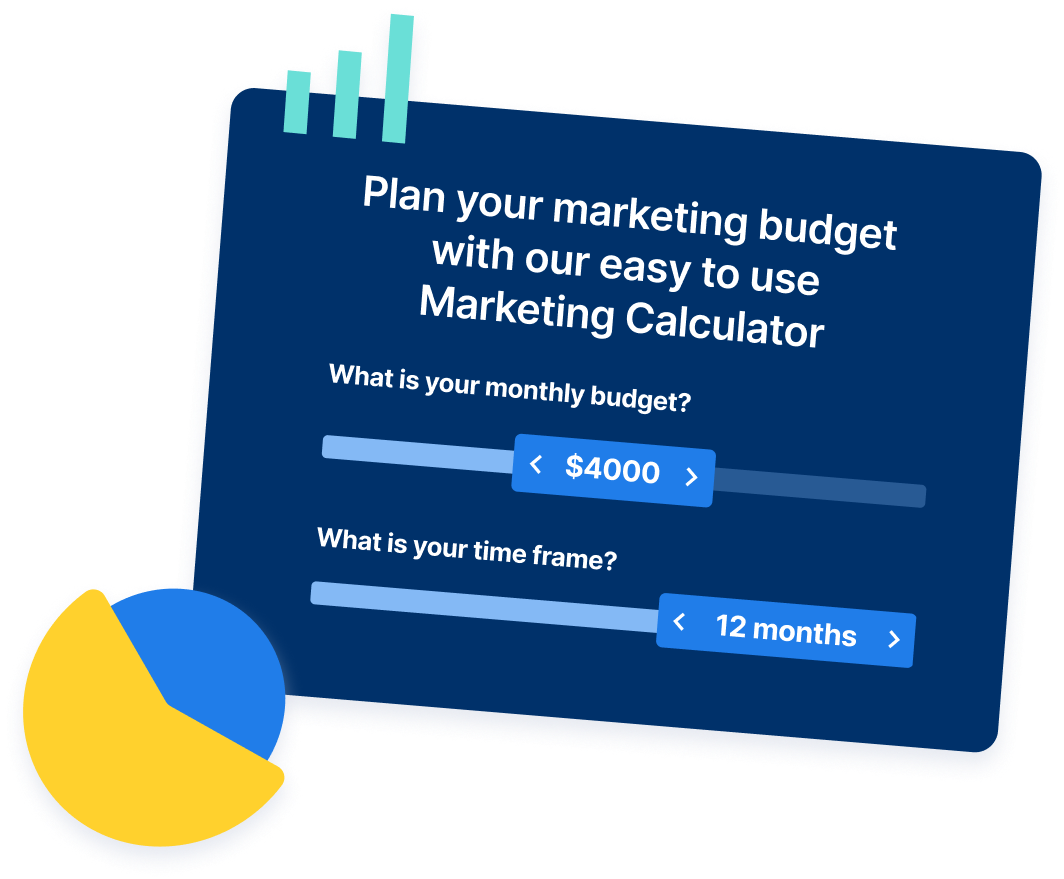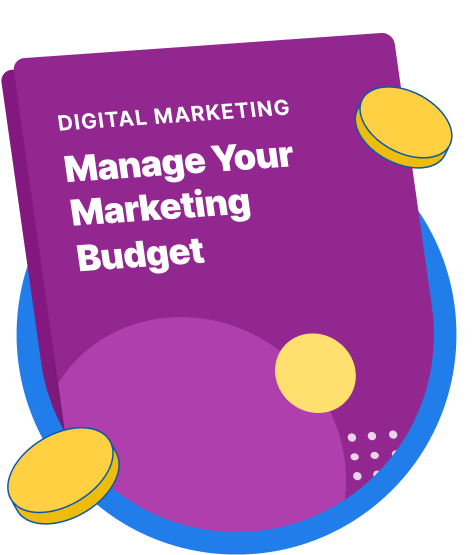 Maximize Your Marketing ROI
Claim your free eBook packed with proven strategies to boost your marketing efforts.
Get the Guide
Try our free Marketing Calculator
Craft a tailored online marketing strategy! Utilize our free Internet marketing calculator for a custom plan based on your location, reach, timeframe, and budget.
Plan Your Marketing Budget