Transcript: Google Ads Customer Match is a great way for your business to use your already existing customer data to get as targeted as possible with your campaigns.
But how does customer match work? And what is it? Keep watching to find out.
What is Google Ads Customer Match?
As I mentioned, Google Ads Customer Match lets you use your business's customer data to tailor your Google Ads campaigns to a very specific audience. Think of it as a really specific version of remarketing, but you have even more information about the customers you're targeting. If you're not familiar with remarketing, it's the practice of targeting your ads to people who have already engaged with your business by doing things like visiting your website or filling out a contact form. So if you collect information from your customers like their emails or addresses, you can use that to create an audience list and put your ads on their screens.
I'll give you an example.
Say you're the marketing manager of a college, and you want to boost enrollment for the upcoming year.
You just held an open house where visitors could leave their email in-person to receive more information about the school. You can take this information and create an audience list so your ads are seen by the people who were interested enough to visit your school's open house. When people visit a school, you know they're seriously considering applying or enrolling, so your ad could be enough to help them make a decision.
Why use Customer Match?
Well, it's almost in the name. You can match your ads to customers who are already familiar with your business. If someone was willing to give your business their information, they're interested in what you offer. If you collect emails on your site, Customer Match lets you do more than just send emails from your business.
You can reach this audience outside of their inboxes, in places like YouTube, Google search, and in the HUGE network of websites that show display ads. Here's a cool example. Let's say an online clothing store is having a really big sale, and they want to advertise it to people who are more likely to shop with them—in this case, they want to target the people who signed up for their email newsletter. That ecommerce store can upload their email list to Google Ads and get their display ads to show up in front of people on that list using Google Ads Customer Match.
Bonus Reading: Leverage Google Ad Customizers
How to use Google Ads Customer Match
Before you even create your audience list, you should know that Customer Match isn't for everyone. It might not work as well for a business with limited customer information, like a small email list. But if you have an email list of 10,000 or even 100,000 or more customer emails, you might want to consider testing out Customer Match. Google also has some other requirements for businesses that want to use Customer Match, which you can see on their advertising policies page. If you think Customer Match will work for your ad campaigns, great!
So the first part of Customer Match is having the customer data to upload to Google Ads.
If you have a form on your website where people can sign up for your business's emails, that's a great place to start.
Remember that you do have to disclose that you share customer data with anyone who gives you their information. But once you have the information with permission, the next step is giving it to Google. You need to put any data you have into a spreadsheet and export it as a CSV file. Google offers a template if you don't want to start from scratch.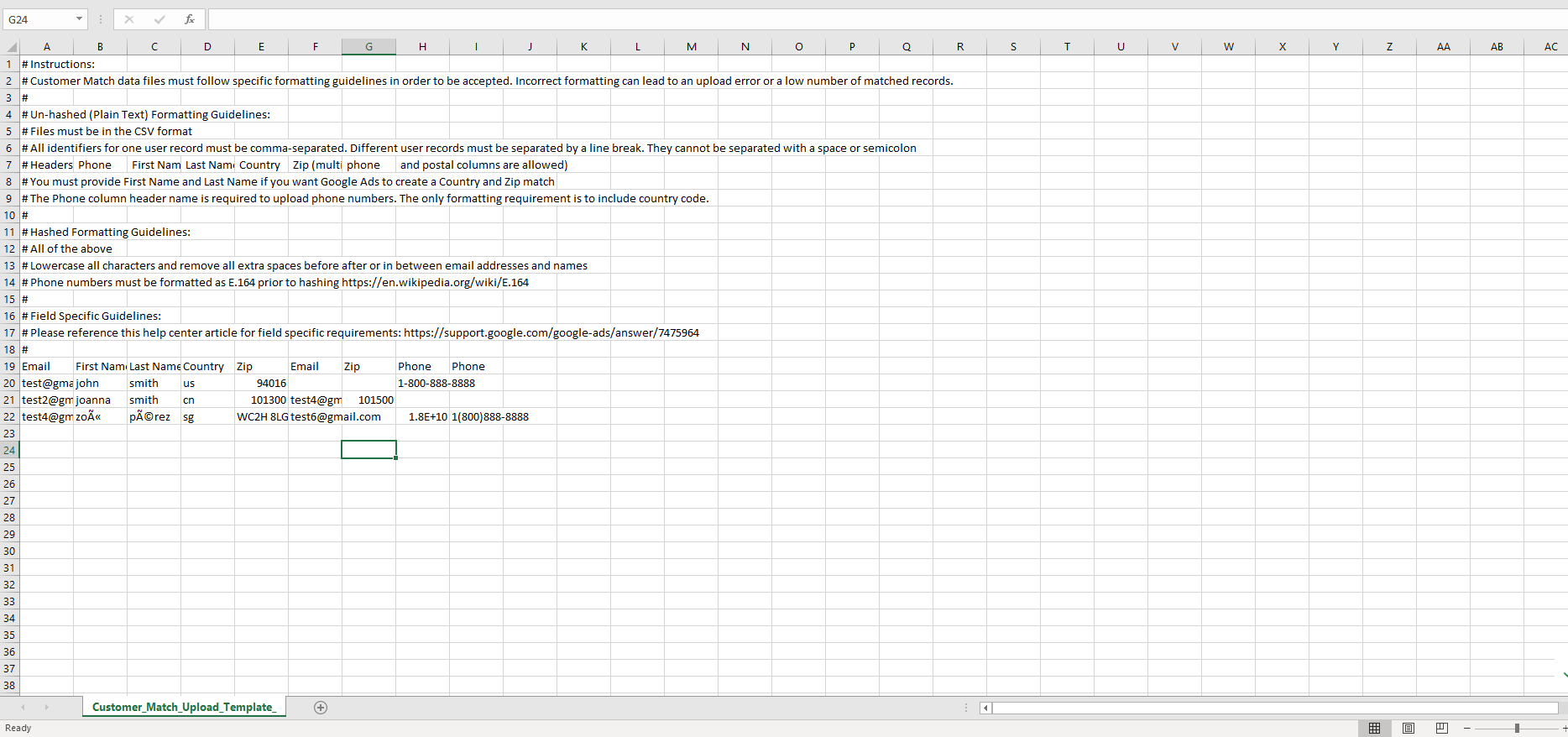 You can match customers by information like their emails, phone numbers, mailing addresses, or even a combination of options. The format of your spreadsheet will differ depending on what type of data you use. Once you finish your customer list, log in to your Google Ads account and go to your audience manager. In the audience lists menu, click the plus sign.
Select Customer List, and add your information.

Once Google has your list, it will take about two days to process it and get back with any customer matches it finds from your list. From there, you can start targeting your audience with your Google Ads campaigns.
Bonus Reading: SEO vs Google Ads
Don't forget to keep your customer list updated, too.
Google Ads gives you the option to add, replace, or remove data, so you could always make sure you're targeting people who will most likely engage with your brand. That's it for how to use Google Ads Customer Match! To partner with a digital marketing agency and drive the best results with strategies like Customer Match, don't hesitate to contact us. And if you'd like to see more internet marketing content like this, subscribe to our YouTube channel and read our blog! Thanks for watching!
WebFX Careers
Join our mission to provide industry-leading digital marketing services to businesses around the globe - all while building your personal knowledge and growing as an individual.