11 minute read

Trevin serves as the VP of Marketing at WebFX. He has worked on over 450 marketing campaigns and has been building websites for over 25 years. His work has been featured by Search Engine Land, USA Today, Fast Company and Inc.
Pop-ups are enormously popular in the world of marketing right now. They're everywhere, and with good reason: for many websites, they drive conversion rates through the roof. However, the return of pop-ups has drawn some ire.
Not everyone is glad that they're back, and as I wrote in my original post last April, some consumers even refuse to visit websites that they know use pop-ups.
In fact, in August, the creator of the pop-up apologized to the Internet for "creating one of the most hated tools in the advertiser's toolkit."
Using pop-ups requires a delicate juggling act.
You want to get more email subscribers or new leads, but you don't want to upset your visitors. You want the higher conversion rate, but without the complaints. Is it possible to manage this?
If you've been thinking about implementing a pop-up but are concerned about driving away more visitors than you convert, I have a few suggestions for you.
There are a few ways to use pop-ups that are non-intrusive — that is, they have most or all of the benefits of a "regular" pop-up, but are far less likely to make your visitors scrunch up their noses and hammer the "back" button.
Let's look at three ways you can implement pop-ups that your customers will tolerate…
or maybe even enjoy.
Method #1: The event-triggered pop-up
Lots of websites have pop-ups that appear immediately. You're on a page for two seconds, just getting into the content, and boom: pop-up in your face.
If this is the only opt-in option you have on your website or blog, you're probably not seeing a ton of conversions. After all, how is someone supposed to know if they want to download your guide or subscribe to your email if this is the first time they've visited your website?
This, in part, is what has led to the prevalence of "exit intent" pop-ups.
These pop-ups only appear when a visitor moves their mouse to close a tab or leave your website (while browsing on a desktop, of course).
They're only triggered by this specific event, and usually have the goal of creating some kind of long-term relationship with a short-term visitor. Unbounce's blog post on exit intent pop-ups details how a medical clinic used this method to pull departing visitors back to their website: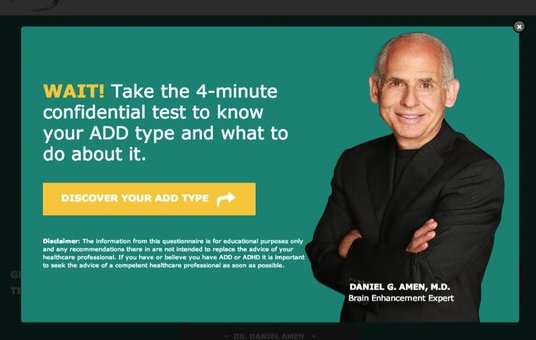 According to Unbounce, the clinic converted just over 19% of exiting visitors into sales leads by having them take the test advertised in the pop-up. WPBeginner — a popular site that offers tutorials and tips for
WordPress beginners — also gained just under 3,200 email subscribers in one week by implementing an exit intent pop-up.
They didn't even implement the pop-up sitewide, just added it to specific posts!

Exiting a tab doesn't have to be the only event that triggers a pop-up, though. Depending on your plugin or software of choice, you can set up pop-ups to appear after events like multiple visits, visits to specific pages, or even a long time spent on a specific page or task.
As an example of that last one, I've long appreciated AT&T's time delay pop-up. This little box only appears when you spend a long time in their online store: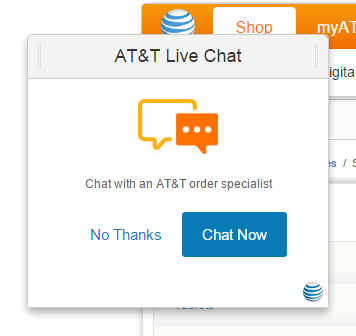 This one makes a lot of sense: if someone spends a ton of time looking at phones without clicking on anything, they might need some help making a choice.
And since AT&T's live chat option is pretty fast, it's smarter than saying "send us an email" or "call us."
I wonder what their conversion rate on this is?
Method #2: The click-triggered pop-up
What if you could use a pop-up that only appeared when visitors wanted it to appear? No, we're not insinuating that you should try to read your visitors minds' or do some kind of impossible Jedi mind trick.
But we are suggesting that you try keeping your pop-ups hidden until the visitor clicks on a link that triggers them to appear.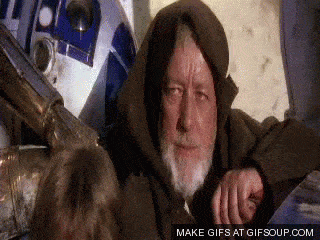 A click-triggered pop-up definitely doesn't put your message, offer, or call to action right in the face of your website visitors.
But it does still collect opt-ins and email addresses, and due to its non-intrusive nature, it can make your visitors feel less like "pop-ups are annoying!" and more like "oh, I get why this is here."
This is exactly what we did in our blog post containing a year's worth of content to improve a business. The majority of the content was in the body of the post, but we also had some extra links in a PDF version that we wanted to offer.
We knew that some visitors would be happy reading the body of the post and visiting links from there.
However, we also knew that some visitors would be busy, and would prefer a PDF version to take with them to peruse on the go or from home.
When you get to the bottom of the post, there's a call to action for the PDF version in yellow:

When you click the link, the pop-up appears: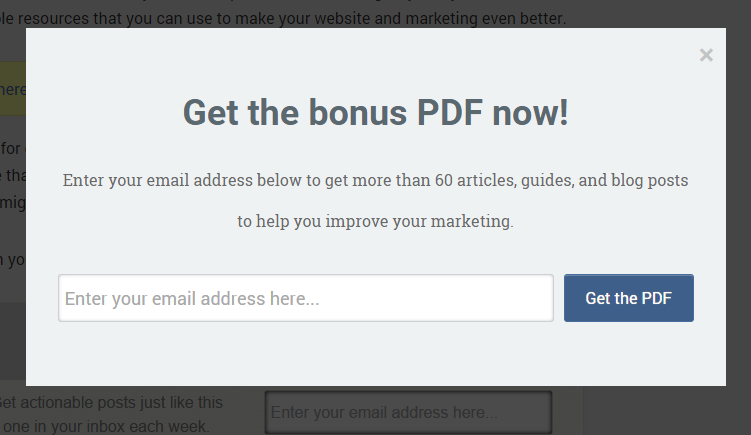 As of this moment, we have a 53% conversion rate on this pop-up — meaning just over half of the visitors who clicked the link entered their email address to get access to the PDF. We also use a link-triggered pop-up in our highly popular cost of advertising post.
This one has a 43% conversion rate. This one's probably a little lower because it doesn't offer any extra content, but still gives visitors an option to take the information from the post with them.
So our experiences so far show that this method, while less intrusive or obvious, sports much higher conversion rates than other pop-up methods.
You're still offering the same value that you might otherwise put in an instantaneously appearing window, but in these cases, the user is choosing to click that link, and then deciding whether or not they think it's worth entering their email address.
And most of them seem to think it's worth it!
Curious to know how we did this? We used the OptinMonster plugin for WordPress, set the pop-ups to not display on the site, and then linked to them with some special HTML. Try it out, it works!

Brian Dean also has a fantastic tutorial on implementing this method as part of a "content upgrade."
Method #3: The "polite pop-up" (aka pop-ins)
The two methods above involve pop-ups that, when they appear, still cover a user's screen.
They still have to be closed to put the visitor back on the course of whatever it is they were doing before, whether it was leaving your site or trying to find their way around a blog post.
This is where this third method comes in handy.
It's an unobtrusive method that isn't really a pop-up at all, in the typical sense of the word. It's a pop-in, a fairly polite little box that may slide up or appear from the side or corner of your screen as you read a page or browse a site. The difference between pop-ins and pop-ups is that pop-ins typically don't obscure your view of the website you are visiting or the content you are viewing.
They may be visible down in the corner as you're scrolling along, but don't jump up to distract you from what you're doing or reading at the time.
This means you don't need to look at a pop-in until you're ready to do so. You can see a pop-up slide in from the right side of your screen as you scroll down any content on the Videofruit blog: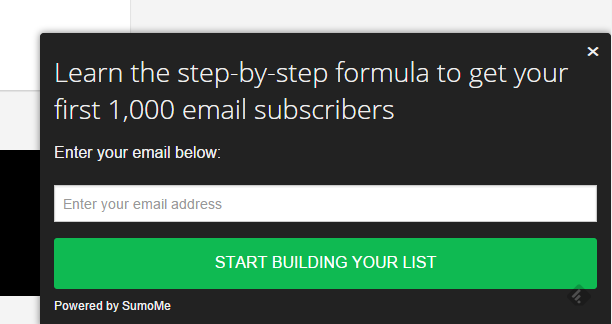 Buffer's blog also uses a pop-in that comes up from the bottom of your screen as you near the bottom of a page, this one asking you to give their social media scheduling tool a shot: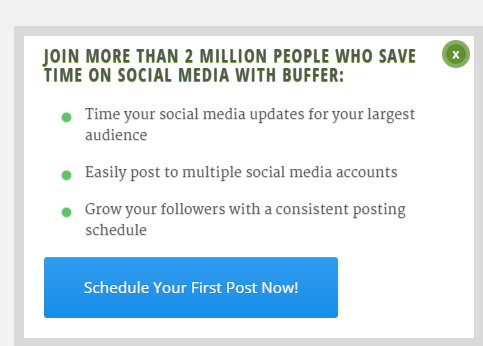 Although these pop-ups allow you to continue doing what you were doing when you first came to a page, they are still pretty hard to miss. But do they convert?
Yes! On the KISSmetrics blog, Jason Buzzell of the University of Alberta explained that the university added this 10 second delay pop-in: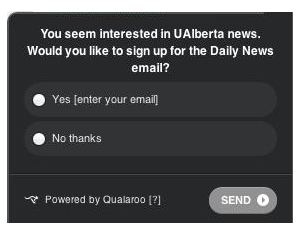 This simple little pop-in grew the university's mailing list by 500% in less than a year's time, increasing opt-ins from 421 in November of 2012 to more than 2,500 in September of 2013.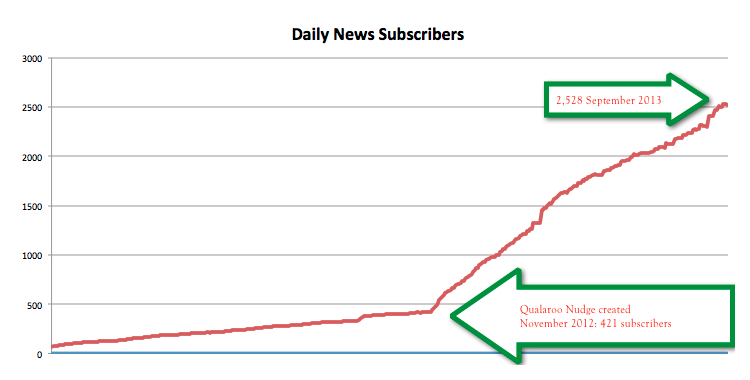 Should you use pop-ups?
Pop-ups aren't necessarily for everyone.
If you want to attract new email subscribers, promote a specific piece of content, or direct visitors to a helpful resource, they can definitely prove successful — no matter what form they take.
But implementing a pop-up without a specific goal in mind is a recipe for disaster. The same applies for adding a pop-up without closely monitoring its results, or doing A/B testing to determine what format your visitors like best.
Like everything in marketing, trying a new method like this requires strategy and careful planning. Without those two elements, you run the risk of upsetting your visitors.
How to tell if you're annoying your visitors
Once you implement a pop-up method, there's a fairly simple way to tell whether or not it's annoying your website visitors.
Just follow Dan Zarrella's lead and turn it off for a while, then turn it back on. Look at the following data while the pop-up is on, as well as while it's off:
Zarrella found that while his pop-up was off, his conversion rate dropped from 3.08% to 1.52%. However, his bounce rate remained almost exactly the same, indicating that his visitors didn't mind his pop-up.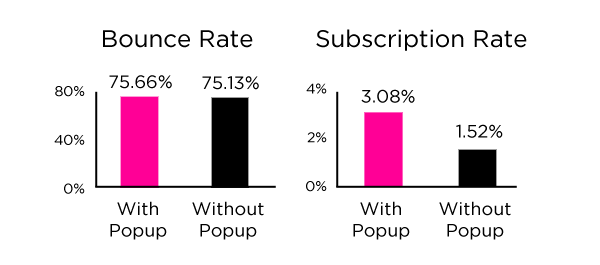 If you do implement a pop-up, try this method — or even an A/B test — to see how it affects the behavior of your visitors.
If your bounce rate seems to rise after the pop-up has been implemented, or visitors are spending a much shorter amount of time on your pages, you may want to make adjustments until these metrics come closer to their levels before you implemented a pop-up. (For example, adjust the time delay before the overlay appears, or change the call to action.)
You can't please everyone
Some people will hate your pop-ups no matter what you do.
But one thing you should know about marketing online is that you can't make everyone happy.
Instead of focusing on the few people who have an irrational hatred for pop-ups — who aren't the subscribers or customers you would want anyway — focus on making your other visitors happy.
Try to give the people who opt-in to your email or download something from your pop-up the best value possible. If someone takes the time to view your pop-up and act on it, make sure they're rewarded! In the end, this is the secret to pop-up success.
Trevin serves as the VP of Marketing at WebFX. He has worked on over 450 marketing campaigns and has been building websites for over 25 years. His work has been featured by Search Engine Land, USA Today, Fast Company and Inc.

WebFX is a full-service marketing agency with 1000+ client reviews and a 4.9-star rating on Clutch! Find out how our expert team and revenue-accelerating tech can drive results for you! Learn more
Try our free Marketing Calculator
Craft a tailored online marketing strategy! Utilize our free Internet marketing calculator for a custom plan based on your location, reach, timeframe, and budget.
Plan Your Marketing Budget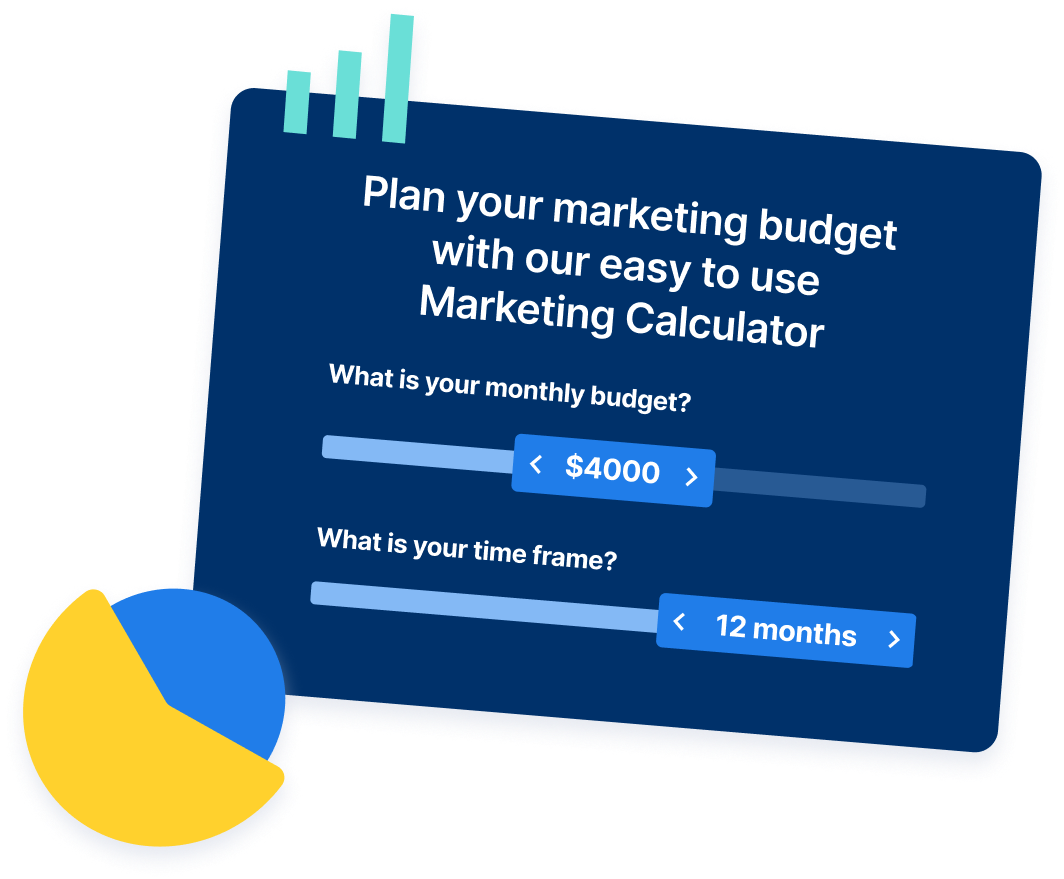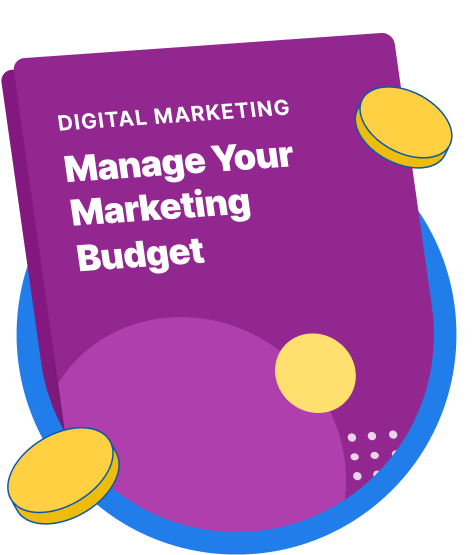 Maximize Your Marketing ROI
Claim your free eBook packed with proven strategies to boost your marketing efforts.
Get the Guide
Try our free Marketing Calculator
Craft a tailored online marketing strategy! Utilize our free Internet marketing calculator for a custom plan based on your location, reach, timeframe, and budget.
Plan Your Marketing Budget