When you market your plumbing business online, people who've already expressed an interest in you previously — the people who've visited your website — are the people most likely to respond positively to your marketing efforts.
That said, if you want to market efficiently and successfully, it's ideal to reach customers who've already visited your website.
That's why you need to try retargeting for plumbers. Retargeting is a fantastic way to reach users who are on the brink of converting, driving up your revenue.
But what exactly is plumber remarketing, and how can you use it in your marketing? Read on to find out. Then partner with WebFX — the agency with over 25 years of experience — for our remarketing services. Just call us at 888-601-5359 or contact us online to get started!
Our digital marketing campaigns impact the metrics that improve your bottom line.
See More Results

WebFX has driven the following results for clients:

$3 billion
In client revenue

7.8 million
Leads for our clients

5.2 million
Client phone calls
What is remarketing for plumbers?
Remarketing is a digital marketing tactic where your marketing targets people who have already encountered your business online in the past — usually by visiting your website.
Though remarketing generally happens via paid ads, it can occur across multiple strategies.
The idea of remarketing is to reach the audience that is most likely to respond positively to your marketing. The more positive the response, the greater the likelihood of conversion, and the more revenue you earn overall.
When someone has already visited your site in the past, it indicates that they already have an interest in your plumbing services. Few people will find themselves browsing a plumbing site on accident.
So, if someone visited your website, it means they not only had an interest in plumbing services, they had an interest in your plumbing services. Those are the people you want to target with your marketing.
Plumber remarketing is particularly useful when a site visitor very nearly converts, but stops just short of doing so. Sometimes they just need one more push — typically in the form of an ad for your services — to get them to come back and follow through.

Hear What It's Like to Work With WebFX!

"I have recommended WebFX to everyone that I talk to and will continue to do so. I can't stress enough how helpful WebFX is with helping us understand the SEO information and how it works."
Plumbing Company In New York
How can you use plumber remarketing?
While the central idea of retargeting for plumbers is fairly straightforward, the execution can vary. You have multiple options for how to remarket to your target audience, and it could be to your advantage to try out more than one of those methods.
Here are six plumber retargeting tactics you can use!
1. Remarketing lists for search ads (RLSA)
The first, and possibly most well-known remarketing method is called remarketing lists for search ads (RLSA). RLSA is a feature available in Google Ads, and it operates through pay-per-click (PPC) advertising in Google search results.
Essentially, you can tell Google to track traffic to specific pages on your site, and then target your PPC ads to people who visit those pages. So, someone might visit a page on your site, and then later perform a Google search, at which point they'd see your ad in the search results.

93% of all online experiences start with a search engine, so Google is a fantastic place to target users with your plumber retargeting materials.
2. Email marketing
A less direct method of remarketing for plumbers is to use email to reach your leads.
You can do this by creating an email list on your website. The goal of email marketing is to get people to sign up for your emails voluntarily — so be sure that you don't send spammy emails.
To make this work, include email calls to action (CTAs) around your website. These CTAs should prompt users to submit their email addresses in return for something like a newsletter or special discounts. Keep the submission forms as simplistic as possible.
Once users input their email addresses, all you have to do is follow up with them. There are no paid ads or tracking involved — simply send out marketing emails to the people to visit your site and sign up for them.
3. Social media remarketing
Google isn't the only place where you can remarket to people who have previously visited your website.
Many social media platforms offer the same feature. That's extremely useful once you realize that the average user spends 28% of their Internet time on social media!
By installing traffic-tracking software on your website, you can track the people who visit your site, and then direct your ads to them on social media. To name just one example of this, Facebook has a special tool called the Facebook Retargeting Pixel.
4. Display remarketing
Display remarketing is similar in most respects to RSLA. It operates through Google Ads, tracks traffic to specific pages on your site, and then directs ads to the users who visit those pages. The primary distinction between display remarketing and RLSA, though, is where they appear.
RLSA places ads at the top of Google search results, but display ads are a very different kind of plumber retargeting. They take the form of visual ads, and they appear in the margins of third-party websites.
With display remarketing, you can take advantage of a different audience than you might find in Google. You get to choose which types of sites your ads do and don't appear on, so you can limit them to plumbing-related sites if you so choose.
5. Dynamic remarketing
Yet another option offered by Google Ads is dynamic remarketing.
Once again, it bears plenty of similarities to standard RLSA in terms of the platform it uses and the way it tracks and targets users. But dynamic remarketing takes things up a notch by showing off specific products.
Imagine that a user visits a business website and views a particular product they're interested in, but doesn't buy it yet. By targeting that user with an ad that shows that exact product, the business has a better shot at convincing them to return and make the purchase.
Dynamic ads are typically more useful for products than for services. For a plumber, then, they aren't necessarily as useful as they are for other businesses. Still, it's an option you have.
6. YouTube video advertising
A final remarketing option you can try is one that's a bit more outside the box: YouTube video ads. Since Google owns YouTube, these ads are — yet again — run through Google Ads.
You can craft short video ads for your plumbing services and have Google show them on YouTube. With the retargeting setting turned on in Google Ads, you can have Google track users who visit your site and show the video ads to those users.
The ads will typically appear as pre-roll ads, playing before a video starts on YouTube.
Time to Level Up Your Sales
Our long list of services helps you grow every aspect of your business with marketing strategies that are proven to increase bottom-line metrics like revenue and conversions.
In the past 5 years, we've managed more than 12.9 MILLION transactions across our client base.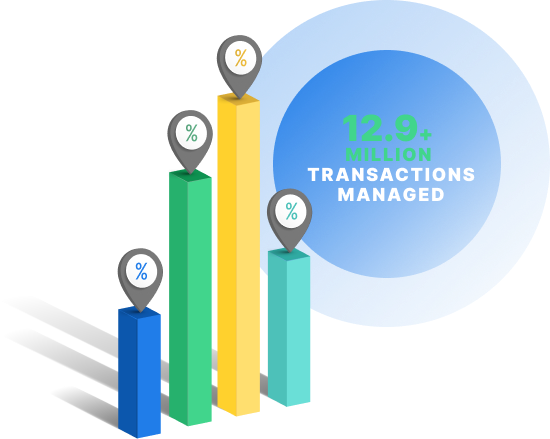 WebFX can optimize retargeting for plumbers
Want to start using your online marketing to reach your most valuable potential customers? WebFX can help you do that! We know remarketing for plumbers, and we know what it takes to drive results. Don't believe us? Just look at our more than 1020 client testimonials.
With our remarketing services, you can optimize your marketing campaigns using any of the formats listed above. You'll also receive a dedicated account representative to keep in touch with you about everything we do for you.
To get started with us, just call 888-601-5359 or contact us online today!
Earn a 20% greater ROI with WebFX