Did you know that people who click on ads are 50% more likely to buy a product than organic visitors? If you want to attract more leads that convert, ad marketing is the right strategy for you. Ad marketing will help you create compelling advertisements that entice your audience to engage with your business and purchase your products.
On this page, we'll answer the question "What is ad marketing?", talk about how to do ad marketing, and five tips for creating more impactful advertising campaigns. If you need help getting started with ad marketing, contact us online or call us today at 888-601-5359 to speak with a strategist about our advertising services.
What is ad marketing?
Ad marketing is a way of reaching people through paid advertising methods. When you use ad marketing, you create specific messages to motivate people to take action.
Whether it's to sign up for a newsletter or buy your products, you're using a targeted message to get your audience to interact with your business. When you're doing online ad marketing, you want to create advertisements that are memorable for your audience. If your ads don't influence your audience to make a specific decision, you won't see the results you desire.
There are two main methods you'll use for ad marketing:
Pay-per-click (PPC) advertising
Social media advertising
We'll dive into these strategies later. When you run ad marketing campaigns, your ads only run as long as your budget can sustain them. When your budget runs out, your ad stops running.
This makes paid ads one of the most cost-effective strategies out there. This process differs from organic methods because organic methods can continue to drive results even if you don't put money into them. With paid ads, your ads only appear if you have an active budget that keeps them running.
For example, if you run a PPC ad and optimize your website to rank in the search results, your website can still appear at the top of the results even if you're not paying for search engine optimization (SEO) services anymore. With PPC, your ad will no longer appear in the results if your budget runs out. Online advertising is easy to measure and allows you to target people interested in your business.
It's an excellent strategy for capturing more interested leads and turning them into conversions for your business.
How do I do online ad marketing?
As we mentioned earlier, there are two advertising methods for online ad marketing. Let's take a look at each of these methods.
1. PPC advertising
PPC advertising helps you attract leads who are ready to convert. This paid form of advertisement appears at the top of the search results, above the organic search listings. It's the first thing your audience sees when they search.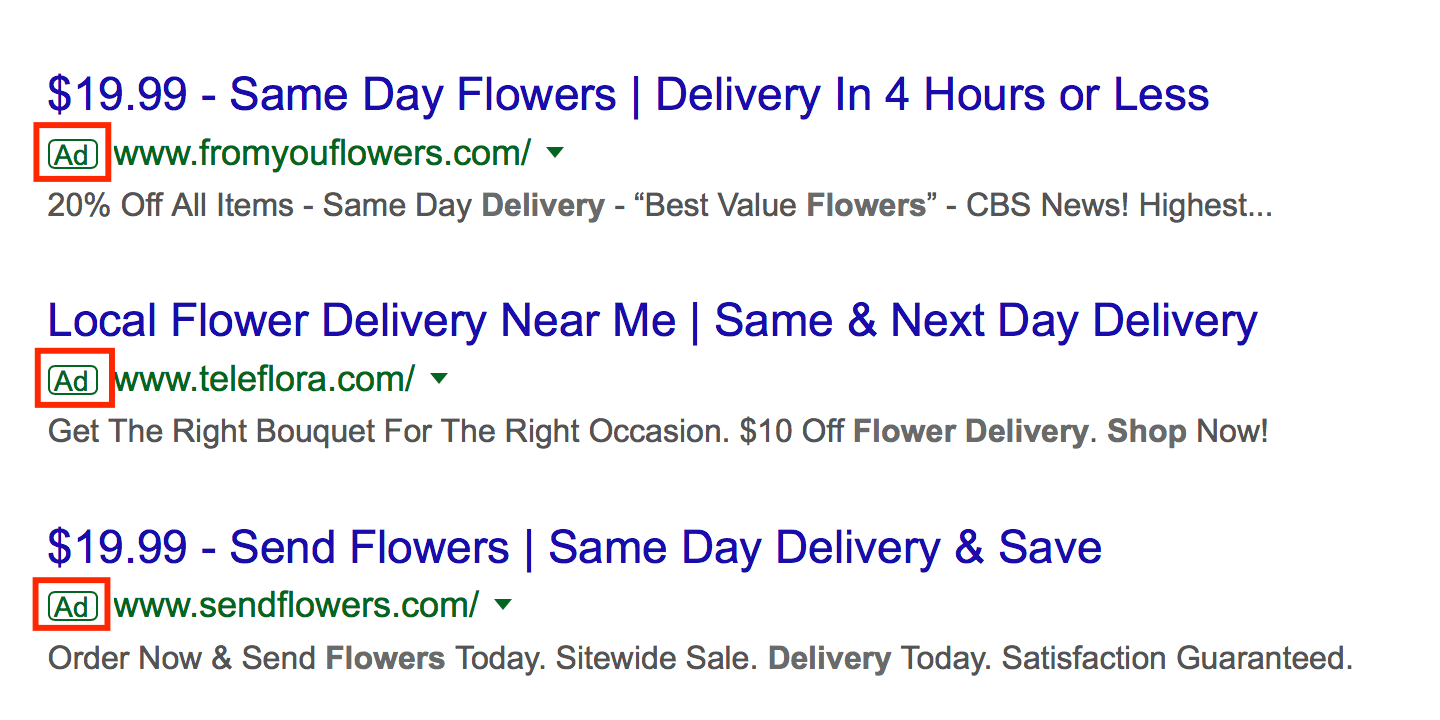 These ads are an effective way to drive results for your business. When over 45% of the clicks go to the top 3 ad positions, you can count on this method to drive more traffic for your business. If you're looking to gain more valuable leads for your business, PPC ads are the answer.
How do I set up a PPC ad?
To get started with PPC, you must select keywords for your ad. Keywords trigger your ad to appear in relevant search results.
Conducting keyword research helps you discover a plethora of relevant keywords for your ad. As you conduct keyword research, focus on long-tail keywords. Long-tail keywords contain three or more words.
These keywords will help you drive the most valuable traffic for your business. An example of a long-tail keyword is "construction companies near Harrisburg, PA." This keyword is specific and indicates what users hope to find. If someone searches that long-tail keyword, you know they're looking for a construction company in the Harrisburg area.
By optimizing for long-tail keywords, you'll drive more valuable traffic for your business. After you select your keywords, you'll bid for your ad's placement. You'll set your maximum bid, which is the amount you're willing to spend each time someone clicks on your ad.
You can change this amount as you need. Your bid amount and quality score determine your ad's placement. Once you have your placement, you will launch your campaign.
2. Social media advertising
Social media advertising is the other online ad marketing option for your business. With this method, you create ads that appear in people's social media feeds. These ads seamlessly blend into the user's timeline, which makes users more likely to click on your ads and engage with them.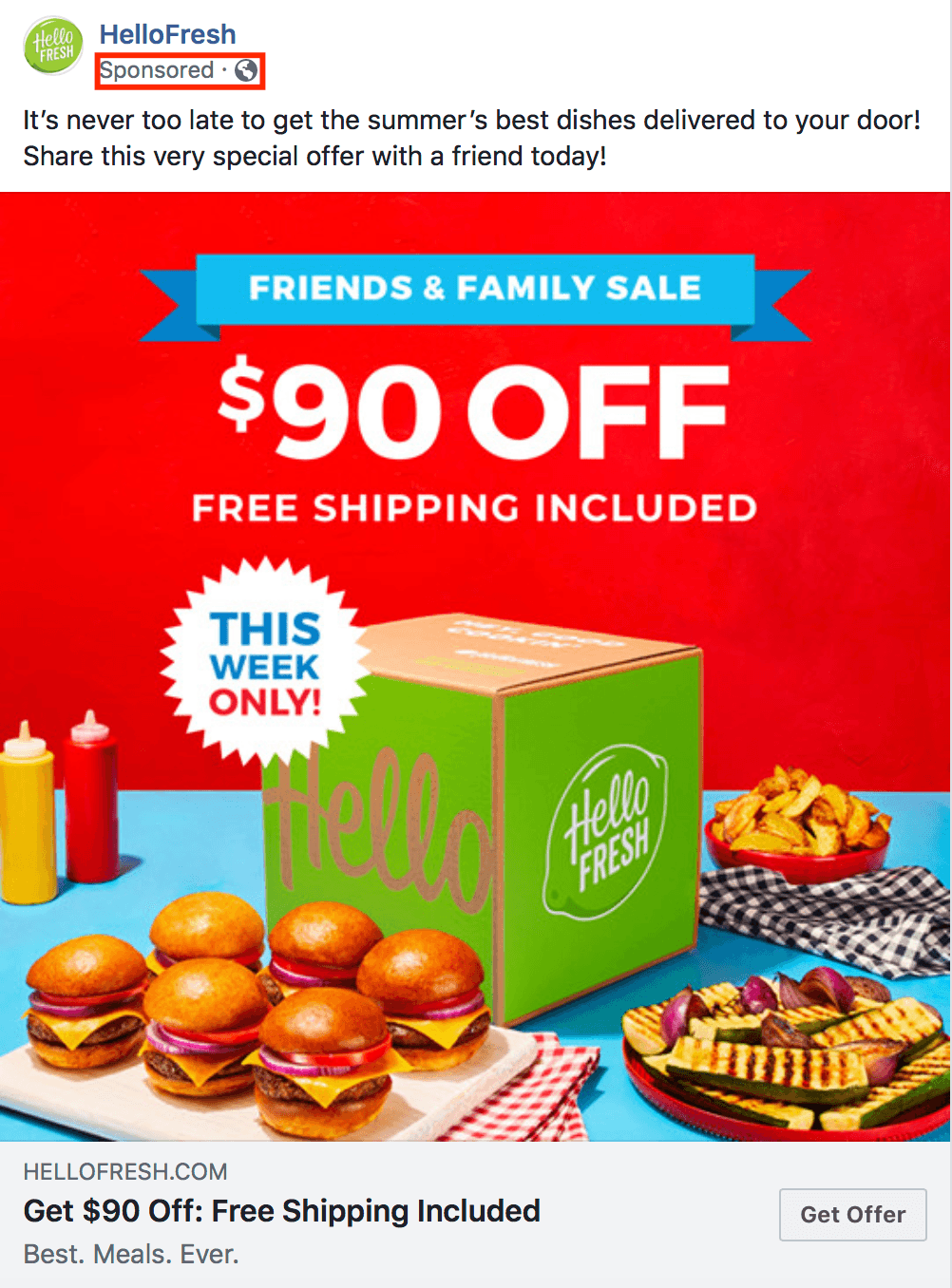 Social media ads are highly-targeted, so you reach people most interested in your business. It's an excellent opportunity for you to create an engaging and visually appealing ad that gets your audience to choose your company.
How do I set up a social media ad?
If you want to set up a social media ad, start by choosing your platform. You can create advertisements on all the popular social networking platforms, including:
Twitter
Instagram
Pinterest
LinkedIn
You'll choose which platform(s) you want to use and check out their advertising options. Many platforms offer different formats of advertising. For example, Facebook offers multiple ad formats and ad placements, including photos, videos, carousel ads, slideshow ads, and instant experiences.
Social media ads allow you to get specific with your targeting. You can focus on targeting your ads towards people most interested in your business. As an example, LinkedIn has extremely refined targeting options that allow you to attract the right candidates.
You can target people based on their position, company size, level of education, and more. This makes it easy for you to focus on targeting leads most interested in your business. You don't waste time attracting leads that aren't interested in your products or services.
It helps you make better use of your budget to attract leads more likely to convert.
Time to Level Up Your Sales
Our long list of services helps you grow every aspect of your business with marketing strategies that are proven to increase bottom-line metrics like revenue and conversions.
In the past 5 years, we've managed more than 12.9 MILLION transactions across our client base.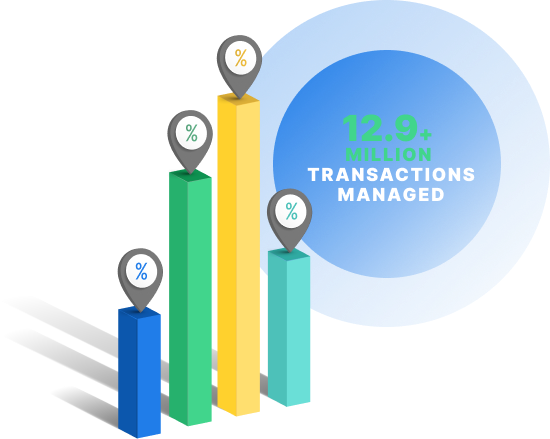 5 tips on driving success with ad marketing
If you're ready to start reaping the benefits of ad marketing, check out these five tips for making the most of your campaign.
1. Know your target audience
If you want to know how to write an ad that drives results for your company, you must first define your target audience. You must know your target audience to help you create campaigns that resonate with them. Targeting is an integral part of online advertising for businesses.
You don't want to invest an abundance of money into a campaign that doesn't reach people interested in your business. So, how do you define your target audience? Look at your current customer base.
What type of people buy products from your business? You want to look at information like:
Demographics
Buying habits
Hobbies
Socioeconomic status
This information helps you create buyer personas. Buyer personas are blueprints of the people most likely to take an interest in your products or services. Creating these personas enables you to target these interested leads accurately.
By getting to know your target audience, you'll drive better results with your ad marketing campaign. If you need help generating marketing personas, check out our free marketing persona generator!
2. Set a budget
When it comes to advertising, you must set a budget. Budgeting is a crucial part of your paid advertising program because you must have funds to keep your ad running. You must have a budget in place to know how much you can spend on your paid ads.
There is no set minimum you must meet to advertise online. Platforms, like Google, will work with your budget and help you break down how you spend your money. You can set a budget of $500 or $3,000. The amount lies solely at your discretion. It's important to note, however, that the amount you spend on your campaign will affect its success. If you only spend $500, you won't get as many valuable leads as you would with $3,000. By defining your budget, you'll help drive more success for your ad marketing campaign.
3. Invest in retargeting ads
People will often see your website and look at your products but take no action. You may think you've lost these leads, but with retargeting ads, you can put your brand in front of these leads again and get them to buy your products. Retargeted ads target people who viewed your products previously but didn't convert.
People leave your page for numerous reasons, like getting distracted or wanting to take time to think about making a purchase. You can help reinforce your brand through retargeted ads. With the use of a tracking pixel, you can track people anonymously that visit your website.
You'll get notified of the websites they visit. From that point, you can generate an ad to reach them on the sites they visit. You can also run retargeting ads through Facebook.
With the installation of the Facebook pixel, you can track social media users and deliver advertisements to them in their newsfeed later. It's a great way to reengage your audience and get them to think about your business. By running retargeted ads, you'll get more people to think about your business and consider buying your products again.
4. Create an effective landing page
An essential part of your ad marketing campaign is the landing page. It's the first thing your audience sees when they click on your ad. You want to create an impactful landing page that gets your audience to stay on the page.
Landing pages can make or break your ad. If your landing page isn't relevant or is challenging to read, your audience will bounce from it.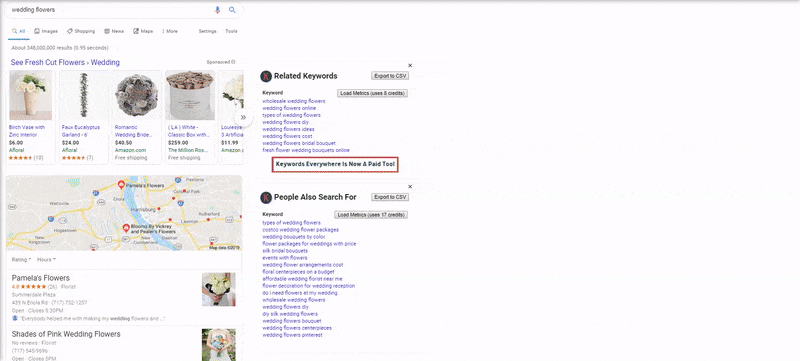 To be successful with your landing page, make it specific.
If you're a florist running a PPC ad that focuses on your wedding flowers, the only thing on your landing page should be wedding flowers. You don't want information about funeral flowers or prom flowers, as it's not relevant to the ad. Aside from choosing the appropriate information, your landing page must stay organized.
You must include:
Don't overload your page with too much text or too many visuals. It's crucial to keep your page balanced so it looks visually appealing to your audience. Overall, your landing page must be clean, organized, and easy to read.
It should also have a direction to help guide your audience towards the CTA button. If you're running multiple ads for different products, create a unique landing page for each. It will help you drive better results with your ad marketing campaign.
5. Focus on how the product/service benefits the customer
When companies try to pitch their products or services to customers, they tend to focus on the positive aspects of their company. They focus on how their company is the best and stands out from the competition. The issue with this approach is that it's not customer-focused.
People don't always want to hear a long list of why your company is the best. These people care most about how your product or service will benefit their life. When you create your landing pages and advertisements, focus on how your product or service benefits the user.
Tell them how your product or service solves their problem or fulfills a need. Focusing on the benefits will keep your audience more engaged and interested in what you're offering.
93% of WebFX customers are extremely satisfied with their digital marketing results.
"Working with WebFX, everything is very organized and strategic. We're only a year into our partnership, and our expectations have definitely been met."
View More Client Testimonials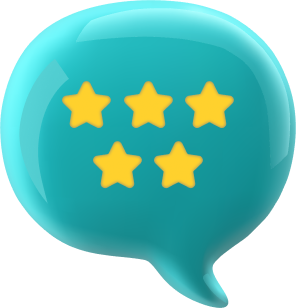 Start investing in online ad marketing today
If you're looking to obtain more leads interested in your business, ad marketing is the solution. This strategy helps you capture more leads and get them to convert.
If you aren't sure how to get started with online advertising for businesses, WebFX will help you get started. We're a full-service digital marketing company that specializes in paid advertisement. Our team of over 500 experts will help you set up your paid ad campaigns and choose the best advertising channels that will yield the best results.
We can help you set up social media advertising campaigns and PPC campaigns. Ready to see how ad marketing helps your business grow? Contact us online or call us today at 888-601-5359 to speak with a strategist about our advertising packages.
WebFX Careers
Join our mission to provide industry-leading digital marketing services to businesses around the globe - all while building your personal knowledge and growing as an individual.