If you're not familiar with sales forecasting, you should take the time to learn about it. A sales forecast is a prediction of which leads will convert and how much revenue you'll earn from sales in the near future. It's an excellent way to plan ahead for your budget and marketing efforts.
The problem is, sales forecasting can be a delicate process, and it's hard to make it happen on your own. That's why there are sales forecasting tools you can use to help you get the job done.
But which sales forecast tools should you use? Don't worry — we've got you covered. On this page, we'll cover a list of sales forecasting software options you can try, including:
Keep reading to learn more. Then check out this video on the importance of marketing and sales analytics:
You can also subscribe to Revenue Weekly — our email newsletter — for more helpful marketing info!
Don't miss our Marketing Manager Insider emails!
Join 200,000 smart marketers and get the month's hottest marketing news and insights delivered straight to your inbox!
Enter your email below:
Inline Subscription Form – CTA 72
"*" indicates required fields
(Don't worry, we'll never share your information!)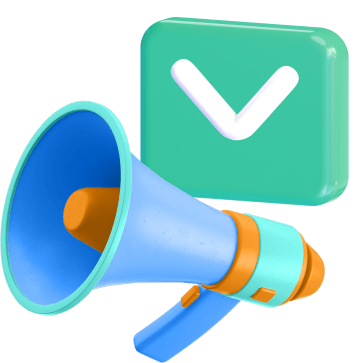 Top 7 sales forecasting tools for your business
There are a lot of sales forecasting software options out there, which can make it hard to choose one. That's why we're here — to narrow down the pool.
We've picked out seven of the best sales forecast tools on the market. Read on to find out the details of each one.
1. Nutshell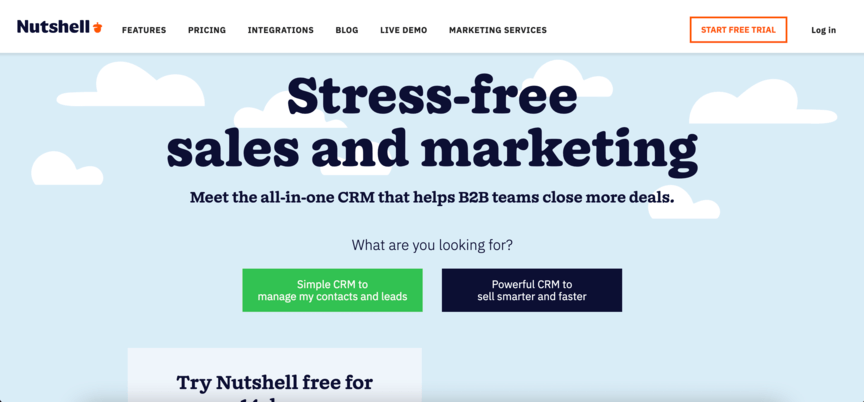 Price: $42+ per month
The first option on our list is Nutshell, a customer relationship management (CRM) platform specifically optimized for small businesses. As a CRM, Nutshell contains many different functionalities. With the Nutshell Pro plan, you can get access to its sales forecasting feature.
Since Nutshell already stores all your customer data, it can generate data-driven forecast reports that predict the future of your sales. Better yet, you can segment those reports based on different products, services, customer groups, and more. That makes it a great sales forecast tool.
2. HubSpot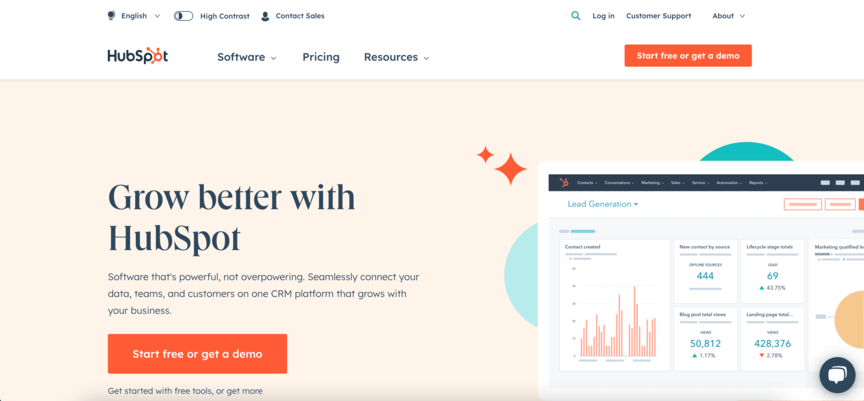 Price: $500+ per month
HubSpot offers a variety of marketing and sales tools that have made it a well-known brand within the industry. One of those tools is the HubSpot forecasting software. While HubSpot is a bit on the expensive side at $500 per month, it also comes with plenty of helpful features.
Like Nutshell, HubSpot lets you generate custom forecast reports based on specific segments of your audience. It also lets you roll together multiple small-scale reports into larger ones that you can present to higher-level management. You can even access HubSpot via a mobile app.
3. Salesforce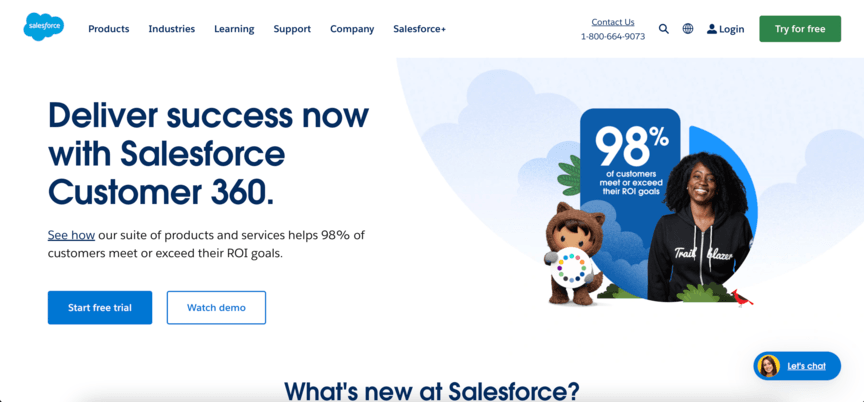 Price: $25+ per user per month
Like HubSpot, Salesforce offers multiple marketing and sales software options. With the Salesforce sales cloud, you can access its sales forecast feature.
With Salesforce, you gain most of the same forecast features available in other tools, like Nutshell and HubSpot.
You can also use artificial intelligence (AI) to increase the accuracy of your predictions. You'll even get insights into why the AI made the predictions it did, helping you judge how accurate those predictions are.
4. Pipedrive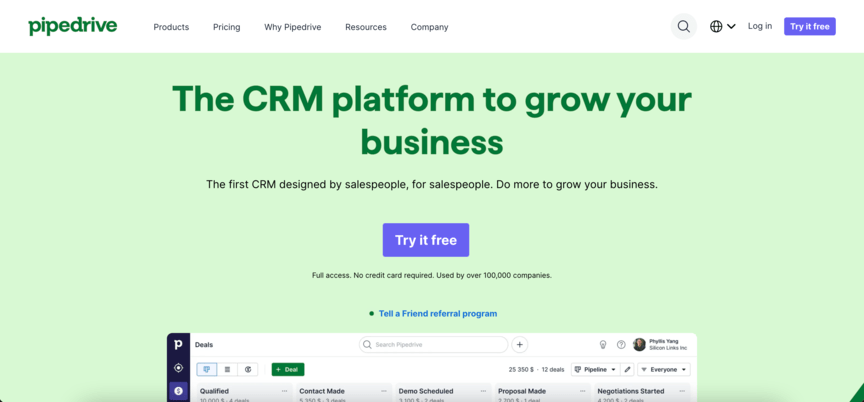 Price: $39.90 per user per month
Pipedrive, like Nutshell, is a CRM platform designed to help you track your customers' journey through the sales funnel. Also like Nutshell, it offers sales forecasting features, though those features are only available in the Professional and Enterprise plans.
Pipedrive emulates Salesforce when it comes to using AI to enhance its predictions. There are also a lot of forecast customization options — you can play around with pipeline location, forecast period, and more.
One of the best things about Pipedrive is that it's easy to use, which can be a huge help to anyone new to sales forecasting software.
5. Zoho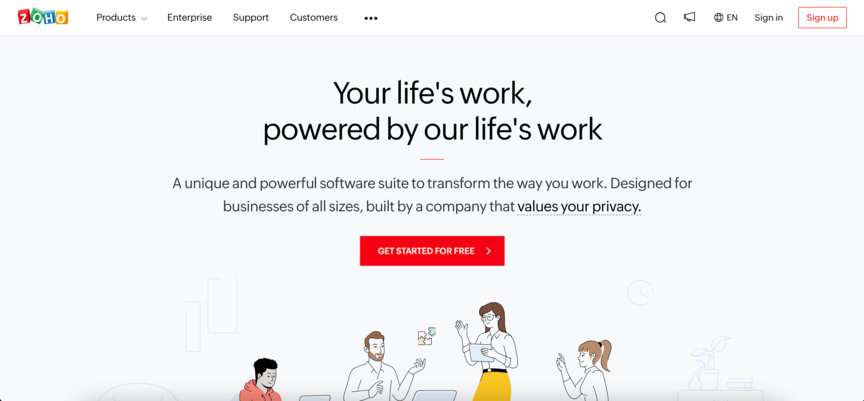 Price: $12 per user per month
Zoho is another platform that incorporates sales forecasting tools. Those tools perform all the usual functions, including AI enhancement and audience segmentation. Additionally, Zoho allows you to monitor forecasts over time to see how they change with new data.
You can also set up Zoho to notify you when it finds discrepancies in the forecasts, like shortages in the pipeline. Staying informed of those errors helps you avoid getting led astray by inaccurate predictions.
6. Anaplan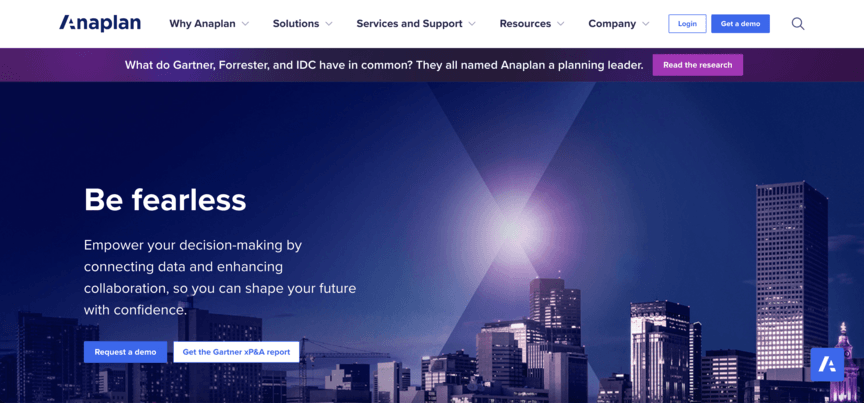 Price: Pricing available upon request
Many of the platforms on this list perform many different functions, and sales forecasting is just one of the included functionalities. Anaplan, however, is a tool built specifically for sales forecasting, and it stands out for that reason.
As you'd expect, Anaplan performs all the usual sales forecast functions. Since it's built specifically for sales forecasting, it's particularly well-optimized to drive accurate predictions. That said, the downside is that it doesn't come with other helpful tools like the other entries on this list.
Anaplan doesn't make its pricing public, but you can contact them to find out more information.
7. Aviso Predict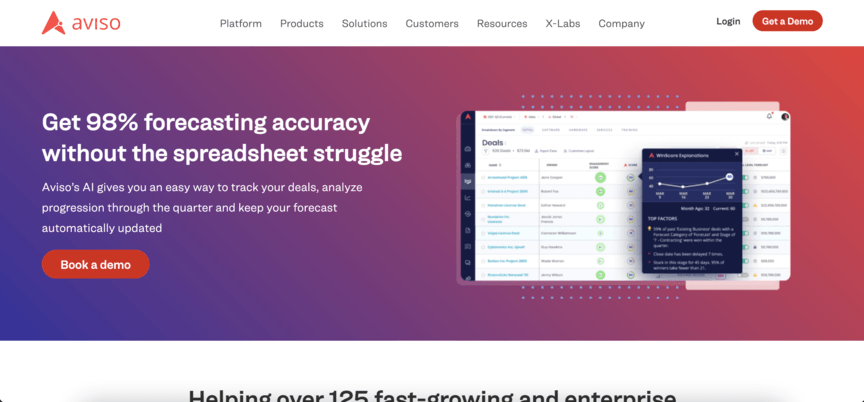 Price: Pricing available upon request
The final sales forecast tool on this list is Aviso Predict. Like Anaplan, Aviso Predict is built specifically for sales forecasting, making it a particularly specialized option.
Aviso prioritizes data-driven predictions, which is why it promises 98% accuracy in its forecasting. On top of the usual customization options, like audience segmentation, you can also create custom reports based on "what-if" scenarios. That means you can make predictions based on the best- and worst-case scenarios.
Aviso doesn't publicize its pricing, but you can contact them to find out more details.
Our digital marketing campaigns impact the metrics that improve your bottom line.
See More Results

WebFX has driven the following results for clients:

$3 billion
In client revenue

7.8 million
Leads for our clients

5.2 million
Client phone calls
Nutshell is the perfect sales forecasting software for you
If you're looking for the best overall sales forecasting software, Nutshell is the perfect option. It has everything you need to make accurate sales predictions, plus it comes with all the other features of a good CRM, from sales automation to advanced reporting.
Plus, if you want help driving up your sales, you can check out digital marketing services from WebFX. Our top-tier team can help you drive far more leads and conversions.
To get started with us, just call 888-601-5359 or contact us online today!
How is your website's SEO?
Use our free tool to get your score calculated in under 60 seconds.
Get posts by email
Join 200,000 marketing managers and subscribe to Revenue Weekly!
"*" indicates required fields
WebFX Careers
Join our mission to provide industry-leading digital marketing services to businesses around the globe - all while building your personal knowledge and growing as an individual.