Marketing is a crucial part of running any business. It helps you reach new customers, increases sales, and emphasizes your brand. But what types of marketing are available, and which should you invest in to get the best results?
We've compiled a list of traditional and digital marketing strategies at your disposal. Read on for more!
Don't miss our Marketing Manager Insider emails!
Join 200,000 smart marketers and get the month's hottest marketing news and insights delivered straight to your inbox!
Enter your email below:
Inline Subscription Form – CTA 72
"*" indicates required fields
(Don't worry, we'll never share your information!)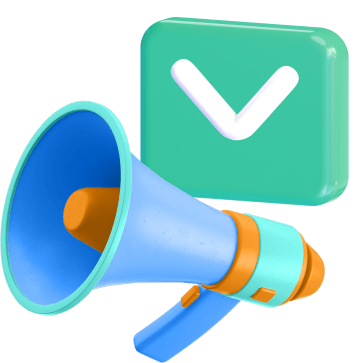 Types of traditional marketing
Traditional marketing covers any strategy that doesn't involve digital or online media. Some of the most famous examples are TV, radio, and billboard ads, which are also considered direct response marketing.
Here are five of the most common types of traditional marketing techniques.
1. Direct mail marketing
In direct mail marketing, businesses send print materials to a prospect's home. These materials can include coupons, discounts, and newsletters.
Direct mailing lets businesses reach customers in specific locations or send mailings to customers who have subscribed to their mailing list.
2. Print marketing
Print marketing involves the distribution of ads or promotional material in mediums like newspapers, magazines, and brochures. You can reach a local or national audience with print marketing, depending on what type of publication runs your advertisements.
A newspaper like USA Today or The New York Times will have a wider reach than your local newspaper. However, advertising in your local newspaper can help promote community-specific services.
3. Telemarketing
With telemarketing, companies call prospects to promote services over the phone. Telemarketing provides the opportunity to answer customer questions in real time and is a more personal experience.
Telemarketing has also developed a negative reputation, so it's important to be intentional with calls.
4. Public relations marketing
Public relations (PR) is the branch of marketing that aims to handle how the media treats and represents your business. Businesses often draft press statements about events, new products, awards, and contributions and encourage the press to publish them.
PR is a full-time job within an organization, and many companies have entire PR teams to handle their press.
5. TV and radio marketing
While streaming services have impacted them, TV and radio are still effective forms of marketing. The cost of creating TV or radio commercials will vary depending on the channel or station, the length of the ad, and when the ad will run.
If you spend extra money on TV and radio commercials, make sure you have a hook that makes your commercial stand out in viewers' minds.
Types of digital marketing
As the name implies, digital marketing is marketing that occurs online. The following are especially effective for getting more attention to your business in the digital age:
1. Search engine marketing
Search engine marketing (SEM) revolves around search engines like Google. Your SEM goals will involve getting your website to appear near the top of relevant search engine results pages (SERPs) on Google. There are two types of SEM:
Search engine optimization (SEO): Drives organic clicks through key items that make your website show up in SERPs, including keywords, site design, and quality, trustworthy content.
Pay-per-click (PPC): Advertising that involves purchasing ads that will appear in SERPs and encourage users to click on your website.
PPC ads would appear at the top of the SERPs with the "Ad" distinction.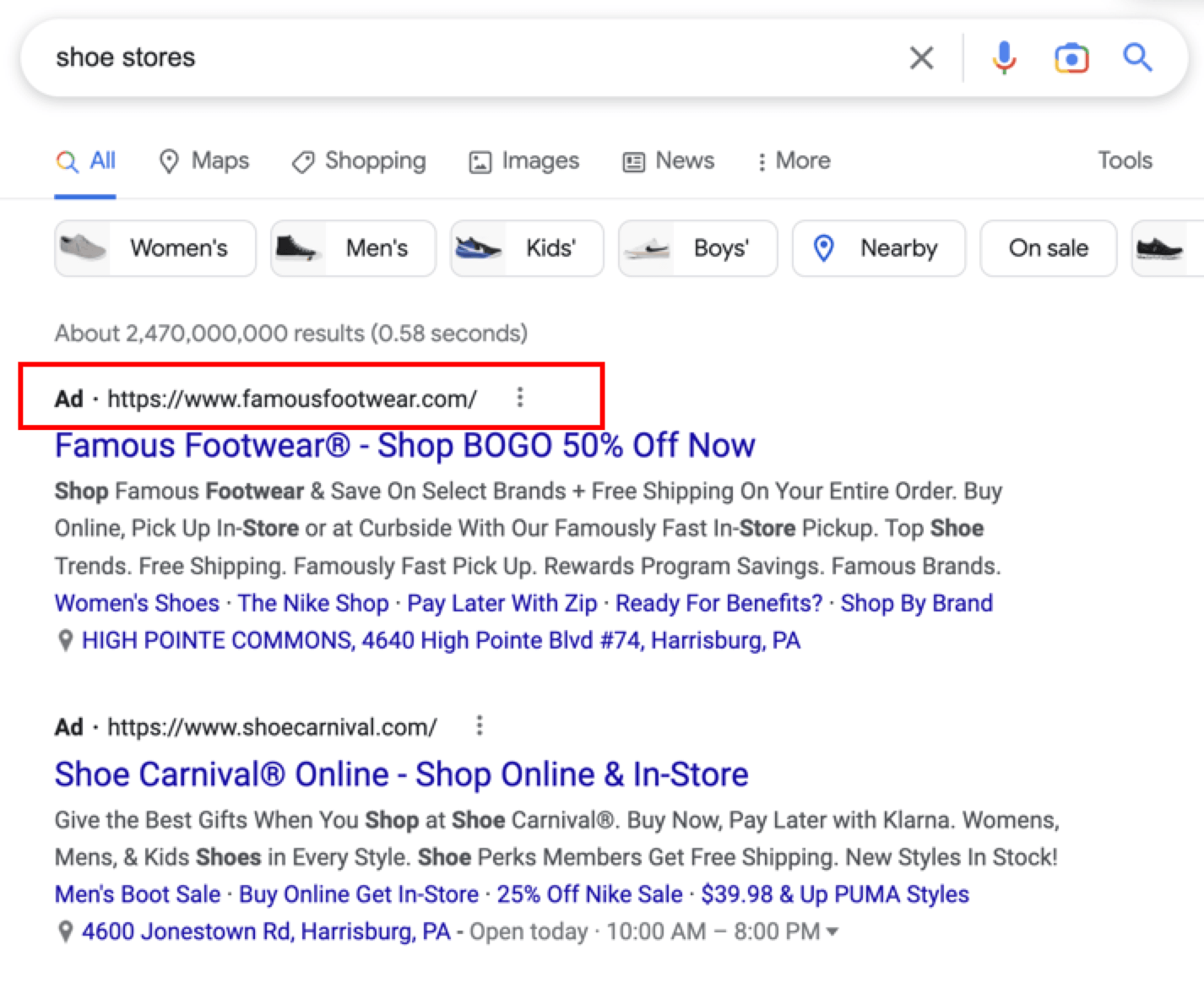 SEO focuses on getting your page to the top without paying for ads.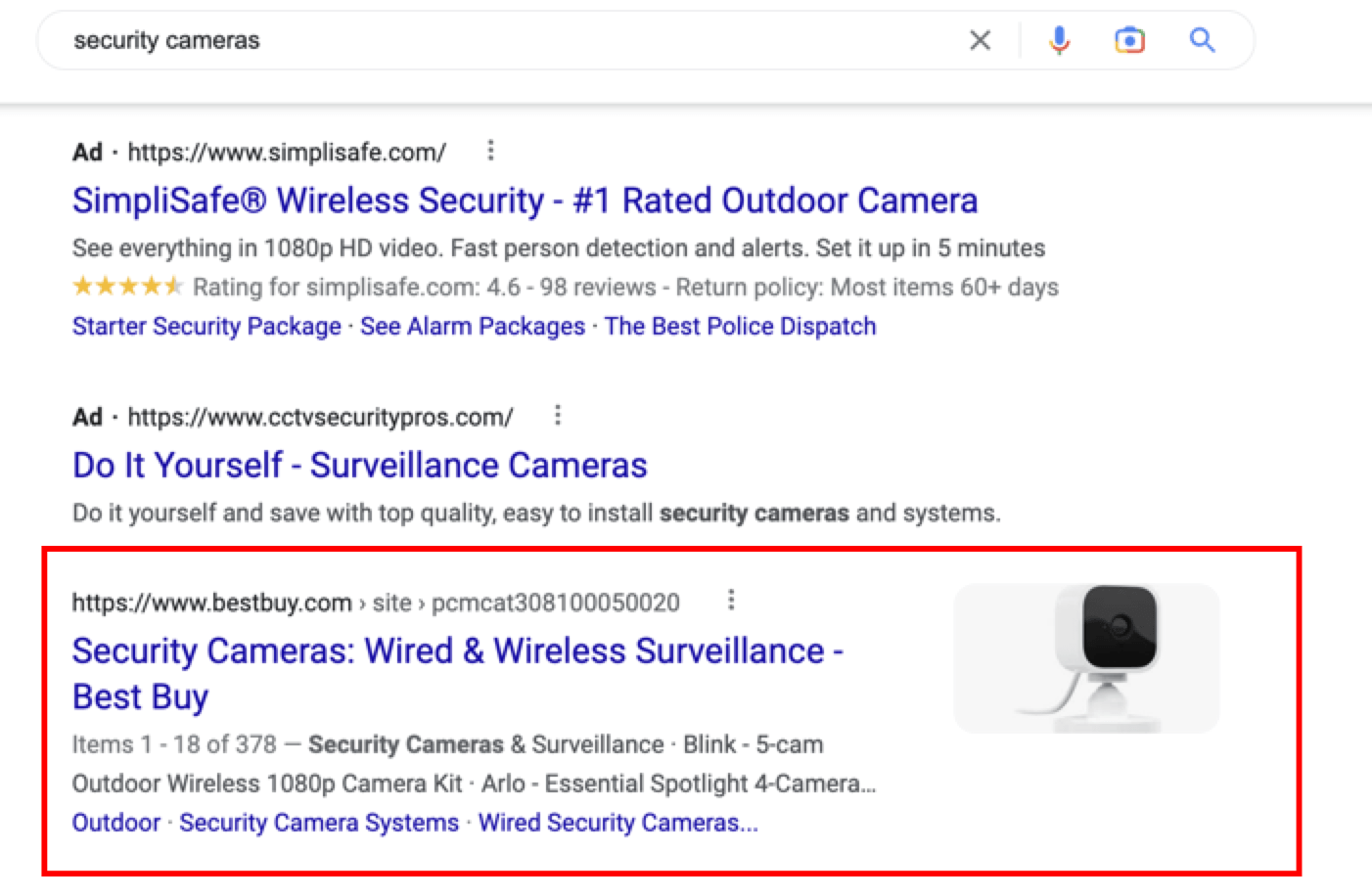 2. Content marketing
Nowadays, most companies have blogs related to their company's products and services. In addition to blogging, content marketing can include creating podcasts, webinars, and video content.
Content marketing has several goals, including:
Encouraging prospects to purchase a product or sign up for email newsletters
Answering common questions
Increasing trust in your brand
Establishing you as a leader in the industry
3. Email marketing
Email campaigns serve several purposes, from promotion to generating traffic toward your social media channels to increasing brand awareness.
Email marketing delivers your messaging straight to a customer's — or prospect's — inbox. You can create a distribution list by asking for an email address during checkout or encouraging customers to subscribe when they visit your website. Make sure customers have control over opting in and out of your emails!
4. Social media marketing
While you can use social media marketing hand-in-hand with content marketing, it also stands independently. This method involves promoting your products on social media platforms like Facebook, Instagram, Twitter, Pinterest, and TikTok.
Consider which platforms your audience is active on before creating your social media accounts.
5. Influencer marketing
Influencer marketing can increase your brand exposure and help you reach a wider audience. You can view influencer marketing as a subset of social media marketing.
Social media influencers are people with a large, loyal following that keeps up to date with their content. Influencers post their content on social media platforms like Instagram, TikTok, and YouTube.
Businesses can sponsor influencers and pay them to talk about a product or service by working it into their usual content. Influencers generally get paid per sponsorship.
6. Affiliate marketing
Affiliate marketing involves connecting with an affiliate who will promote your products in exchange for a percentage of its sales. Like influencer marketing, working with an affiliate can get your product in front of a new audience.
7. Mobile marketing
Mobile marketing uses mobile devices as the primary method of promotion. Examples of mobile marketing can include push notifications, SMS messages, QR codes, and more.
Mobile marketing takes advantage of the fact that people use their phones to shop — more than 40% of online transactions happen on mobile!
8. Voice marketing
Over 1 billion voice searches happen every month. Voice search can be easier and more accessible than typing, especially with voice assistants like Siri built into mobile devices. People using voice search use complete phrases, and sentences, and Google has adapted by improving its natural language processing (NLP) capabilities.
How do I choose between marketing platforms?
With all these options to choose from, research is the key to building your effective marketing strategy. Some questions to ask include:
What are your budget and available resources?
What are your ultimate business goals?
How big is your company?
Do you want to target a local audience or a wider one?
What are your target audience's demographics?
If you're still unsure what strategy would be best, working with a top digital marketing agency can save you time and money on your research.
Our digital marketing campaigns impact the metrics that improve your bottom line.
See More Results

WebFX has driven the following results for clients:

$3 billion
In client revenue

7.8 million
Leads for our clients

5.2 million
Client phone calls
Meet WebFX — the masters in all types of digital marketing
Digital marketing solutions drive revenue and leads for your business. The digital marketing experts at WebFX can help you create a custom strategy with services like SEO, PPC, social media, and web design. We save you time and energy by having all the resources you need at one agency.
For more information about our digital marketing plans, contact us online today or call 888-601-5359 today!
WebFX Careers
Join our mission to provide industry-leading digital marketing services to businesses around the globe - all while building your personal knowledge and growing as an individual.