Online advertising is simple enough in concept, but executing it is a different matter. There are many ways you can advertise your company online, and you may not know how to optimize for all of those methods off the top of your head.
Fortunately, that's why there are advertising agencies out there who can help you. With an advertising agency partnership, you can drive far better results for your marketing, ultimately leading to higher amounts of revenue.
If you're looking for an advertising company to partner with, WebFX is the ideal choice. Keep reading to find out what we offer and what you could gain from partnering with us. Then call 888-601-5359 or contact us online to get started with us!
Time to Level Up Your Sales
Our long list of services helps you grow every aspect of your business with marketing strategies that are proven to increase bottom-line metrics like revenue and conversions.
In the past 5 years, we've managed more than 12.9 MILLION transactions across our client base.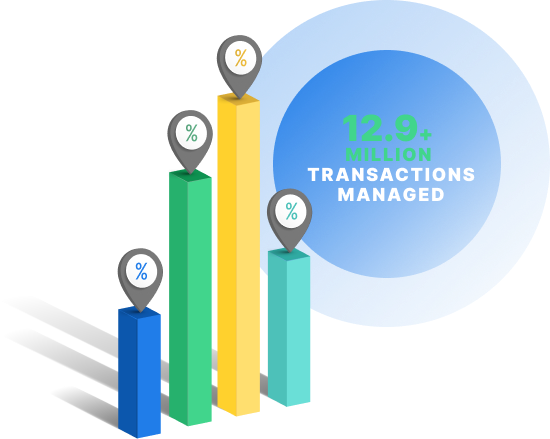 What advertising services does WebFX offer?
WebFX can help you promote your company online in several ways. Here are the four biggest ways we can advertise your business!
1. Paid advertising
The first service we offer is paid advertising. This is one of the most direct forms of advertising your business online, as it involves directly displaying ads to users on the Internet.
There are two main types of paid advertising WebFX will help you optimize. The first is paid search advertising, where we'll help you launch ads right at the top of Google search results. We'll target these ads toward particular keywords to ensure you reach a relevant audience.

The other type of paid ads is display ads, which are visual ads appearing in the margins of third-party websites.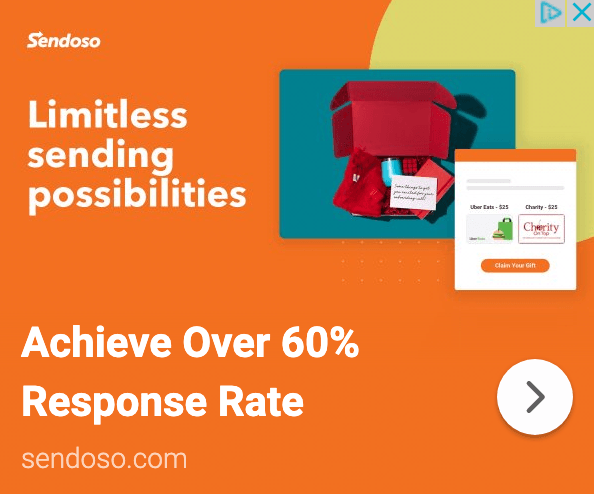 Both types of ads lead users to landing pages that encourage them to convert.
VIEW OUR PAID ADVERTISING SERVICES
2. Search engine marketing
Another way we can help you advertise your business online is through search engine marketing. Unlike paid advertising, search engine marketing is organic, meaning you earn your way into search results rather than paying your way there.
You can learn more about search engine marketing in this video:
To help you rank in search results, we'll craft content for your website and target that content toward specific keywords your ideal audience might search for. We'll also implement other search optimization tactics like:
When you rank higher in search results, you'll attract more traffic and drive more conversions!
VIEW OUR SEARCH ENGINE OPTIMIZATION SERVICES
3. Social media advertising
People love to spend time on social media. That makes it one of the best places to advertise your business online, which is why social media marketing is a prominent part of our advertising services.
We can help you promote yourself organically on social media, creating a profile for your business and scheduling regular posts aimed at your audience. But more than that, we can help you directly target your audience with paid social media ads.
These ads appear right in users' social media feeds. Furthermore, we can help you target them to specific demographics to ensure you reach exactly the right people.
VIEW OUR SOCIAL MEDIA SERVICES
4. Web design and development
All the services we've listed so far are designed to lead users back to one place: Your website. Your website is where people go to learn about you, and it's where they convert into customers. For that reason, web design is one of our top priorities for your advertising.
It's crucial to have a well-designed website if you want anyone to convert. Some of the ways we'll optimize your site include:
We'll work hard to ensure that your website is both functional and attractive, keeping users there longer and driving more conversions for your company.
Why partner with an online advertising company?
You might be wondering what you stand to gain from partnering with an outside agency rather than handling all your online advertising efforts on your own. Incidentally, there are several benefits to partnering with an agency. Here are three of the biggest ones!
1. An advertising agency is more experienced
Like most things, advertising gets better with experience. If you've never done much advertising before, the results you drive won't be as extensive. And even if you're an advertising pro, you can still benefit from partnering with an online advertising agency.
That's because a professional agency is guaranteed to have plenty of advertising experience. Most agencies have been driving advertising results for years, and in that time, they've acquired plenty of advertising expertise.
When you partner with an agency, you'll gain access to that expertise, which the agency will use to boost the quality of your advertising campaigns.
2. An advertising agency has better time management
Another advantage of an agency partnership is that it will improve your time management. Consider this: If you handle your advertising on your own, you'll have to find the time to juggle your advertising efforts alongside all your other responsibilities. But with an agency, that's not the case.
An online advertising company can handle all your marketing for you. That means you can free up more of your time to focus on all the other elements of running your business. It also means you won't have to sacrifice the quality of your advertising, as the agency can give it all the time it needs.
Ultimately, that will lead to better results for every facet of your business.
3. An advertising agency has better resources
Thirdly, agencies typically come with better advertising resources. There are all kinds of digital tools out there you can use to help you with your marketing, from graphic design tools to analytics software.
But those tools can be expensive. Many of them can also be complicated and difficult to use. Fortunately, partnering with an agency can solve this issue. Agencies often bring along their own sets of tools.
Not only do you not have to pay for those tools individually, but the agency will already be proficient in using them!
Why choose WebFX?
Now that we've talked about the benefits of partnering with an online advertising company, why pick WebFX, specifically? The answer is that WebFX brings several standout qualities to the table. Here are three ways you can benefit from partnering with us!
1. WebFX is a "do-it-for-me" agency
One of the main benefits WebFX offers is that we're a "do-it-for-me" agency. What does that mean? It means that we'll handle all the work of running your advertising campaigns without you needing to do anything.
To be clear, that doesn't mean you're relinquishing control of your advertising. You'll still have the final say on everything we do, and we'll run your campaigns the way you want us to. But while you'll still be the chief decision-maker, you won't have to do the actual work.
Instead, you can focus on running your business while we generate new conversions and drive up your revenue!
2. WebFX is a full-service advertising agency
Another reason you can benefit from partnering with us is that we're a full-service advertising agency. That means we offer a variety of marketing and advertising services, including those listed above.
Many agencies only specialize in a single advertising strategy. That means when you partner with them, you have to go to other agencies for help with your other marketing strategies. But not with WebFX. We can handle all the different types of advertising you want help with.
That saves you the hassle of trying to get different agencies to stay in sync with one another and drive consistent results.
3. WebFX has a history of driving results
Finally, WebFX is well-known for driving top-tier advertising results. In the past five years alone, we've generated over 7.8 million leads and $3 billion in revenue for our clients. That's probably why those same clients have left us with over 1,020 glowing testimonials!
When you partner with us, you'll gain access to the same stellar service those clients received from us. We'll work hard to drive up your leads and conversions like we did for our other clients, ensuring you're happy with the results we drive for you in the end.
Our digital marketing campaigns impact the metrics that improve your bottom line.
See More Results

WebFX has driven the following results for clients:

$3 billion
In client revenue

7.8 million
Leads for our clients

5.2 million
Client phone calls
WebFX is the best advertising agency for your small business
Ready to start rocketing your advertising efforts to new heights? Choose WebFX as your online advertising agency! Our team of over 500 marketing experts can't wait to start driving results for your company.
With our advertising services, you'll get help optimizing all the strategies listed above and more. You'll also receive a dedicated account representative to keep you in the loop about everything we do for your campaigns.
To get started with us, just call 888-601-5359 or contact us online today!
WebFX Careers
Join our mission to provide industry-leading digital marketing services to businesses around the globe - all while building your personal knowledge and growing as an individual.