What Are Keywords for SEO?
Keywords for SEO, also called SEO keywords, are the words or phrases that people use on search engines to generate results, like "how to tie a tie." Using SEO keywords within web content can help improve your content's relevancy, search rankings, and organic traffic.
Today's consumers rely on the Internet to help them find the products and services they need. This means that if you want them to become your customers, your company's website needs to appear in search engine results for the words and phrases they're searching.
This doesn't just happen by chance. It's the result of a process called search engine optimization, or SEO. If you're new to SEO and want to use it to attract new customers, you've probably come across the term "keywords" in a lot of your research.
But what are keywords, and why are they so important for SEO?
On this page, we'll explain what keywords are in SEO, how to choose keywords for your SEO strategy, and how to use SEO keywords on your site. You can also contact us online or call 888-601-5359 today to speak with one of our experts directly!
What are keywords?
The primary goal of SEO is to rank well in search engine results for the words and phrases your potential customers are searching. Those words and phrases are keywords.
Why are keywords important?
There are many factors that play into your site's ability to rank well, but keywords help search engines understand what each page on your site is about.
Keywords help search engines display the appropriate pages for certain searches and be sure that they're providing their users with the information they want to find.
This means that one of the main goals of SEO is identifying the keywords your potential customers use when searching for your products or services, then creating content that answers the search intent behind those keywords and using those keywords in the right areas of your site.
What are keywords for SEO?
Keywords for SEO are the words or phrases used in your web content that help people find your website via search engines like Google. Optimizing your website with SEO keywords (and according to SEO best practices) can help you bring more users and traffic to your site.
Use our proprietary keyword research tool,
KeywordsFX

, to help you find high-quality keywords for content and PPC campaigns. Identify Top Keywords for Free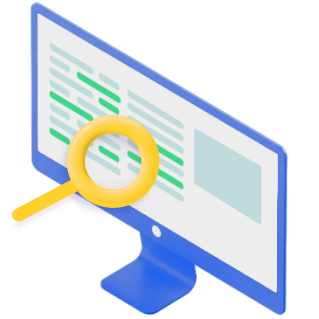 What are the types of SEO keywords?
When it comes to SEO keywords, there are two types you should know: Short- and long-tail.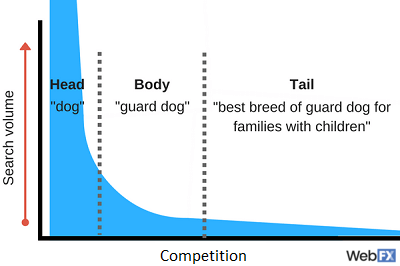 1. Short tail keywords
Short tail keywords are keywords that are made up of only one or two words.
In the graph to the right, for example, "dog" is a short tail keyword.
These keywords tend to have extremely high search volume, meaning that lots of people search for them each month. If you're trying to select keywords for your site, this may sound like a good thing. After all, you want to get your business in front of as many people as possible, right?
Unfortunately, short tail keywords also have very high competition, meaning that it will be difficult to rank well for them. This is especially true if you're just starting a website that competes against companies who have been optimizing their sites for years.
That's why short-tail keywords aren't a preferred keyword for SEO, at least for businesses starting to optimize their websites. A company that's been using SEO for years, in comparison, may target short-tail keywords without hesitation.
2. Long tail keywords
Long tail keywords, on the other hand, can range from three to 10 individual words, and sometimes even more. In the same example, "best breed of guard dog for families with children" is a long tail keyword.
These keywords tend to have lower search volume, but also much less competition. This means that even though fewer people search for them every month, you have a much better chance of reaching those people.
Plus, long tail keywords tend to have a much clearer intent than short tail keywords.
For example, if you were trying to rank for the term "dog," it would be nearly impossible to know what your visitors were looking for and provide that information. But if you wanted to attract visitors searching "best breed of guard dog for families with children," you'd know exactly what to cover on that page.
How to choose keywords for SEO that drive traffic
Now that you know what SEO keywords are, you're probably wondering about how to choose keywords for SEO. Luckily, there are plenty of tools to help find the best keywords for SEO, as well as trusted approaches that you can use for keyword marketing.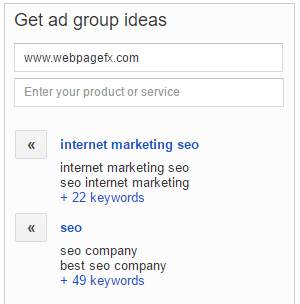 1. Use keyword research tools
Selecting keywords should never involve guesswork, and there are a variety of online tools you can use to research the best possible options for your business.
If you run pay-per-click (PPC) campaigns with Google Ads, Google's Keyword Planner is one of the best options, as it pulls data straight from Google Ads. It provides accurate information on the search volume and competition levels of each keyword.
It also suggests keywords based on the content already on your site, which is a useful starting point for keyword research.
If you don't have any active Google Ads' campaigns – or if you simply want to look beyond Google – you can choose from several other keyword research tools. While some are paid, there are free options that you can use to find keywords for SEO.
A few examples of some free tools include:
Feel free to use a combination of these tools to find the best SEO keywords for your website.
2. Focus on long tail keywords
As you identify possible keywords for your site, it's important to keep the focus on long tail keywords.
Although you may select a few shorter keywords (especially branded keywords, like your company's name) for your homepage and other company-specific pages, identifying long tail keywords should be your primary goal.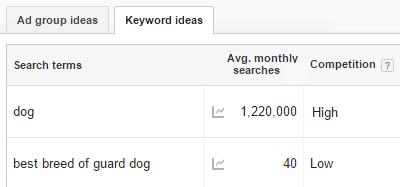 Using the same example from above, entering "dog" and "best breed of guard dog" into Keyword Planner shows that while "dog" is searched over 1.2 million times per month, it would be difficult to rank for that keyword.
"Best breed of guard dog," on the other hand, is only searched 40 times per month, but competition for that keyword is low. This means that if your business were an animal shelter, pet store, or sold pet care products, targeting this keyword would be a good choice.
After all, 40 searches per month may seem low – but that's a possible 480 searches per year from people that could ultimately become your customers.
For more information on how you can identify these highly-specific phrases, check out our post on finding long tail keywords.
3. Look for keywords with high volume and low competition

Although long tail keywords tend to have low competition, you still want to check volume and competition of each when you do your research.
Certain industries are more competitive than others, and even long tail keywords can be challenging to rank for. This is particularly true if your company is part of the legal, insurance, drug & alcohol rehabilitation, or online education industries.
Regardless of your industry, though, it's important to keep an eye on how difficult it will be to rank for any given keyword. If you have no chance of ranking for a specific phrase, then optimizing a page for it would be a poor use of your time.
Instead, focus your research on keywords that you have a shot of ranking for and bring traffic to your site. If you're new to keyword research, this post on choosing quality keywords is a good starting point.
7 tools that make finding keywords for SEO easy
When it comes to choosing keywords for SEO, the following keyword tools make your life super easy:
Experiment with these different tools to see which one provides your team with the best experience. In most cases, you'll probably use more than one. For example, you may use Answer the Public for topic and content research, followed by Ahrefs for researching or narrowing your list of keywords.
How to use SEO keywords on your website
Once you've chosen your keywords, you'll need to use them throughout your site. As a general rule, it's best to focus on one keyword per page. This allows search engine crawlers to easily identify the main focus or topic of any given page and provide it as a result for relevant searches.
Get started using SEO keywords on your website by using them in the following locations:
Your URLs
First, you should make sure that all of your URLs are SEO-friendly. If they aren't, rework your URL structure, add relevant keywords in your new URLs, and set up 301 redirects for old pages you want to change.
Your meta tags
Then, include keywords into your meta tags, like your title and heading tags.
Each title tag should be exactly what it sounds like – a title for the page.
Heading tags are subheadings on a page that break up the different sections or ideas. These not only tell search engines what your page is about, but also make it easy for visitors to skim to the information they want.
Your content
From there, read through each page and make sure that the target keyword is used naturally a few times – the operative word here being naturally. If you add your keyword in places that are irrelevant or don't make sense, this is considered keyword stuffing.
Keyword stuffing goes against all major search engine guidelines and results in a penalty that prevents your site from showing up in search engine results. Plus, pages stuffed with keywords often don't make sense or provide value to your visitors.
Instead, use each page's keyword only where it makes sense – and if it doesn't make sense anywhere, then it isn't the right keyword for that page. For the best results, try and use your SEO keyword in your first paragraph.
Your images
Even though search engines can't "see" your images, they can "read" them.
That's why you want to optimize your images for your SEO keyword. You can add your keyword to your image's filename, as well as alt text. If you add your keyword to your alt text, make sure it's natural and makes sense.
For reference, your alt text should describe your image, literally.
A picture of a puppy in a pool, for example, could receive alt text like, "puppy in pool." If you stuff or force your keyword into your alt text, it can hurt your SEO efforts, which means lower rankings, less traffic, and fewer sales from site visitors.
How to use SEO keywords for content marketing
As you research keywords related to your industry, products, and services, you'll come across many that indicate certain topics that your target audience wants to learn more about, but aren't covered in the existing pages on your site.
These keywords are extremely valuable for your content marketing strategy. If you're unfamiliar with content marketing, it involves creating and publishing original blog posts, article pages, infographics, videos, and other content that informs or entertains your potential customers.
It's often thought of us as a separate strategy from SEO, but when you use the keywords you uncover while doing keyword research to guide your topic selection, you can be sure that you're creating content your potential customers actually want.
Then, you can optimize your content and potentially rank for the keywords you use.
This strategy is especially valuable for long tail keywords. After all, if someone is searching for a specific phrase, they likely know exactly what information they're looking for. And if you want to keep them on your site, you need to provide that information.
When you create original content that answers your potential customers' questions or solves a specific problem, you bring traffic to your site and build brand awareness with those visitors. As long as the content you provide is genuinely helpful, their first impression of your company will be a great one.
Even if these visitors aren't ready to make a purchase or contact you on their first interaction with your site, they'll remember your brand when they are – meaning that the content you create can have a direct impact on your sales and revenue.
Need help with SEO keywords?
At WebFX, we have years of experience creating successful SEO strategies for our clients. Researching and selecting appropriate SEO keywords for each of them is an essential part of the process.
When you partner with us, we'll get to know your business and industry inside and out, and we'll do all of the in-depth research it takes to understand what your potential customers want. Our expert team will optimize your site for the best possible keywords and create original content to move your strategy forward.
Contact us today to speak with a strategist and learn more about how we can help your business use SEO to attract more traffic and earn more customers!
How Is Your Website's SEO?
Use our free tool to get your score calculated in under 60 seconds.