Selling products on Etsy can be a great source of income. With more than 80 million active buyers, Etsy is a major consumer platform.
However, there's more to making a sale than posting your product. If you want people to find your items on Etsy, you'll need to use search engine optimization (SEO).
Read on to learn some top SEO tips to help customers find you on Etsy!
And if you want to get more tips and tricks for doing online marketing, subscribe to Revenue Weekly!
Why is Etsy SEO so important?
SEO is a powerful tool that can help improve your shop's visibility and item listings, from search engines like Google to Etsy's search function.
All search engines scan through text on websites, looking for keywords and phrases. Generally speaking, the more keywords and phrases on a page, the more likely that page will appear on the first page of search results.
However, SEO can be challenging. Each search engine has its own algorithm to deliver the best results for users. Search engines also frequently change how they search, from detecting search terms to search results criteria.
How Etsy search works
Understanding how Etsy's search tool works will help you drive more visitors to your shop. Before you dive into Etsy SEO, take a look at these key factors Etsy uses to determine a shop's search ranking:
Relevancy: When titles, tags, categories, and attributes match a user's search term, your listing has a better chance of appearing at the top of a search result.
Listing quality: Etsy applies a listing quality score to each item based on how well it does in searches. The more people who view your listing and make a purchase after a search, the higher your listing quality score will be.
Recency: Etsy temporarily boosts new listings in its search results to help determine the item's initial listing quality.
Customer and marketplace experience: Etsy gives each shop a score based on the shop's customer reviews, About section, and site policies.
Shipping: Since shipping costs are a prime factor in a user's decision to purchase, Etsy gives priority search result placement to shops that offer free shipping.
Shoppers' habits: Etsy learns what individual buyers are most interested in and customizes their search results to show items they're most likely to buy.
5 Etsy SEO tips
While there isn't a way to guarantee that your shop will appear at the top of a search results page, you can follow these best practices to help get your items in front of more customers:
1. Choose a descriptive shop title
Your shop title is the text that appears under your shop name on your homepage. It should briefly describe your store and products to shoppers, and it can be up to 55 characters long.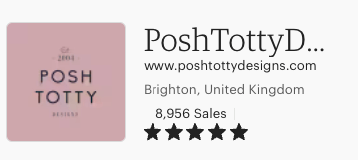 Your shop title is the first thing a user sees when search results link to your shop, so it's your first opportunity to promote your products. Think about the best ways to describe what you sell and include your name or business name if customers tend to search for you that way.
2. Determine your keywords
When thinking of keywords to benefit your search ranking, try thinking like a shopper — what terms would you use to search for the item? Enter those keywords in Etsy's search tool to see if what comes up is a good fit. Keep in mind that listings with keywords that match a user's exact search will appear higher in the search results.
You also want to think about long-tail keywords, which contain three or more words. These terms help drive sales because users searching for precisely what they want are more likely to purchase.
It's also important to vary your keywords with Etsy SEO. Etsy won't include more than one or two listings from the same seller — a practice called "declumping" — to ensure a variety of sellers in their search results. If you use the same keyword for multiple items, you compete against yourself.
3. Front-load your listings with keywords
Put the keywords you want to rank for at the beginning of each listing to catch shoppers' attention and help Etsy determine which items match a user's search intent. You'll want to consider how you can convey the most essential information about your product in the first few words of your item title and description.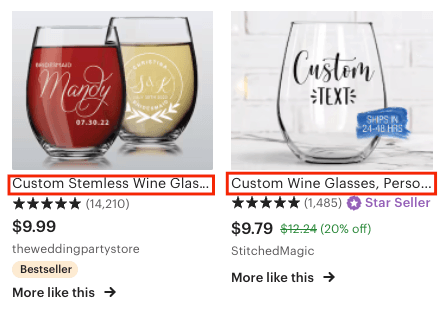 Clearly describe your item at the beginning of the title and use keywords you think a shopper would search. You'll also want to place your item's most important keywords in the first 40 words of your item description, which creates the meta description for your listing in search results.
4. Use all 13 tags for each listing
When setting up a product listing for Etsy SEO, you must fill out specific fields, including title, description, and category. While the tags section isn't mandatory, including tags is essential to optimizing your listing for search.
When you're brainstorming tags, think about synonyms that people would use to search for your item ­­–– If you make gloves, for example, you may look at a synonym like "mittens."
You can also include long-tail keywords in your tags. Diversifying your tags is the best way to get your items in front of more potential buyers.
5. Promote your shop to get inbound links
Search engines strive to show results that are interesting and relevant. When people write about or link to your shop online, it shows search engines that people are interested in your products.
When you promote your shop online, you can use linking opportunities to improve your Etsy SEO. Consider sharing your shop items on social media and networking with bloggers and other Etsy shop owners to get more inbound links.
Improve your Etsy SEO with services from WebFX
Are you ready to start selling more items on Etsy? Then it's time to optimize your SEO!
At WebFX, our SEO experts are here to take your business to the next level. With our elite SEO team and advanced MarketingCloudFX platform, we'll help increase your bottom line with SEO campaigns explicitly designed for your Etsy shop.
Learn more about our SEO services or contact us to request a free quote today!
WebFX Careers
Join our mission to provide industry-leading digital marketing services to businesses around the globe - all while building your personal knowledge and growing as an individual.