No business can reach its maximum potential without great employees, and recruiting the right people can have a significant impact on their overall success.
This means that as you hire for new job openings, you need to make sure that you're reaching the best possible applicants. And today, that requires focusing where they're actively searching: Online.
Search engines, online job boards, and platforms like LinkedIn have made it easier than ever to find and apply for jobs. As a result, top applicants know they have options – and it's your company's responsibility to make sure they know what opportunities you have available, what sets you apart from others in your industry, and why they should want to work for you.
That's where marketing strategies for recruitment agencies become essential.
There are several digital channels you can use to reach jobseekers, promote new positions, and attract the top applicants in your field. Determining which are best for your company and successfully employing them can feel overwhelming.
Fortunately, with over 1000 client testimonials, WebFX has the experience and knowledge you need to create an effective recruitment marketing strategy. You can call 888-601-5359 or contact us online for help getting started today!
If you still want more information about recruitment marketing strategies, keep reading to discover five of the most effective ones and how you can start using digital marketing to recruit employees for your company.
Our digital marketing campaigns impact the metrics that improve your bottom line.
See More Results

WebFX has driven the following results for clients:

$3 billion
In client revenue

7.8 million
Leads for our clients

5.2 million
Client phone calls
1. Search engine optimization (SEO)
Most jobseekers use search engines like Google to research their options, so search engine optimization, or SEO, is an important part of any digital recruitment strategy.
This digital recruitment strategy is the process of improving your website's pages so that they show up in search results for specific keywords and phrases. This is an effective strategy for any marketing campaign, but for recruitment purposes, you can focus your efforts on optimizing for searches related to employment in your industry.
You can also use SEO to make it easy for potential applicants who are already interested in your company to find the right page on your site.
For example, if someone wants to know if you're hiring, they'll likely search something like "[company name] jobs in [location]."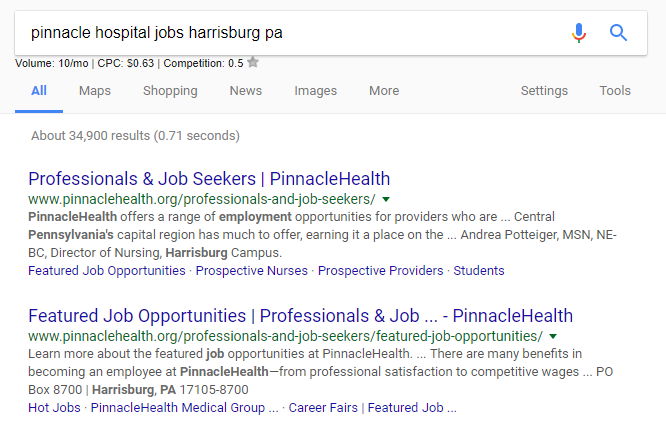 It's essential that your employment page and job opportunities show up near the top of the page for searches like this, otherwise potential applicants may think you're not hiring, and you'll miss out on valuable potential employees.
With SEO, you can identify the words and phrases people search to find job opportunities within your industry, or more specifically, with your company. Then, you can work to improve your rankings for those keywords – making it easy for top applicants to find you.

Hear What It's Like to Work With WebFX!

"WebFX is the area if not the region or national experts on SEO. Their service is incredible."
Healthcare Recruiter
2. Pay-per-click (PPC) campaigns
Another way to increase your visibility in search engine results is with pay-per-click (PPC) advertising campaigns. This advertising model allows you to place ads in search engine results for specific keywords.
For example, if you're a manufacturing company located in Harrisburg, you could bid to place an ad in the search results for "manufacturing jobs Harrisburg, PA." Your bid is based on how much you're willing to pay for each click on your ad, and if it's among the highest for that keyword, your ad will show up above regular search results.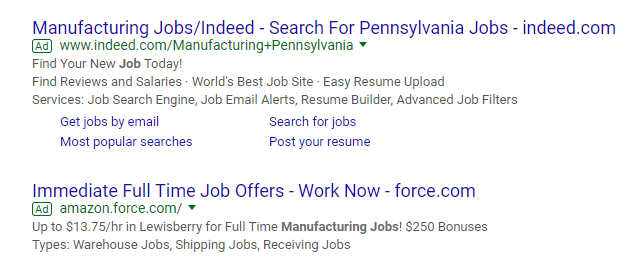 Then, if a searcher clicks your ad and visits your site, you'll pay your bid amount. But if they aren't interested in your job opportunities and don't click your ad, you won't pay a cent – making PPC campaigns one of the most budget-friendly recruitment marketing strategies.
3. Site content
Both SEO and PPC campaigns are designed to attract potential applicants to specific pages on your website. But once they get there, those pages need to provide compelling information about your company and job opportunities.
Your career-focused pages should explain who your company is, and contain information about your company culture, values, and work environment. You can also use a main employment page to link to other pages about your company's history, mission, and other important details.
For example, Warren CAT uses their employment page to link to their job openings, as well as information about their employee benefits and training programs.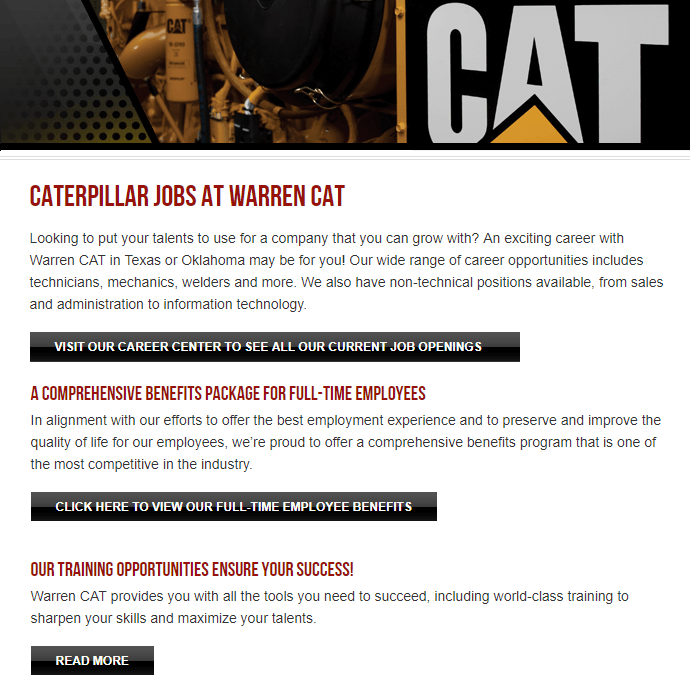 When a potential applicant lands on this page, they immediately have access to all the information they need to determine whether they want to work for the company. And if they do, they can browse job openings and submit their applications with a few clicks.
4. Job posting sites
In addition to search engines, many people use job listing sites to browse their career opportunities online. These sites eliminate the process of finding employment pages on different companies' websites and make it easy to browse open positions by job title, industry, and company.
As an employer, you can upload listings to these sites for free – and given the potential exposure it could give you, there's no reason not to.
Beyond that, most job listing sites give employers the option to sponsor their listings to get them in front of more users. These paid listings operate on a similar system to PPC campaigns, and are designed to show up for the users they're most relevant to.
For example, if your company is in the healthcare industry, and is hiring in Harrisburg, you could bid for placement whenever a user searches "healthcare" in Harrisburg. Then, much like with PPC ads, your position would show up above the free listings.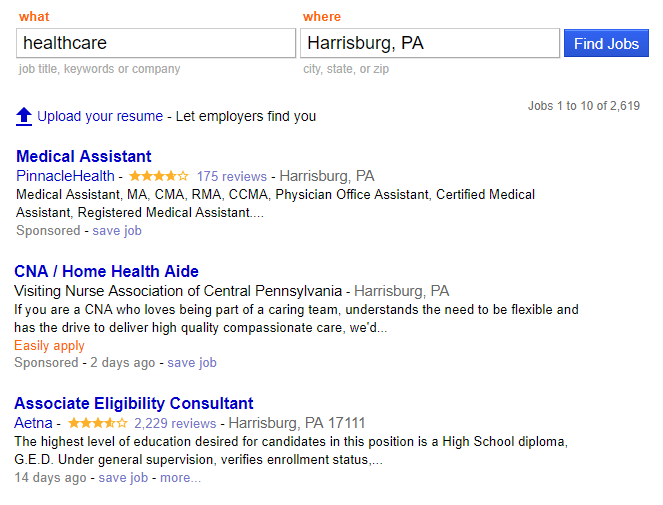 If you're aiming to get as many applicants as possible with digital recruitment strategies, running paid campaigns on employment-focused sites is one of the most effective ways to do so.
Plus, Google recently added a "Jobs" feature to search results pages for searches related to employment, with listings pulled in from sites like ZipRecruiter, CareerBuilder, Glassdoor, and more.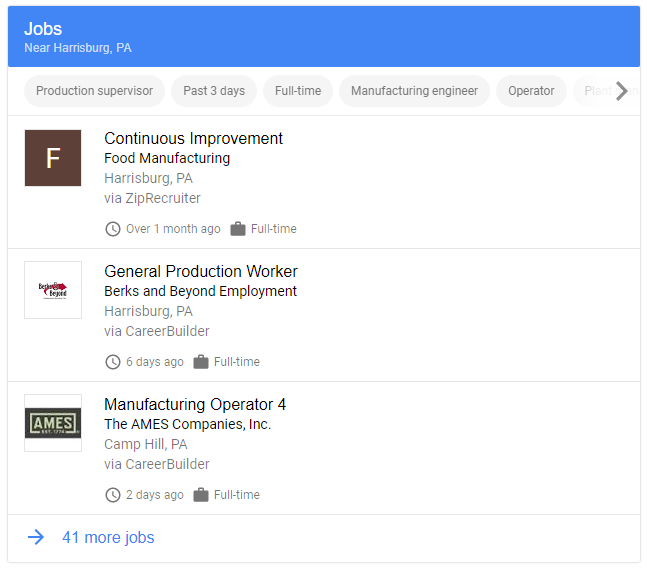 This means that when you post listings on those job sites, you also earn additional placement in search results. And in many cases, the "Jobs" box shows up above regular rankings – giving you even better visibility than your listings on those sites.
5. Social media marketing
Social media has become a valuable marketing channel for a variety of purposes, and recruitment is no exception.
LinkedIn is particularly valuable for this purpose, because it's the only social network intended specifically for professionals. In fact, users' profiles are essentially online resumes, so many companies use it to find and recruit top talent within their industries.
You can also use LinkedIn to post open positions at your company. Then, when users search for opportunities on the site, they'll be able to find yours, and visit your company's profile to learn more about you.
These listings work the same way as listings on employment sites, and LinkedIn also offers paid promotional options to help employers reach potential applicants.
Beyond LinkedIn, you can also use other social media platforms to let your followers know about opportunities at your company. And although platforms like Facebook, Twitter, and Instagram don't have specific features for job listings, you can share links to employment-focused content on your website.
Arguably one of the most beneficial ways to use social media is simply to keep your profiles updated with company news, events, and photos. Many jobseekers check out the social media profiles of companies they're considering applying to, and use them to get a better idea of what it would be like to work there.
If they see an active page full of photos of company events, happenings around your office, and links to various company news and accomplishments, they'll be much more confident in their decision to apply.
Bring these recruitment marketing strategies to life
At WebFX, we understand the importance of hiring top talent, and we know that the best way to do that is with a comprehensive online strategy. That's why we offer digital recruitment marketing plans designed to reach today's job seekers.
When you partner with us, we'll take the time to get to know your company, as well as what you're looking for in potential employees. Then, we'll use that information to craft a custom strategy and reach those users online.
We use a combination of SEO, PPC, and online job listings to improve your visibility in search engines. Then we'll help you create site pages and copy that accurately reflect your company culture and opportunities. We'll also use social media to make sure that your target applicants can find you wherever they're looking, and have a positive impression of your company right from the start.
Ready to improve your recruitment strategy with digital marketing?
If you're ready to reach and hire the best applicants in your industry, digital recruitment marketing is absolutely essential.
Check out our Online Recruitment Marketing Guide for more information on how you can use the digital recruitment strategies above as part of your strategy, or contact us today to speak with a member of our team about our digital recruitment strategies!
Earn a 20% greater ROI with WebFX