Social Media

4 Benefits of Using Instagram Analytics for Marketing
4 Benefits of Using Instagram Analytics for Marketing
7 minute read
Emily is WebFX's Content Delivery Lead. She holds an M.S. in digital marketing and leads the FX content team, along with strategy, implementation, and evaluation for WebFX's key revenue channels. Her work has been featured by Social Media Today, Campaign Monitor, Reader's Digest, Yahoo, and more. In her free time, she enjoys hiking, road trips, and exploring new cities. Follow her on Twitter @emcarter16 or connect on LinkedIn. @emcarter16
Want to evaluate the success of your Instagram marketing and optimize your posts for greater impact? You can use Instagram analytics to track your progress, identify trends, and evaluate your target audience in more detail. Using Instagram analytics, you can also gather valuable data about which hashtags are used most often, which photos receive the most interaction, and which times are most popular for posting.
These metrics are all valuable, and they provide insight about what you're doing well and what you need to change or improve.
You can also use the data to compare your success to competitors. In this post, we'll discuss the benefits of using both free and paid Instagram analytics tools, which data you should be tracking, and the overall benefit of using Instagram analytics for your marketing strategy.
Let's get started!
What are the overall benefits of using Instagram analytics?
Regardless of whether you use free or paid tools, there are several advantages to Instagram analytics. Below are four of the top benefits of using Instagram analytics for your business.
1. Perform at the top of your industry
Instagram analytics give you access to helpful metrics, such as the posts your followers react most strongly to, the best days and times to post, and more. Knowing these pieces of information can make you an industry leader, focus on the most beneficial Instagram growth hacks, and set you up for success. For example, if you use the data to determine which time your followers are most active every day, you can schedule your content to automatically post at those times.
So, if you determine that 9 p.m.
on Monday and 5 p.m. on Wednesday are the best posting times, you can post your content during those times to reach more customers. You can also determine what type of content your audience communicates as most valuable to them based on analytics data.
Once you understand which content your audience interacts with most, you can optimize your campaign to share content that's similar.
Knowing how to optimize your campaign will enable you to post the best content at the most popular times and ultimately reach success.
2. Understand your target audience
Instagram analytics will also break down metrics based on demographics. This means you can look at data based on things like gender, age, location, language, etc. The more detailed the data is, the better you can understand your audience.
Think of it like this: The better you know your friend, the easier it is to buy them a personalized gift.
When you know your target audience, you can deliver more specific content. Instagram analytics provides information regarding your followers' interests and online purchasing behavior as well. This is beneficial to personalizing and tailoring content for the demographic you want to reach.
3. Save time and resources
When you don't understand a process, you end up spending a large chunk of time troubleshooting with no guarantee on the outcome. Fortunately, Instagram analytics provides insight that allows you to avoid this issue. The data provided shows you which content your audience finds valuable and which content may need revamped.
So, rather than divide your efforts among every aspect of your campaign, you can use analytics tools to determine which areas are performing well and which could use some additional TLC. This allows you to distribute your time and resources as efficiently as possible.
4. Plan your campaigns and strategy
Planning a successful campaign requires at least a minimal understanding of patterns, growth periods, and trends in your campaign. You can use Instagram analytics to compare growth over various time spans, which allows you to dig deeper and see what you were doing during the peaks in your campaign.
Then, you can make necessary adjustments to improve your overall strategy. Having this data ensures you that you're not taking a gamble when you make changes and updates to your strategy, since you're basing any edits on real metrics.
What are the advantages of using free Instagram analytics tools?
Before you go out and spend money on premium Instagram analytics tools, consider the size of your business and your overall goals.
If you need more basic data, like how your Instagram stories perform, there's no need to pay for a tool. Here are some of the top benefits of using free Instagram analytics tools:
1. Low cost
If you aren't working with a huge budget, using free Instagram analytics tools like Socialbakers or squarelovin are great options. These tools allow you to see metrics such as growth, engagement, popular filters, hashtags, etc. When you use free tools like the ones above, there are no monthly or annual fees involved.
2. Simple to use
Not everyone has experience using analytics tools, and it can initially feel overwhelming. Free analytics tools are less challenging to get the hang of for beginners. Free analytics tools are not as detailed, which makes them simpler to use for those just getting used to analyzing data and creating reports.
3. Basic data and tools
If you're a smaller business, you may not want or need a data-packed report. Your energy might be focused more on surface-level metrics. If that's the case, then using a free analytics tool is the best decision for you.
Free tools will still provide you with a basic overview of how your campaign is performing, your follower growth, and overall engagement.
What are the advantages of using paid Instagram analytics tools?
If you own a bigger company and require a more detailed report or want to see more in-depth metrics, then using a paid tool is right for you.
1. Detailed information
Paid analytics tools will not only provide more detailed information, but they will also provide a wider variety of data to look at, rather than just the surface level information.
Consider tools like Iconosquare and Union Metrics to view information such as most influential users posting your hashtags, hashtag growth, top-performing content, followers' locations, and demographics, when your audience is online, etc.
These tools allow you to export the data and build your own reports as well. You can also use paid tools to compare your campaign's performance with competitors based on engagement rate, likes, comments, etc.
2. Customer service
Free Instagram analytics tools rarely provide any customer service, which can make things tricky if you have little experience. However, when you invest in paid tools, you may also have access to customer service experts who can answer questions you may have. This is extremely useful when learning which metrics to evaluate and how to use them to advance your campaign.
3. Built for growth
The ultimate goal with your Instagram campaign is for it to promote growth and help you to reach your online marketing goals. Free tools are great — until you outgrow them. The benefit to using paid Instagram analytics tools is that they grow with you.
Premium tools will continue to report valuable information about your campaign's performance, even as it progresses. Check out our resource about the best social media analytics tools in 2023 to make an informed decision.
WebFX can manage your Instagram analytics
Using Instagram analytics is an effective way to learn more about your audience and develop a successful campaign. But determining whether your business should use free or paid Instagram marketing tools, as well as how to use them profitably, can be challenging.
Having someone with experience manage your Instagram can be helpful.
WebFX has a team of 500+ dedicated experts who are willing and ready to work with you. If you are interested in learning more about the benefits of Instagram analytics on your campaign specifically, or you'd like to get started, you can contact us online or call 888-601-5359!
Emily is WebFX's

Content Delivery Lead

. She holds an M.S. in digital marketing and leads the FX content team, along with strategy, implementation, and evaluation for WebFX's key revenue channels. Her work has been featured by Social Media Today, Campaign Monitor, Reader's Digest, Yahoo, and more. In her free time, she enjoys hiking, road trips, and exploring new cities. Follow her on Twitter

@emcarter16

or

connect on LinkedIn

.

@emcarter16

WebFX is a full-service marketing agency with 1000+ client reviews and a 4.9-star rating on Clutch! Find out how our expert team and revenue-accelerating tech can drive results for you! Learn more
Twitter and Facebook Status Generator
Finding engaging social media content for your business can be difficult. Use our tool to quickly find ideas and post directly to your page.
Give Me an Idea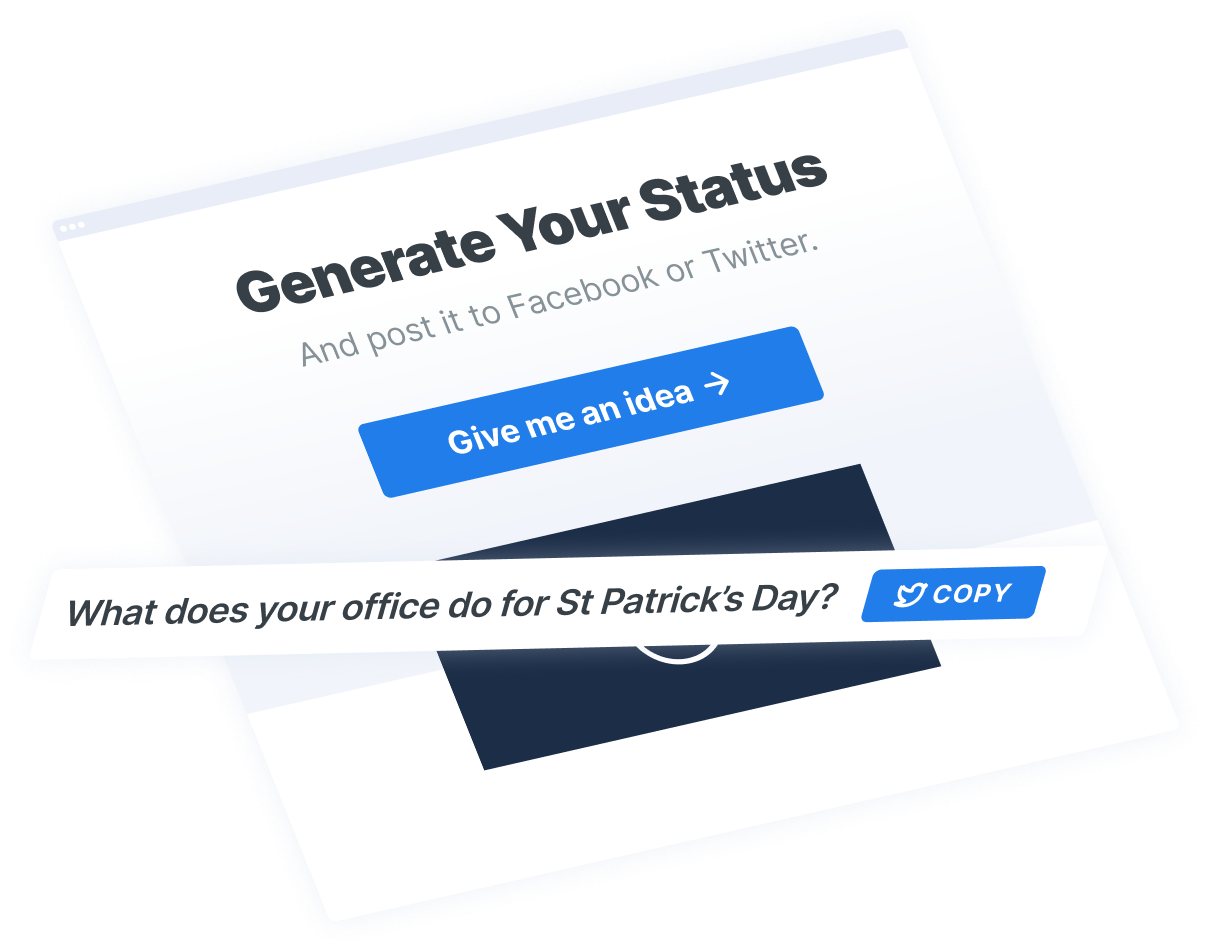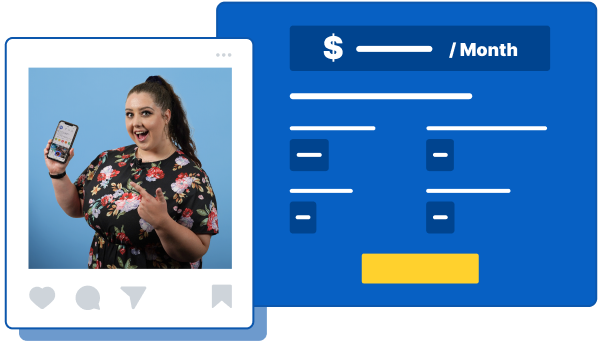 Twitter and Facebook Status Generator
Finding engaging social media content for your business can be difficult. Use our tool to quickly find ideas and post directly to your page.
Give Me an Idea