As a dentist, you want to attract new patients to your practice. Facebook ads for dentists are a great way to reach patients looking for a dentist and drive them to your practice.
Wondering how Facebook ads can work for your dentistry? Keep reading to learn more and call us today at 888-601-5359 to speak with a strategist about our Facebook advertising services!
Why should I use Facebook ads for dentists?
With many advertising options available to your business, it's critical to understand what Facebook brings to the table.
1. Precise ad targeting
Facebook's biggest asset stems from its precise targeting options. This platform outranks other social platforms on the market because of the ability to narrowly target audiences based on demographic and behavioral information you input.
In Facebook Ads Manager, you can create ad campaigns for your dental practice, which allow you to target Facebook users according to different options you set.
2. Reach new audiences
With Facebook ads, your dental clinic can also target people likely to take an interest in your practice by taking audiences you have already defined and finding people with similar characteristics (called lookalike audiences).
If you specialize in a field, like pediatric, orthodontic, or cosmetic dentistry, you can reach more individuals looking for your specific type of office.
3. Cost-efficient advertising
It costs very little to advertise your dental practice on Facebook.
On average, Facebook advertising costs $0.97 per click and $7.19 per 1000 impressions. That's dirt cheap compared to traditional advertising like newspaper or radio.
And since so many people are on Facebook — more than a billion daily users — plus the advanced targeting that lets you hit your audience on the nose, Facebook ads become one of the most cost-efficient advertising methods out there.
74% of people use social media when making a purchasing decision.
Make their decision easy with a stellar social media presence. See how your brand can level up by requesting a no-obligation proposal today.
One of our experts will be in touch within 24 hours!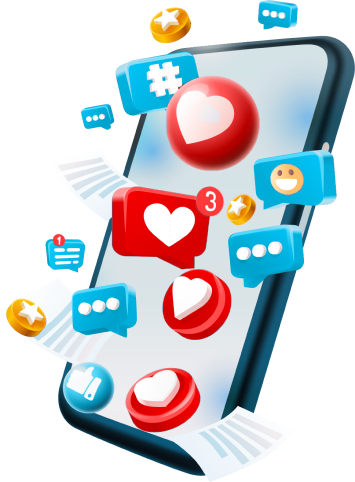 6 steps to creating a Facebook ad for dentists
Are you ready to get started with creating your Facebook ads for your dental office? Follow these six steps!
1. Choose a goal that works for your dental office
You want to create goals for your dental advertising campaigns because goals help guide your campaign and enable you to measure the success of your campaign. Facebook provides numerous ad objectives for your campaign, including:
Build awareness of your dental practice
Reach new patients interested in a dentist
Drive new patients to visit your website and learn about your practice
Get leads to message your practice to learn more about your dental office
Get leads to convert and choose your dentistry
And more!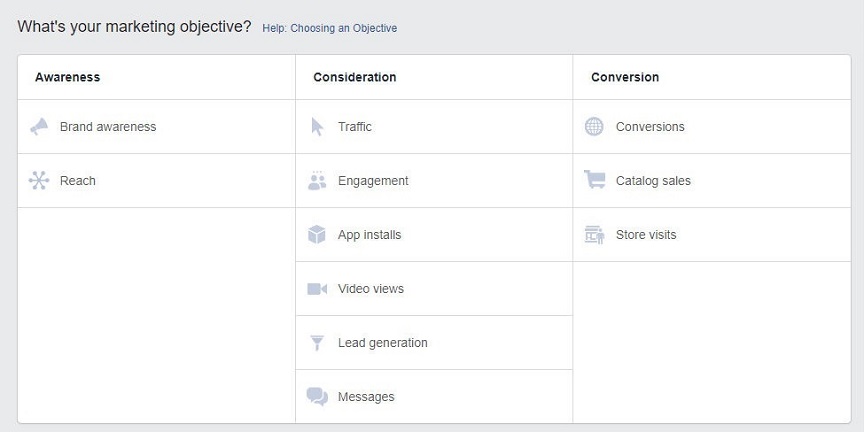 With numerous ad objectives at your fingertips, you can start creating Facebook ads for dental practices that help you grow your practice through social media.
2. Determine who's looking for your dental practice
When you set up your Facebook ads for dental practices, you must determine your target audience. Your target audience focuses on people you know who have an interest in your dental services.
If you want to have a successful campaign, you have to know your audience so you can catch their attention with your Facebook ads. You determine your target audience based on factors like:
Advanced targeting options allow you to target:
Demographics: the location, age, gender, family status, and language of your audience
Interests: the interest pages that your audience likes on Facebook.
Behaviors and other categories: the purchasing behaviors, hobbies, income, device use, etc., of your audience
Connections: audience members that like your clinic's page. Anyone whose friend liked your page will see your ad on their feed along with a line above your ad stating, "[Friend's name] likes this page."
Custom audience: uploaded email address lists, phone numbers, or Facebook profile IDs
Lookalike audience: people with similar behaviors and interests as your custom audiences
For example, if the target audience for your dental Facebook ad is parents with children, you could create an ad like Burg Children's Dentistry did.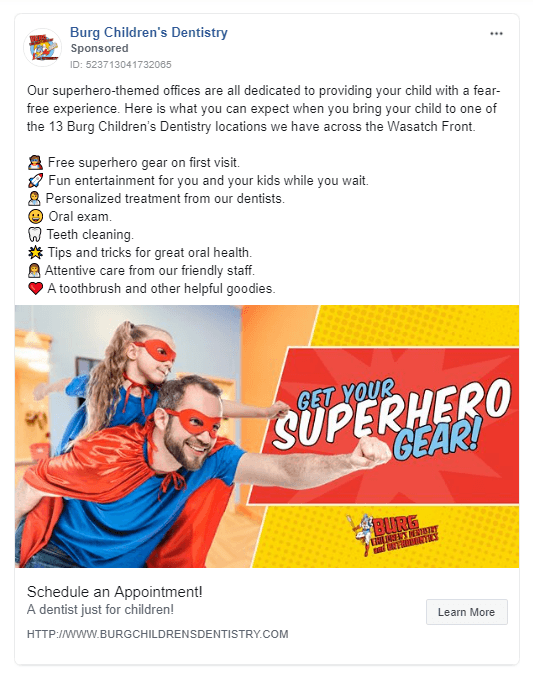 Burg Children's Dentistry does an awesome job at creating an ad that appeals to parents with children who might be nervous about dental visits with a fun superhero theme.
The ad copy colors are bright and exciting to catch their audience's eye, and the ad photo displays a dad and his daughter sporting the superhero look.
Burg Children's Dentistry also provides a list of exactly what their customers will experience on a visit.
The dentistry highlights their unique perks such as free superhero gear that gives kids something to look forward to and fun entertainment promised during the wait time, which helps soothe parents and give kids a needed distraction.
3. Choose the best ad type for your dental practice
Facebook offers several different ad types that you can choose from:
Images: Image ads are ads that consist of a single photo. They're perhaps the most common type of Facebook ad and are often used for Facebook ads for dental practices.
Videos: Similar to image ads, video ads contain an engaging video that attracts audiences. Video ads are a great option for Facebook ads for dental offices because videos improve conversions by 86%.
Stories: Story ads are full-screen vertical video ads. They can provide even more engagement with your dental Facebook ads than normal video ads since there's nothing else to draw away your audience's attention from your ad on the screen.
Carousels: Carousel ads can showcase up to ten images or photos in one ad, which you can use to highlight your dental practice and dental services.
Slideshow ads: Slideshow ads let you create short videos using a collection of images, text, or video clips. They're easier to create than videos and are a great option for your dental Facebook ad if you want to provide a more engaging experience for your future patients.
Instant Experiences: Originally called Facebook Canvas, Facebook Instant Experience ads are another full-screen format that lets you place a fast-loading landing page straight on the Facebook mobile platform that saves your dental audiences time on converting to your practice.
Promoted posts: Promoted posts, also called boosted posts, allow you to promote an organic post on your dental practice's Facebook page. Any post you publish on Facebook has an option to boost the post so that more people that follow you see your updates.
Make sure that after you choose the best ad type for your dental Facebook ad, you create relevant ad copy. Facebook ads for dental practices need to be relevant to audiences to draw in potential clients.
Since you now have a solid understanding of your audience after spending time conducting in-depth audience research, it'll be easier to choose the right call-to-action (CTA), the right visuals, and the best ad copy that resonates with your audience.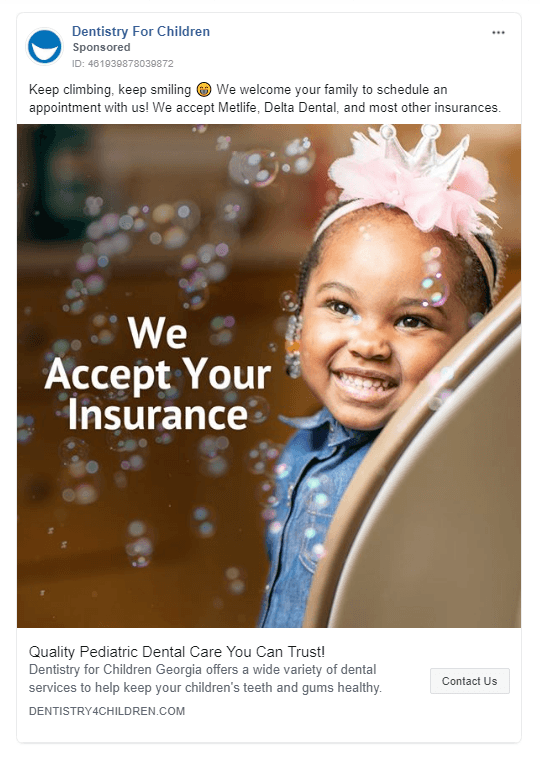 4. Take a local approach to your Facebook ads for dental offices
As a dentist, your new patients come from people within a certain mile radius of your practice, so you want to target your local area when creating Facebook ads for your dental practice.
Facebook allows you to target leads based on region, city, etc. You can even set up geofencing for your dental Facebook ads, which allow dentists' offices to target people that enter a certain barrier around their office.
Take some time to determine the range you need to target to capture the majority of your potential patients, then serve those people with ads that match their interests and concerns. You can ease their worries using personable, relatable content.
A great way to add a personal touch to your ads is by using photos of your staff. This example from St. Lucie's Center for Cosmetic Dentistry showcases how you can make a personalized ad by using a photo of your staff and making it into a Christmas card!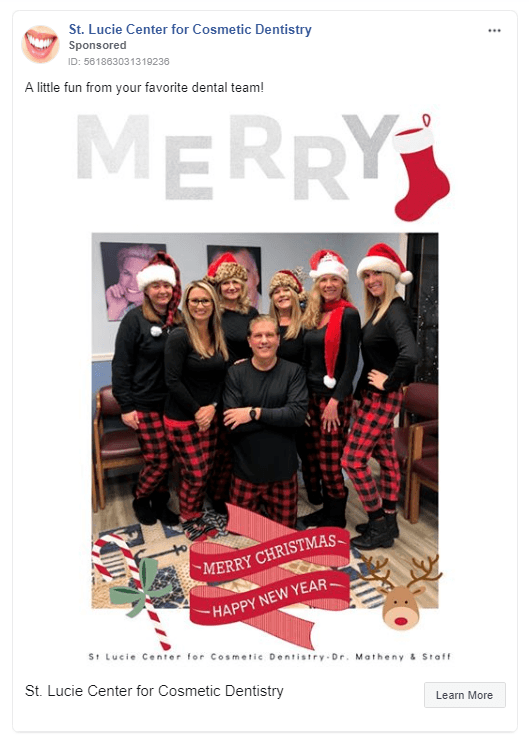 5. Create high-quality landing pages for your dental clinic
How you set up your ads depends upon your practice's goals.
You can set numerous goals, including:
Driving people to visit your practice's website
Getting leads to book an appointment
Getting future patients to send your practice a message
And more
It's important to focus on creating a high-quality landing page that's relevant to your dental Facebook ad, so when people click on your ad, they can easily convert.
As a dentist, you'll want to have a landing page that:
Provides accurate and detailed information based on the ad's content
Includes recent photos of you and your staff
Demonstrates clear calls to action (CTAs) throughout such as "Book Appointment" or "Take Our Oral Health Assessment"
Displays your clinic's contact information
Check WebFX's helpful tips on web design for your dental website to boost your patients' experiences!
6. Test your ads to see if they're successful at driving new patients
Different ad types work better than others for certain campaigns. When developing Facebook ads for dental offices, it's plan time for testing elements of your Facebook ads and landing pages.
Testing is a vital part of any advertising campaign. Changing elements on your ad can affect your ad's performance and influence conversions (whether it's to book appointments, fill out a form, etc.). It's the same with landing pages.
When it comes to gaining potential patience, you want the most optimal setup for your ad and landing page. You won't know what setup is best at attracting people and driving conversions unless you test different versions.
By tweaking the setup of your ads and landing pages and showing them to different subgroups of your audience, you can determine what works best for converting people. This method of tweaking elements is called A/B testing.
Check out our free beginner's guide on A/B testing to learn the best practices for testing your ads and landing pages for the best conversion rates!
Ready to get started with your Facebook ad for dentists?
With Facebook ads for dental offices, you'll start reaching more interested patients and drive them to choose your practice. If you aren't sure where to start with Facebook ads for dental offices, WebFX can help.
WebFX is your Facebook advertising agency. With over 20 years of experience and 200+ digital marketing specialists, we'll cover all your dental internet marketing needs.
Contact us online or call us at 888-601-5359 to learn more!
Earn a 20% greater ROI with WebFX