YouTube is the second most visited website in the U.S., so it makes perfect sense for your business to invest in YouTube advertising. Just think of the visibility! With billions of users around the world, you're bound to find the right audience for your YouTube ads — as long as you make them engaging. More on that later.
We post videos every Monday. Yup. Every Monday.
Join the 5,000 marketers who get their marketing knowledge from WebFX videos.
Subscribe Now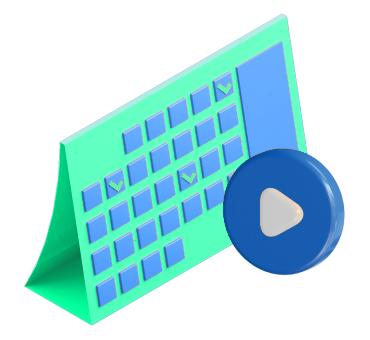 What is YouTube advertising?
YouTube advertising means paying to promote your business on YouTube.
You create and pay for your YouTube ads through the Google Ads platform. YouTube advertising includes more than just video ads, as you'll read in this blog post.
YouTube advertising: Explained
While you can upload videos to YouTube for free, YouTube advertising lets you pay to promote your business on the platform. And you don't necessarily need a video to run YouTube ads. With an organic (or unpaid) YouTube strategy, you rely solely on video and YouTube search engine optimization (SEO) to grow your presence on the platform.
YouTube SEO is key to increasing visibility in the search results.

YouTube advertising, on the other hand, gives you a variety of ad formats to choose from to reach your audience. You increase your ad's visibility not by using SEO, but by targeting the right audience. YouTube advertising relies on Google Ads to create campaigns, whereas an organic YouTube strategy really only needs YouTube to be successful.
Types of YouTube ads
You can separate the different types of YouTube ads into two overarching categories:
Yes, you read that correctly. You can advertise on YouTube without using video. There are definitely more video options available, which is what we'll break down right now.
3 types of YouTube video ads
In-stream ads
These ads appear within a video you're watching. You can choose to make in-stream ads skippable or non-skippable.

Non-skippable ads last up to 15 seconds, while skippable ads play for only five seconds until a viewer has the option to…well, skip them.
Bumper ads
These YouTube ads are non-skippable and last for under six seconds.

Like in-stream ads, they play when someone

opens up a video
.

Video discovery ads
This YouTube ad format can best be described as a mix between a video and a non-video ad. The ad actually looks similar to any regular YouTube video, just with a tag that says it's an ad. Instead of playing before, during, or after a video, a user has to click on the ad to watch the video.

Video discovery ads show up in the search results, within the related videos section, or on the YouTube mobile homepage.
2 types of non-video YouTube ads
Overlay ads
These ads appear when someone is watching a video from their desktop. You see them at the bottom of the video player covering a small portion of the video.

Display ads
You see these ads near the suggestions list when you watch a video.
Display ads appear on both desktop and laptop computers.

How to pay for YouTube ads
When learning how to advertise on YouTube, you really need to understand how you pay for your ads. Like most forms of digital advertising, YouTube uses a bidding system to determine the cost of its ads.
Depending on the type of ad you want to run, you have a few different bidding options to choose from:
Since Google owns YouTube, your YouTube ads use the Google Ads auction to appear in front of video viewers. The cost of your ads will depend on a variety of factors, including your bid, the competition, and your ad's relevance to the user. On average, businesses spend $0.10 to $0.30 for every view or action on their YouTube ads, but again, many factors can influence that number.
With Google, you can set a budget that works for you and make adjustments as needed to maximize your digital advertising ROI.
YouTube targeting options
Just as you can select the ad type that works best for your YouTube campaigns, you can also choose the audience you want to reach. You can target people based on:
Demographics

Interests

Previous interactions with your website or YouTube videos

Buying intent

First-party data
First-party data is information you have collected from your customers — it's typically stored in a customer data platform (CDP). If you have a rewards program, a list of emails from people who join the program would be considered first-party data.
Just keep in mind that you should tell people what you'll do with their data when you collect it.
How to create your YouTube advertising campaign
If you plan to use a video for your YouTube ads, it needs to be hosted on YouTube. When you create your ads, you'll include a link to that YouTube video. For tips on how to create an engaging video ad, check out our blog post on that topic.
Create your YouTube channel
In order to upload a YouTube video, you need a YouTube channel.
If you don't have a YouTube channel, setting one up is as simple as creating a Gmail account. In fact, you can easily create a channel by signing in to YouTube with your business's existing Gmail account and selecting "Create a channel."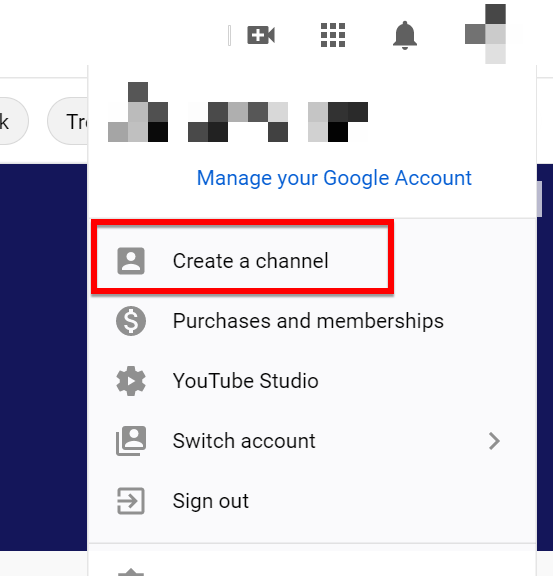 You can choose to optimize your video title, description, and tags with keywords for maximum reach and even create an engaging thumbnail for people who find it in the YouTube search results. Now onto the actual ad creation process.
Start your YouTube ad campaign
As mentioned earlier, you set up your YouTube ads in Google Ads. When you log into Google Ads, click the "New Campaign" button to get started.

Google Ads will then ask you to choose a campaign goal.
Choose your campaign goal
For a video campaign, you can choose:
Leads

Sales

Web traffic

Product and brand consideration

Brand awareness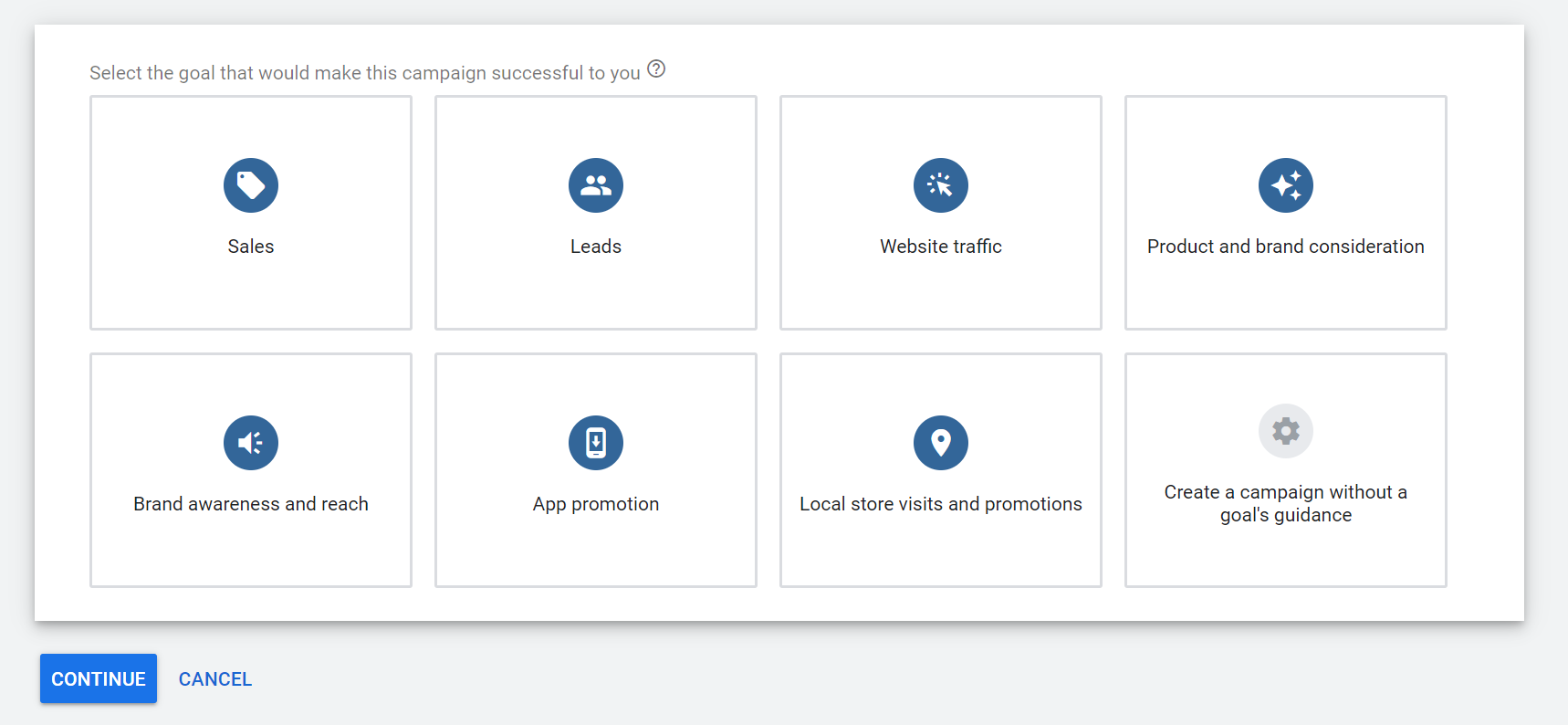 Different types of video ads require different goals, so make sure you know what type of campaign (like video discovery or bumper ads) you want to use. After you choose your goal, you'll pick the type of campaign you want to run.
Pick your campaign type
For YouTube, you'll want to select one of the following: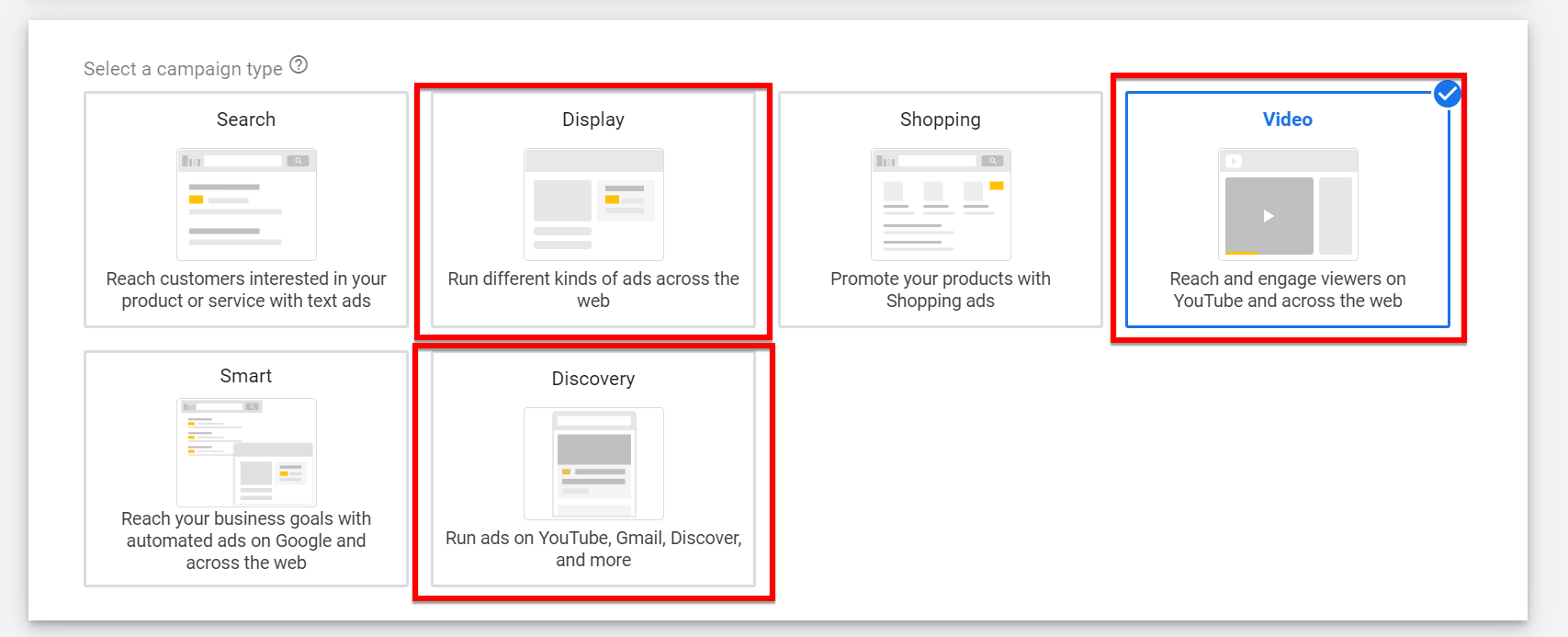 In the next step, you'll set parameters such as your bid strategy, budget, and where you want the ad to appear.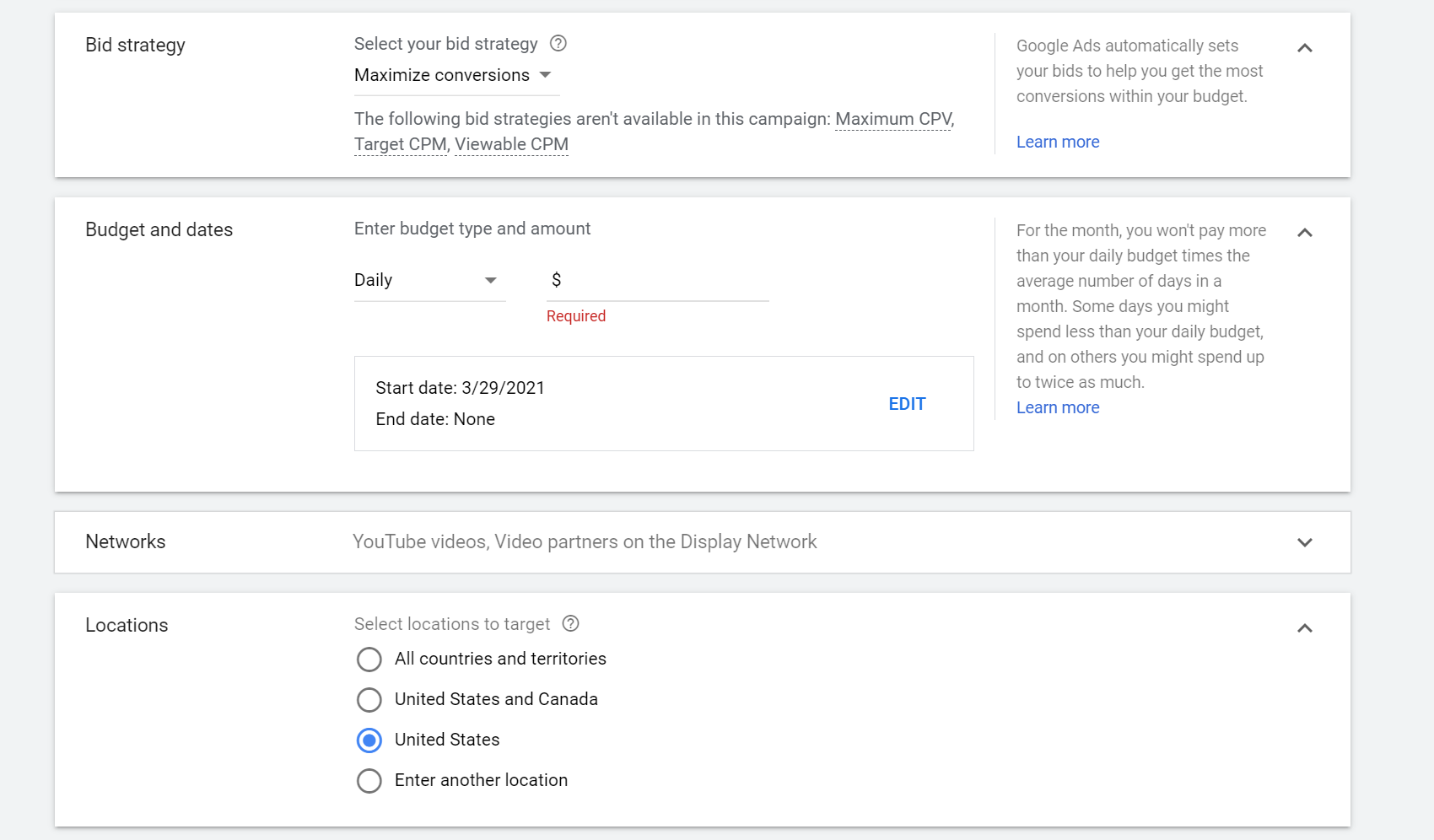 If creating your video ad, you'll also include a link to the YouTube video you want to use.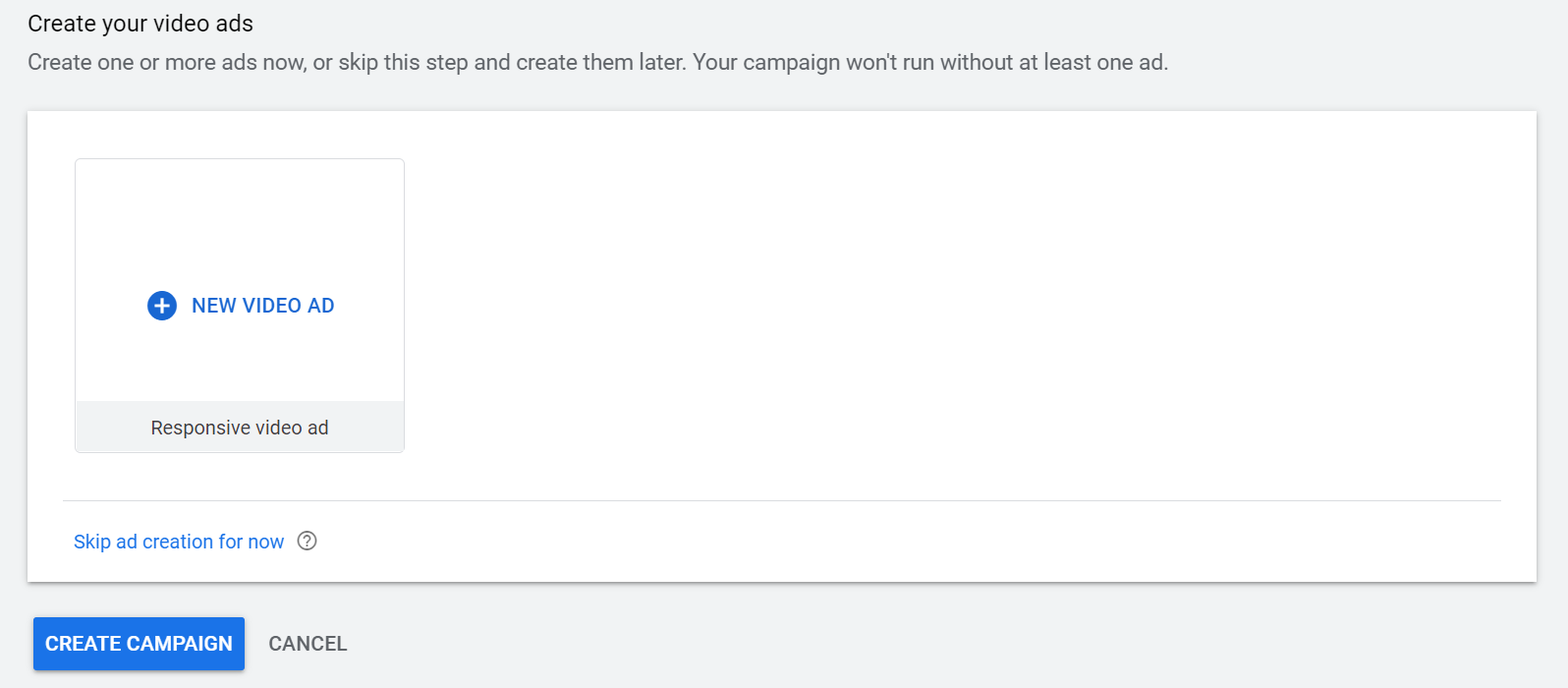 Just follow the prompts on the screen to continue your ad setup, and you'll be on your way to generating more revenue for your business.
Improve your ROAS from YouTube advertising
Our team would be happy to discuss how we can help you grow your business with YouTube.
Meet WebFX:
Your world-class, tech-enabled marketing agency with over 1.6 million hours of combined expertise.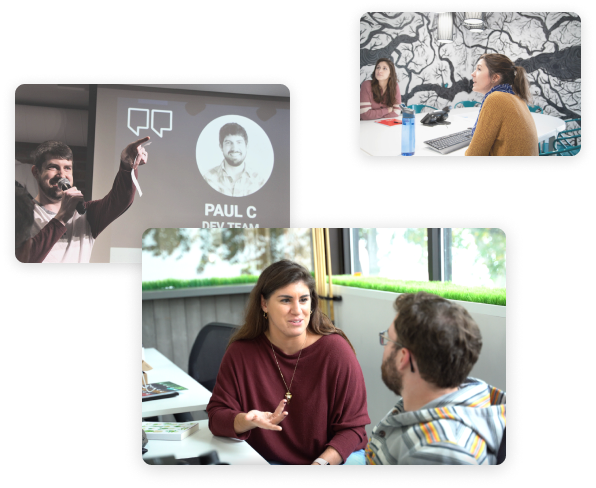 WebFX Careers
Join our mission to provide industry-leading digital marketing services to businesses around the globe - all while building your personal knowledge and growing as an individual.