Did you know that Instagram posts with at least one hashtag get 13% more engagement? Hashtags are an excellent way for you to enhance your Instagram posts and connect with your target audience.
On this page, we'll cover why you should use Instagram hashtags and provide you with over 100 Instagram hashtags you can use on your next post. Keep reading to learn more!
And if you're looking to gain more tips and tricks for Instagram and other social media platforms, subscribe to Revenue Weekly! You'll get insider information from a team of over 500 social media experts!
Why use Instagram hashtags?
Instagram hashtags are an asset to your Insta posts. Here are three reasons you'll want to use hashtags on your next Instagram post:
1. Hashtags boost engagement with your content
As I mentioned at the beginning, posts that use a hashtag see a boost in engagement. Hashtags are a great way to build Instagram engagement because they can serve as conversation starters and get people commenting on your posts or asking questions.
For example, if you post a picture of your spilled coffee at the office and use the tag #mondaymood, people will find the humor and relatability in it. They may comment and say, "I feel that" or "I couldn't agree more."
Hashtags help you create engagement on your posts and start conversations with your audience.
2. Hashtags help people discover your content
One key reason you'll want to use hashtags for Instagram is that they help people discover your content. If you use hashtags on your posts, they'll appear in the feed for that hashtag.
If you search #mondaymood, you can see content related to the hashtag.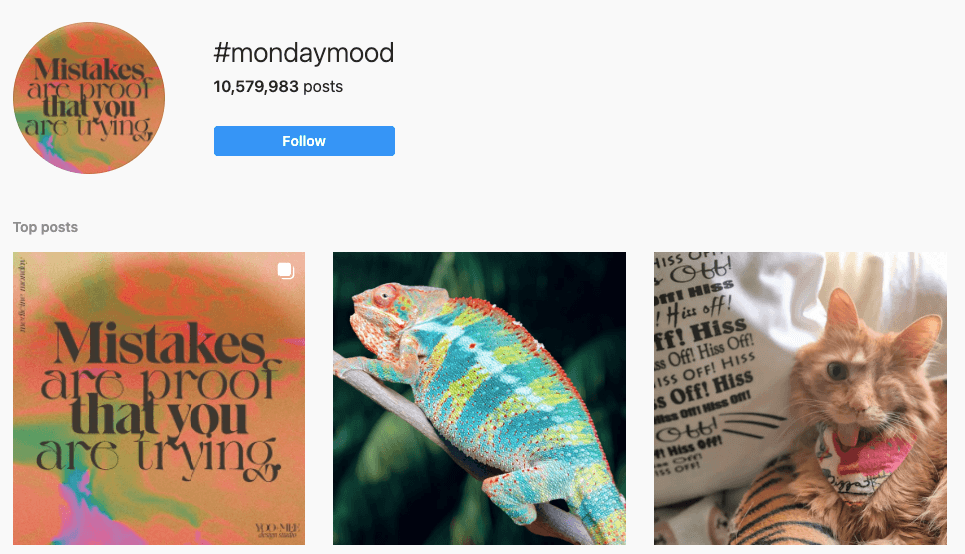 Overall, using hashtags is an excellent way for you to help your content get discovered on Instagram's platform.
3. Hashtags add context to your content
Have you ever spent a lot of time coming up with a witty caption, only to realize that people might not know what's in your photo? Hashtags can help with that problem.
You can still use a witty caption but follow it up by integrating hashtags that provide context to your photo. It's an excellent way to create a better experience for your audience.
Best Instagram hashtags: 107 Instagram hashtags you'll want to use
Ready to check out some of the best Instagram hashtags? Here's a breakdown of the different types of hashtags we'll cover:
Let's dive in!
Top 5 hashtags for Instagram
Some more popular Instagram hashtags get a lot of attention from users on the platform. Here are the top five Instagram hashtags that appear in the most content:
1. #love
People used this hashtag in over 2.1 billion posts.
2. #instagood
People used this hashtag in over 1.5 billion posts.
3. #fashion
People used this hashtag in over 1 billion posts
4. #photooftheday
People used this hashtag in over 1 billion posts.
5. #art
People used this hashtag in over 916 million posts.
Hashtags for days of the week
Many people post content on specific days to boost engagement with their content. Here's a list of trending Instagram hashtags you can use on your posts:
6. #MondayMood
People who use this hashtag generally highlight something that happened to them that is not so great. Something like a spilled coffee, a flat tire, or a sleeping dog can all be considered "moods" for a Monday.
7. #TransformationTuesday
This popular Instagram hashtag shows how things have changed with a person, place, or thing. You can use this hashtag to show a transformation within your workplace or with one of your staff members.
8. #WisdomWednesday
One of the trending Instagram hashtags posters like to use is #WisdomWednesday. You can use this hashtag on your post if you decide to share some helpful advice with your followers.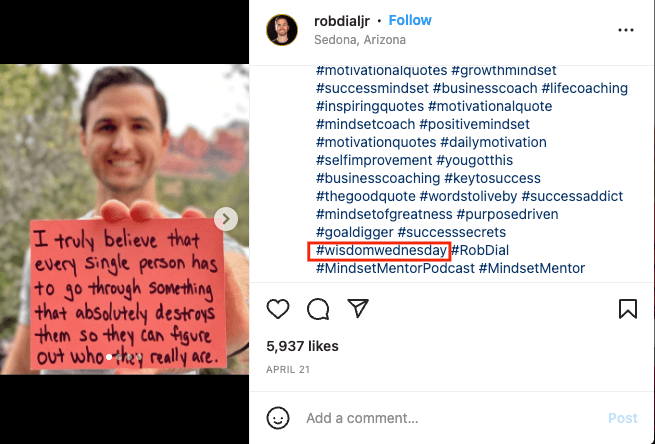 9. #HumpDay
With over 14 million posts using #HumpDay, it's a popular Instagram hashtag. You can use this hashtag on any of your Wednesday posts, as it serves as a signal of getting over the hump of the week (Wednesday).
10. #ThrowbackThursday or #tbt
One of the top Instagram hashtags you'll see on the platform is #throwbackthursday or #tbt. Many people use this hashtag to post a picture from the past and share it as a throwback.
11. #FlashbackFriday
This hashtag is like #tbt. People use this hashtag to post pictures from the past as a flashback.
12. #FridayFeeling
Friday is a great day for many people because it signifies the weekend is coming. If you post exciting content on a Friday, you can use #FridayFeeling on your post.
13. #SmallBusinessSaturday
One of the top Instagram hashtags for businesses is #SmallBusinessSaturday. This hashtag is a great way to invite people to support and visit your business.
14. #SundayFunday
With over 59 million posts using the #SundayFunday tag, it's one of the trending hashtags to use on the last day of the week. If your employees are out doing something fun, like a company retreat, you can use the hashtag to show them what you're up to doing.
Best Instagram hashtags for holidays
Want to post something festive for the holidays? There are popular Instagram hashtags you can use to accompany your content.
Here are some popular holiday and yearly event hashtags, broken down by month:
January
#NewYearsDay
#NewYears
#MLKDay
February
#Groundhogday
#SuperBowlSunday
#ValentinesDay
#PresidentsDay
March
#MardiGras
#FatTuesday
#AshWednesday
#InternationalWomensDay or #IWD
#StPatricksDay
#StPattysDay
April
#AprilFoolsDay
#Ramadan
#PalmSunday
#GoodFriday
#Passover
#HappyEaster
#EasterSunday
#EarthDay
#ArborDay
May
#NationalTeachersDay
#StarWarsDay
#MayThe4thBeWithYou
#CincoDeMayo
#MothersDay
#MemorialDay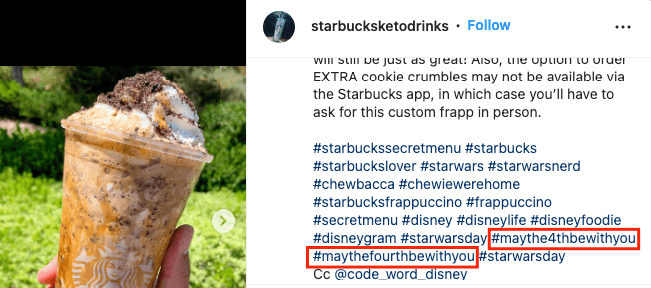 June
#DDay
#FlagDay
#FathersDay
#Juneteenth
July
#IndepdenceDay
#FourthofJuly
#4thofJuly
#HappyFourth
August
#BacktoSchool
September
#LaborDay
#911RemembranceDay
#Sept11
#GrandparentsDay
#NativeAmericanDay
#RoshHashanah
October
#YomKippur
#ColumbusDay
#IndigenousPeopleDay
#BossDay
#Halloween
#Spookyseason or #Spookyszn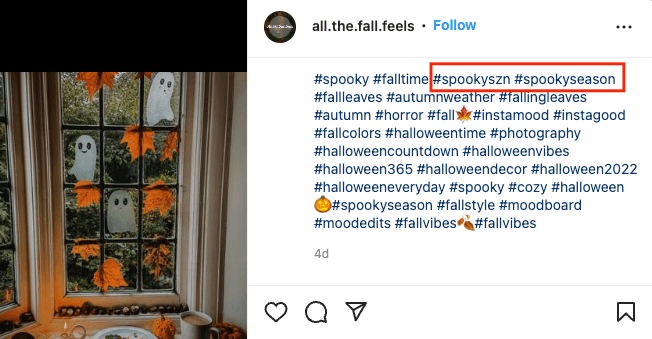 November
#ElectionDay
#VeteransDay
#ThanksgivingDay
#GiveThanks
#BlackFriday
#CyberMonday
December
#PearlHarborDay
#Chanukah
#Hannukah
#MerryChristmas
#MerryXmas
#HappyKwanzaa
#Kwanzaa
#NYE
#NewYearsEve
Best Instagram hashtags for fun
Want some of the best Instagram hashtags for when you post fun or humorous content? Here are some of the most popular Instagram hashtags for those types of posts:
#fun
#funny
#funnyvideos
#funtimes
#haha
#lol
#memes
#meme
#joke
#jokeoftheday
#jokesfordays
#cool
#coolstuff
Best Instagram hashtags for being trendy
It's essential to keep tabs on popular Instagram hashtags to ensure you're using relevant and trendy hashtags for your business. Here are some top Instagram hashtags trending on the platform:
#IYKYK (If you know, you know)
#AMA (Ask me anything)
#FTW (For the win)
#ICYMI (In case you missed it)
#NGL (Not gonna lie)
#TFW (That feeling when)
#BTS (Behind the scenes)
#FF (Follower Friday)
#FOMO (Fear of missing out)
#HIFW (How I feel when)
102 #IRL (In real life
#MFW (My face when)
#TGIF (Thank God it's Friday)
#fire (When something is awesome)
#lit (Another way of saying something is awesome)
#yass (An enthusiastic way of saying you love something)
Need help finding the right Instagram hashtags for your posts?
In this blog post, I barely scratched the surface of the plethora of top Instagram hashtags you can use on the platform. There are thousands of trending Instagram hashtags for every industry, every type of post, and more.
If you're feeling overwhelmed trying to figure out how to use hashtags properly on your Instagram posts, WebFX can help.
We have a team of over 500 social media experts that knows how to create Instagram content that resonates with your audience to boost engagement. Our 1.6 million hours of expertise are evidence of the skill we bring to your campaigns.
Ready to create Instagram posts that drive more engagement and revenue? Contact us online or call us today at 888-601-5359 to speak with a strategist about our Instagram services!
WebFX Careers
Join our mission to provide industry-leading digital marketing services to businesses around the globe - all while building your personal knowledge and growing as an individual.