With over 18 million events planned every year in the U.S., the industry outlook for event planners is healthy to say the least. In order to thrive as an event planner, it's crucial that you connect with current and potential clients in every way possible — and social media is one of the best ways out there.
Social media marketing is so beneficial for event planners because it allows you to engage with your current clients by posting images of their events and engage with future potential clients by posting beneficial information.
On this page, we'll highlight a few of the top social media platforms for event planners.
If you'd like to speak with a social media specialist before reading on, feel free to give us a call at 888-601-5359 or contact us online!
Why is social media marketing a great strategy for event planners?
Wondering if social media marketing is a wise investment for your event planning business? Take a look at these benefits of social media for event planners.
1. Social media profiles are free
Social media is one of the best ways to build brand awareness for your event planning business — and the best part is, social profiles are free. You can expand the reach of your event planning business by simply creating a profile and creating posts that interest your followers.
2. Social platforms have a huge audience
Another advantage of social media is you can reach users all over the world. Facebook, for example, is home to over 2 billion users, and Instagram has a healthy following of over 1 billion users. Though you won't reach every user on each platform with your posts, you can reach a huge audience due to the popularity of the platforms.
3. You can easily share posts
The beauty of social media is that your posts don't only live on your pages. Your friends and followers have the ability to share your posts, which makes them available to an exponential number of users. With some social platforms like Instagram and Facebook, followers can see what their friends like — and if they like your posts, users that don't even follow you will be exposed to your content.
Not happy with your social media engagement?
We've got just the blog post for you.
Read the Blog Post & Watch the Video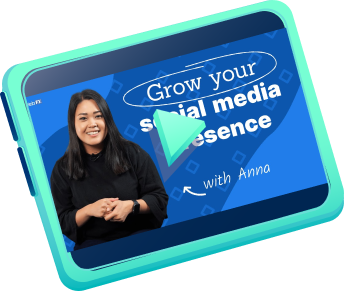 Hear What It's Like to Work With WebFX!

"We have been thrilled with the service we get from WebFx and will be continuing to use them in the future. I highly recommend them to any business owner (unless you are our competition)."
Lighting Consulting Company
So what social platforms are best for event planners?
When it comes to choosing the best social media platforms for your business, a few stands out for event planners. Facebook, Instagram, and LinkedIn offer numerous benefits for event planners, and here's why:
Facebook
Facebook, as mentioned, has one of the biggest followings of all social platforms. This also makes it one of the best platforms to market your event planning business.
On Facebook, you can share a variety of posts, including:
Text-based posts: Posting content is one of the best ways to interact with your followers. It allows you to share one sentence or a few paragraphs — depending on the purpose of your post. Content posts allow you to inform your audience about what's new with your company, new service offerings, or when you'll be closed for the holidays.
Posts with a link to your website: You can also include links to your website in your Facebook posts. This is a really effective way to get your followers to visit your website, which is the next step to becoming a paying client. When users make it to your website, they'll likely check out the content that the link sent them to, and then explore your website to learn more. Sharing posts with links to your site encourages followers to learn more about your services and take the next step with your event planning business.
Multimedia posts: As an event planner, it's important to showcase your work. Nobody wants to work with a company that doesn't have any samples of their work, so in order to gain clients, it's important to show off the events you planned. You can do so with images, videos, or even share beneficial information with an infographic or micrographic.
Facebook is also a great place to interact with clients directly via the messenger feature. Though it shouldn't be your sole means of contact with your clients, it is useful for when potential clients have a question about your services, a post they saw, or previous work that you've done.
When it comes to customer service, it's important that you reply as soon as possible to messages so that users know you're reliable. You should also reply to comments that you receive on your posts ASAP as well.
Instagram
An image-heavy social media platform, Instagram is an ideal channel for event planners because it allows you to show off the work you've done. Followers will see what you post in their feed and can like it, comment on it, or even repost it to their own timeline.
You can provide captions with your images to tell users about your latest project, your new employee, or the luxurious meal you had catered at the last wedding you planned.
Here are a few Instagram post ideas:
Before and after photos: Instagram allows you to post more than one photo in a single post, which lends itself well to creating before and after posts of events that you've planned. You can post photos of a ballroom before your decorators got started and after they finished, to show off what kinds of designs you can make a reality.
Client reactions: A fun post idea is to snap a photo when you reveal a space or event to your client. These photos speak volumes because they show off client satisfaction first hand. They act as live testimonials to your work!
Photos of your team: It's a great idea to post either individual posts of team members or a group photo so that clients know exactly who they're working with. It's also a fun opportunity to introduce members of your team to your followers.
In addition to posts, Instagram also has a story feature which allows you to post content that lasts 24 hours. In those 24 hours, followers can watch your story as many times as they want, but after a day, the contents of your story will disappear.
Stories provide a great opportunity to post videos of events, or even go live — which allows you to broadcast an event in real time.
LinkedIn
LinkedIn is extremely similar to Facebook, but it's typically used on a more professional level. You likely won't find the latest meme on LinkedIn, but you will find information about businesses and even job opportunities.
The platform works well for event planners because its audience is full of people who may need your services — business professionals looking for someone to plan their next company event or even a young professional looking for a wedding planner.
Though LinkedIn isn't the first place people usually look to find an event planner, having a presence on the platform allows you to expand your brand awareness among other professionals — which is never a bad thing.
Here are some LinkedIn post ideas for event planners:
Share industry information: LinkedIn is a great place to connect with other event planners and share information. For example, if you have a connection with a famous event planner in NYC that shares beneficial information about how to plan events, how to choose an event planner, or what kinds of events are the most popular, you can share that information on your page. Sharing beneficial information will help you emerge as an industry leader.
Post photos of events you've planned: LinkedIn is another great platform to post pictures of your work in order to show people your results rather than talk about them. You can post photos, videos, or even infographics to your timeline.
Include links to your website: Just like Facebook, LinkedIn is another ideal place to guide followers to your website. Post links to your latest blog post, or even one of your services pages, to get interested potential clients to your website.
LinkedIn also has a direct message feature, which allows you to connect with potential clients instantly. As always, you should try to respond to messages in a timely fashion.
Time to Level Up Your Sales
Our long list of services helps you grow every aspect of your business with marketing strategies that are proven to increase bottom-line metrics like revenue and conversions.
In the past 5 years, we've managed more than 12.9 MILLION transactions across our client base.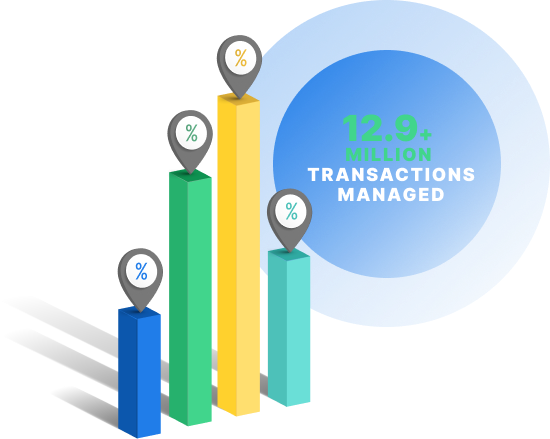 Are you interested in a social media campaign?
If your event planning business needs a social media presence, WebFX can help. Not only do we provide campaigns for the platforms mentioned, but we can also create an effective campaign for platforms including Snapchat, Twitter, and Pinterest.
At WebFX, we don't believe in cookie-cutter campaigns because we know that your event planning business is the only one of its kind. We personalize our social media campaigns to meet our clients' needs and goals.
When you work with us for planning your social media campaign (and managing it), you'll receive a dedicated account professional that will work with you to create the perfect strategy to gain leads and new clients with social media.
In addition to social media marketing, WebFX also offers strategies like SEO, PPC, email marketing, content marketing, and even web design.
For all of your Internet marketing needs, contact WebFX today!
Feel free to contact us online, or give us a call at 888-601-5359!
Earn a 20% greater ROI with WebFX