Sniply – Magic Content Converting Link Shortener
For as long as content marketing and social media marketing have worked together, there has always been a slight hesitation when sharing content you didn't create. You may wonder, "how is this helping me?" Though it is best practice to share and share alike, it is often difficult to see the effectiveness of sharing content from sources other than from your own domain. Valuable visitors going anywhere but your website can often seem counterintuitive.
Fortunately, the folks at Sniply, July's tool of the month, made it their goal to bring the traffic you've been sending out into the depths of the Internet back to your own site. Update: Sniply increased it's awesomeness this past week by giving our readers a very generous offer. Use the coupon code "sniplyfan" and you will get a 20% discount on any plan for a lifetime!
More details below.

Sniply, a simple URL shortener, packs a secret weapon for curating content. Not only does Snip.ly shorten a long URL for easy social sharing, it also adds a subtle, yet convincing, call to action on every page you share, driving traffic back to any landing page you desire. Ever wish you could put a link anywhere you wanted?
Now you can! Take a look at our snip on the front page of Mashable.
Click the sniply link to see it in action: snip.ly/Quk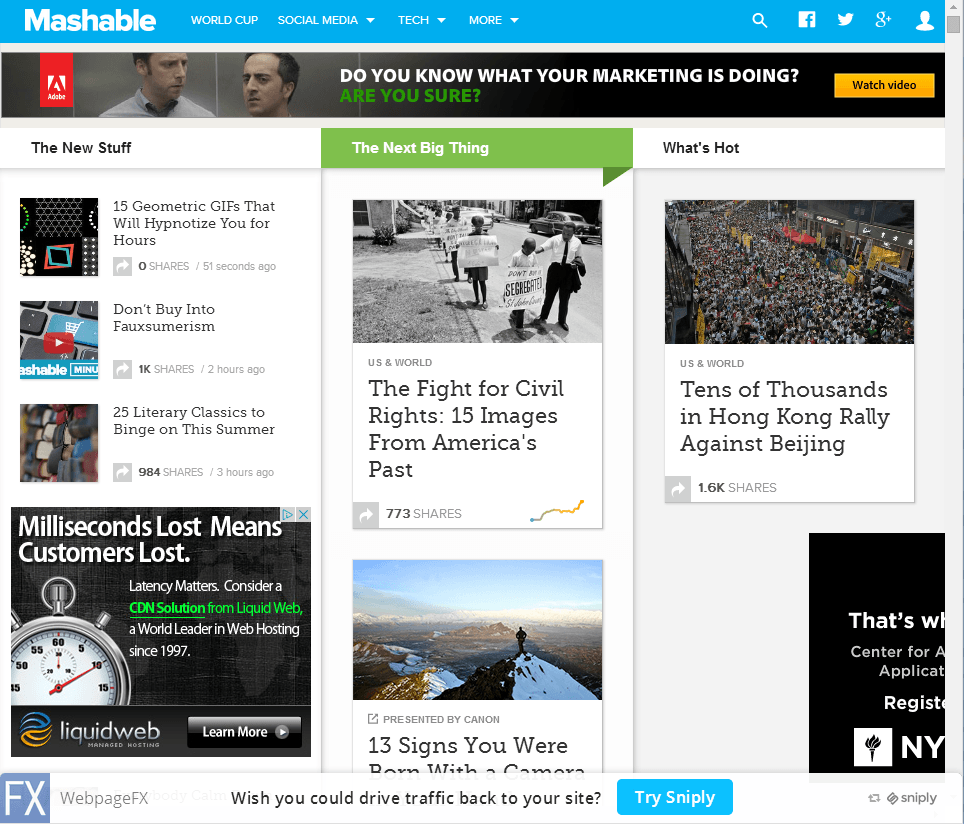 FYI: Full functionality of this tool is completely free, so keep on reading!
How Sniply Works
Within your Sniply dashboard, you can create different snips to be added to the bottom of any website you'd like. Choose a message, button text, and a desired landing page to see a quick preview of what the final result will look like. Sniply then will take that information and turn it into a traffic-driving piece of content for you to share with others via a new shortened link.
For those of you who really want to know what happens: Sniply turns the chosen page URL into an iframe in the background. The end result is actually just the snip at the bottom with an iframe behind it. Simple, right?
But that's not all, folks!
There were a few goodies hidden further up Sniply's sleeve that honestly surprised us at WebFX.
Analytics Tracking
Sniply provides a handy dashboard in which detailed analytics can be seen for each of your snips.
You can view link clicks, engagements within the snips, and overall conversion rates for any of your snips individually or overall.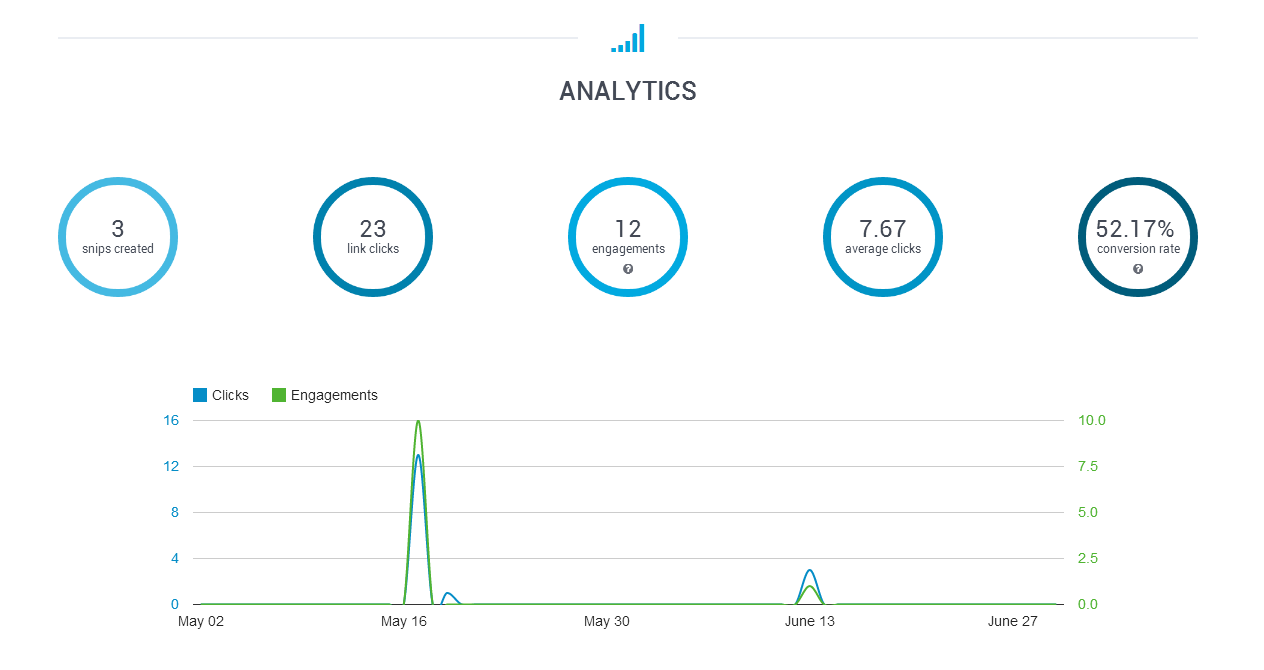 But this isn't the only way to view valuable analytics from your snips. Sniply automatically attaches Google's own UTM values to the landing page URL for each snip.
This allows users to see Sniply as a refferal for traffic straight from your site's Google Analytics dashboard. Seeing the complete value of each snip will help you tailor your campaigns to the content that you are sharing with your audience.
Chrome Extension
"What would make it easier for me to use Sniply? Maybe if I could snip anything I want with the click of a button?" With Sniply's Chrome extension or bookmarklet, you can easily create your own snips on the fly with just two clicks!
Quick and efficient use of this tool only makes me want to use it more. Would you believe me if I said it gets even easier than this? It does.
Buffer/Hootsuite Integration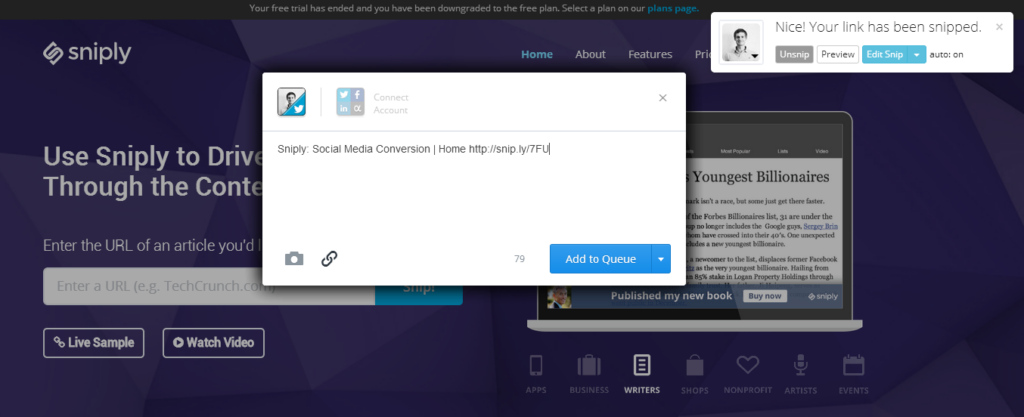 When you use the Chrome extension, it works seamlessly with Buffer and Hootsuite.
Find a link you'd like to throw in your Buffer queue? You can actually use Buffer's Chrome extension to turn the URL into a sniply link. Sniply will automatically turn the buffered URL into a Sniply link all within the buffer popup box.
Just like magic! An additional pop up appears just to the right with more details about what you can then do with the snip. If you didn't exactly want that to happen, you can unsnip it or just edit the snip itself.
To make it even easier, user's favorited snips are automatically added to each Buffered article. Prior to going on a Buffer sharing spree, favoriting the appropriate snip for your shared articles allows the seamless process to stay seamless.
Paid Sniply Options
With every great online tool, there seems to always be paid options. However, you can expect Sniply's paid options to be just as awesome.
Features you may soon realize you need include additional snip positioning, custom colors, and use of your own shortlink domain name.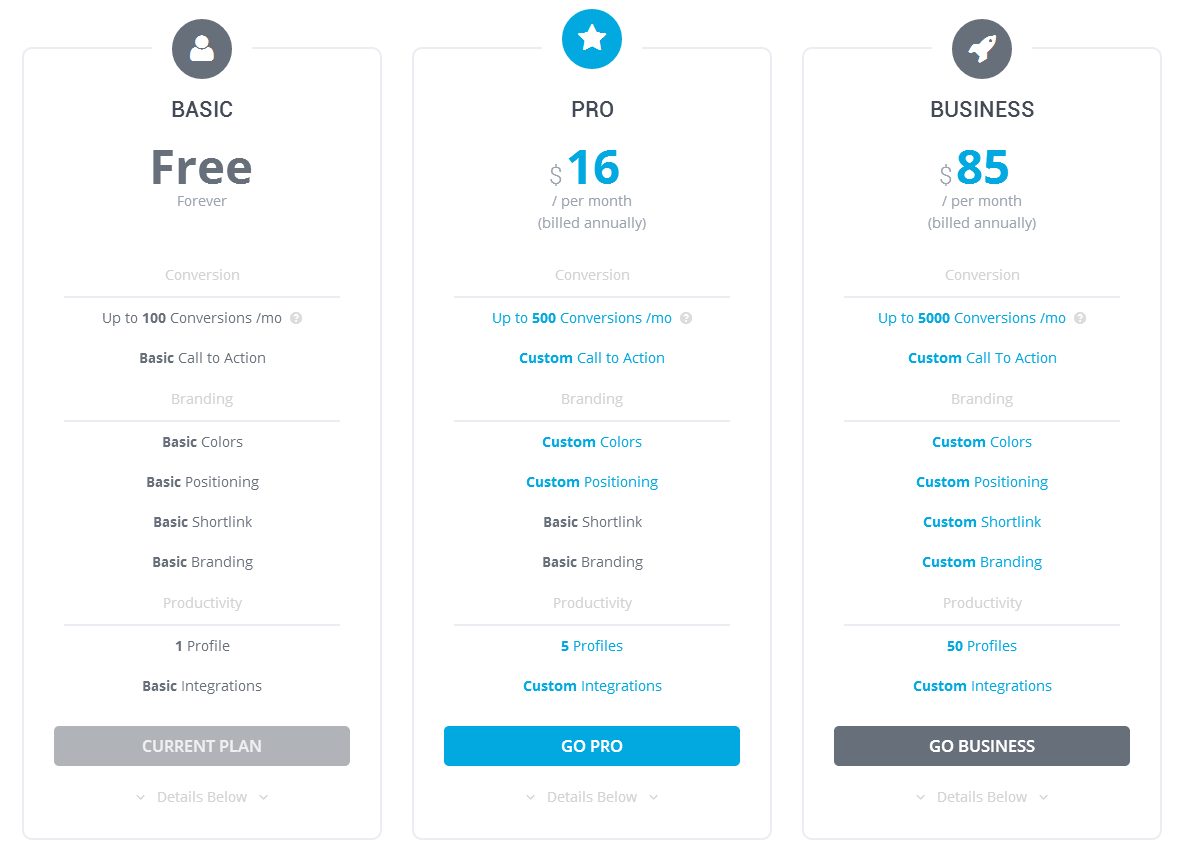 One of the greatest features is in the additional calls to action. This includes the adding of images and even forms to your snips.
Want to put an email-collecting form on someone else's website? Go for it with the Pro plan. Pro and Business plans also get you additional profiles to use with your snips.
If you manage several different brands and accounts, this would greatly increase productivity for your curating efforts.
Enter the coupon code "sniplyfan" for a 20% discount!

As a reward for being great fans of the tool, Sniply gave us a coupon code to hand out to our readers! And a very generous coupon at that! Enter the text "sniplyfan" underneath the pricing options on their pricing page and prices will automatically be slashed.
This coupon code is applicable to any plan you want and it lasts for a lifetime! Get them while they're hot!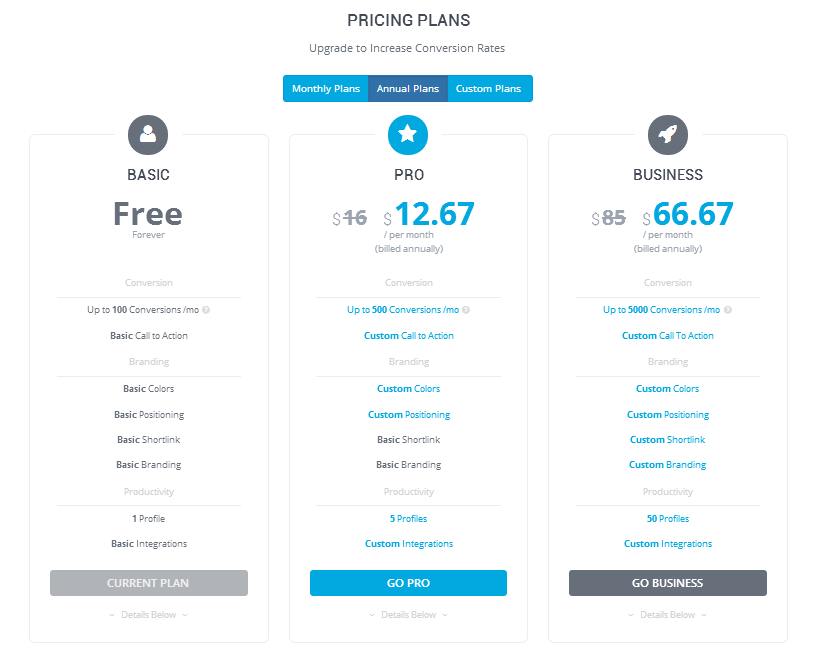 A Game Changer
Sniply is changing the way businesses share content.
Actually… it's flipping it right on its head. Besides benefiting from social media growth, businesses may not have been able to see value from sharing content. It doesn't always make sense to business owners.
Using other people's content to drive traffic and grow your own business might not be the easiest concept to grasp. Now with Sniply, it makes perfect sense. Why wouldn't you?
Try it now. If you have a tool suggestion or something you'd like us to check out, reach out to us on Twitter @WebFX and we will give it a look!
WebFX is a full-service marketing agency with 1000+ client reviews and a 4.9-star rating on Clutch! Find out how our expert team and revenue-accelerating tech can drive results for you! Learn more
Try our free Marketing Calculator
Craft a tailored online marketing strategy! Utilize our free Internet marketing calculator for a custom plan based on your location, reach, timeframe, and budget.
Plan Your Marketing Budget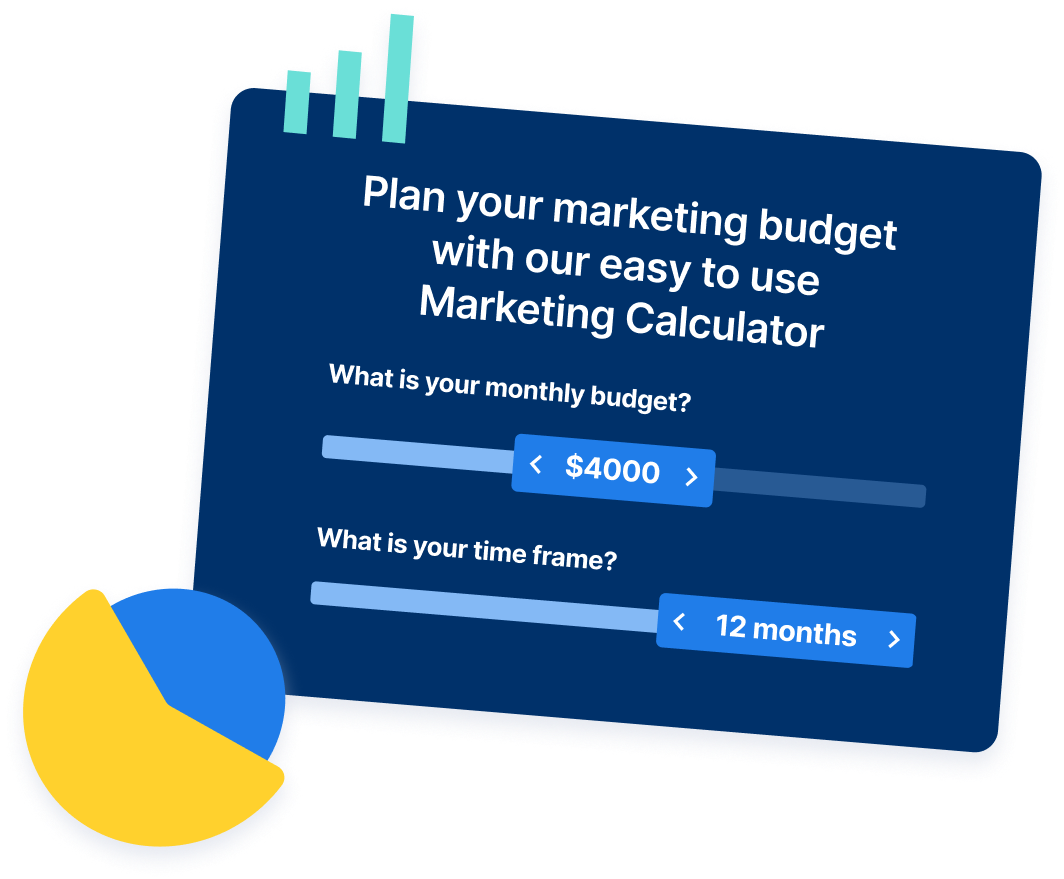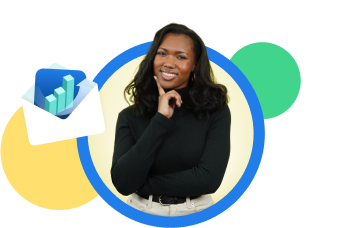 Looking for More?
Get expert ideas, industry updates, case studies, and more straight to your inbox to help you level up and get ahead.
"*" indicates required fields
Try our free Marketing Calculator
Craft a tailored online marketing strategy! Utilize our free Internet marketing calculator for a custom plan based on your location, reach, timeframe, and budget.
Plan Your Marketing Budget