Social Media and SEO: Can Social Media Improve Your SEO Rankings?
When you launch a search engine optimization (SEO) campaign, you're always looking for ways to improve it. As you look for solutions, you may wonder if social media can improve your site's rankings.
On this page, we'll discuss how social media affects SEO and seven tips to help you use social media to boost your SEO rankings. If you want to learn more about how social media influences SEO, call us today at 888-601-5359. to speak with a strategist.
Let's get started!
Whether you're looking for social media services in Columbus or social media services in Charlotte, NC, WebFX is here for you.
How does social media influence SEO?
Marketers have long debated whether social media directly impacts or improves SEO. In 2014, Matt Cutts created a YouTube video answering the question. He stated that social signals, such as liking, retweeting, or gaining followers, do not influence your SEO rankings.
You can learn more about the reasons for this in Cutts' video. In essence, social signals like followers, retweets, and likes can be easily manipulated and influenced, which would lead to less valuable sites getting a higher ranking. In addition, the rapid production of posts and changes to profiles on social media are too quick for Google to keep up with them.
So, what is social media's role with SEO?
While social media can't directly influence SEO rankings, it can impact factors that affect your rankings. Social media is capable of driving traffic to your site. If you share links to your page on your social media profiles, you can drive more traffic to your page.
Social media helps with content too. Content creation is one of the most valuable ways to increase your SEO rankings.
When you create content, you provide your audience with valuable information. It comes in the form of blogs, ebooks, videos, and infographics. Content marketing involves sharing valuable knowledge with your audience that they are seeking.
Once leads find your content, they'll spend time reading it. More time spent on your page sends a signal to Google that your page is valuable. It will rank your page higher to help more leads find your valuable information.
Many people will find your content organically, but you can use social media to help more people discover your content. Social media enables you to share valuable content with your followers. You know your followers are interested in your business, so your relevant content will help get them engaged with your content.
It also creates the opportunity for you to spread content further. Your followers can share your content with others and create the opportunity for new leads to see your content. This creates more brand exposure and drives more leads to your page.
An increase in traffic on your site means that more people are reading your content, which will improve your SEO rankings. Social media is the key to helping you increase both.
What are the best social sites for SEO?
There are many social sites to choose from, but which ones will help you with SEO? Here are the top three social sites that work best.
1. Facebook
Facebook is one of the best sites for sharing content. This social site makes it easy to post and share content with your followers. Facebook allows you to share links to blogs, videos, and infographics.
Best of all, Google can crawl links on Facebook. This means that if you link to content on Facebook, Google will investigate and index it. It's especially helpful if the link is shared on multiple pages.
This social site allows you to share content directly with your followers. You can post a new piece of content each day. It's a great way to drive social media traffic to your website.
2. Twitter
Twitter is a great social media site for sharing content. You can share photos, videos, and content links with your followers.
While Twitter's pages can't be crawled like Facebook, it does offer another unique feature. The use of hashtags is prevalent on Twitter. While you can use them on Facebook, they are predominantly used on Twitter and Instagram.
Hashtags are keywords for your content. If people are searching using those keywords, they'll come across your hashtag and find your content. It's a great way to help more people discover your brand and visit your site.
3. YouTube
YouTube's popularity has climbed substantially in recent years. Video content is increasingly more valuable to your audience. Your audience wants to watch videos to obtain information that is valuable to them.
Videos are a great tool to boost organic traffic. By adding videos to your site, you keep leads engaged longer. Longer engagement sends a positive signal to Google, and it ranks your site higher to reach more valuable leads.
7 tips for using social media to boost SEO
Social media can help you drive more traffic to your website. You can get more leads engaging with your content, which will help improve your SEO rankings. Here are seven tips to help you use social media and SEO together.
1. Share content
If you want to use social media to boost your SEO, you need to share content on your social channels. Content is the best way to drive leads to your site.
When you create content, focus on quality over quantity. Your content needs to have value to your audience, or they won't be interested in it. Posting a ton of low-quality content won't get your audience engaged on your page.
Your content should be fresh and original. It will help you keep your audience coming back to your social media page. If you're constantly posting the same kind of content, your audience will get bored.
Social media is one of the best places to share content. When you share your content with others, it opens the door to earning backlinks for your site. Backlinks are links to your page from other authority pages.
You want to earn backlinks for your page because they boost your SEO. It increases your authority and trustworthiness. Credible backlinks will boost your rankings in the search results and allow you to reach more leads.
Sharing your content on social media presents the opportunity to earn valuable backlinks. If you're posting content about your industry, other industry experts may be following your social profiles and see your content. If they like what they see, they may use it in their own content.
Social media is great for encouraging more external sites to link to your content. If you want to improve your SEO rankings, share content on your social media sites.
2. Grow your followers
If you want to help your SEO campaign, start by improving your social media presence. A great way to help your social media profiles is to grow your followers. If you have more followers on your social pages, you create the opportunity for more people to see your content.
It's important that you obtain new followers organically. You can buy followers, but Google will know that your followers aren't quality leads. If those "leads" visit your page, it won't help improve your SEO rankings.
To help you gain more valuable followers, take the time to consistently present your brand to your audience. You'll want to post interesting information for your followers and get them engaged. When your content is interesting, your audience is more likely to share on their own profile, which allows more people to find your content.
3. Engage with your audience
Social media is one of the few places you have a direct connection with your audience. It's essential that you engage with your audience to build a good reputation for your business.
If you engage with your audience, you'll create a personal connection with them. They'll feel more connected to your business.
When you build a positive reputation with your audience, you have a better chance of your followers spreading positive information about your business to others. They will also be more willing to share your content!
4. Learn what your audience wants
As you post content on social media, focus on your audience. See how they respond to your content. Are they engaging with your content or ignoring it?
Your audience's behavior tells you the type of content you should produce. You may find that some content isn't engaging for your audience, but others garner tons of engagement. It's important to monitor your audience's behavior to see which content drives interest.
When you know what type of content boosts engagement, you can create more content like it. This will help you focus on content that will increase engagement and social shares.
5. Increase engagement from your audience
While Google doesn't take social media behaviors into account for SEO, you can increase engagement on your pages to get more people to interact with your content. When you post content to your social media sites, focus on getting your audience engaged.
Engagement includes things like shares, likes, favorites, retweets, and replies. All of these actions are indications that your audience is seeing your content and interacting with it. So, how do you create content that increases engagement?
Many businesses use incentives to get people to interact with their content. They will reward their followers for sharing a post or tagging a friend in the post. It's a great way to earn new followers for your social media page.
You can also create interactive posts to boost engagement. Ask questions, create a poll, or ask your audience to tag a friend. It's a great way to increase engagement on your posts.
6. Build brand awareness
Brand awareness is essential for earning conversions down the line. When leads are familiar with your brand, they're more likely to choose your business over the competition. Social media marketing is a great opportunity to build brand recognition.
When you post on social media, you put your brand in front of your audience. It's more beneficial for your business if you frequently post so that your audience is continually exposed to your brand. Keep your posts consistent by implementing your business's unique style.
By exposing your brand to your audience, they are more likely to make branded searches. For instance, instead of searching "air fresheners," someone may search "Glade air fresheners" because they were exposed to posts from the brand on social media.
So, how does this affect SEO?
When people make branded searches, it helps your site rank better for non-brand keywords. In this case, Glade would rank better for the keyword "air fresheners" because people are searching their brand name with that keyword.
By building your brand through social media platforms, you'll increase your business's visibility on search engines.
7. Use hashtags
Hashtags are huge elements of social media. They help drive interested traffic to your social media pages. By using hashtags on your social media posts, you'll drive in leads that are interested in your content.
The number of hashtags you can use will depend upon the social platform. If you use Twitter to post your content, you may only be able to post a few hashtags due to the 280-character limit.
Hashtags are like keywords for social media. When users search for information on a topic, they'll search for hashtags to find posts regarding that topic. By integrating hashtags into your posts, you'll attract more interested leads that read your content and check out your site.
When you use SEO, you utilize keywords to help your pages rank. With hashtags, it's the same concept. You use relevant hashtags to help your website appear in relevant results.
Hashtags help index your content and appear in relevant search results. If someone is searching for a particular topic, your hashtag usage can trigger your content to appear in search results.
WebFX is a partner businesses trust.
Hear from HydroWorx, who saw a 236% increase in organic sessions with WebFX services.
Watch the Video Testimonial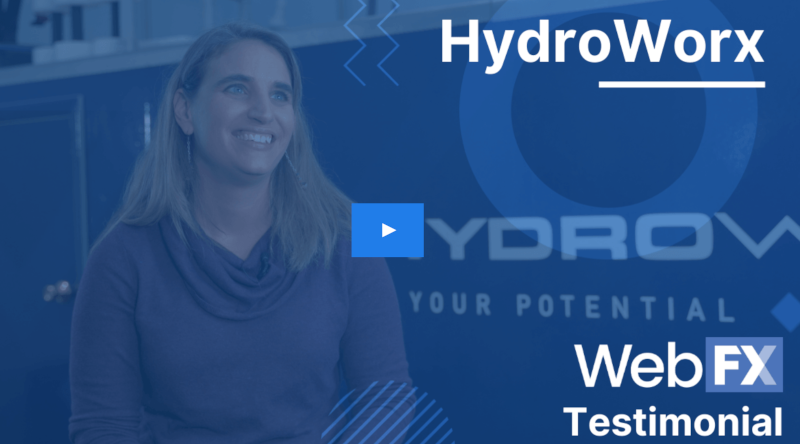 Get a social media SEO plan from WebFX
While social media doesn't directly affect your SEO rankings, it does have an impact on factors that influence your SEO rankings. By creating a social media SEO plan, you'll increase your reach and improve your SEO rankings. At WebFX, we have a team of 500+ experts that will help you create a marketing plan that drives results.
We're a full-service digital marketing company that offers social media marketing and SEO services. With more than 20 years of experience, we know how to create marketing plans that help your business grow. We'll help you create a social media SEO campaign that helps you improve your SEO rankings.
If you're looking for a company that drives results, look no further than WebFX. To date, we've driven over $3 billion in sales and over 7.8 million leads for our clients. When you partner with us, you're working with a dedicated team that strives to bring your business results first.
Our clients love the work we do for them. In fact, we have over 1020 client testimonials from a variety of industries. Check them out to see what it's like to partner with a top social media SEO company like WebFX!
Get started today with social media and SEO
If you're ready to start using social media to boost your SEO efforts, contact us online or call us today at 888-601-5359 to speak with a strategist.
We look forward to hearing from you!