14 minute read

Trevin serves as the VP of Marketing at WebFX. He has worked on over 450 marketing campaigns and has been building websites for over 25 years. His work has been featured by Search Engine Land, USA Today, Fast Company and Inc.
There's a good chance you've heard of Tumblr by now. As the fastest-growing social media platform in 2014 with 120% growth, it is quickly moving up in the ranks of how people interact with one another online. But have you considered using it as a marketing tool? Whether you've been wanting to start a Tumblr for your company or are completely unfamiliar with the platform, this guide will help you create and manage a successful account.
Keep reading to find out what exactly Tumblr is and how it can function for your brand. In this post, I'll explain how you can get familiar with the platform, and also explore what kind of content tends to do well brands that already use it as a marketing tool.
About Tumblr

At its core, Tumblr is a microblogging platform.
Microblogs differ from regular blogs in that they are made up of shorter posts – sometimes just single sentences, photos, or quotes. They do not involve the lengthy, in-depth content that is associated with regular blogs. On Tumblr, users can post text, photos, GIFs, quotes, links, music, and videos, and other users can "reblog" those posts, or repost them on their own blogs – much like the "share" feature on Facebook.
How popular is it?
According to Tumblr, the website currently has 200 million blogs publishing 80 million posts per day. It is important to note that unlike other social platforms, there are also visitors that do not have accounts. When counting both registered users and unregistered visitors, Tumblr's number of unique visitors jumps to 300 million per month.
Demographic and audience
Another thing to keep in mind is that Tumblr has the youngest audience of all social platforms, with 70% of its users between the ages of 16 and 34. This is an exciting statistic for brands attempting to reach a younger demographic, but it also means that not every business stands to benefit from creating a Tumblr account. If you are not attempting to market to young consumers, you may be better off investing your time and resources into more diverse platform like Facebook or Twitter.
This young demographic also necessitates a slightly different approach than other social platforms. You will likely have to come up with entirely different content to be successful, but the extra effort can be worth it. Tumblr is ranked #1 in social sentiment towards brands, so if you are able to find an effective way to communicate with its users, it can be a great way to build brand loyalty.
Marketing on Tumblr 101
Now that you have a general idea of Tumblr's growth and demographics, how can you start using it for your brand? These few basic steps are essential to creating a successful blog.
Get familiar with the platform
The best way to figure out how you can use Tumblr as a marketing tool is to create an account and spend some time getting to know the platform.
I've already stressed that it is different from other social media, but the easiest way to get a sense of how is simply by browsing the site as a user.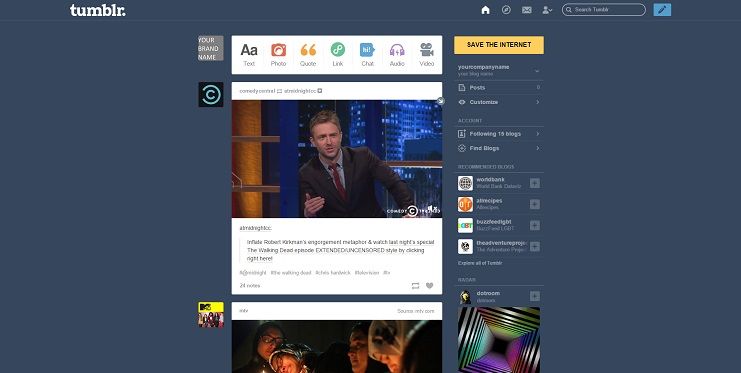 When you log in, you'll be presented with your "dashboard," or a feed of the most recent posts from all of the blogs you follow. Posts will be a mix of text, photos, quotes, links, conversations, audio clips, and videos.
You will also see posts that people you follow have "reblogged," or reposted to their own blog from other blogs. Each post has a number of "notes," which indicates how many users have liked or reblogged it since it was posted. Most posts also include tags at the bottom that identify what the post is about.
You can find blogs to follow by searching for tags that interest you in the "Search Tumblr" bar. You can also search for other brands in your industry to see which ones already have Tumblr accounts. Following a few blogs right off the bat will give you a head start on becoming a part of the Tumblr "community." Once you have a feel for how other users post and interact with one another, it will be easier to thrive on Tumblr.
You'll get a sense of the casual style that dominates the site and be able to emulate it in your own content. This does not mean that you have to adopt the loose grammar and hyperbolic tendency of many users – just that you should keep those users in mind and be able to attract and interact with them.
Decide how Tumblr will function for your brand
Given that Tumblr is different from other social platforms, it will likely serve a different purpose from your brand's other social media accounts.
Instead of driving traffic to your ecommerce site or having direct calls to action, your Tumblr's main focus could simply be raising brand awareness. Determine what exactly it is you hope to accomplish with Tumblr before spending time creating your content.
Business Content On Tumblr
The most important part of a successful Tumblr blog is original content.
While many users simply reblog popular content, this approach won't do much to help your brand. Users won't have much incentive to follow you if you aren't offering anything unique, so you need to create content that they can't find on anyone else's blogs. Creating quality content also increases the likelihood that your followers will reblog your posts.
If they do, your posts will show up on all of their followers' dashboards, greatly increasing your reach. But what kind of content should you create for your Tumblr to inspire this reaction?
What to create
Tumblr is a very visual platform, so posts that are strictly text are often ignored.
Images and GIFs are more engaging than text, and tend to get more reblogs, so focus your efforts on posting content that will grab users' attention as they are scrolling through their dashboards. Creative, off-the-wall content does well, and ideally, you should create posts that users will want to reblog regardless of the fact that they are associated with your company. One brand in particular who does a nice job creating popular content is Vans: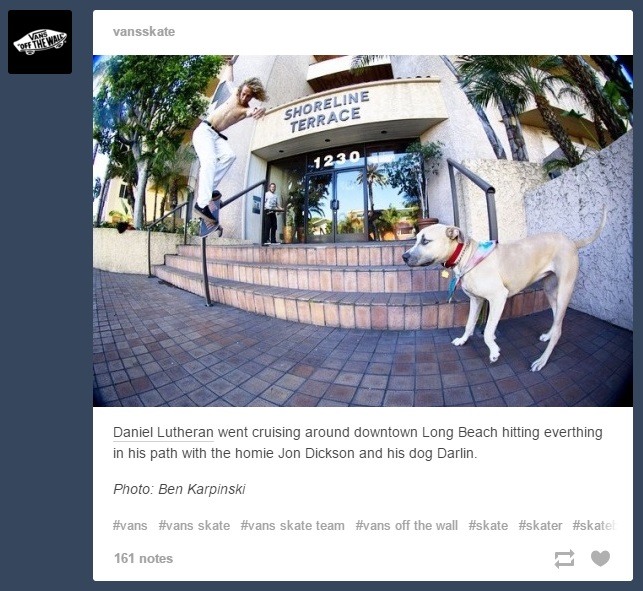 This photo of a skateboarder had 161 notes in under 10 minutes, and probably would've performed similarly well even if it hadn't been posted by the popular skateboarding company.
With that in mind, try to make quality photos and graphics a regular part of your blog. If you are struggling to come up with ideas, think about what could be visually appealing about your brand. Do you have any eyecatching products?
Can you take "behind-the-scenes" photos of your employees? Do you have a cool, new office to show off? Anything that is fun to look at is perfect for Tumblr.
Urban Outfitters often posts photos that do not even feature their products, but are reblogged by many users who want the images on their blogs. This might seem counterintuitive to someone who is trying to market their business, but think back to the function you decided to give your blog. If you are trying to create a brand identity, you don't have to explicitly promote your products.
This strategy works on Tumblr, because no matter whose blogs the images end up on, your brand name will stay at the top of the post.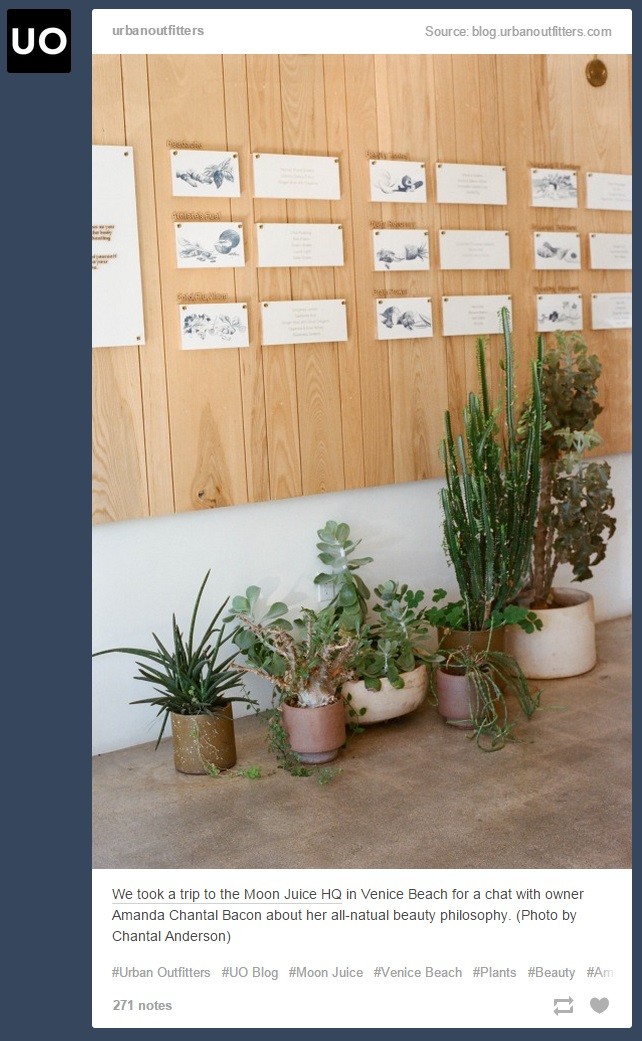 In addition to photos, GIFs are extremely popular on Tumblr. If you have the time, it could be worth making a few and seeing how they perform.
If you are new to creating GIFs, this a good tutorial using Photoshop.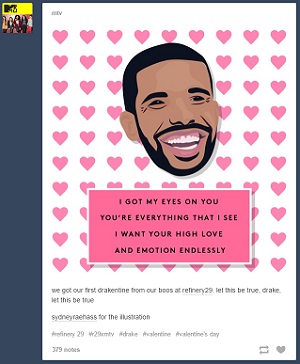 Tumblr users also tend to respond well to humor. Don't attempt to put a funny spin on everything you post, especially if it doesn't match your brand's identity, but if you think of a good joke that relates to your company or a humorous caption for a photo, there's a chance that it will be well-received by your followers.
MTV uses this technique often, and makes light of pop culture references on a daily basis. A humorous approach isn't right for every brand, but for a television channel that broadcasts teen dramas and reality shows, celebrity jokes are ideal for their demographic.
Tagging your posts
Once you've created content and are ready to publish it to Tumblr, it is very important that you use appropriate tags on your posts.
These tags are how users search Tumblr, and will help users besides your followers see your content. When used correctly, tags can be a great way to extend your reach. However, make sure that the tags you use are relevant.
Don't just add a bunch of popular tags in the hopes that more users will see your post.
Tumblr sponsorship
If you are serious about investing time in creating quality content for your Tumblr, you might also want to invest money in promoting your blog and posts. Similar to sponsored posts on Facebook and promoted tweets on Twitter, Tumblr offers businesses the opportunity to pay to have their posts show up in users' dashboards other than their followers.
These posts look just like organic posts, except that "sponsored" appears next to the username of the poster.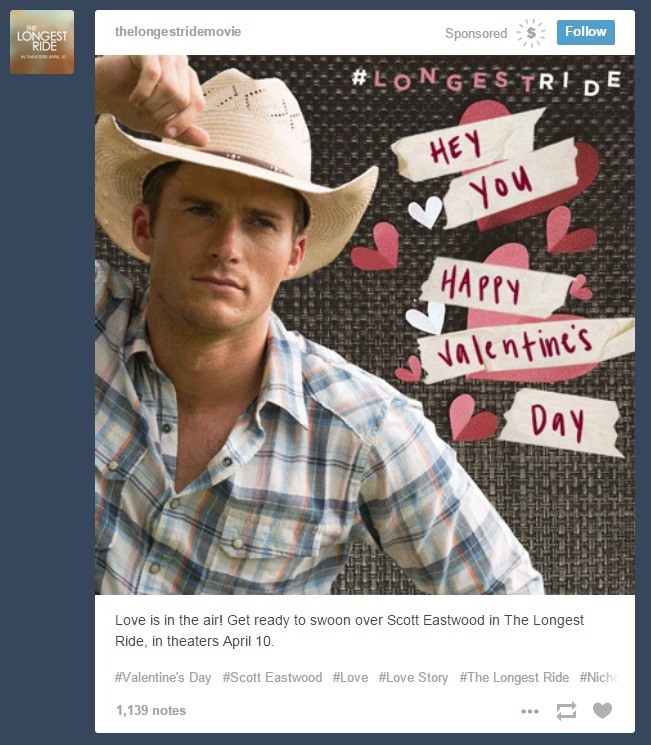 In this example, the movie "The Longest Ride" chose to promote their upcoming release by sponsoring a post on Tumblr. They also used hashtags that are likely to be searched frequently in February.
This combination of paid and unpaid tactics is a common Tumblr marketing strategy.
Sponsoring your entire blog
In addition to sponsoring individual posts, Tumblr offers users the opportunity to promote their entire blogs. On the right side of users' dashboards, there is a sidebar that displays recommended blogs.
While most of these blogs show up organically and are personalized to users based on the blogs they already follow, you can pay to have your blog show up here as well.

In this case, the movie "The Lazarus Effect" chose to pay to have their blog show up in some users' recommendations.
Tumblr Marketing Guidelines
Tumblr has a few guidelines for its sponsored posts, and although you may not choose to have your posts sponsored, these are still good tips for making quality posts.
Make sure you use the appropriate post type
When creating a post, you will be presented with seven different types to choose from – text, photo, quote, link, chat, audio, and video.

Choosing the correct option will make it much easier to upload your content. It also helps Tumblr format the post appropriately and make it look nice in users' dashboards.
Add click-through links on your photo posts
When creating a photo post, be sure to insert a link to your Tumblr page or to your company's website on the image. This makes it so that no matter whose Tumblr your post ends up on, viewers will be able to click it and be taken immediately back to the source. This will be beneficial to you when other users reblog your post.
Never, ever plagiarize
With all of this emphasis on quality imagery, you may be tempted to search the Internet for eyecatching graphics and photography and post them on your Tumblr. While it should go without saying that this is a bad practice on any medium, Tumblr users tend to be particularly passionate about artists receiving credit for their work, so plagiarism in any form could ruin your chances of success on the platform entirely. This does not mean that all of your posts have to be 100% original, though.
It is perfectly acceptable to use material from around the web as long as you include the content source in your post.
Interacting with other users
After creating content, interacting with other Tumblr users is the second most important component of a successful blog. The sense of community on the site is much stronger than on other social networks, and becoming a part of that community will serve you well.
Follow their blogs
One of the easiest ways to interact with Tumblr users is to follow their blogs. Start by following the people who follow you – especially those who frequently like and reblog your posts. Not only will this generate good will towards your brand and blog, but if you take the time to look at their blogs, you should be able to get an idea of what your fans like to see.
This will help you as you continue to create content for your Tumblr.
Reblog content that relates to your brand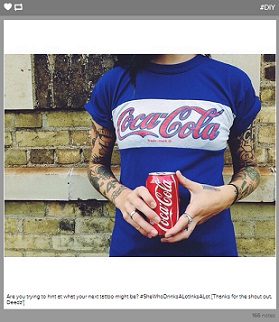 Search for posts that are tagged with your brand name, and consider reblogging ones that really stand out. The user who posted it will appreciate it, and it will also add content to your blog.
In this example, Coca-Cola reblogged a photo of a user drinking their product while wearing a shirt with their logo. It doesn't match their traditional advertisements, but makes a cool addition to their blog. Many brands have also had success with calls for user-created content once they've built a successful following.
This can be a great way to generate material, and if you encourage your followers to use certain tags when they post, you'll be able to easily find content for your blog. It is also important to know that directly asking users to reblog or like a post is considered "fishing for notes," and is against the Tumblr community guidelines. Although it is standard practice on other social platforms to ask users to engage with your content, Tumblr does not allow it.
Customizing your Tumblr
Try different themes
Like most blogging platforms, Tumblr allows users to customize their blogs with themes. There are free and paid themes in all styles and colors under the "customize" tab, and you can also create your own theme with some HTML knowledge. These themes determine how your blog will look to users who go to your page, and can add personality and style – much like your regular website's design.
Third-party comment features
One add-on you can use to make your Tumblr more accessible to non-Tumblr-users is a comment feature. Although the ideal viewer would be a user who can follow your blog, allowing other people to comment can generate helpful feedback. Disqus is a relatively easy way to do this, and also allows you to moderate comments.
Now that you have a general idea of how to use Tumblr as a marketing tool, the best way to gain a full understanding is to get started. Create an account, look around, and start blogging!
Trevin serves as the VP of Marketing at WebFX. He has worked on over 450 marketing campaigns and has been building websites for over 25 years. His work has been featured by Search Engine Land, USA Today, Fast Company and Inc.

WebFX is a full-service marketing agency with 1000+ client reviews and a 4.9-star rating on Clutch! Find out how our expert team and revenue-accelerating tech can drive results for you! Learn more
Twitter and Facebook Status Generator
Finding engaging social media content for your business can be difficult. Use our tool to quickly find ideas and post directly to your page.
Give Me an Idea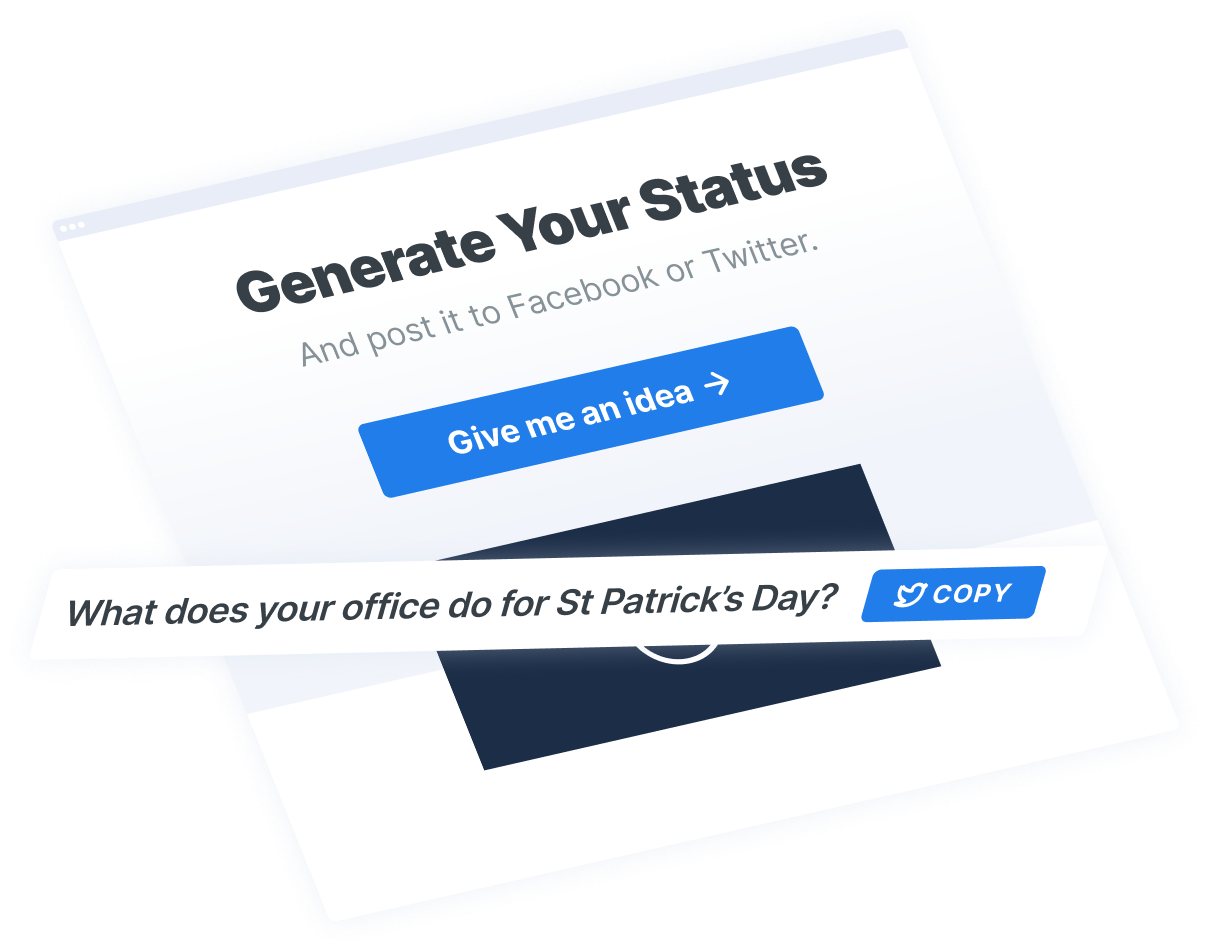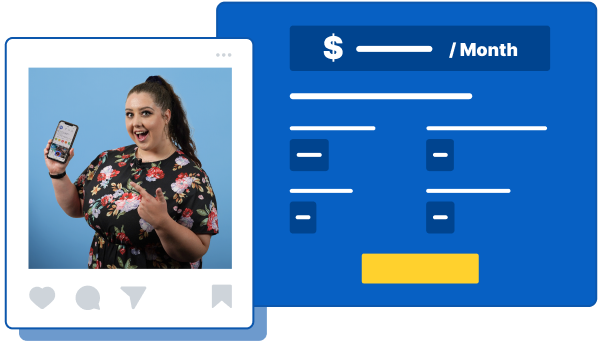 Twitter and Facebook Status Generator
Finding engaging social media content for your business can be difficult. Use our tool to quickly find ideas and post directly to your page.
Give Me an Idea