Social Media

Why Instagram Matters to Marketing [INFOGRAPHIC]
Why Instagram Matters to Marketing [INFOGRAPHIC]
8 minute read
The WebFX team is made up of more than 450 subject matter experts in digital marketing, SEO, web design and web development, social media, and more. Together, they've helped WebFX's clients earn more than $3 billion in revenue from the web — and that's just in the past five years. @webfx
Instagram changed mobile social networks when it was released in 2010. It focused on photos more than any other social feature, which helped it quickly grow into one of the world's largest photo banks.
As the first image-based social network, Instagram grew steadily since its creation. Then, Facebook bought it for $1 billion on April 9, 2012. At the time, Instagram was Facebook's largest acquisition. Instagram has since become a mobile, social, and marketing powerhouse. Every business can use it, from plumbers to heavy machinery dealerships.
And once you start, you'll take advantage of the most accomplished photo-centric social network in the world.

Instagram stats
First, let's take a look at the stats behind Instagram's success.
At six years old, Instagram is one of the oldest mobile social networks in the world. It sold to Facebook just after two years, which gave Facebook the biggest digital archive of photos in history. Today, Instagram has 500 million monthly users and 300 million daily users, about 6.7% and 4% of the world's population, respectively.
These Instagram stats are even better for US-based companies — 89.4 million Americans use Instagram. That's about 28% of the country checking their Instagram accounts every month. This is all good news for Instagram.
But is there proof that it'll continue to grow?
Instagram growth
Instagram's growth has been incredible — and you can benefit from it with Instagram growth hacks.
Since 2015, its revenue is expected to quadruple (and then some) from $600 million in 2015 to $2.81 billion in 2017. That kind of revenue means Facebook has helped Instagram tap into its advertising potential — and it's working. Instagram is growing in terms of users, too. It has more than 1 billion downloads on the Google Play store alone, and its user base is expected to grow by 15.1%.
For perspective, the average social network will grow 3.1% next year. With revenue growing by 4x over two years and users growing 5x faster than average competitors, Instagram is clearly here to stay. But what about their users?
Instagram user engagement
Thanks to Instagram's simple platform — posting images — it has one of the youngest and most engaged user bases in the world.
90% of Instagram users are under 35. If you want to reach the Millennial and Gen Z demographics — the people who are changing the workforce — Instagram is the ideal place to start. Overall, 46% of American Millennials use Instagram as well. Instagram also has an even split in terms of sex, with 51% male users and 49% female, and 35% of all users accessed Instagram multiple times per day in 2015. All told, 20% of all Internet users worldwide have an Instagram account. Each of them grows their follower count by 16%, on average, including brands. These users also upload 95 million photos and videos per day, 91.7% of which are only photos.
They post 4.2 billion likes per day (14 per daily user) and comment quickly. 50% of all comments happen within 19 hours of posting, and 10% of all comments come after 19 days. In other words, your content has a shelf life on Instagram — but it's surprisingly long.
All in all, these stats prove that Instagram naturally engages its users. But what about brands?
Brands on Instagram
Instagram is a goldmine of interaction and sales potential for brands.
First, the average brand gets 4.3% engagement from its followers. So the more followers you can get, the better you'll do in terms of engagement.
On top of that, brand posts on Instagram average 120x more interactions than brands on Twitter. Couple that with 58x more organic engagement than Facebook, and it's clear that Instagram is the way to reach your main audience. The top brand accounts on Instagram average 4820 likes per post, too.
So if you want to generate interest and boost your brand awareness, Instagram is clearly the place to do it. Brands use their posts wisely. 73% of brands on Instagram post one photo or video per week, which is just enough to maintain an active presence.
(But posting more probably helps.) Finally, brand adoption of Instagram is growing. 71% of top brands used Instagram in 2015. After only a year, 86% of top brands used Instagram in 2016. With that kind of growth, it's safe to assume that if you're not on Instagram, your competitors probably are.
Top 5 brands on Instagram by followers
So if you're just starting on Instagram, how do you know what, when, and how to post content? Thankfully, you can look at the top five brands for some insight.
These five brands know how to highlight their products. National Geographic (natgeo) posts photos of people, cities, landscapes — anything that illustrates the scope and breadth of the incredible world in which we live.
Nike (nike) takes part in all things sports. From product commercials to throwbacks and more, Nike is synonymous with quality in athletics on Instagram. Victoria's Secret (victoriassecret) [POSSIBLY NOT SAFE FOR WORK] is a lingerie company that uses Instagram to promote its image of youth, sexiness, fitness, and wealth.
FC Barcelona (fcbarcelona) is a world-famous football club that has millions of fans around the world. Their Instagram is packed with photos and information about the team, including action shots and promotional ads. Real Madrid (realmadrid) is another one of Europe's premier football clubs.
Their Instagram is full of photos of the team's practices, awards, behind-the-scenes exploits, and finest moments. Now that we have some examples, let's take a look at how to handle one of Instagram's integral features.
Top 10 hashtags on Instagram
Just like Twitter and Facebook, Instagram lets users post hashtags to tag content with certain descriptions. And just like Twitter and Facebook, some hashtags are more popular than others.
This chart shows how many times users have posted each hashtag on Instagram.
#love is far and away the most popular with nearly 1 billion posts. But other Instagram-specific hashtags — like #instagood and #photooftheday — have also made it into the top 10. Users constantly add to the number of these hashtags as well, so you may see different stats if you check for yourself. But the important takeaway here is the sentiment of Instagram users. The value love, good times, regular posts, beauty, happiness, and followers.
In a nutshell, that's your average Instagram user, according to the most popular hashtags. But if you look for yourself, you'll notice some content uses more than one hashtag. So how many should you use?
How many hashtags to use on Instagram
This is a part of Instagram that's completely unique from other social networks.
Typically, more than one or two hashtags on social media mean people will skip your posts because it looks spammy. But on Instagram, more is better — at least up to 11 hashtags.
Who knows why this happens on Instagram, but the most popular quantities of hashtags for photos are 5, 9, and 11 based on user interaction. So if you want followers to interact with your content, use a dozen hashtags per post — or something in that area.
Top 10 emojis on Instagram
Because Instagram is a visually-focused social network, it's also important to talk about emojis.
Instagram users love emojis — not quite as much as hashtags, but they're still popular.
The heart is the most popular emoji, which makes sense since #love is the most popular hashtag. Subsequent emojis also revolve around love, happiness, and self-esteem — similar subjects to the hashtags. So if you feel that 11 hashtags in the description of your content just don't cut it, try adding some emojis.
Instagram posting best practices
With all of this in mind, there are still some important data to mine about posting to Instagram.
Most importantly, photos are more valuable than videos, in terms of engagement.
Photos earn 2x more engagement than videos. And when they show faces, they earn 38% more likes as well. On top of that, photos with lots of negative space earn 29% more likes, and images with a dominant blue color earn 24% more likes than photos with a dominant red.
So there's just one last piece of the puzzle — when you post to Instagram?
When to post on Instagram
Because Instagram is so large, there's not really a best time to post. But there is a worst time.
Basically, post on Mondays (when the week just starts) and / or Thursdays (when the week's dying down) any time except 3:00 p.m. – 4:00 p.m.
These posting times appear to be based on Instagram's young user demographic. Most users are leaving school or work between 3:00 and 4:00 on weekdays, so they probably won't check their Instagram accounts. Similarly, users want to gear up for the week on Mondays and loosen up for the weekend on Thursdays.
They'll love the visual content you provide at any time (except the late afternoon).
Ideal Instagram content
With all of that said, your ideal Instagram content is:
A photo
With a face
Negative space
And blue dominant color
With 11 hashtags in the description
At least one of which is in the Top 10
With that approach, you can create a strong Instagram presence for your business in no time at all.
Do you market on Instagram?
Do you use Instagram for marketing? Tell us about your strategy! Give us a heads up on Twitter or Facebook.
The WebFX team is made up of more than 450 subject matter experts in digital marketing, SEO, web design and web development, social media, and more. Together, they've helped WebFX's clients earn more than $3 billion in revenue from the web — and that's just in the past five years.

@webfx

WebFX is a full-service marketing agency with 1000+ client reviews and a 4.9-star rating on Clutch! Find out how our expert team and revenue-accelerating tech can drive results for you! Learn more
Twitter and Facebook Status Generator
Finding engaging social media content for your business can be difficult. Use our tool to quickly find ideas and post directly to your page.
Give Me an Idea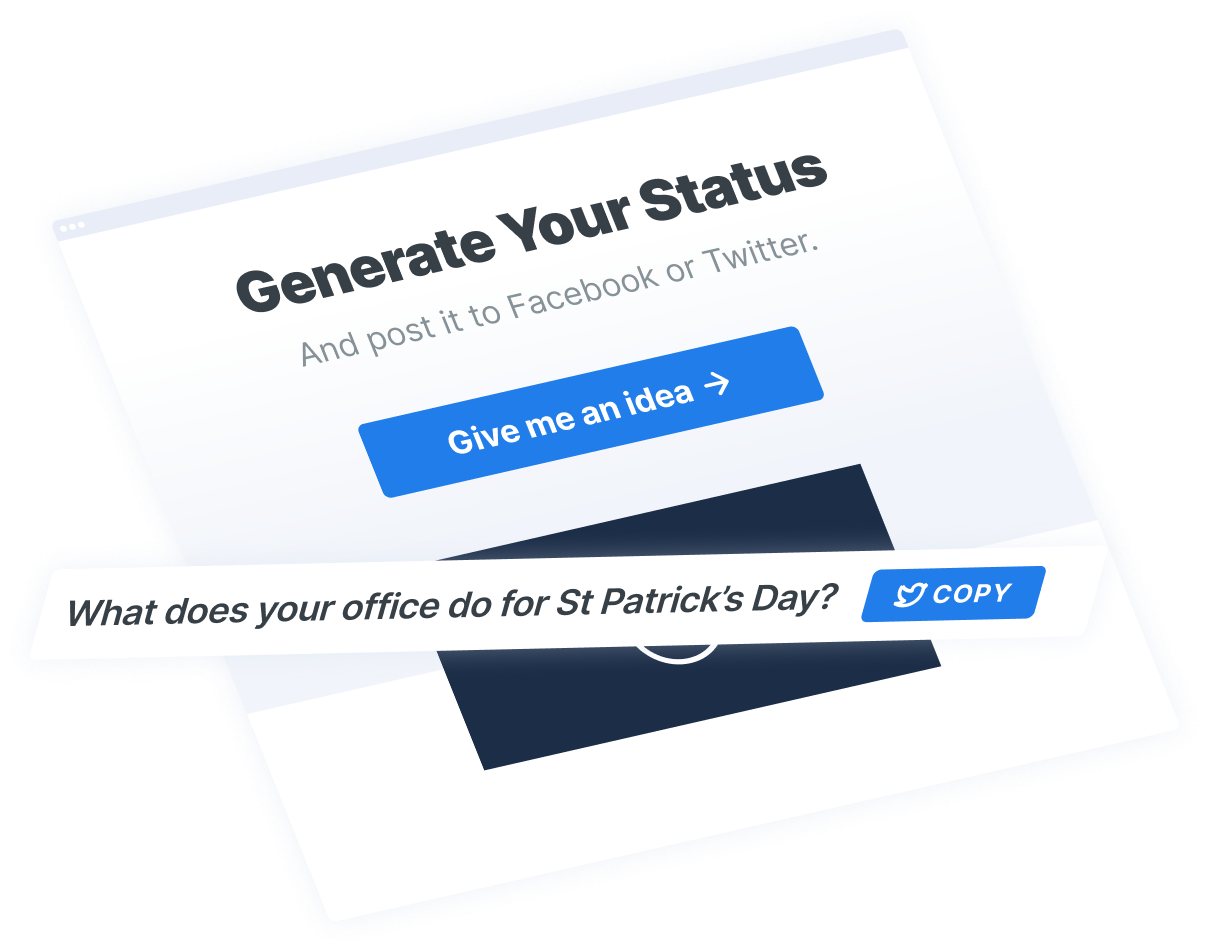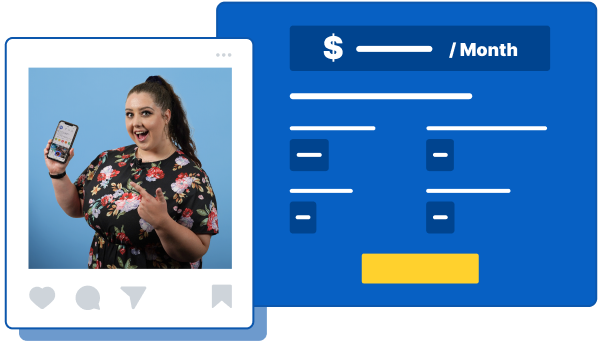 Twitter and Facebook Status Generator
Finding engaging social media content for your business can be difficult. Use our tool to quickly find ideas and post directly to your page.
Give Me an Idea