A light bulb goes off. You have the next great idea for a mobile app that you want to develop. It'll change lives.
It'll make you millions. What's the next step you need to take?
One of the things you'll need to decide early on in your mobile application development process is how you'll build and deploy your app. There are two main directions you can go: native app or mobile web app.
In this article, we'll talk about the differences between the two so you can make an informed decision.
Native App vs. Mobile Web App: Definition
First, let's define what we mean in this article when we say "native app" and "mobile web app".
What is a Native App?
A native app is an app for a certain mobile device (smartphone, tablet, etc.) They're installed directly onto the device. Users typically acquire these apps through an online store or marketplace such as The App Store or Android Apps on Google Play.
Examples of native apps are Camera+ for iOS devices and KeePassDroid for Android devices.
What is a Mobile Web App?
When we talk about mobile web apps in this article, we're referring to Internet-enabled apps that have specific functionality for mobile devices. They're accessed through the mobile device's web browser (i.e.
on the iPhone, this is Safari by default) and they don't need to be downloaded and installed on the device.
Comparison of Native App vs. Mobile Web App
Let's do a quick rundown and evaluate native apps versus mobile web apps under these factors:
User interface
Development
Capabilities
Monetization
Method of delivery
Versioning of the app
Strengths
Weaknesses
User Interface
Some companies choose to develop both a native app and a mobile web app. Here's a side-by-side look at Facebook's native app and mobile web app: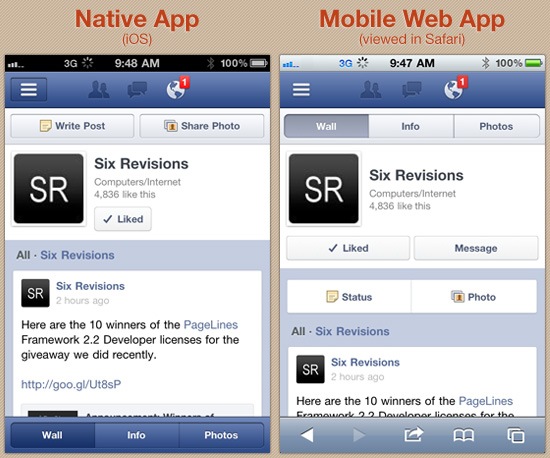 Notice that, in terms of the general look-and-feel, there's little difference between the two, making for a consistent user experience.
Development
Capabilities
Monetization
Method of Delivery
Versioning of the App
Strengths
Weaknesses
Native App vs. Mobile Web App: How Do You Choose?
To help you decide how you should build your mobile app, ask yourself these questions:
Does the mobile app require the use of any special device features (i.e., camera, the camera's flash, accelerometer, etc.)?
What's my budget?
Does the mobile app need to be Internet-enabled?
Do I need to target all mobile devices or just certain devices?
What programming languages do I already know?
How important is speed and performance?
How will this app be monetized effectively?
Answering these questions can help you make an informed decision.
Conclusion
Whether you decide to build a native app or a mobile web app depends on many factors: business objectives, target audience, technical requirements and so on. A hotel is going to have a very different app than a clothing brand, obviously, so these are important factors to take into consideration when you are deciding what web app design is best for your client.
You don't necessarily have to choose between building a native app or a mobile web app. As mentioned earlier, companies like Facebook maintain both native apps and a mobile web app.
However, for many of us, budget and resource constraints will require us to decide if we need to build a native app or a mobile web app (or, at least, will require us to prioritize which one to develop first).
Related Content
Helping Your Clients Build an Effective Mobile Strategy
Related categories: Mobile and Web Design