Social commerce is crucial towards entrepreneurial success on the Web. If this is the first time you have come across this term, then you are at the right place. In this article, I discuss the importance of social commerce, as well as a few fundamental tips for your social commerce strategy.
What is Social Commerce?
The term social commerce first appeared in Yahoo!'s search blog in 2005. The Internet company used the phrase to describe tools and products that make online shopping more social by means of leveraging social networks and facilitating user-driven content.
(In Yahoo!'s inceptive blog post, they were talking about a new product they launched, Shoposphere and its Pick List feature–a sort of product wish list that your friends can see.)
Examples of social commerce: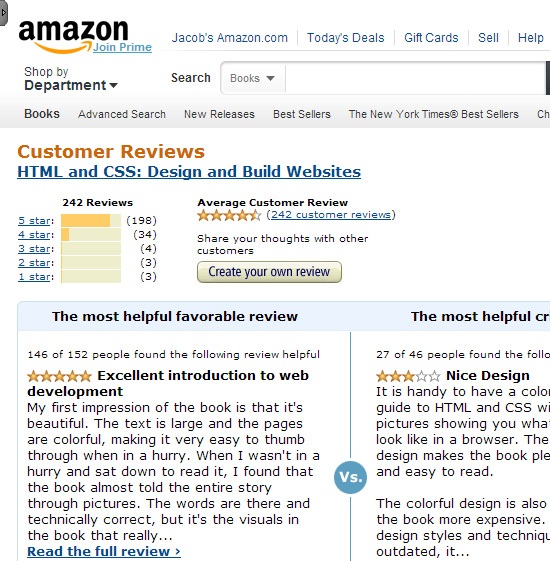 An example of Amazon's customer review system on the book "HTML and CSS: Design and Build Websites"
Social Commerce is Dangerously Undervalued
In small businesses, there's still a lack of awareness over the power of social commerce and social media in increasing profits, retaining current customers, as well as gaining new customers.
In a survey of small-sized companies, only 37% believed that social media marketing was the best way to get new customers.
In the study, social media marketing ranked only fourth on the list.
Daily deal sites, online advertising, and business directory listing sites were the chart-toppers.
Why Social Commerce is Important
The opportunities are ripe for social commerce, and they have been for a while. Let me tell you why.
Social Commerce Improves Visibility
The average user of social media services spends up to 11 hours per day connected to the Internet. He follows an average of about 10 companies and brands at any given time.
These social media consumers can provide you with a solid base for building up a good brand image.
In addition, 42% of social media users exclusively do research of the products they want to buy, in social sites. So, a brand without good social commerce features in place can lose a lot of visibility within this segment of their customer base.
Social Commerce Can Produce Value
For a company, the monetary value of a Facebook fan is $174, at least according to social media marketing firm Syncapse. So a rudimentary, back-of-the-napkin calculation suggests that a Facebook Page with 5,000 fans is conceivably a $870,000 asset (of course, the research study shows that the value of a Facebook fan for a particular company varies). Social commerce, then, becomes crucial in this regard because it is one of the few ways available to you for increasing the size of your social networks.
Social Commerce Could Increase Site Traffic
The click-through rate on Facebook walls is an astounding 6.5% whereas many other forms of online marketing efforts such as banner ads would already be considered extremely successful at only a 2% click-through rate.
And, in the same Syncapse research findings referenced above, it was observed that 66% of a company's Facebook fan base believed that sharing information with others is important in social media. This indicates that your Facebook fans play a decisive role in expanding your reach towards new people who are not yet fans.
This, in turn, means more traffic to your Facebook page and, indirectly, to your website.
Social Commerce Strategy
Following are tips that can help you improve social commerce implementations.
Share Your Identity
When starting a social commerce implementation strategy, keep these three things in mind:
Identity
Conversation
Community
In this social design, identity is what you communicate through conversation with the community. It's imperative to create a social commerce plan that involves conveying the identity of your brand properly and effectively.
Provide Ways Your Customers Can Interact with Each Other
Social media services are designed in a way that encourages the free exchange of information between its users. You can incorporate this same idea within your site. An e-commerce website should embrace additional means for fostering interaction between their users.
That's where social commerce steps in, in the form of forums, your commenting system, through conversational threads on your Facebook page, and so forth.
Analyze Your Existing Social Network
Reviewing the conversations occuring in your social network can give you great insights about the perceptions people have about you. Your social network is a key data point for your social commerce strategy.
Some Parting Thoughts from Social Commerce Proponents
Let me end this article with some opinions from two social commerce champions.
"Social commerce gives us the ability to reach more customers, in ways that are becoming an expected norm in the e-commerce industry. Attracting consumers though reviews, blogs, recommendations and other content is something that is part of e-commerce now.

It fits in the objective of our company to increase revenue and target."

– Martin Keane , SVP of e-commerce at Bluefly
"Social networks are great places for the people to have conversation and share information. But their effect on ecommerce is increasing as prospective buyers are able to share authentic and honest information among them."

– Jeremiah Owyang , Web Strategist and Senior Analyst at Forrester Research
Related Content