Internet Marketing Services for Wyomissing, PA
Are you looking for professional, full-service Internet marketing options in the Berks County area? WebFX is here to help.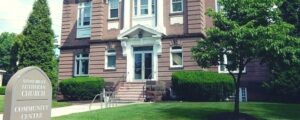 Your number one concern while seeking a digital marketing agency to work with should be finding one that truly understands your business.
Online marketing is extremely dynamic in nature, and demands a thorough understanding of each and every client's business, industry, and geographical area. Unfortunately, many bigger agencies simply try to pawn off ineffectual, pre-packaged "marketing solutions" on unsuspecting business owners.
We know the trials and tribulations of running a local business in PA, and we think you deserve better than that.
In this article, we'll give you the rundown on Internet marketing, and explain why WebFX is the best choice for businesses in the Wyomissing and greater Berks County area. Keep reading to learn more, and give us a call at 888-256-9448.
What is Internet marketing?
Many small business owners are cautious when it comes to "Internet marketing," and we don't blame them. The industry is packed with acronyms, buzzwords, and ambiguous terms that often don't end up meaning anything at all.
So, let's start at the beginning. "Internet marketing" is really just an umbrella term used to classify a number of online marketing channels.
Here are the four most common methods of Internet marketing, and what they can do for your business:
Web design and web development
If you want to market your business online, you need a website. Professional web design and development services make sure that you have a beautiful, functioning website for potential customers.
The minimum standards for web design have increased leaps and bounds in recent years, and it's very important to make sure your website is at least on the same level as your competitors'. Going the extra mile and implementing industry-leading functionality into your website will cost more, but is also a fantastic way of setting yourself apart from the pack.
Search engine optimization (SEO)
SEO is the practice of structuring your website in a certain way, so that it appears higher up in search engine results.
For example, without any SEO, your website might appear on the third or fourth page of Google's search results for a certain search term. With SEO, you could see your website on the first page instead! Nearly all users stay on the first page of results, so it's very important to get your website ranked as highly as possible.
Our digital marketing campaigns impact the metrics that improve your bottom line.
See More Results

WebFX has driven the following results for clients:

$3 billion
In client revenue

7.8 million
Leads for our clients

5.2 million
Client phone calls
Pay-per-click advertising (PPC)

PPC is a new form of advertising. You can make ads that get displayed next to search engine results, or even on social media websites. The beauty of PPC is that you're only charged for your ads when people click on them. It doesn't matter how many times they're displayed – you only pay when someone clicks.
This advertising model is especially suited to local businesses, because smart ad campaigns can result in hyper-targeted, pre-qualified traffic. That means high conversion rates, lower advertising costs, and more money for you!
Social media
Social media management and marketing is an absolute necessity for local businesses. Many smaller businesses tend to float or sink based on their reputations, and social media is the new "word of mouth."
If you're not visible on review sites and other social media platforms, your business may get passed over for competing businesses that are established online.
We know Wyomissing
The biggest advantage of partnering with us here at WebFX is that we're a PA business too. We know the area extremely well, along with what kinds of marketing are most effective for local businesses.
In fact, we're only a quick hour drive away from Wyomissing, right down in Harrisburg. Unlike many agencies that try to keep client contact to an absolute minimum, we still believe in face-to-face business. We love having clients stop in to say hi!
Most of our WebFX family was born and raised in PA, with many employees coming directly from the Wyomissing, Reading, and Berks County area. We've been to the Berkshire Mall, and we've climbed Mt. Penn to visit the Pagoda!
These may seem like minor details, but effective marketing for local businesses is based on a deep knowledge of the surrounding area and the people that live there.
You might even be familiar with a few of our clients in the area: Stratix Systems right in Wyomissing, VF Outlet to the north, and Omega Systems over in West Lawn, to name just a few!
Increase your revenue today
At WebFX, all we care about is improving your bottom line. Our expert team of Internet marketers is personally invested in the success of each and every client. We've helped businesses throughout PA (and beyond!) achieve new levels of success, and we'd love to partner with your business too.
Check out our portfolio and testimonials for more past work, or contact us today for a free quote!