February 21, 2023
11 minute read
Sarah Berry is a Google Analytics-certified Web Marketing Consultant at WebFX. She's written over 400 articles on digital marketing, covering topics like SEO, CRO, and Amazon. When she isn't polishing her Time Magazine Person of the Year Award, she's spending time with her flock of ducks.
Admit it, you're worried.
Your website traffic is down, which means your bottom line is suffering. Company leaders are turning to you with one simple question: "Why is my website traffic going down?" You need an answer (and a solution) fast.
A drop in site traffic can happen for a variety of reasons.
This post covers the four most common causes of a website traffic drop, as well as solutions for each issue. Keep reading to find out why your website traffic is going down. For organic traffic decreases, a quick way to find out why is to enter your URL here for an instant SEO audit.
If you need immediate assistance, though, call us at 888-601-5359 and our experienced team will help you find and fix the problem!
P.S. Try our free Website Traffic Checker tool to check your site's traffic right now for free!
1. A new algorithm update launched
For many companies, an algorithm update is the most common culprit for lower website traffic.
The problem
Search engines like Google and Bing aren't lounging around. They're always looking for ways to improve the search experience because a better search experience means happier users, and satisfied users mean increased loyalty and market share.
That's why it's common for search engines to update their algorithms regularly. An updated algorithm, however, can change your website's ranking in search results. It can improve your ranking or decrease it, which impacts your site traffic.
If a search engine like Google, for example, updates their algorithm and that results in your website moving from page one to page two for a competitive keyword, it can cut your site traffic substantially. That's because only 25 percent of users view the second page of search results.
The solution
While your company can't do anything about search engines improving their algorithms, you can adapt your online strategy to account for these updates. A cross-channel marketing strategy, for example, can help your business earn website traffic from multiple sources.

A few examples include:
If your website traffic drops because of an algorithm update, it's also worth investigating the update. While search engines like Google rarely comment on algorithm changes, industry experts often compile research that highlights what the update included.
This information can help your team audit your site and make potential fixes to improve your ranking.
GET A CUSTOM CROSS-CHANNEL MARKETING STRATEGY
Time to Level Up Your Sales
Our long list of services helps you grow every aspect of your business with marketing strategies that are proven to increase bottom-line metrics like revenue and conversions.
In the past 5 years, we've managed more than 12.9 MILLION transactions across our client base.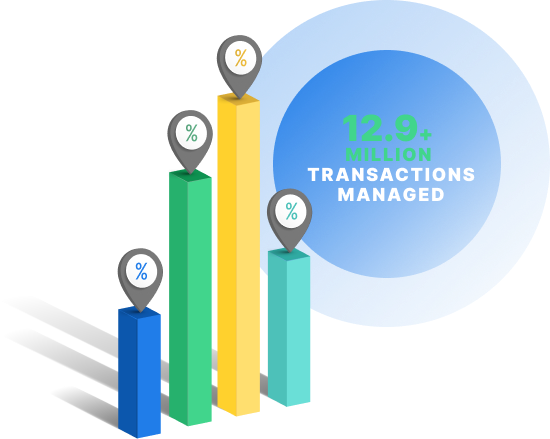 2. Your website is HTTP, not HTTPS
An unsecured website can also experience a significant (and permanent) drop in site traffic.
The problem
Online security is essential, which is why most websites use Secure HyperText Transfer Protocol (HTTPS). HTTPS, in comparison to HyperText Transfer Protocol, encrypts and transfers user data, like credit card information safely.
Back in 2014, Google announced that HTTPS would serve as a small ranking signal for its search engine algorithm. In the years since, however, cybersecurity has become critical, which is why Internet browsers, like Google Chrome, now alert users when visiting a site that uses HTTP versus HTTPS.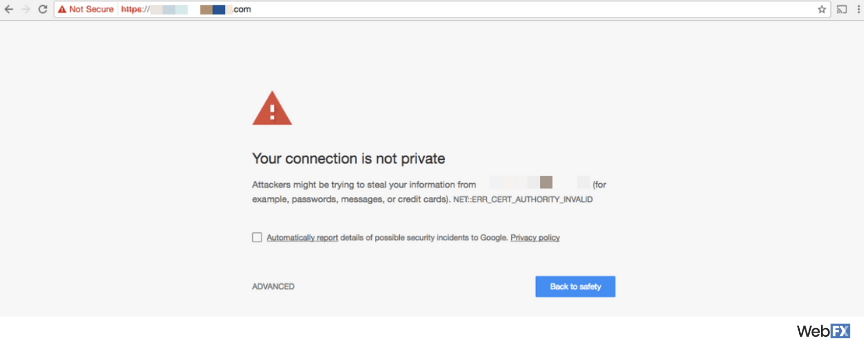 The full-page notification stops a user from arriving on your site and encourages them to go "Back to Safety." Even if a user does decide to visit your website, their browser will show that your site is unsecure.

That's why a website that uses HTTP, instead of HTTPS, can experience not only less website traffic but also fewer sales. If a user realizes that your site is unsecure, they won't feel safe enough to make an online purchase.
The solution
If you're asking, "Why is my website traffic going down?" and your site uses HTTP, you're going to need the help of a developer. With the assistance of your development team (or a trusted agency like WebFX), you can update your website to HTTPS, which can restore your site traffic fast.
Get HTTPS for your website with the following steps:
Acquire a dedicated IP address for your site, unless you have one already
Purchase a Secure Sockets Layer (SSL) certificate
Activate your SSL certificate with your web host
Install the SSL certificate on your domain
The activation and installation of your SSL certificate can take a few days.
It's also essential for your web development team to redirect users (and search engines) to your secure site. Without a redirect, it's possible for search engines and users to access your HTTP site, which can hurt your user experience and search engine optimization (SEO) strategy.
3. Your keyword strategy is outdated
An old keyword strategy can also create a slow, steady, and consistent traffic decrease.
The problem
Companies that experience a gradual decrease in website traffic need to evaluate their keyword strategy. Even if you don't have a keyword strategy for SEO, it's essential to review your content and what it ranks for in search results.
That's because people (and their search habits) change.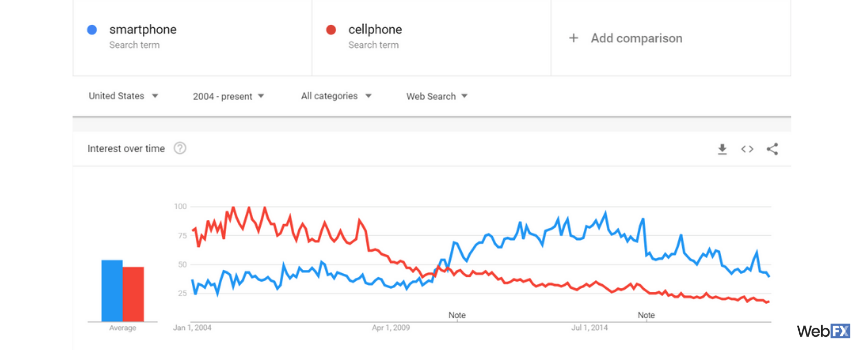 Google Trends, a free tool, shows how search and even shopping habits change. Before the launch of the iPhone, and eventual takeover of the smartphone, people tended to search for "cellphone." Now, however, most users search for "smartphone."
If your company doesn't adapt to these kinds of changes in your industry, you risk losing valuable website traffic. That's because your site content won't seem relevant or useful to search engines or users, which can result in lower rankings in search results.
The solution
Updating your keyword strategy is a time- and resource-intensive process. Even if you have a small website, your team needs to invest the time to optimize and revise content. The return on investment (ROI), however, is substantial and well worth the investment.
Build your website traffic back up with the following steps:
Audit your keyword strategy, looking for outdated or generic keywords
Research alternative keywords with a higher search volume and overall value
Revise your content to include these alternative keywords
In most cases, your company will discover new content topics in your keyword research.
This is a big win for your business because it improves your content marketing plan and SEO strategy. Plus, new content can help your company rank in valuable search results and earn additional site traffic.
GET A FREE AUDIT OF YOUR SEO STRATEGY
4. Your website's design forgot about SEO
A site design that doesn't consider SEO can cause devastating damage to your website traffic.
The problem
Redesigning your website is an excellent decision, especially if you have an older site. A refreshed website looks modern and professional, plus provides a better user experience, which can increase your bottom line.
The problem, however, is that many companies forget about SEO when designing their site.

Even web design agencies make this mistake. While they understand design and how to create an attractive and usable website, they don't recognize the relationship between web design and SEO, and how a redesigned (or newly designed) website can tank traffic.
A few ways a website redesign can hurt your SEO and traffic include:
Replacing page content, including title tags and meta descriptions, with unoptimized content
Creating brand-new pages for existing pages, without setting up a 301 redirect
Changing the site structure, without updating the sitemap
Redesigning the website without including your Google Analytics tracking code
In comparison, a site design can prevent your website from ever achieving its dream levels of traffic. That's because, without SEO, your site will struggle to appear in search results related to your industry, products, or services.
Since your website's design impacts your entire site, it's critical to fix this problem right away.
The solution
Companies can approach a traffic drop following a site redesign a few ways, including:
Restore your previous site with backups
Optimize your new content and website
Update your sitemap
Set up 301 redirects
Depending on your redesign, your fix may take a significant amount of time.
For example, if your company needs to restart your SEO strategy, it will take time to rank in search results and earn the kind of traffic that your website had before. In comparison, creating 301 redirects requires less work, though your traffic levels will probably take a few weeks or months to recover.
If your original web design doesn't drive traffic, your team will have to take a similar approach. While you may not need to set up redirects, you will have to create optimized content for your website and audience.
Your business can also work with a full-service digital marketing company that specializes in web design and SEO, like WebFX. We can help your team and company regain your traffic, as well as ensure that future design updates protect your SEO strategy.
5. Good news – maybe your data is incorrect
This may seem like a strange bit of good news, but if you are seeing a big decrease in website traffic be sure to double check your sources. Did somebody remove your web analytics tracking from the website? Did the code get duplicated or altered in anyway? Is a 3rd party service you are relying on for data having downtime?
Sometimes the "big traffic drop" is really just a misplaced comma or an error in your CMS making it look like traffic has nosedived. Tracking errors are never fun but are typically substantially easier to resolve than a true drop in traffic for the reasons outlined above.
We've seen many sites over the years that show a large decrease in traffic but their web developer mistakenly removed their Google Analytics code from the site or they were looking at the wrong View in Google Analytics. These things happen so before you get too stressed, double check your sources!
7 additional reasons your website traffic is down
Still confused about why your website traffic is going down? Check out these potential causes:
| WHY YOUR WEBSITE TRAFFIC IS DOWN | HOW TO FIX YOUR WEBSITE TRAFFIC |
| --- | --- |
| 1. Broken 301 redirects | Review your 301 redirects for errors and fix Ensure canonical tags, XML sitemaps, and links are up-to-date |
| 2. Manual Google penalty | Log in to your Google Search Console account and check alerts Make recommended site or page changes |
| 3. Slow page speed | Check page speed with PageSpeed Insights Make updates or use page speed optimization services |
| 4. Poor internal linking | Audit internal linking strategy Add internal links to content deep in your website Use anchor text related to page topic or targeted keyword |
| 5. Unreliable server | Review server performance and hosting package Move to a new service provider or different hosting package |
| 6. Duplicate content | Check website for identical blocks of content Make identical content unique |
| 7. Unindexed site | View Google Search Console to see if site and pages indexed Submit website and pages for indexing |
Restore your website traffic (and then some) with WebFX
No one wants to see their website traffic down, but it happens. Learning why your website traffic is going down on Google and how you can fix it, however, provides your business with the insight and tools for regaining your traffic.
In many cases, it's an enormous task to restore your website traffic, like after a website redesign or abandoned keyword strategy. That's why businesses partner with our full-service digital marketing agency.
With more than 25 years of experience, plus more than 500 web marketing specialists, we have the skills and technology to help your company. Just browse our testimonials and digital marketing services to see how our team can help yours.
Give us a ring at 888-601-5359 or contact us online if you have any questions!
Sarah Berry is a Google Analytics-certified

Web Marketing Consultant at WebFX

. She's written over 400 articles on digital marketing, covering topics like SEO, CRO, and Amazon. When she isn't polishing her Time Magazine Person of the Year Award, she's spending time with her flock of ducks.

WebFX is a full-service marketing agency with 1000+ client reviews and a 4.9-star rating on Clutch! Find out how our expert team and revenue-accelerating tech can drive results for you! Learn more
Try our free Marketing Calculator
Craft a tailored online marketing strategy! Utilize our free Internet marketing calculator for a custom plan based on your location, reach, timeframe, and budget.
Plan Your Marketing Budget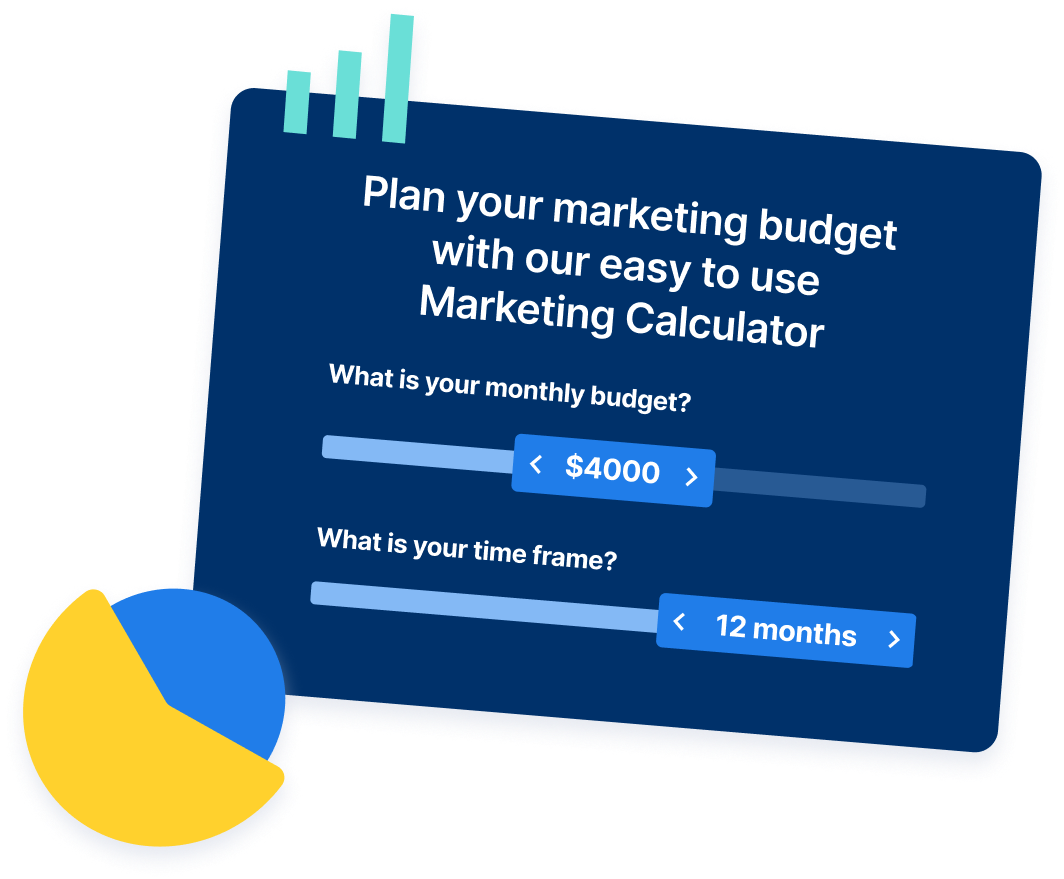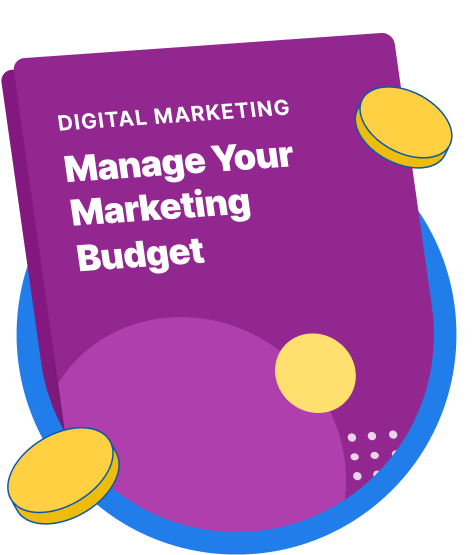 Maximize Your Marketing ROI
Claim your free eBook packed with proven strategies to boost your marketing efforts.
Get the Guide
Try our free Marketing Calculator
Craft a tailored online marketing strategy! Utilize our free Internet marketing calculator for a custom plan based on your location, reach, timeframe, and budget.
Plan Your Marketing Budget