ROI Dashboards : MarketingCloudFX
The ROI Dashboard is just one of the many features offered on MarketingCloudFX. ROI is an important metric to measure the efficiency and success of a company, and on this page we will dive into all that WebFX's ROI Dashboard has to offer and why it's an important tool that you and your business can take advantage of today!
What is the ROI Dashboard?
The ROI dashboard is a service offered by WebFX as a part of MarketingCloudFX, a proprietary software exclusive for WebFX clients. ROIDashboard measures your business's return on investment with every $1 you invest with WebFX. It also regularly provides you with a snapshot of real-time metrics for your business across various channels.
Meet MarketingCloudFX:
One platform tracking countless metrics and driving stellar results.
Learn More About Our Proprietary Software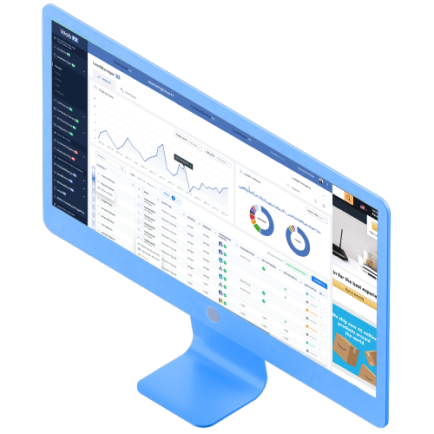 What can the ROI Dashboard do for me?
The multiple tracking features on ROIDashboard give you all of your important ROI data in one, easy to navigate dashboard that is personalized to you and your business. Some metrics listed on the dashboard include:
Revenue – Revenue is calculated based on leads through MarketingCloudFX.
Cost-per-lead (CPL) – The cost per lead or CPL is the cost for every lead that is generated based on leads tracked through MarketingCloudFX.
Leads – Leads are the number of web forms filled out tracked by MarketingCloudFX.
Calls – Call numbers are tracked by CallTrackerFX.
All of the calculations are based on the amount of money you invest with WebFX and does not include any 3rd party spends you may have such as Google Ads.
ROI and the other metrics displayed on the dashboard can be filtered by choosing a start and end date to view your data over a certain period of time.
The metrics can also be tracked by medium and can be filtered by organic search, PPC, organic and PPC, direct, referral, email marketing, social media or offline/print sources.
Graphs and charts are also listed on ROIDashboard, all of which provide a visual of how your business's metrics are changing overtime:
Monthly revenue – A graph of the amount of revenue based on leads tracked through MarketingCloudFX.
Cumulative leads – A graph of the cumulative total of website leads by month based on forms tracked through MarketingCloudFX.
Monthly leads – A graph of the number of website leads by month based on forms tracked through MarketingCloudFX.
Cumulative calls – A graph of the cumulative call count by month based on Call Tracking through MarketingCloudFX.
Monthly calls – A graph of the number of calls by month based on Call Tracking through MarketingCloudFX.
In addition to the main dashboard, you can use the configuration tab under ROI Dashboard to keep track of your monthly budget by listing the start month, last month, budget and estimated local and calls.
Your ROIDashboard is regularly updated and tracked regularly by our FX team members. Just like the other tools in MarketingCloudFX, ROIDashboard provides you with full transparency and allows you to check your metrics at your convenience and as often as you like.
Why should I use the ROI Dashboard?
Tracking ROI overtime is valuable for any business and is a valuable tool to utilize when you are making decisions for your business. The ROIDashboard service provided though MarketingCloudFX gives you and others executives in your business the metrics needed to establish value from the partnership between you and your business and the team at WebFX.
Measuring the metrics that affect your bottom line.
Are you interested in custom reporting that is specific to your unique business needs? Powered by MarketingCloudFX, WebFX creates custom reports based on the metrics that matter most to your company.
Leads

Transactions

Calls

Revenue
Learn More

Ready to get started using ROI Dashboard?
ROIDashboard and the other services offered through MarketingCloudFX provide WebFX clients with powerful data and valuable service, all while saving them money. If you are interested in adding the ROIDashboard service to your WebFX account or are interested in learning more about the services that WebFX has to offer, contact us!
Call 888-601-5359 or contact us online today for a free evaluation