Email Frequency: What's the Ideal Number of Emails to Send?
Email marketing is one of the best ways to reach prospective customers. And with a potential return on investment of 4400%, it's also one of the most cost-effective.
Reaching this high potential doesn't happy by chance, though — you'll need to develop a strategy that works for your goals and target audience. As you develop your strategy, you'll likely run into the question of how often you should send emails to your list.
This may seem like a minor consideration, but frequency can be a major factor in your success with email. In fact, sending too frequently (or not frequently enough) can make or break a campaign.
You don't want to send emails so often that people become annoyed with them — but you also don't want to send it so infrequently that your subscribers forget about your brand. So, what's the magic number for making your subscribers happy?
On this page, we'll talk about the ideal frequency for emailing subscribers and how to choose a schedule that works for your business. Call us today at 888-601-5359 to speak with a strategist about your company's email marketing strategy, or keep reading to learn more!
Need help with your email marketing campaign?
Important statistics about email marketing
When you are creating your email campaign, it's important to keep a few statistics in mind.
As you continue your campaign, you will likely lose subscribers for any number of reasons. Some of these are unavoidable, but one of the biggest reasons is too many emails.
Users will unsubscribe to your emails if they feel they are being bombarded with them. This statistic is important to note as you send your emails out. Although you might increase your email frequency with the goal of driving more sales, you could damage your overall results in the process.
Since many marketers are worried about bombarding subscribers with emails, many of them restrict the number of emails they send. Some stick to only 2-3 emails per month in order to prevent users from unsubscribing.
Some choose to send emails even less frequently, with 19% of marketers sending only one email per month. If you're just getting started with email, this may be all you have time for — and you certainly wouldn't be alone sending one monthly newsletter.
On the other end of the spectrum, 9% of marketers send emails six to eight times a month. While this still may not sound like a lot, when you consider the amount of time and planning that goes into each one, it's a serious investment.
As you experiment with different frequencies, you may choose to air on the side of caution. Sending fewer emails may help you maintain your list — but you won't know for sure until you run a few tests.
Don't be under the impression that your customers don't want to hear from you — because they do. In fact, over half of them want to hear from you weekly.
People sign up for your emails because they are interested in hearing from your company. The challenging part is just figuring out what they want to hear, and how often.
The facts about email frequency
Many researchers have spent a lot of time trying to figure out the ideal frequency, and there are mixed reports about the ideal number of emails to send.
So, what's the ideal number of emails to send?
The truth is there isn't one.
It is hard to figure out the perfect number of emails because every set of subscribers reacts differently. Some people may enjoy receiving emails every day, while others may only want an email once a week or once a month.
Your audience is as unique as your business. Some businesses may be able to send emails four times a week, but your subscribers may only want emails from you once a week. It's more important to adjust to what your subscribers want than to worry about sending as many emails as your competition.
The only way to figure out your ideal frequency of emails is to test. There is no magic number or formula that helps you figure out the right number of emails, so the best way is just to try a few different frequencies.
You can speed up the process by dividing your list into segments and sending emails at different frequencies to each. The number of segments depends on how many email frequencies you want to try out.
Then, you can see which segment produced the best results and adjust the rest accordingly. This may take a few trials, but will give you a data-backed schedule to use for your campaigns.
Tips for keeping subscriber
1. Timing is key
The time of day you send your emails is key. You'll generally want to avoid sending emails during times when people aren't checking their inboxes, because your message could end up lumped in with dozens of others. It's best to send them when you know your subscribers will be checking, like first thing in the morning when they wake up.
You'll need to run some tests to determine which times work for your target market. This will help you deliver a more successful email campaign because you will send your emails at a time when your users are most likely to engage.
You should also consider timing throughout the year for products that are seasonal. If you're an HVAC business, for example, you wouldn't send an email about air conditioners in the middle of the winter. It's important to think about these time-sensitive campaigns in advance, so you can plan to send emails when they're most relevant.
It is important that you know when people want to buy your product, so you can send emails at the right time. This will help you increase engagement on your emails and can lead to more conversions.
2. Only send emails to people who subscribe
Building a list of subscribers takes time, and some marketers are tempted to speed up the process by purchasing email lists. While this may seem like a good option for jump-starting your results, it's never a good idea.
These users didn't sign up to hear from you. If you start showing up in their inboxes, they'll be disinterested at best, and annoyed enough to mark your emails as spam at worst. This can harm your deliverability rates and prevent you from reaching the people who actually opted into your campaigns.
Focus on earning subscribers by including signup CTAs on your site, or even running paid campaigns on your social accounts. This will help you build a qualified list of subscribers in a way that helps you reach your email marketing goals.
3. Set goals for your emails
In order to make your emails successful, set a goal for each campaign. Your goal might be to attract traffic to your site, get users to download a resource or guide, or generate conversions.
Once you've set a goal, it can help you design each email. It can also play a role in the frequency of your emails.
If you're trying to attract traffic, for example, you can likely send emails more frequently without annoying your subscribers. But if each email is designed to promote sales, this could get old quickly, and require a more spread out approach.
4. Let your subscribers choose the frequency
One way to prevent people from unsubscribing is to let them set the frequency at which they wish to receive your emails. This customized option can prevent them from unsubscribing.
You can give subscribers the option to receive emails daily, weekly, or monthly. This gives them control over their subscription, which will give them a more favorable opinion of your brand because you're enabling them to have a say in the emails they receive.
At the very least, you should aim to email each subscriber once per month. This enables you to still engage, but at a frequency that works for them.
5. Segment your audience
To keep your subscribers interested in your emails, one of the best things you can do is send content that is relevant to their interests. Though all your subscribers may be part of your target audience, they have individual needs. Some may be more interested in one product than another.
You want to avoid send general blanket emails. It is best to customize your emails so that you can personalize the experience for each of your subscribers. You will see better results when you send emails that are segmented for different types of users in your audience.
WebFX is a partner businesses trust.
Hear from HydroWorx, who saw a 236% increase in organic sessions with WebFX services.
Watch the Video Testimonial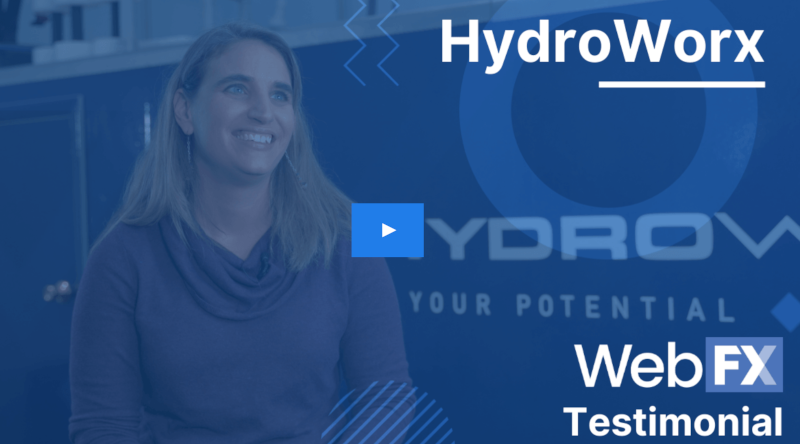 WebFX knows email marketing
If you're ready to seeing results with email, look no further than WebFX. We're a full-service digital marketing company, and we have years of experience developing custom email marketing campaigns.
When you partner with us, we'll use our email knowledge and expertise to make the most of your strategy. We know your business is unique, so we'll create a plan that's tailored to your audience and goals.
To date, we've driven our $3 billion in sales and over 7.8 million leads for our clients — all because we know that our success is a result of our clients' success. And they love the work we do, too — which is why we have over 1020 client testimonials. Check them out for yourself and see what it's like to work with a top digital marketing company like WebFX!
Learn more
If you want to learn more about how you can start creating a successful email campaign, contact us online or call us today at 888-601-5359 to speak with a strategist. We look forward to taking your business to new heights!