What Is a Good Open Rate for Your Email Marketing Campaign?
Almost 82 percent of companies use email marketing. Many struggle with maintaining a high open rate, however. That's why more businesses and marketers are asking one simple question — "What is a good open rate for email marketing in my industry?"
Luckily for you, there is plenty of industry data to answer this question. Ready to find out the average open rate in your industry, plus how to improve your email open rates? Just keep reading!
Email open rates
Learn about the average email open rates for your industry in the handy table below:
| Industry | Open Rate |
| --- | --- |
| Agriculture and Food Services | 23.12% |
| Architecture and Construction | 23.13% |
| Business and Finance | 20.47% |
| Computers and Electronics | 19.39% |
| Ecommerce | 15.66% |
| Education and Training | 21.8% |
| Entertainment and Events | 20.41% |
| Government | 26.52% |
| Health and Fitness | 20.06% |
| Home and Garden | 22.21% |
| Insurance | 20.99% |
| Legal | 21.14% |
| Manufacturing | 20.51% |
| Medical | 21.09% |
| Professional Services | 20.77% |
| Real Estate | 19.67% |
| Restaurant | 20.26% |
| Retail | 19.36% |
| Telecommunications | 20.27% |
| Travel and Transportation | 20.03% |
How do your email open rates compare to other companies in your industry? If your open rates are below average, it's often a sign that your team needs to evaluate your email marketing campaign.
4 ways to improve your email open rates
Whether you're above or below your industry's email open rate average, it's worth looking for ways to improve your email open rates. With higher open rates, your company can reach more consumers, which can result in more purchases, calls, quote requests, and more.
Increase your open rates by following these four simple tips:
1. Use short, attention-grabbing subject lines
The average person receives nearly 121 emails per day, meaning it's crucial to make your messages stand out from the other emails flooding user inboxes. How can you ensure your email doesn't go straight to the trash folder, though?
Use short, yet intriguing subject lines that motivate readers to open your emails.
Remember that your subscribers are only checking their email in brief moments, so it's critical to convey your message fast. A lengthy or wordy subject line does the exact opposite, so avoid them.
It isn't enough to create a short subject line, either.
You want to generate curiosity in your readers, encouraging them to open their email. Think about what motivates your target audience, as well as how your email benefits your target market. Then, draft a few variations to test.
When you nail your subject line, you can see a dramatic increase in your email open rates.
2. Personalize your approach
People love hearing their name.
Whenever you're having a conversation with someone new, saying their name throughout your chat is a simple way to win them over. Why? Because a name is a vital part of a person's identity.
That's why marketing tactics often focus on personalization.
Why is personalization so important?
When you attempt to connect with your consumers, it humanizes your business and makes your target audience feel like you wrote your emails just for them. After all, you're much more likely to open an email from a friend than a stranger, right?
A few ways you can personalize your emails include:
Using a recipient's name
Scheduling emails to send in a user's time zone
Recommending products or services based on a user's past purchases
If you want to personalize your emails, it's important for your email sign-up form to ask for some details. For example, you'll want to request a user's name or encourage a user to indicate their preferred time zone.
3. Segment your emails
When you send out mass messages to every single email subscriber, it's easy to see your email rates decline. Increase your engagement and open rates by sending the right emails to the right people.
While this may seem tricky, it's easy to achieve with segmentation tactics.
When you segment your emails, you divide users into different categories and send them messages based on their unique audience features. You can segment audiences by demographics, purchase behavior, activity level, and more.
New customers, for instance, may enjoy learning more about your business through a welcome email. In comparison, long-term clients may prefer an email with a loyalty discount or company announcement.
Segmenting your emails ensures that every message you send to a prospective or current client counts. This proactive step — and personalization tactic — reduces the likelihood of sending messages that go unopened.
4. Clean up your subscriber list
A lot of companies love having a high number of subscribers. At the surface, it seems excellent for your email marketing campaign. You're reading a vast audience, which offers your business more opportunities to nurture and convert these shoppers.
In email marketing, however, it's quality over quantity.
If you have inactive subscribers, they will decrease your open rates. That can result in lower-than-average email open rates for your industry, which is why it's essential for your team to review and clean your subscriber list on a routine basis.
Start by creating a segmented audience of inactive subscribers. Then, create a re-engagement email, which asks readers if they want to stay subscribed. After a set period, your team can remove subscribers that didn't respond.
What can cause low email open rates?
Puzzled by your company's email open rates? A variety of factors can lead to low email open rates. Some are outside your control, like the holidays, while others are within your power to change, like email content.
A few factors that can decrease your email open rates — and that you can change — include:
1. Appearing spammy
In today's age of digitally-driven communication, people rely on emails to interact with others. That's why email marketing is so successful — it generates 50 percent more sales than any other lead generation method.
An aggressive email marketing strategy, however, can overwhelm user inboxes. It can also annoy users, as they read through their inbox and discover dozens of emails from your company, all within a single week.
Even worse, it can cause them to skim past your emails because you always send something.
If you have low email open rates, the solution isn't to send more emails in the hopes that your subscribers will open at least one. If anything, this tactic can increase unsubscribe rates, as well as complaints.
Assess your email send schedule and determine whether it's excessive. If you need an outside opinion, consider asking friends or family members for their advice. Or, send a survey to your subscribers to get some feedback from your target market.
2. A lack of urgency
With email marketing, you want to avoid clickbait headlines. At the same time, however, you want to instill a sense of urgency in your emails that get readers to act. That's why it's appropriate to use urgent phrases, like "limited time" or "first come, first served."
These phrases can push users to open your email because they're afraid of missing out on an event, announcement, or promotion. Use your subject line to not only inform subscribers, but also motivate them.
If you're running a promotion that will only last for a few days, for example, include the words "this week only" in your subject line. When you use words that encourage your audience to act now, rather than later, it reduces the chances of them ignoring your emails.
With more readers acting on your messages, your business can drive more sales. An ecommerce company, for example, can use promotions to motivate users to shop or refer friends and family to their store.
3. Too many errors
Whether your formatting is incorrect or your writing comes with spelling mistakes, sending out multiple emails with too many issues is a surefire way to create a negative impression of your company.
When you carelessly send out emails that have too many issues, it can trigger spam filters. Plus, it's reflective of your company, which can lead to a less-than-stellar first impression for new subscribers. It can also chip away at the goodwill of loyal readers.
Before scheduling your emails for delivery, have some team members proofread the messages. With this proactive step, you can catch errors fast. Plus, you gain helpful feedback that can improve later emails.
If you're struggling to create better emails, consult with a digital marketing agency that specializes in email marketing. A team of marketers will help ensure that your grammar and formatting are always top-tier, perfecting your messages before they get sent out to users.
Time to Level Up Your Sales
Our long list of services helps you grow every aspect of your business with marketing strategies that are proven to increase bottom-line metrics like revenue and conversions.
In the past 5 years, we've managed more than 12.9 MILLION transactions across our client base.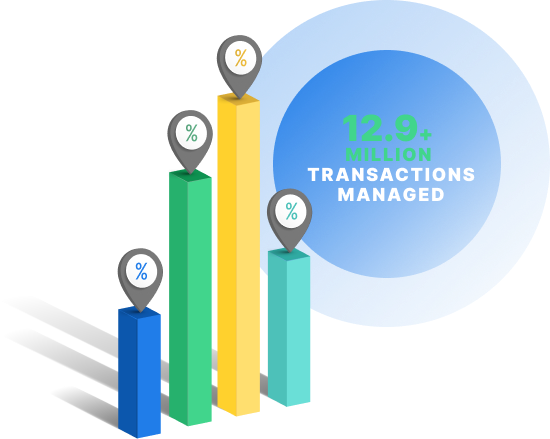 Want to improve your email open rates?
Every time you send out an email, you're sharing valuable information that you want to reach your target audience. Are your readers opening your messages to see what's inside, though? At WebFX, we'll help ensure that they do.
With more than 25 years of experience, we are the trusted choice for businesses looking to improve the results of their email marketing campaign. Discover how we can help your company by contacting us online or calling 888-601-5359 today!
Our team looks forward to hearing from you soon!