Finding leads for your laboratory or manufacturing company is crucial for maintaining your bottom line. So, how can you make sure that your advertising and marketing teams reach those most in need of your services?
The answer is simple — lead generation. Lead generation for laboratories can help you find and reach out to your ideal audience while cutting out uninterested parties. To help you get started, this page will cover the following subjects:
What is lead generation for laboratories?
Why use lead generation for lab equipment suppliers?
Lead generation examples
How to generate leads for laboratories
If you want to start talking about lead generation methods with a professional, call 888-601-5359 today!
What is lead generation for laboratories?
Lead generation for laboratories is the process of initiating user interest in your products or services. Since a lead is someone who has expressed interest in your products or services before, lead generation is all about finding people who are likely to reach out or purchase.
There are many types of leads. But the two most important ones to note are:
Lead generation for lab equipment suppliers will help you target the ideal lead type for your company. For example, if you manufacture hematology lab equipment, you might focus on SQLs and related businesses that find your products and purchase them directly.
Why use lead generation for lab equipment suppliers?
Lead generation is a necessary part of any business. Without leads, you would have no purchases, and no funds! However, your approach to lead generation can make all the difference.
Lead generation tactics offer the following advantages:
Better audience targeting: Your target audience — whether that's laboratory executives, providers, or patients — are those most likely to convert. When you build out your lead generation strategy, you can focus your efforts on potential leads.
Optimized resources: Lead generation lets you spend less time cold-calling and emailing people who don't need your services. You can devote more time to current clients and prospects.
More revenue: Above all, focusing on your lead generation helps you earn more revenue and build a stronger client base. More converted leads mean more revenue and growth!
Lead generation examples
So, now that we know what lead generation is, how does it work? There are a few different tactics that you can use to generate more leads, including the following.
Note that every strategy can vary based on your needs, budget, and goals.
Social media
Social media marketing is one way to find and connect with your audience on a more personal level. While social media seems far removed from laboratory and health services, there are plenty of ways to use social media to generate leads.
For example, consider this plasma and blood donation lab's Facebook account: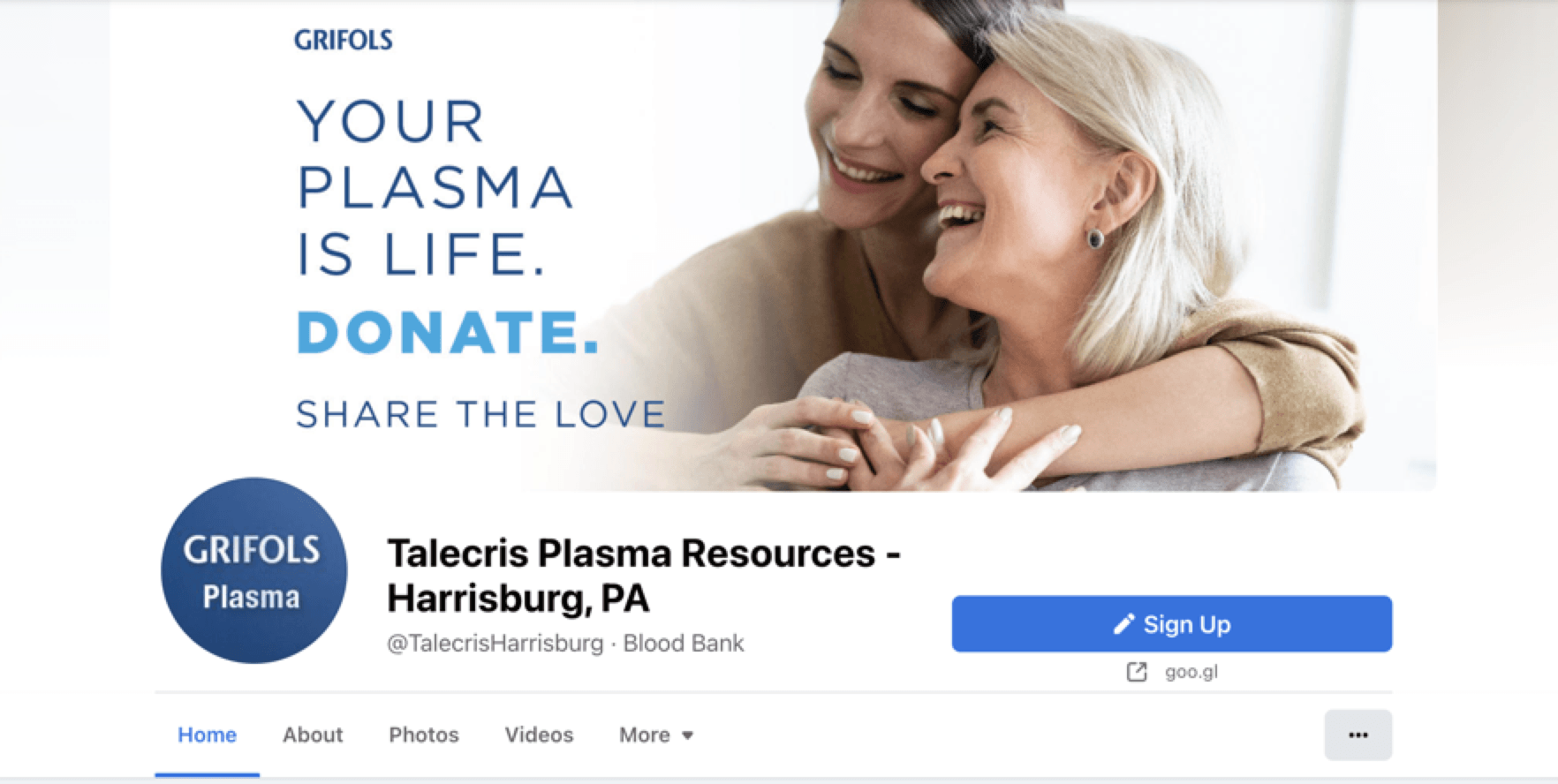 On their page, they can share company updates, industry news, studies, and credentials on a platform that 179 million people use in the U.S. alone. You can link to your website, share product or services photos, and comment to users directly.
Email marketing
Email marketing is an enduring lead generation method that can help laboratories and equipment manufacturers succeed. In fact, email marketing can generate up to 50% more sales than other lead generation methods.
Emails can accomplish the following:
Retarget those who have reached out before
Update users regarding new services or products
Maintain an open line of communication
You can build out a mailing list for your company or use mass emails to find potential leads. Personalized emails tend to do better, so try to keep your focus toward the recipient.
Search engine optimization (SEO)
SEO is the process of optimizing your website to appear higher in search engine results pages (SERPs). When people are looking for services or products that you offer, they need to be able to find you. With SEO, you ensure they can.
When you search the term "hematology lab Harrisburg, pa," these are the results: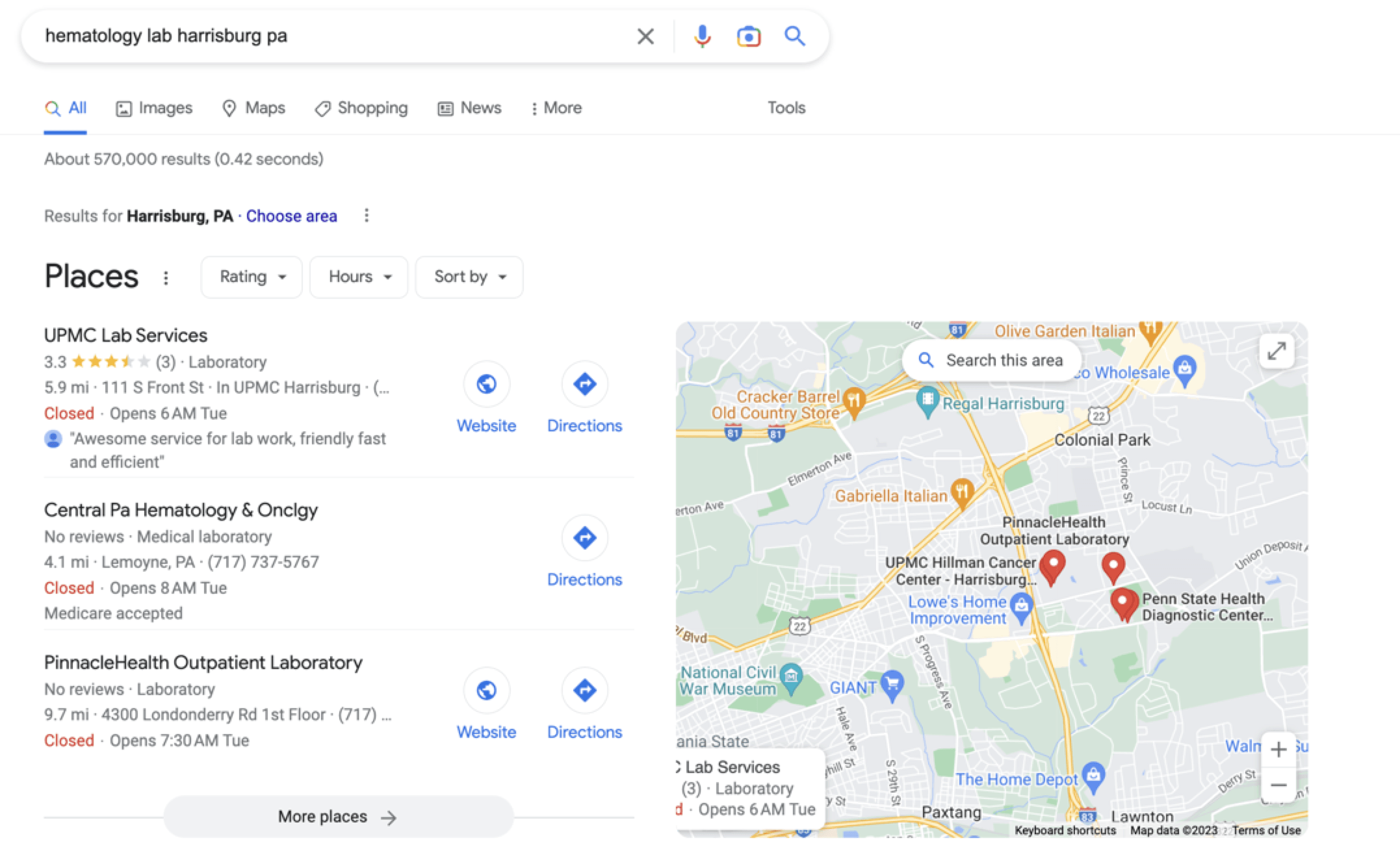 This result points the user towards these top labs. By using the following on-page SEO tactics, you can help people find your business more naturally:
Keyword research
Content creation
Internal linking
Plus, you will push your services in front of those looking for them, improving your chances of qualified leads reaching out.
How to generate leads for laboratories
After reviewing some lead generation examples, you may be ready to jump into creating a strategy. Follow the steps below to create a lead generation strategy with an impact.
1. Create a strong brand presence
The first step to lead generation for laboratories is establishing yourself as a brand. Your brand speaks to who you are and your company values, and it can help people recognize your name and business in an instant.
In the healthcare industry, many companies opt for a supportive, knowledgeable brand presence. If you manufacture equipment, you may lean into the industry leader role, showcasing your expertise with quality products.
Regardless of what your branding represents, it should be consistent across all channels. Your colors, tone, imagery, and slogans (if applicable) should be recognizable for new and existing leads. Creating a basic brand style guide could help you keep information consistent.
2. Find your target audience
You must know who your target audience is before you can reach them. Consider what kind of people usually contact you about your products or services. You can break it down by demographics, like:
Age
Gender
Job title
Income level
Location
Creating buyer personas can help you focus your content even more. For example, if you know that a lot of middle-aged women with children come to you for services, you can target their problems and needs in your marketing content.
3. Track key performance indicators (KPIs)
As you start implementing your lead generation strategy, you need to find a way to measure your progress. Lead generation performance indicators can help you ensure that your lead generation strategy is working.
Some examples of KPIs to track include:
As you keep up with your strategy, you can monitor these figures and see what changes you can make to improve them. If you want help creating and monitoring your strategy, WebFX has your back.
Ready to start generating more leads?
If you want results that impact your bottom line, look no further than WebFX. As a lead generation agency, we have the know-how and tools to help you grow your client base.
Over the past few years alone, we have helped our clients drive 7,839,684 leads and $3,021,182,299 in revenue. Want to hear it from someone else? Check out this testimonial from HydroWorx, who had a 131% lead increase from our strategy:
Once you're ready to learn more, request a free quote for your business!
Increase your leads, sales, and revenue with digital marketing
Find Us Driving Revenue Nationwide